CHELSEA FLOWER SHOW - PART 1
ALL MY FAVOURITE OUTDOOR BITS...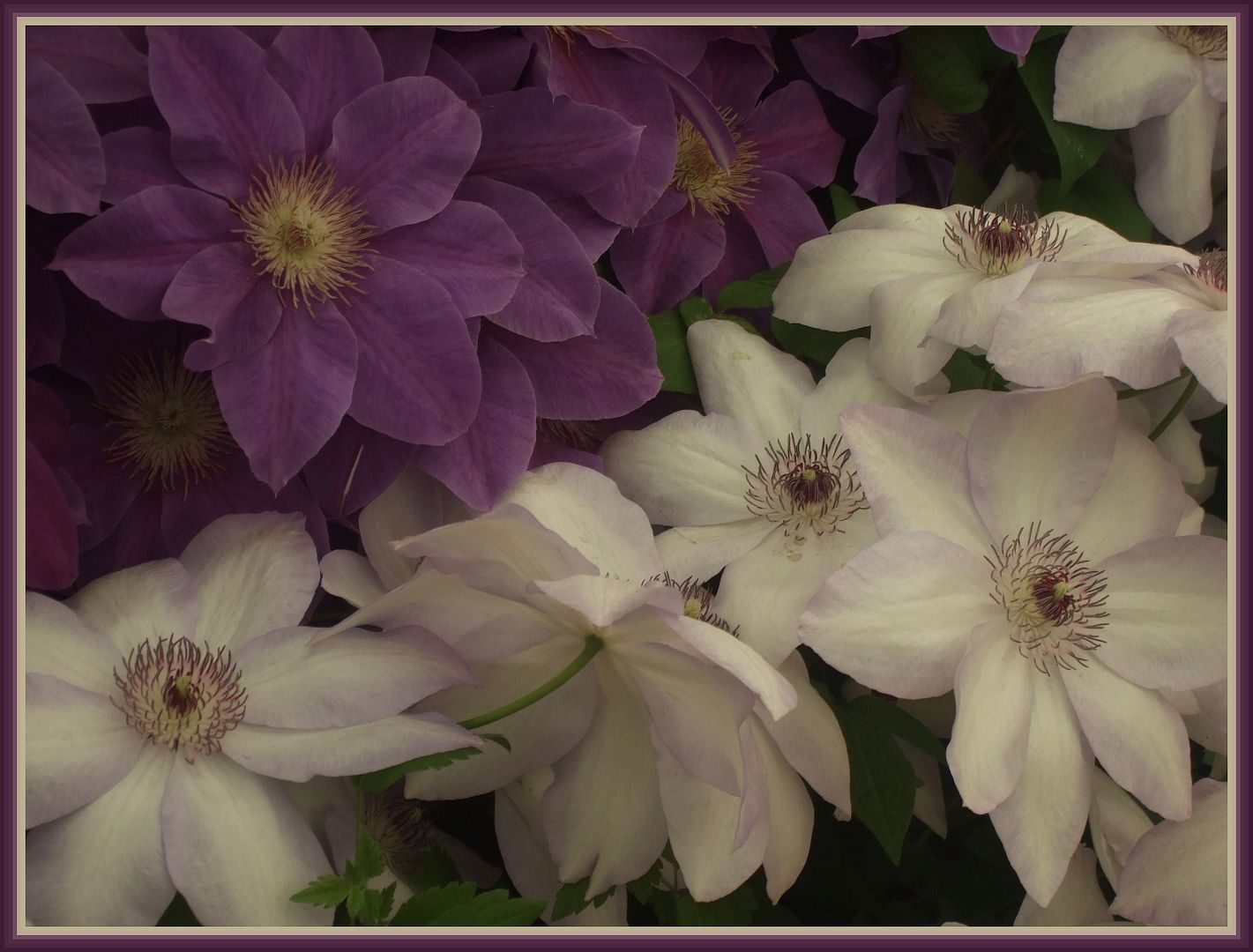 On Friday, my friend Michelle and I went off to the biggest and best annual flower show in Britain, and possibly Europe - Chelsea Flower Show happens every year at the end of May, and every year I wish that I could go - well, because Adam is now an employee of the RHS, working down at RHS Wisley, we now get two complimentary tickets for any day that the show is open to the public - namely Thursday, Friday or Saturday !!

As Adam was working at the big RHS shop actually in the show all week, he had no need of the second ticket, so that meant I could take a family member or friend of my choice - how utterly cool !! We got there when it opened at 8am and stayed until after 5pm, taking over three hundred photos in the process - and what a fabulous day we had too...





THE BEST OF THE SHOW GARDENS...



I had so much to show you all that I have decided that this post should be tackled in two parts, and so I have edited the photos thoroughly and added a couple here and there where I couldn't get the close-up or the wide shot that I needed...it wasn't too crowded to get good pictures, but occasionally there were too many people behind me, which prevented me from getting back far enough to get the whole garden or exhibit into frame.




THE L'OCCITANE PROVENÇAL GARDEN

(Silver-gilt Flora medal)

I particularly looked forward to seeing this lovely little garden as I had seen it featured a few days before, by the BBC, during their inimitable and thorough coverage...designed by James Towillis, it recreates a tiny piece of Provence in the centre of Chelsea...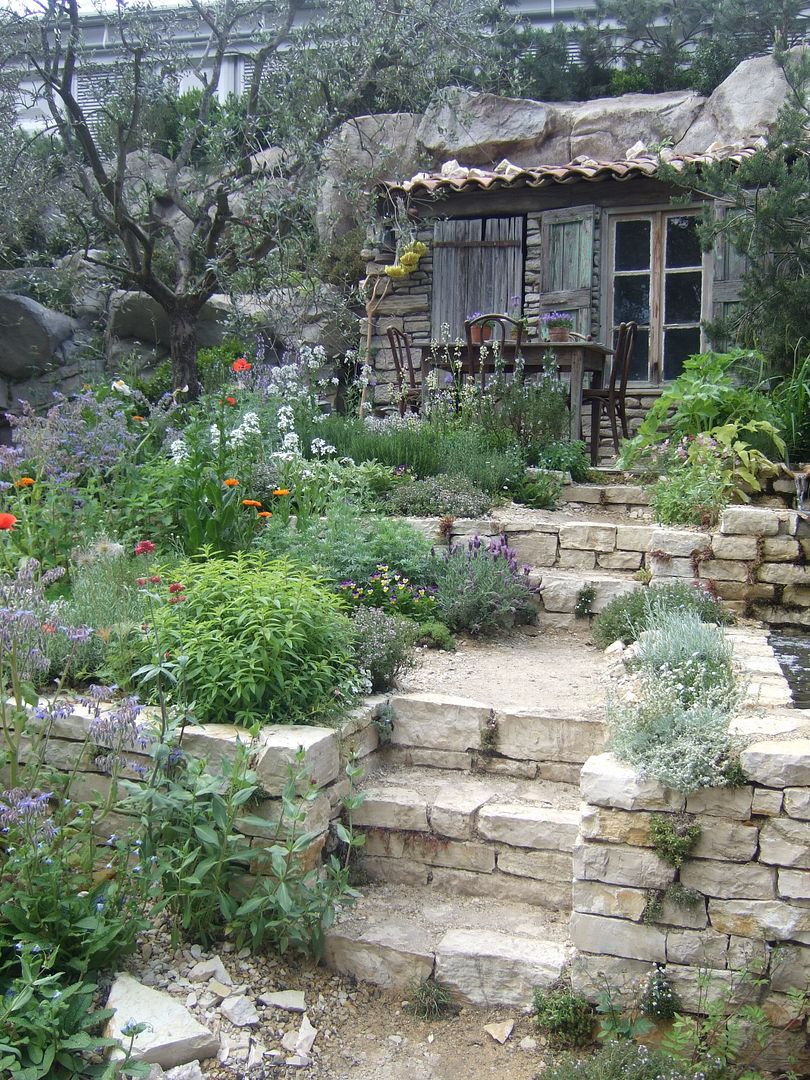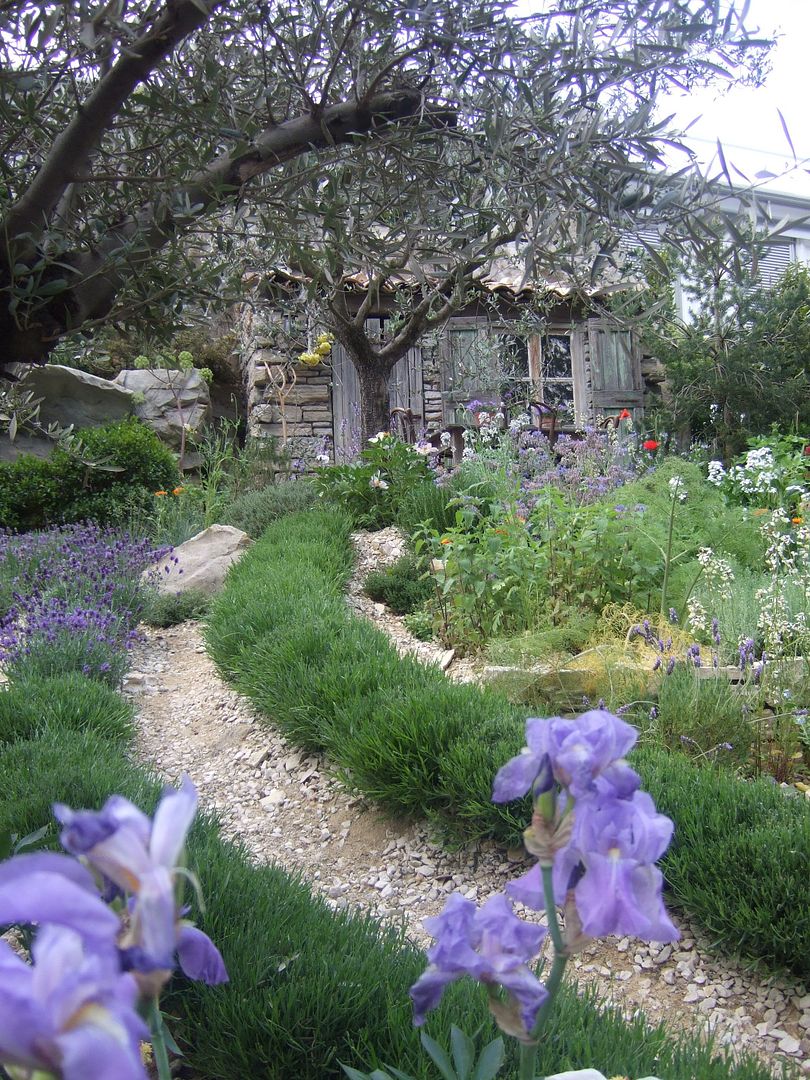 He used beautifully gnarled old olive trees, and delicious sweet almond trees, combined with all the heavily scented herbs like thyme, rosemary, lemon-verbena and sage - all herbs that the L'Occitane beauty product company use in their products - (I have a big bottle of their Lemon Verbena hand cream and it is fabulous !!)

This garden was inspired by the same French provincial countryside that inspired the company founder over thirty years ago to capture the essence of these wonderful herbs, and create creams and lotions from them !!

In particular James used tussocks of lavender in full flower, planted in rows leading up the hill to the farmhouse at the top...bringing to mind all those wonderful images of the lavender fields in France...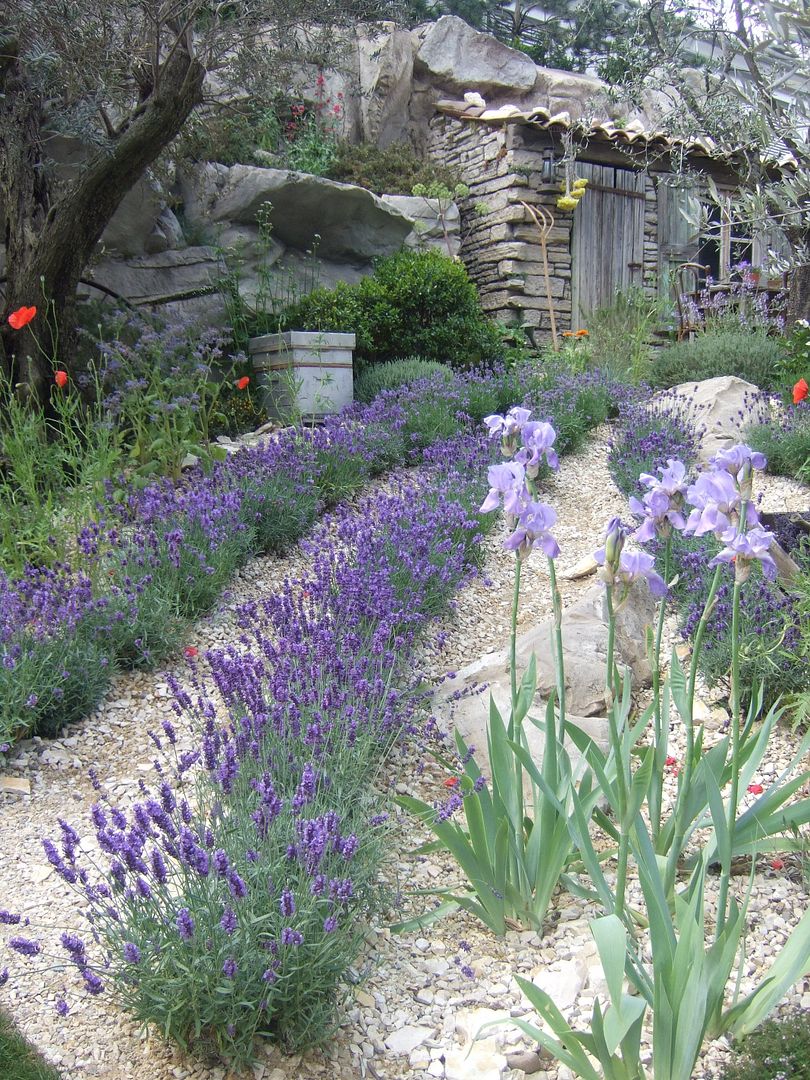 He also went so far as to borrow a number of vintage tools, and other old bits and pieces to scatter carefully around the garden to get that genuine ancient French farmhouse look - and he did obtain all these bits and bobs from a genuine ancient French farmer down in Provençe - which just adds to the feel of the whole design !!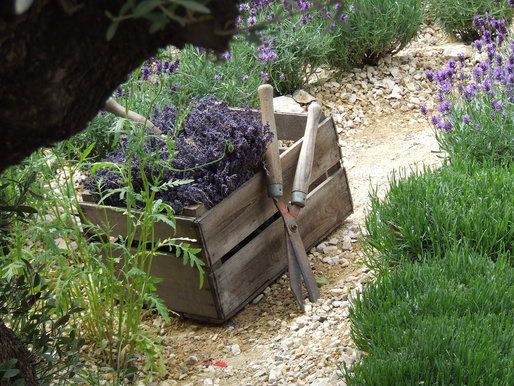 THE MALAYSIAN GARDEN

(Gold medal)

Oh I LOVE this too - for very different reasons !! Designed by James Wong and David Cubero, this garden was sponsored by the Malaysian Tourist Board, and oh my - it certainly made me want to go visit !!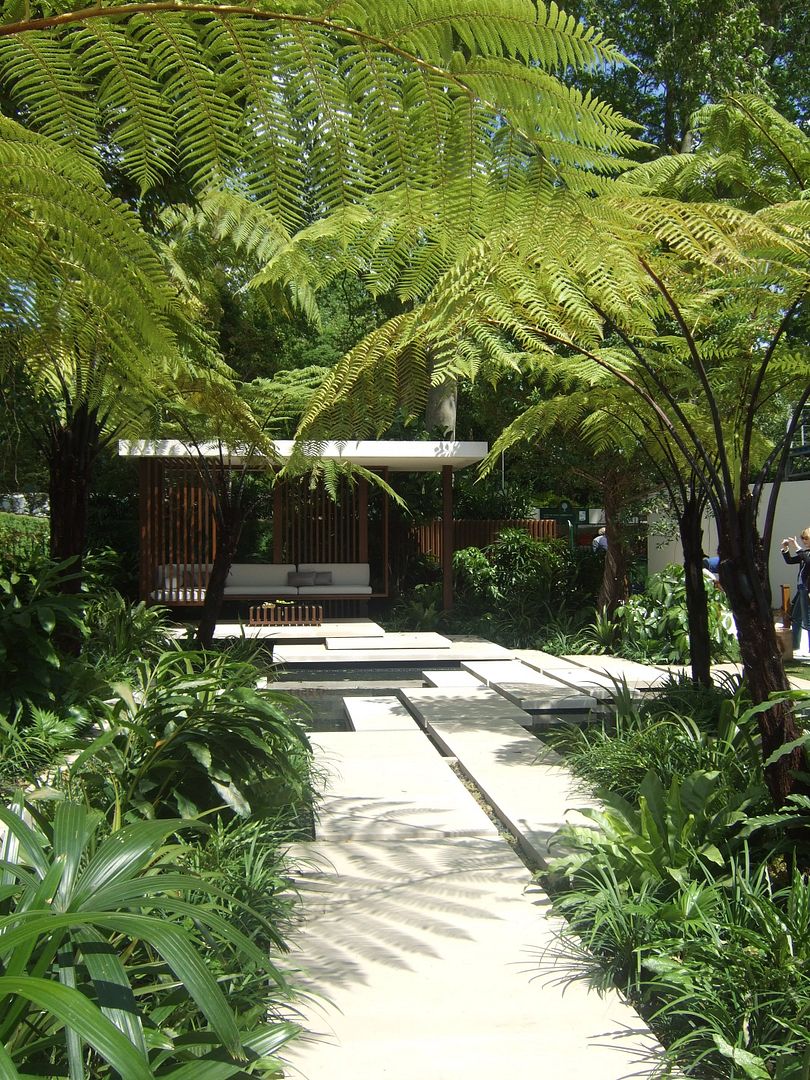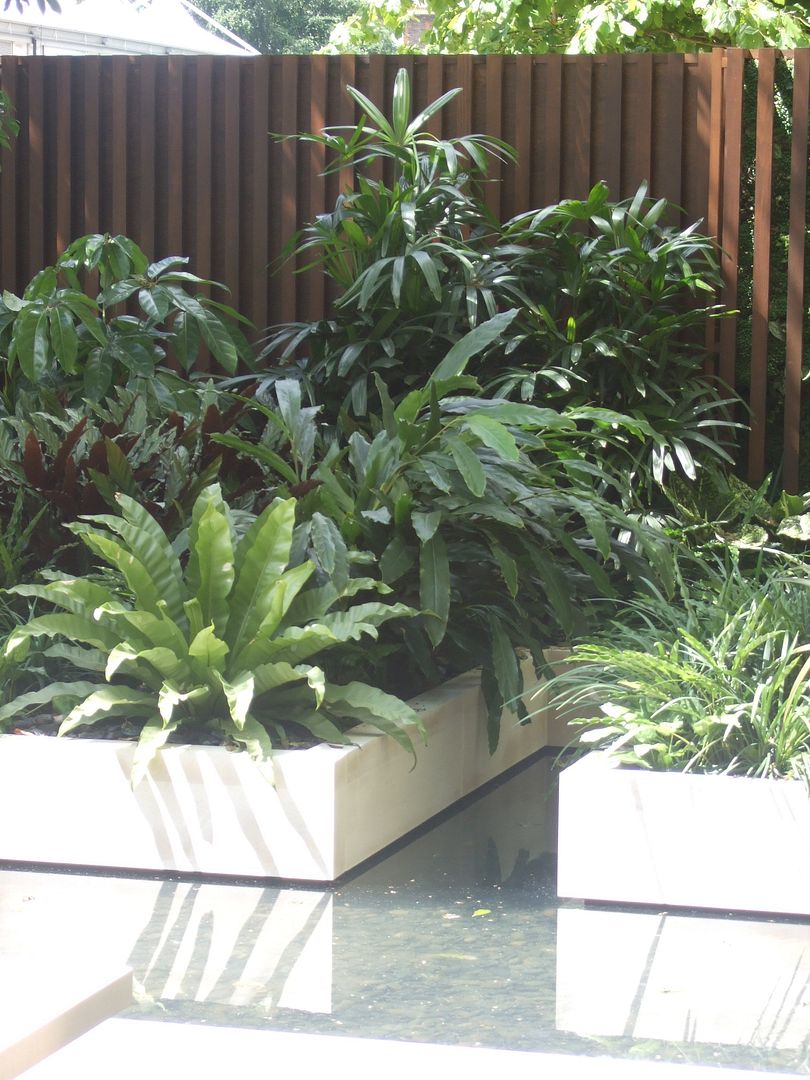 The whole garden had a fantastic feeling of tranquillity and exotic lushness, especially with the overhanging palm trees, and the huge flat slabs of Portland stone, suspended over the water - wonderfully calm and relaxing...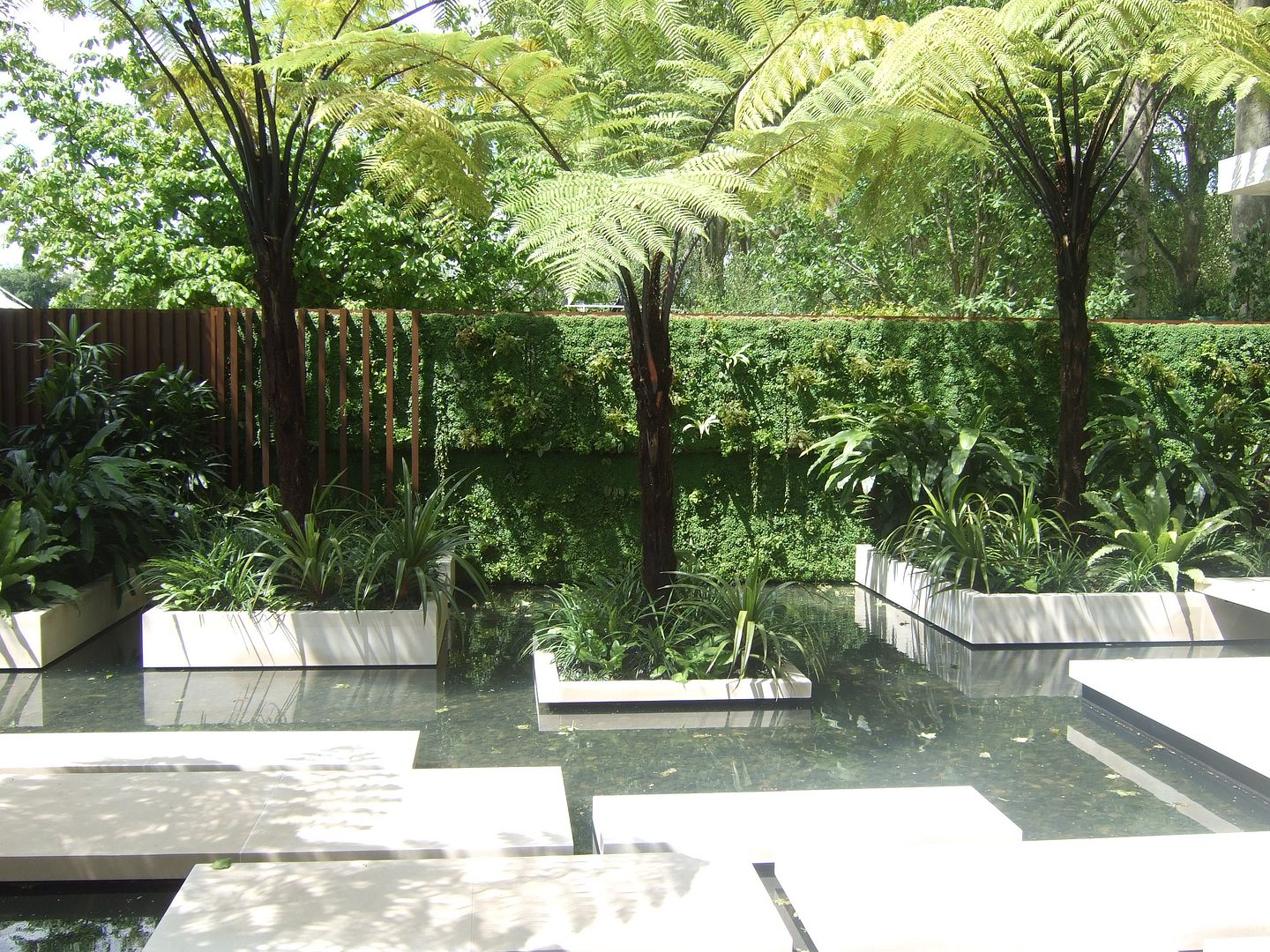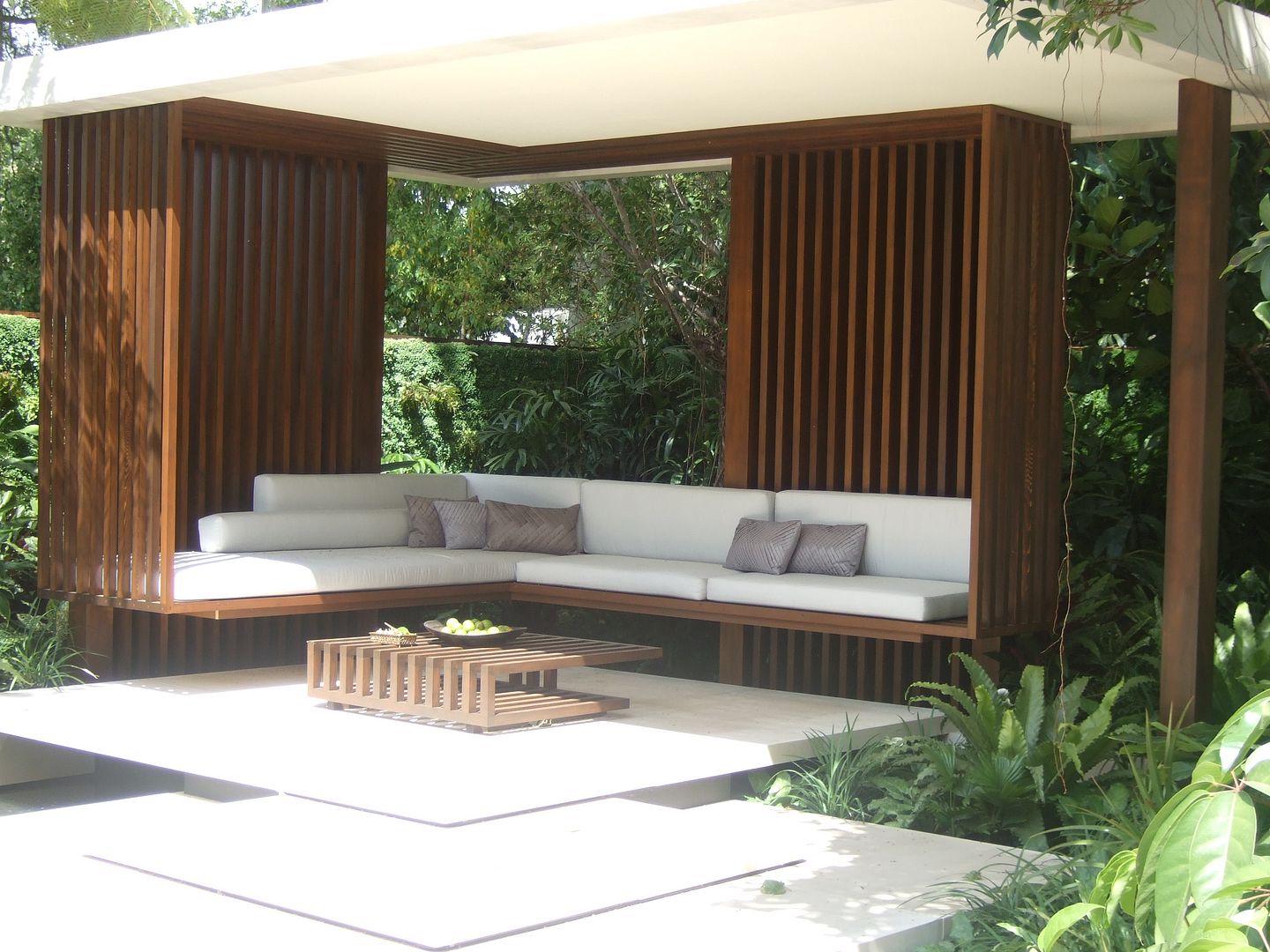 It was designed along the lines of a very modern garden in downtown Kuala Lumpar, but still had that feeling that the depths of the tropical rainforest really wasn't that far away !! This was somewhat enhanced by the sounds of jungle birdsong all around the garden - a very neat trick that really worked - for me anyway !!
I mean - who wouldn't want to stay in a Spa Hotel that had this kind of garden to relax in ?!!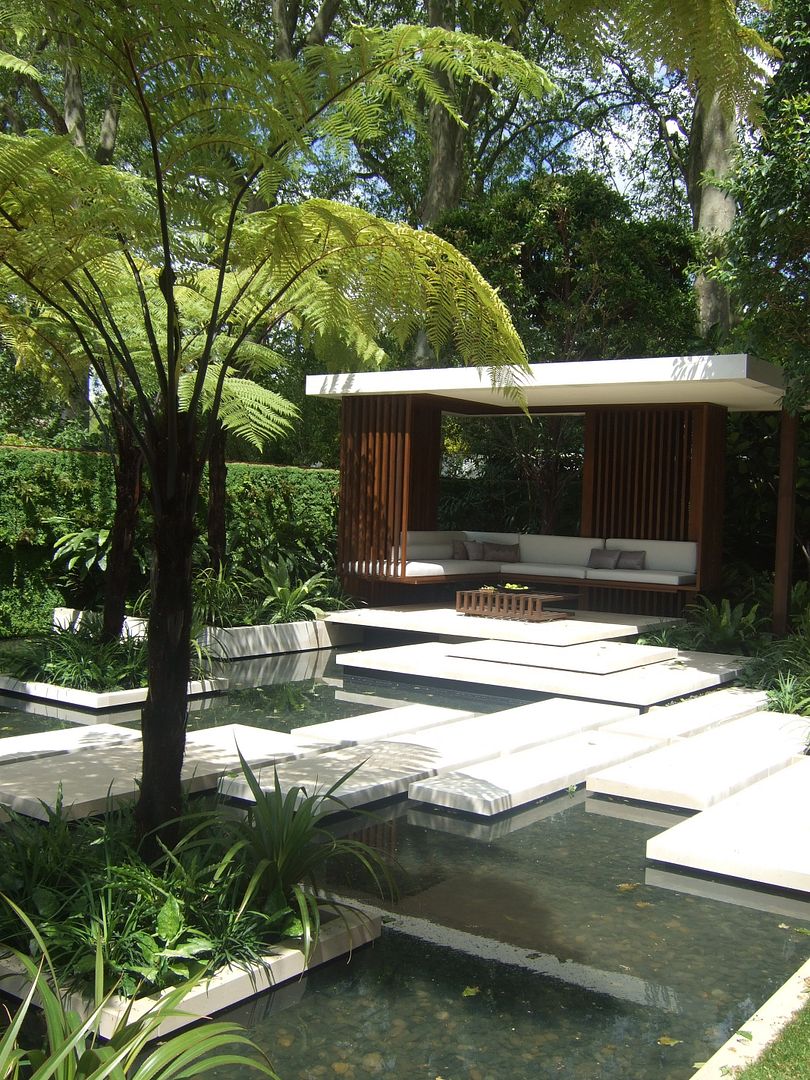 THE DYSLEXIA RESEARCH TRUST GARDEN

(Bronze Flora medal)

This was one of the slightly smaller gardens, but one which really caught my eye, because of the huge books in a pile on the path, and the amazing heavenly blue and azure glass fountain bowl...I am also a sucker for those huge irises in pure white and purple - gorgeous planting here !!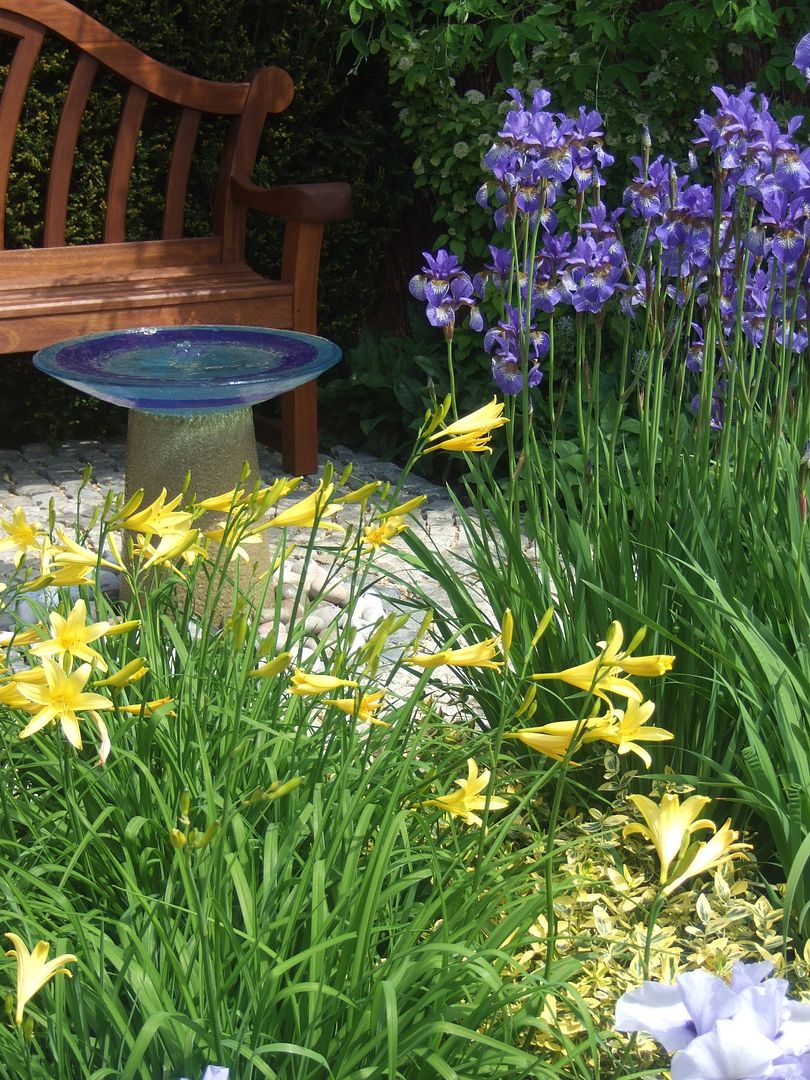 V


This garden was designed by Tim Fowler, on behalf of the Dyslexia Research Trust, and therefore I will copy here what they said about the garden design, as everything in it is significant...

"The work undertaken by the Dyslexia Research Trust is highlighted by this garden. A key part of this is analysing how the brain processes visual information differently depending on its colour – specifically blue and yellow shades compared to white light.

The garden is divided in two by a natural stone wall, with a path from the white side of the garden to the blue and yellow side. The opening in the wall is partly blocked by sculptured books depicting the barrier to learning that reading can be to sufferers of dyslexia.

The path is laid in a decorative mosaic style: it includes jumbled letters in the 'white' garden, changing to clear words in the 'yellow/blue' garden. The path leads to a shallow blue glass water feature, which represents a lens used to focus or tint light.

Now then, I am not in any way dyslexic, but I can still appreciate how difficult this type of problem can be, and therefore I like the detailed thinking that has gone into this garden, as a tool for illustrating the problem and relaying how it really is for a sufferer, to someone who doesn't suffer from it !!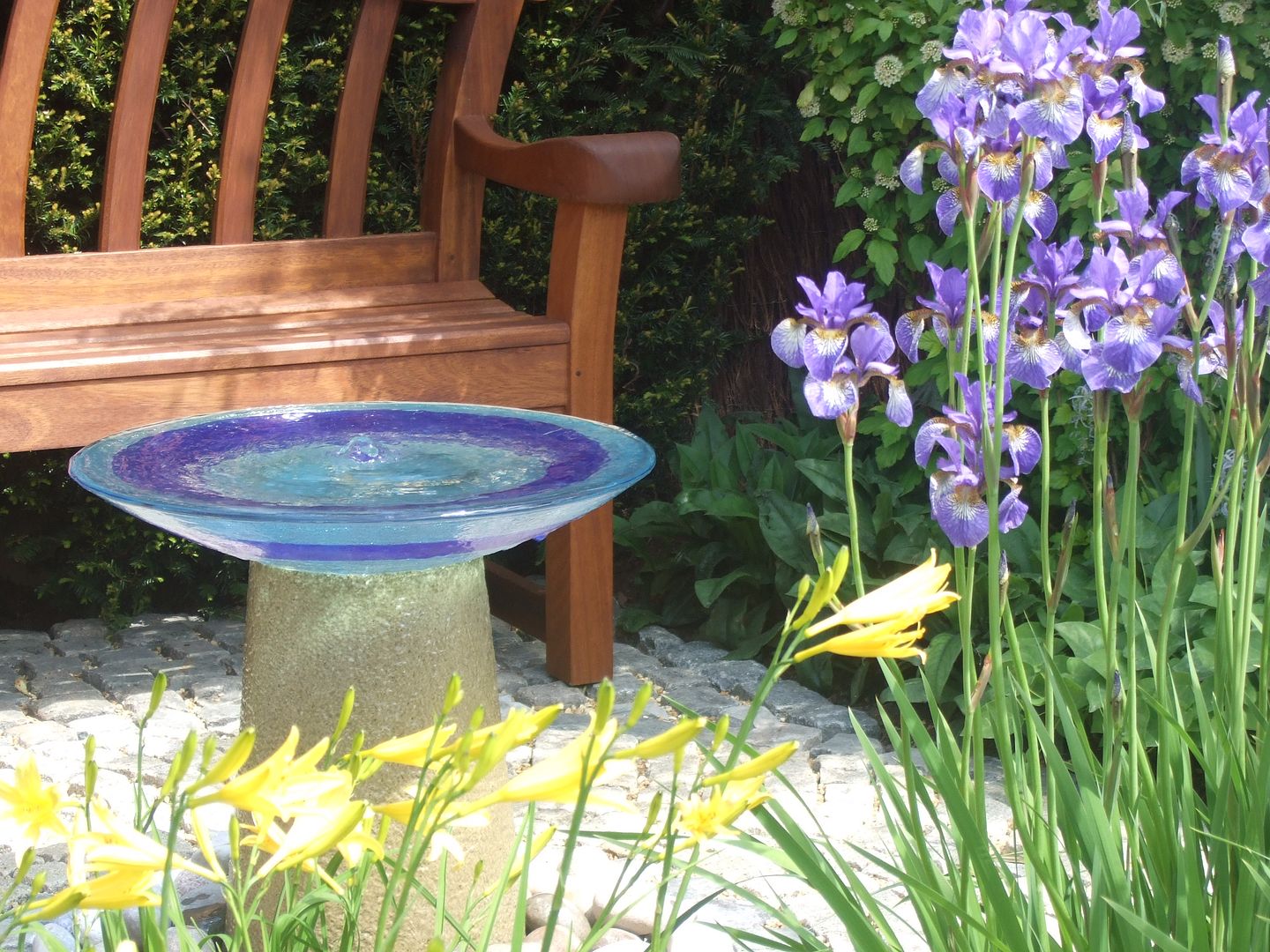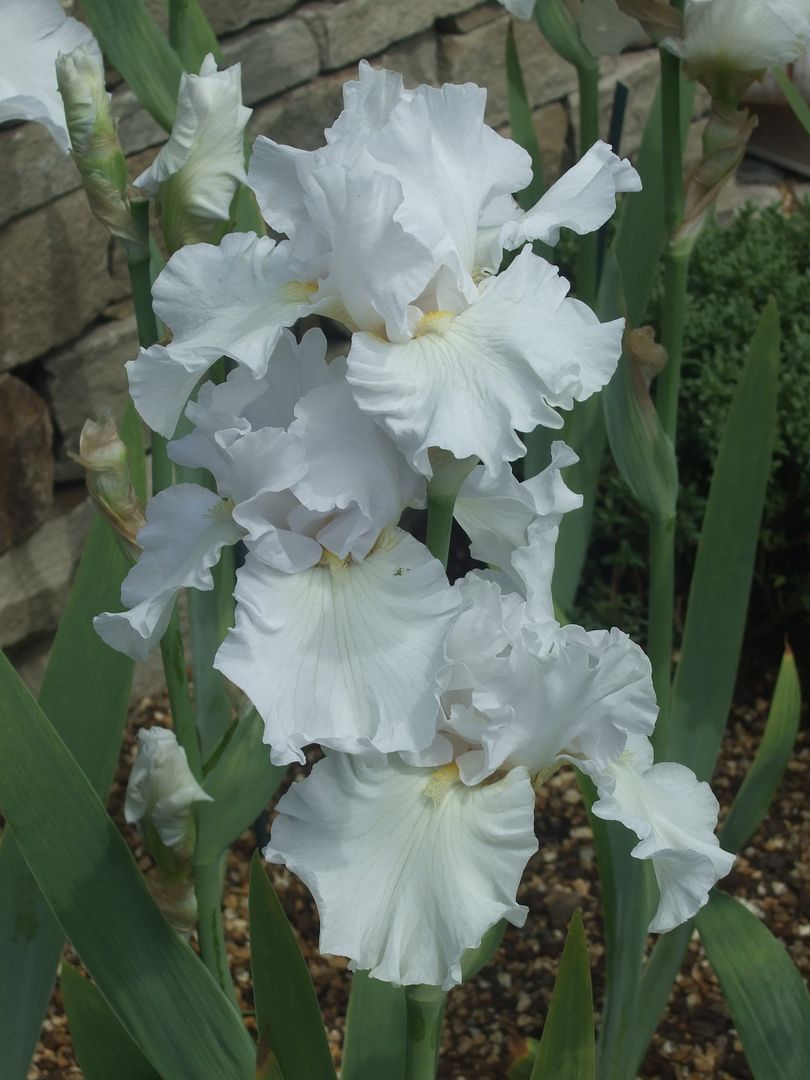 LEEDS CITY COUNCIL GARDEN

(Gold medal)

I didn't really understand how this garden got the Gold medal to be honest, over other more residential gardens that I liked much more, but who are we to question the RHS judges ?!! It's all a matter of personal taste and whether the garden design reflects the nature of who is sponsoring it, I suppose...
Nevertheless, I did like this, on the grounds of its quirky nature, although would someone really have a lock-gate in their garden ?!! I do appreciate that this is Leeds City Council, and therefore you could say that they are perhaps decorating the outdoor bits of the city itself maybe - the canal is as much a garden-opportunity as anywhere else I suppose, and it is something that a pub might have in their own garden, I guess !!

Designed by Martin Walker, it celebrates the green spaces within the bounds of the city of Leeds and uses recycled and refurbished materials wherever possible - incidentally after the show, this garden will be moved - lock, stock and barrel (sorry !!) up to Roundhay Park in Leeds to be enjoyed by the residents...which makes me feel much better about it winning the gold !!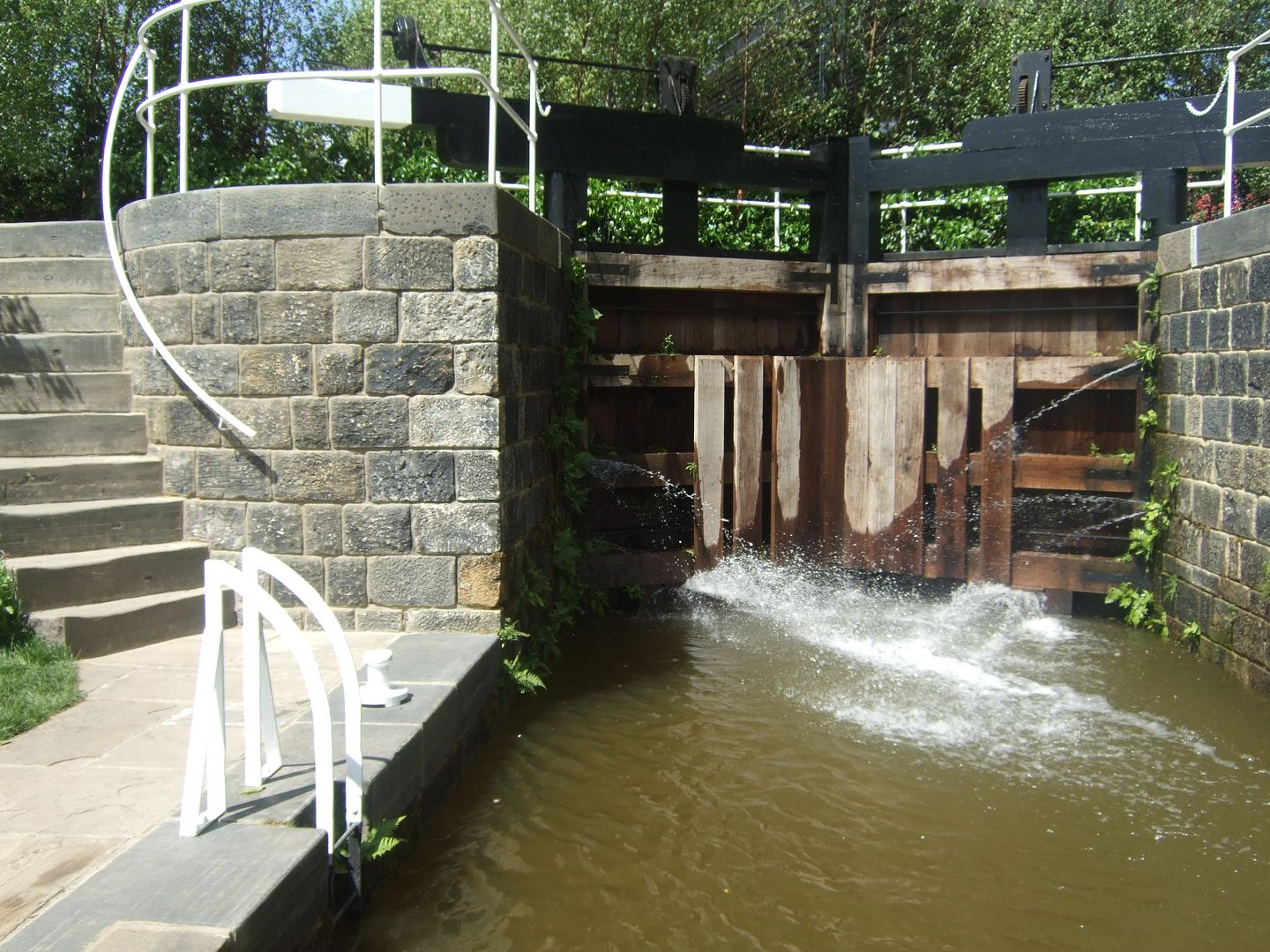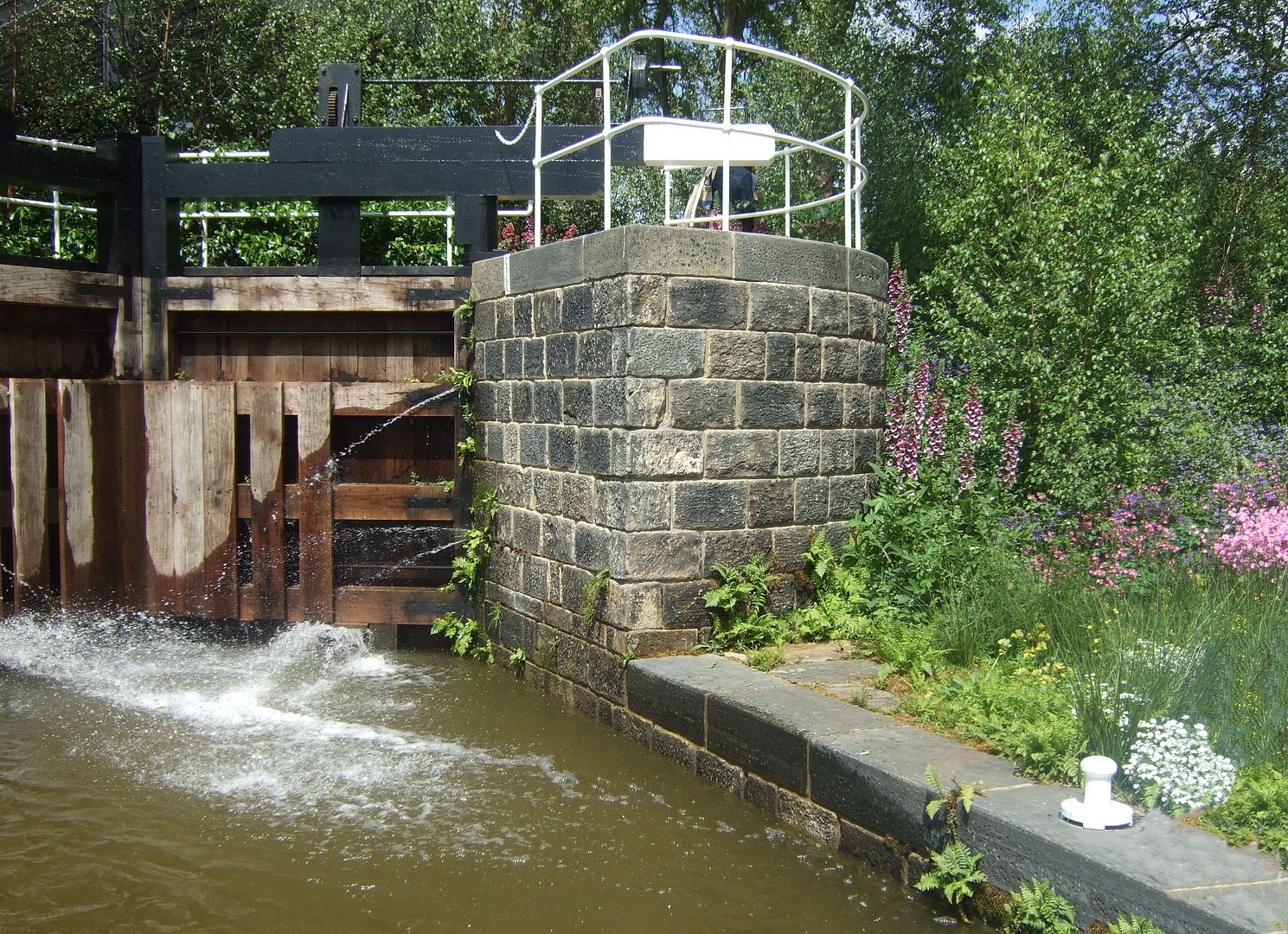 Absolutely gorgeous wild flower planting here, including tall foxgloves that are inherent all over the British countryside, combined with buttercups, bluebells, wild garlic, cow-parsley and cowslips and scores of other wild meadow plants...






THE WORLD SKILLS GARDEN

(Silver Flora medal)

I found this to be one of the most interesting gardens in the whole show - designed by Paul Green, this little garden was in the Small Gardens category, but managed to pack so much of interest into it...the idea of it is that it showcases the wide-ranging skills of a variety of young craftspeople who all ventured their time and talent to contribute towards this garden ...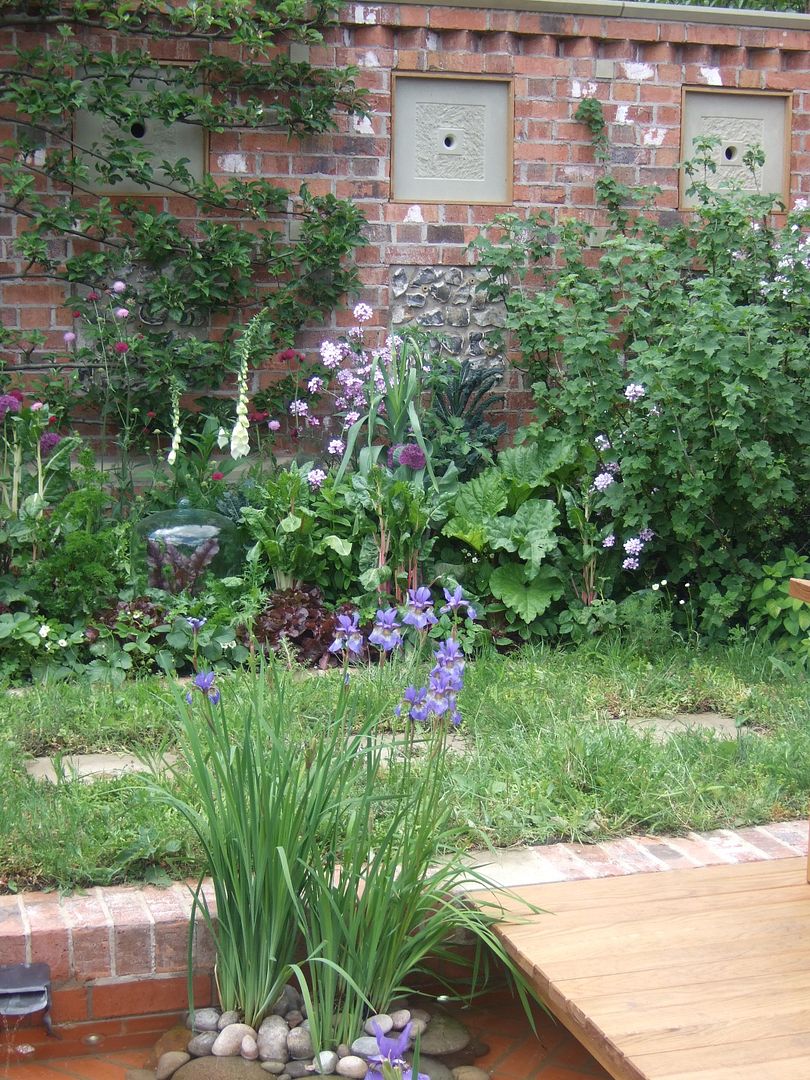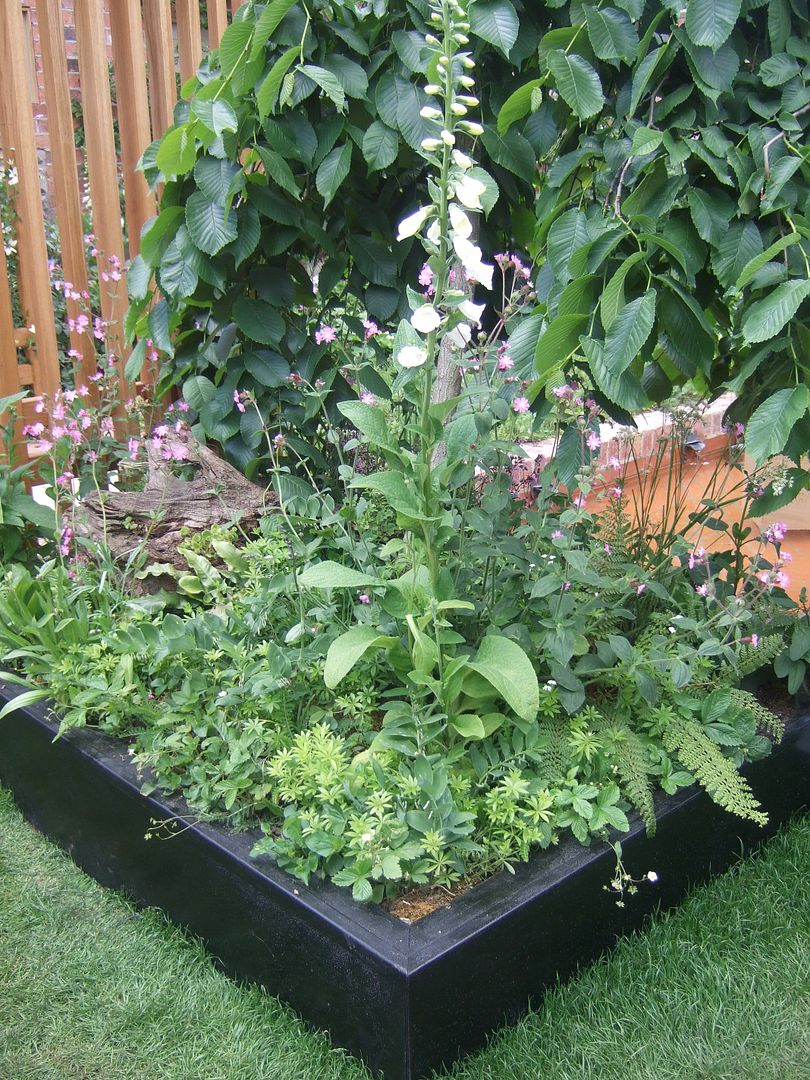 The best and most innovative thing about this garden, to me anyway, was the beautiful wall surrounding it on two sides...this isn't just any old wall - oh no !! This wall showcases the bricklayers art and skill, incorporating sections of flint and sandstone that have been drilled to provide havens for bees and lacewings and other nesting insects - it also includes big square panels as part of the overall design - these panels are actually bird-nesting boxes, and they have holes in the front of varying sizes to encourage different wild birds to come and set up house - isn't that amazing ?!!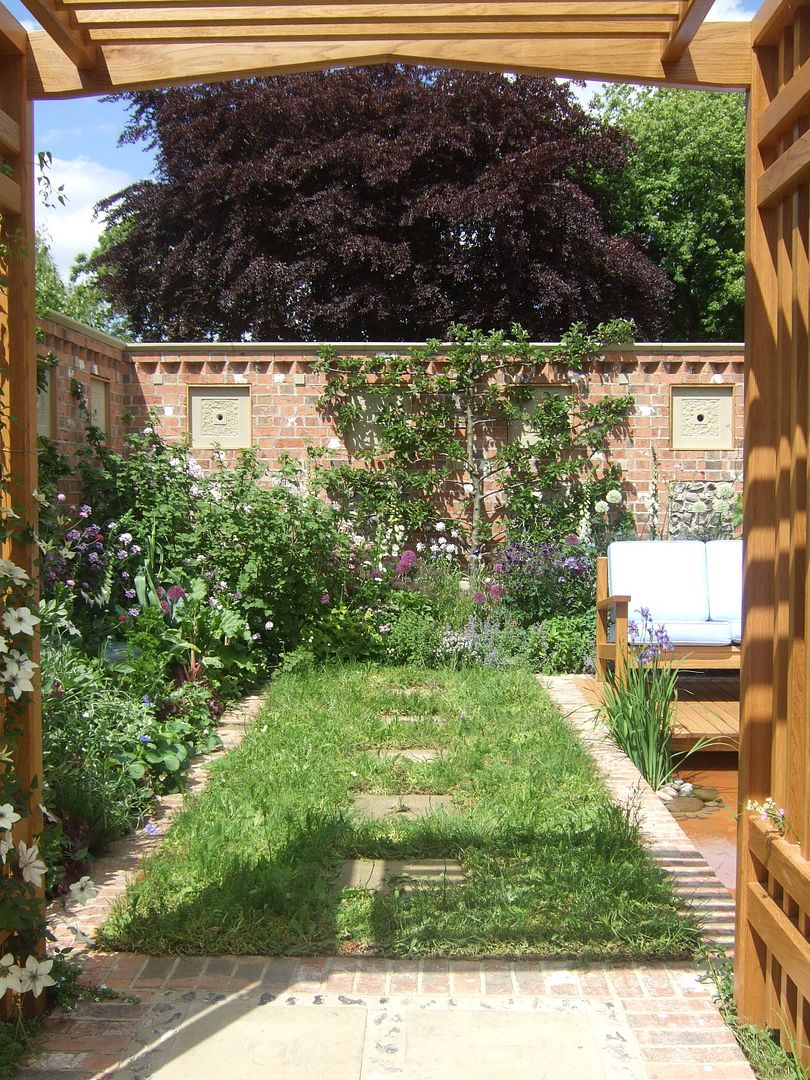 The garden itself was planted with loads of old varieties of fruit, including the 'Ribston Pippin' which is the parent of our modern favourite, the Cox's Orange Pippin apple... I'm guessing that this is the espaliered tree against the wall at the back ...

They also included old pea and bean varieties, and a wormery disguised as a traditional beehive !! Even though this looks a little on the unmown side, far from being a messy patch of grass, the lawn is actually a chamomile lawn, and therefore gives off a wonderful scent as you walk on it !!
I liked the whole concept of this garden, and would love to include elements of it in our own garden at home...although maybe not the nesting boxes - our three cats would just love that !!



THE TRAILFINDER'S AUSTRALIAN GARDEN

(Gold medal)

Trust the Aussies to create a garden for a party !!...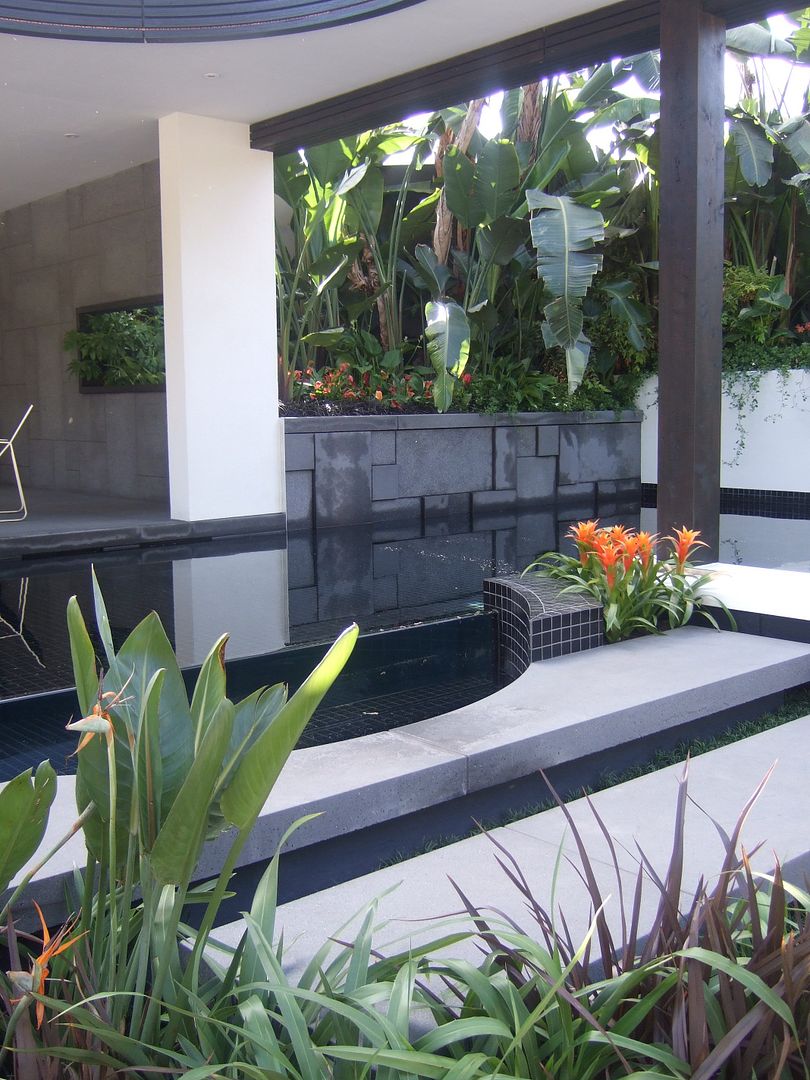 Designed by Scott Wynd, this is a very modern urban garden designed for eating flame-grilled meats, drinking beer and relaxing in the swimming pool and glass-sided jacuzzi with a whole load of mates...it incorporates a sunken eating area with its own barbecue cooking facilities and refrigeration for the beer of course, and a huge circular built-in seating around the edge - marvellous stuff !!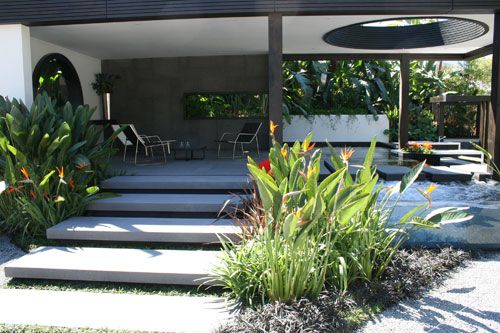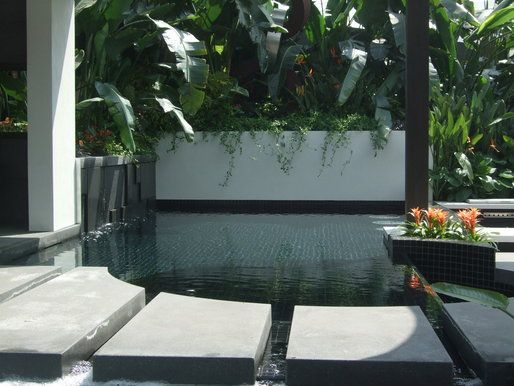 The planting includes huge banana palms, and other jungle plants, which overhang everything and give you that feeling that the jungle is encroaching right up to the sides of the pool...there are great clumps of Bird of Paradise flowers, all bright orange and purple, and red Bromeliads right beside the water...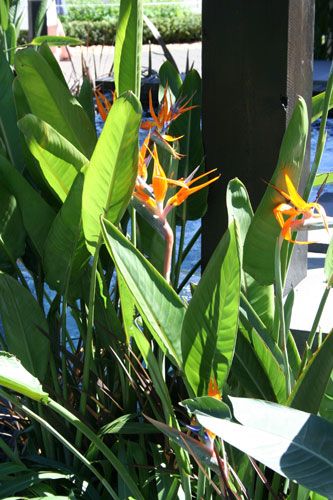 I loved this - for its exuberant use of flowers and jungle plants, and the clean black and white architecture - and the great laid back party atmosphere of the whole concept !!




KAZAHANA - "A LIGHT SNOW FLURRY FROM A CLOUDLESS SKY"

(Silver Flora medal)

This is a marvellous Japanese garden, designed by Kazuyuki Ishihara, using all the beautiful plants that are native to Japan and appreciated so much over here for their Autumn colour and shapes of their leaves - all the Japanese Maples and Acers, in red, yellow and lime green, and other interesting foliage plants like Spirea, Pieris, and various Hostas...he has created a beautifully relaxing space to sit and unwind..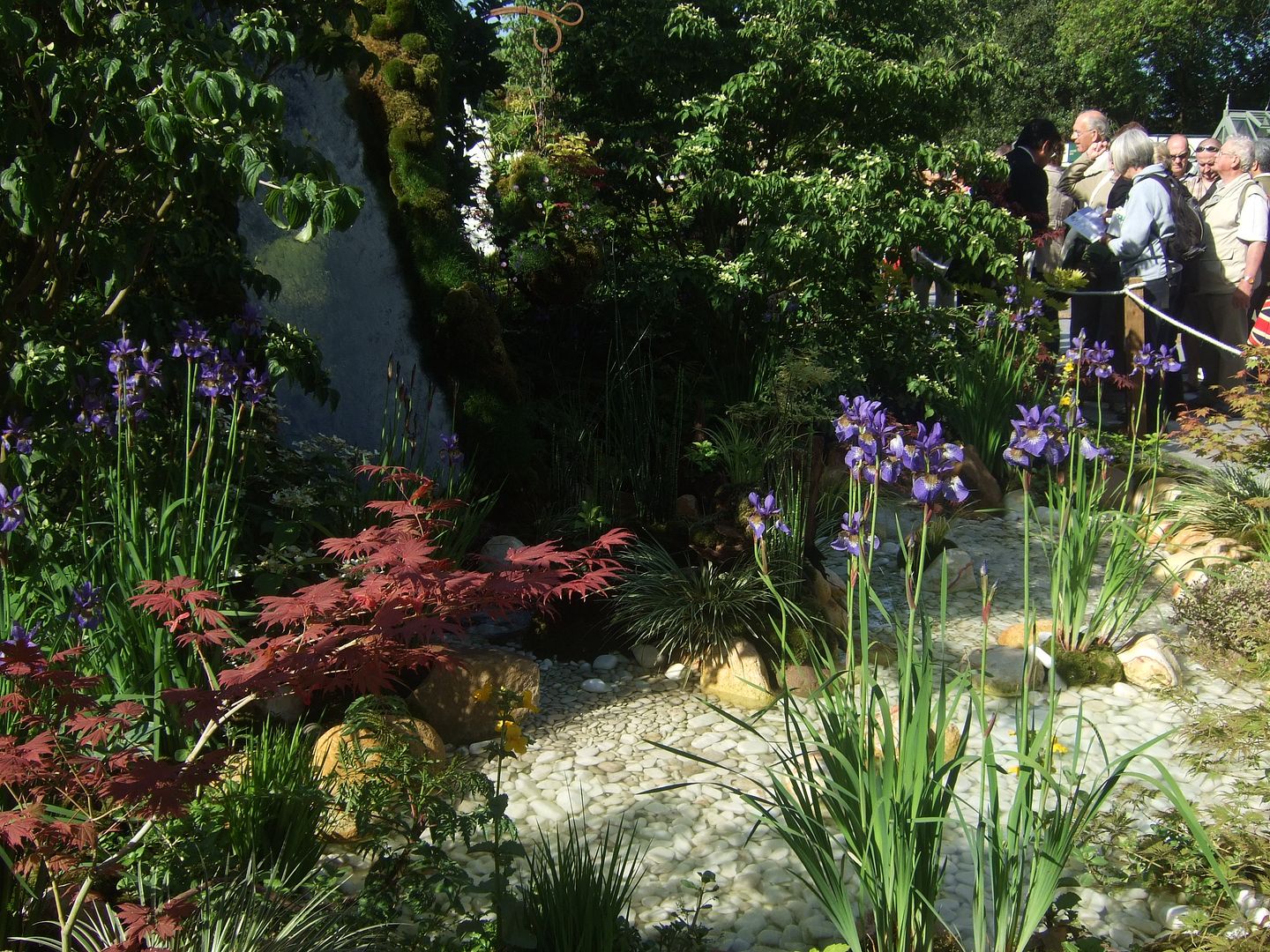 A large sheet of water falls over a stone ledge, down into a water-filled pool, filled with pure white pebbles and large creamy-white stones, striped with rusty red...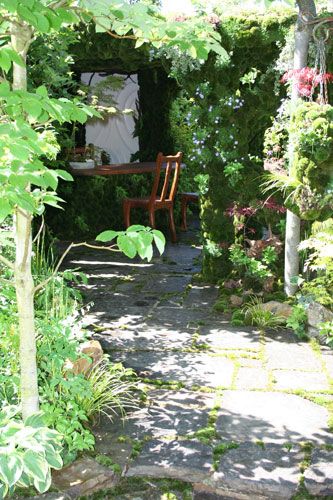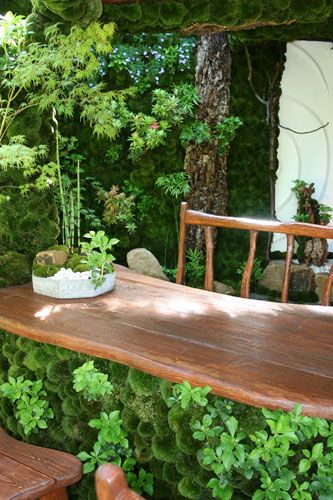 Under a foliage-covered arbour is a roughly hewn, but polished wooden table and chairs, creating a wonderful place to eat or just sit !! I liked this a lot, mainly because I am an absolute sucker for Japanese and Chinese garden design - my own window design for Chelsea Flower Show 2008 was Chinese in its concept - and also maple trees, however small - I love maples !! I also love water in a garden, especially if it is moving, and this is a really great water design !!






THE ACE OF DIAMONDS GARDEN

(Bronze Flora medal)

Designed by David Domoney, sponsored by BMI Diamond Club, there was a whole flurry of ridiculous publicity for this garden, last week, with photos of all the burly security guards standing over the real diamonds that were supposedly concealed, in full view all around this garden...at the time I thought this was all simply a dreadful attempt at publicity-seeking for the sponsors, and I was right - this garden was on the whole quite naff - all dazzlingly sparkly white gravel with huge gemstones scattered all over the place, in between beds of brightly coloured flowers...not my thing at all !!

But then, I caught sight of this...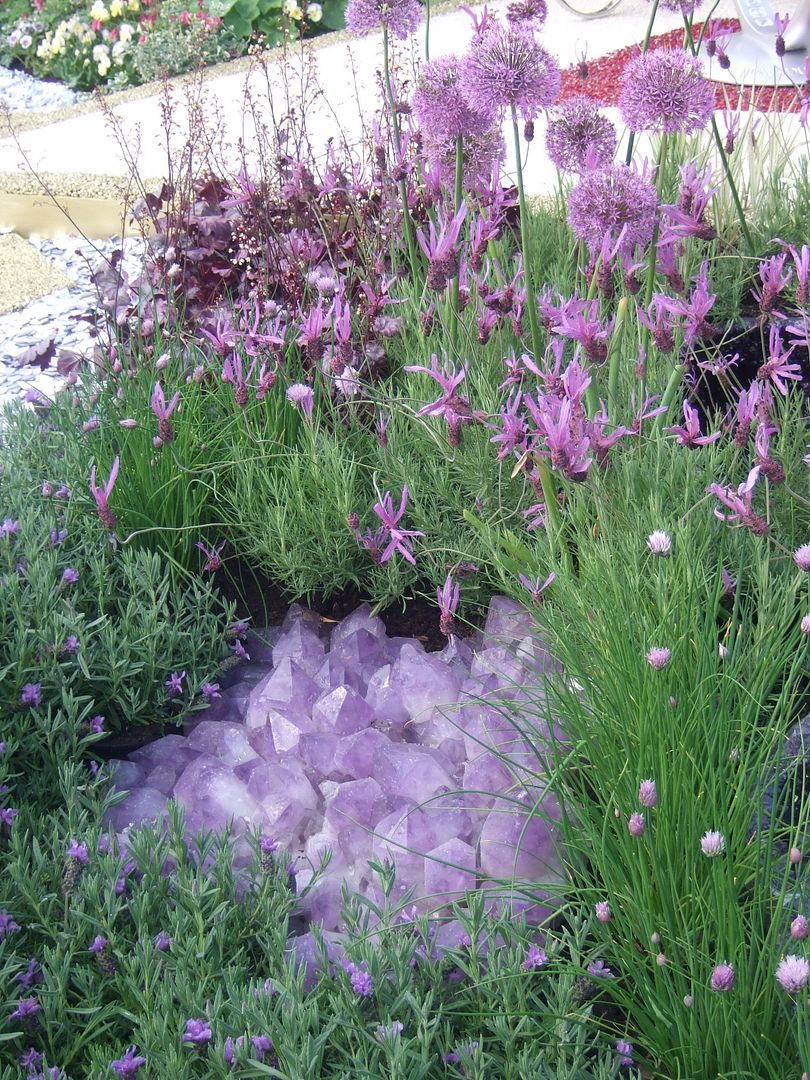 Suddenly, all my negative thoughts about this garden were cast aside as I really fell for the concept of putting a massive chunk of uncut amethyst down into the long grass, right beside a clump of beautiful purple Alliums and Irises...this I really liked...
The rest of it - not so much !!



'A JOY FOREVER' GARDEN

(Silver-gilt Flora medal)

Designed by one of the very few woman designers at Chelsea this year - Kate Gould, who really managed to bring new meaning to the phrase 'outdoor living' !!
She created a whole living room out in the garden, with a full sofa and chair set, coffee table and working fireplace too...the side unit housed logs for the fire, and there was also a rainwater-collecting facility to reduce the environmental impact of the whole garden...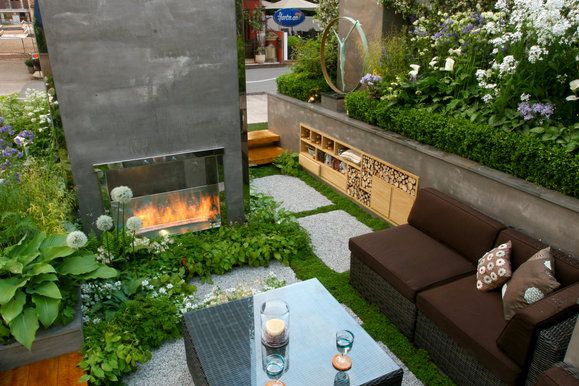 Apparently designed for a couple who like to use their garden as an outdoor room for most of the year round - hence the fire, I guess - I liked the whole made-to-measure shape of the wall surrounding the furniture and the whole concept of an outdoor fireplace is amazing !!
Even though this garden is not very realistic, it is imaginative and beautiful...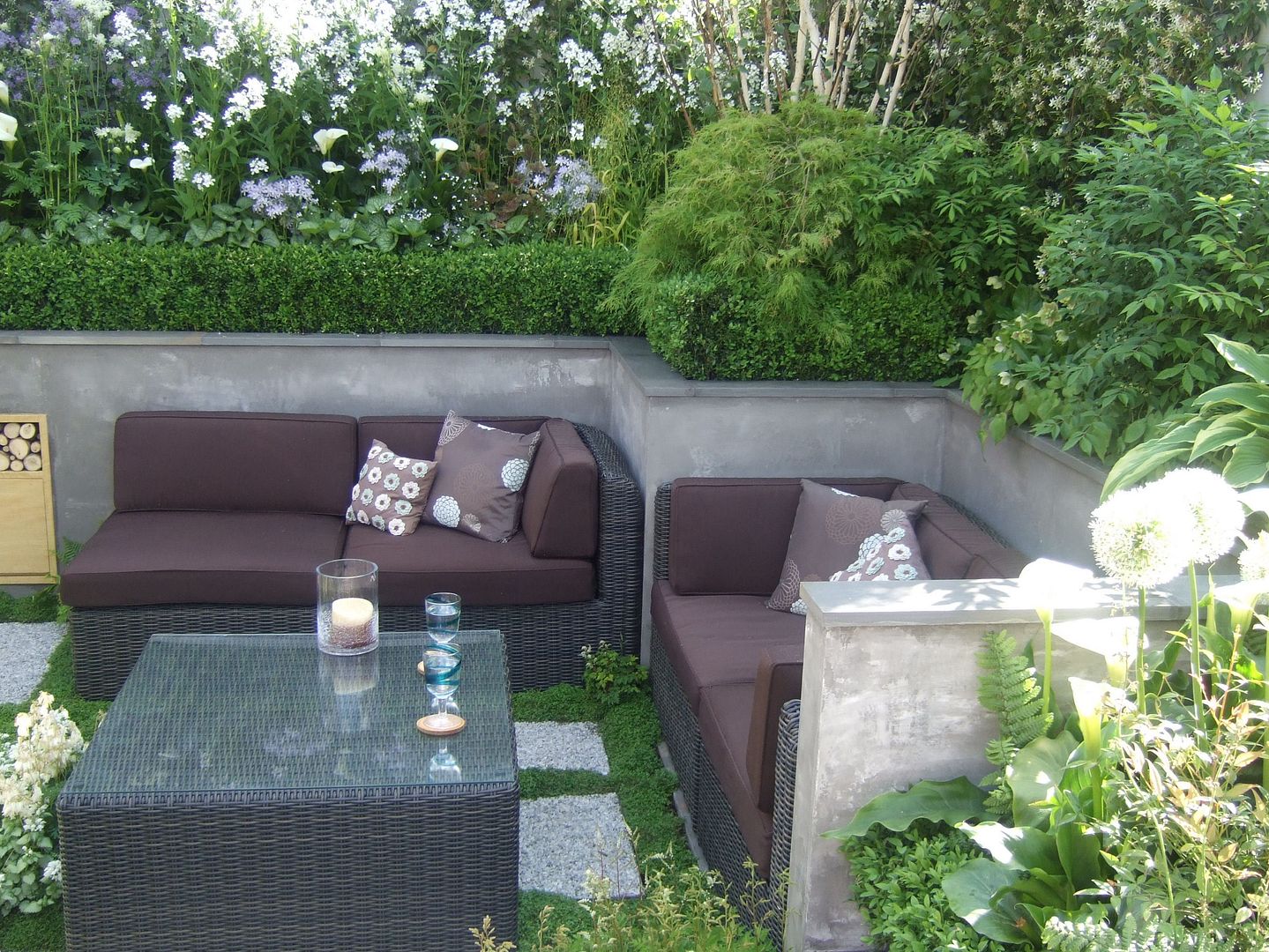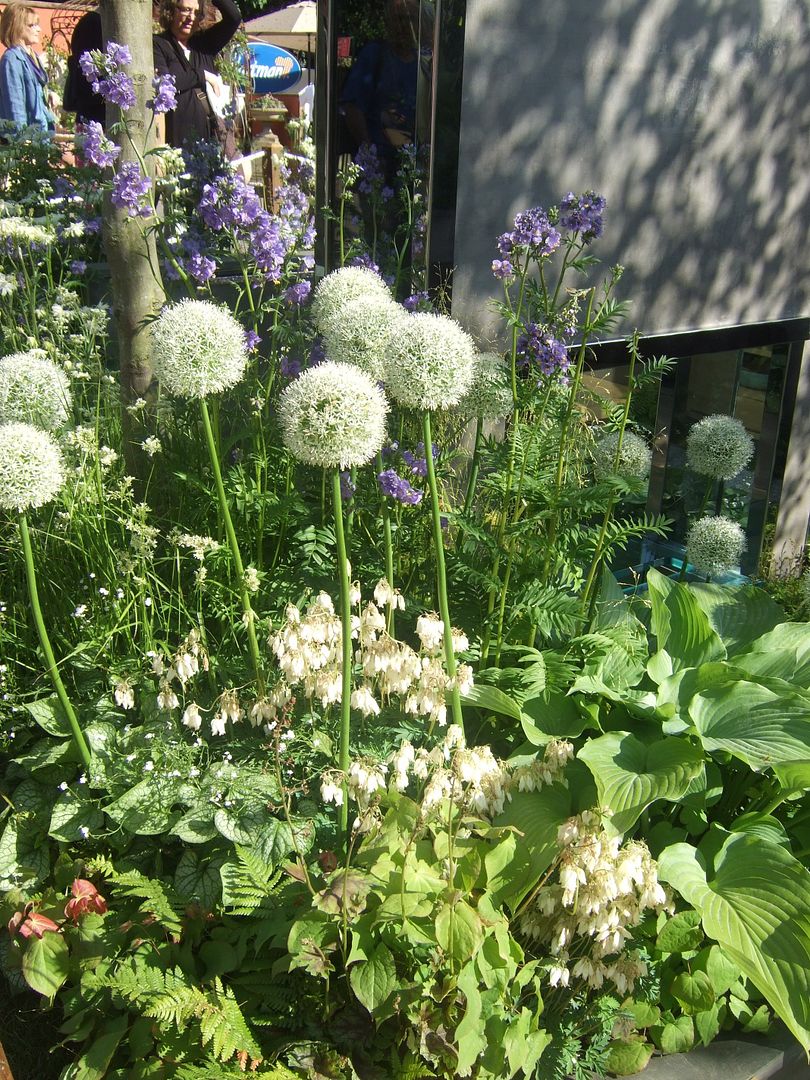 THE FOREIGN & COLONIAL INVESTMENTS GARDEN

(Silver-gilt medal)

Designed by Thomas Hoblyn, this garden really caught my imagination, as it suggested a beautiful Mediterranean Italian garden to me...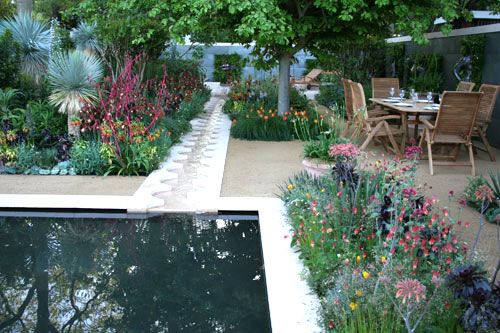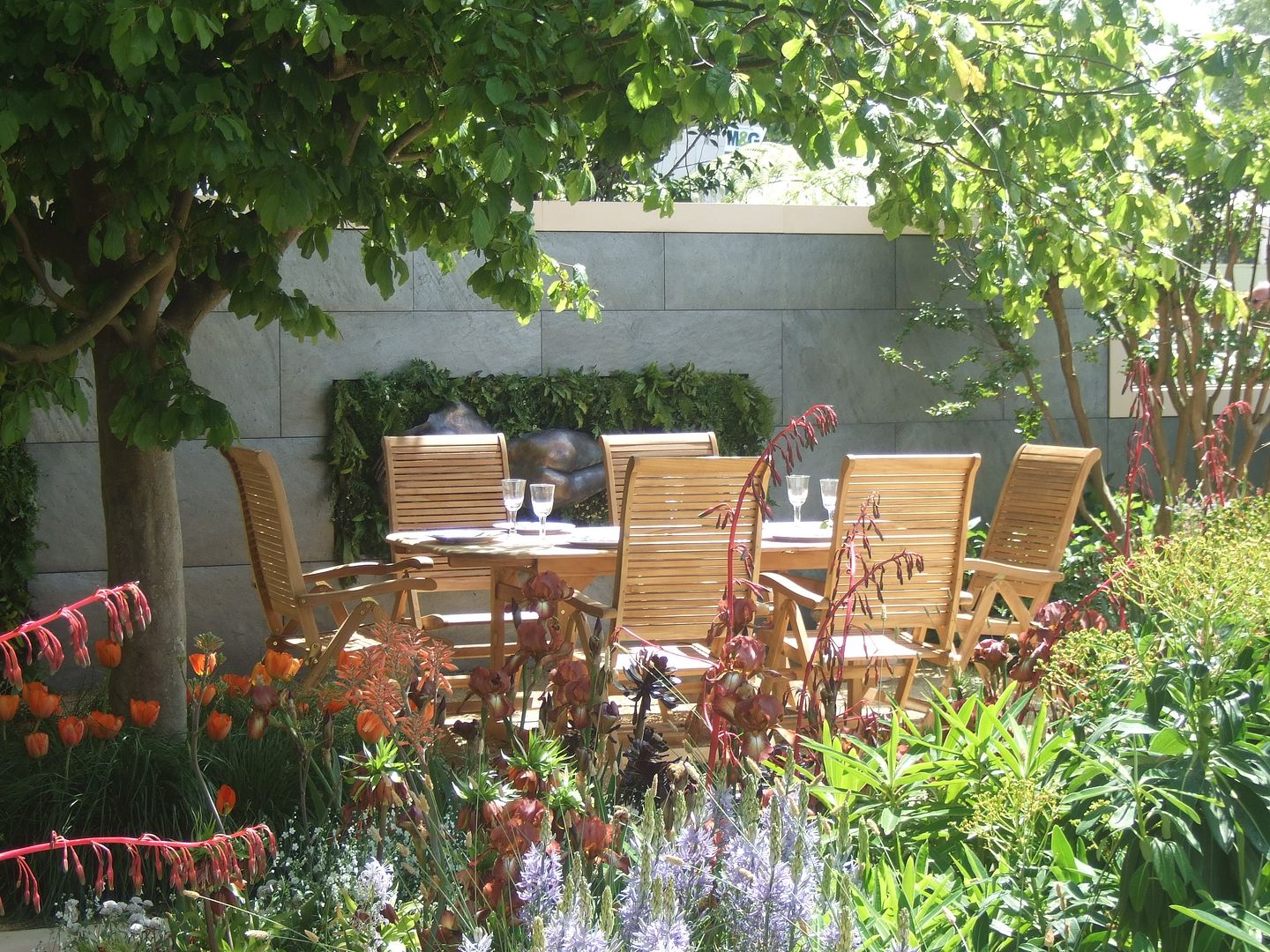 This was especially due to the dappled sunlight coming down through the leaves of the trees by the dining table, and the scallop-edged water-runnel which led down to the rectangular pool...

I also was rather taken with all the amazing bits of bodies sculpted in bronze and set into the walls all around the edge !! I found these sculptures to be amusing and original...although some people won't like them at all - I know that Michelle wasn't that keen - particularly the bum sticking out of the wall right by the table...very disconcerting !!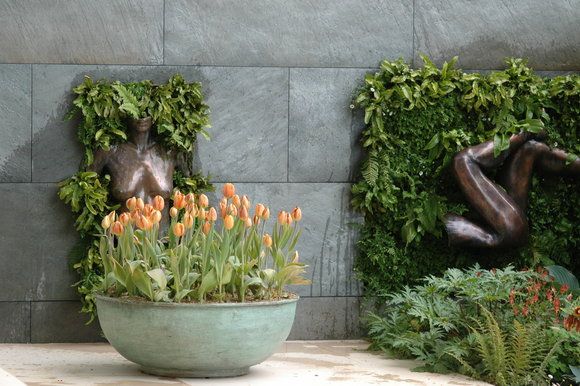 THE VICTORIAN AVIARY GARDEN

(Silver Flora medal)

Out of all the bigger Show Gardens, this really took the biscuit, and not just for its amazing, blue trellis Summer House - this gorgeous pebble mosaic left me all but speechless - it was stunning...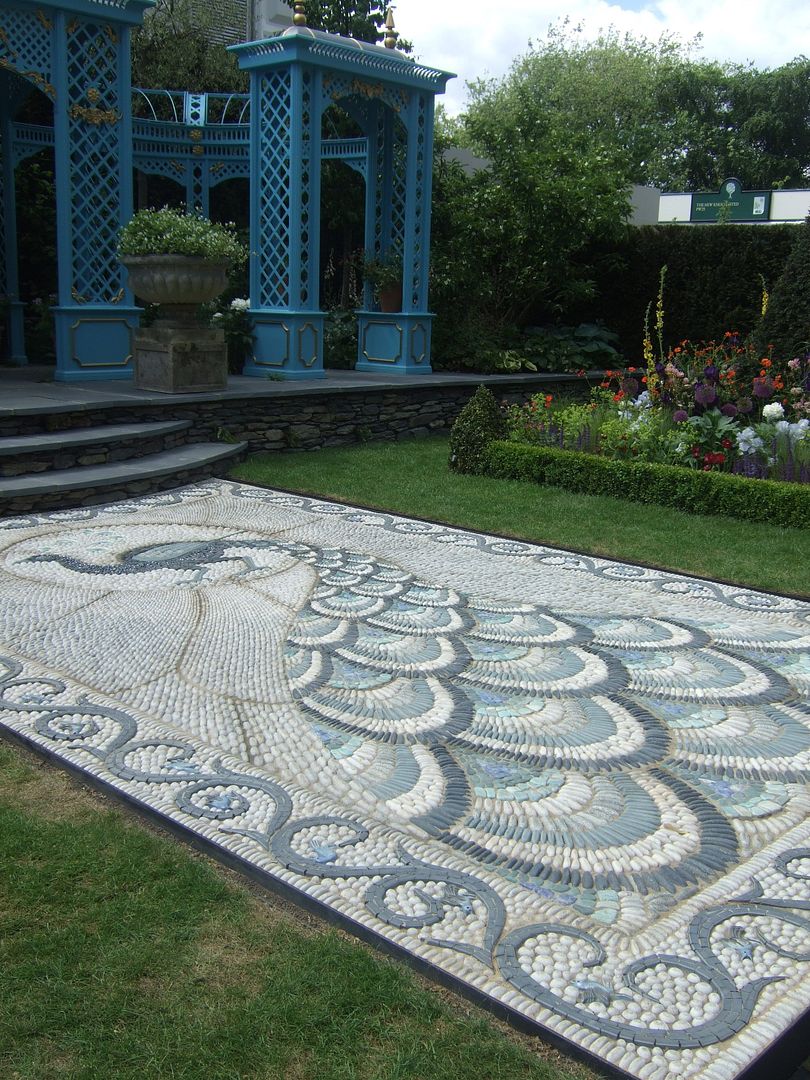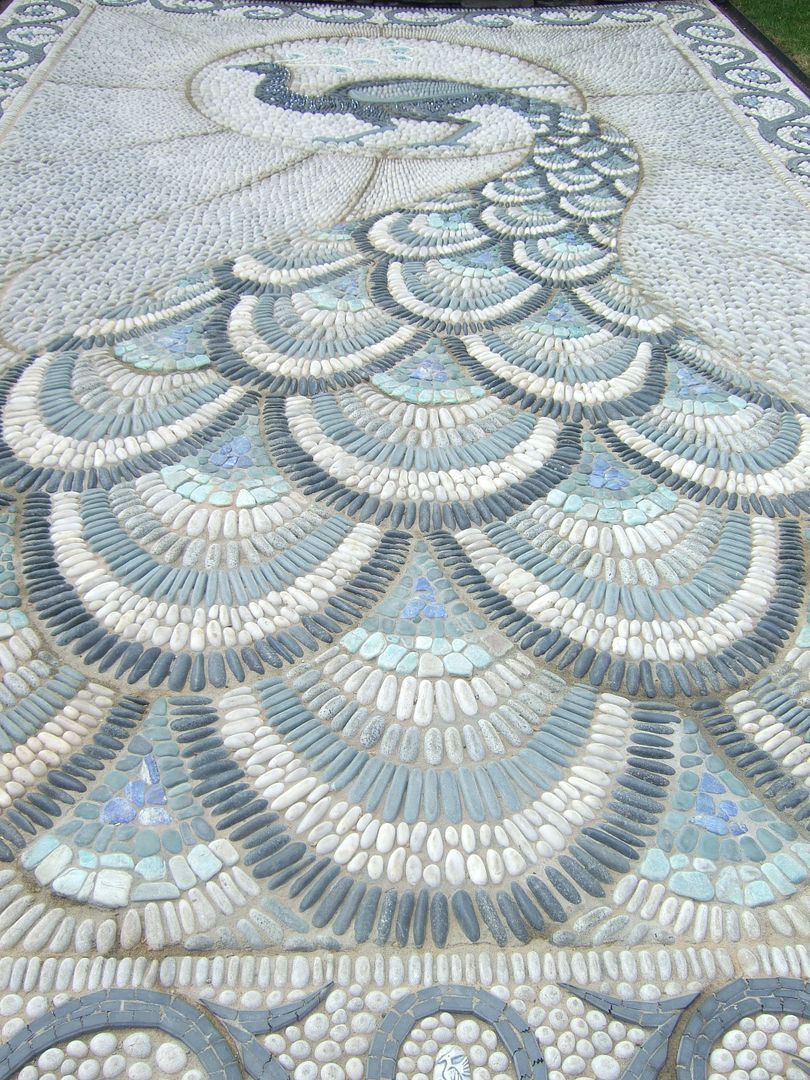 Yes - this has to be my absolute favourite design idea out of all the entire Show...this was the most incredible 4m x 3m mosaic made up of beautifully chosen, and - oh - so carefully arranged beach pebbles, all in varying shades of pale blue-grey and stoney white, that all built up in a fish-scale pattern to create a picture of a peacock - absolutely gorgeous...I love it !!




The whole garden was designed by Philippa Pearson and Jonathan Denby, and the pebble mosaic path was created by artist Maggie Howarth...
The Victorian Summer house was also incredibly beautiful - a rich shade of turquoise blue picked out in gold, and done in an open-work trellis design that is simply made to ramble roses up...with delicate cream tables and chairs set for afternoon tea, in fine Victorian style !!




If you fancy seeing this after Chelsea is over, the entire site will be relocated to a Southlakes Hotel in Cumbria...



So, those were my favourite of the bigger Show Gardens at Chelsea - what about the tiddlers ?...after we had walked around all morning looking at these beautiful gardens, we really needed a spot of refreshment, and so we met up with my friend Paula,( in her high visibility Marimekko poppy-print coat ) who was helping out on a friend's stall - 'Posh Graffiti', the one which sells the giant wooden letters that you can spell words out on your wall, along with other wooden carvings...

We didn't have much trouble in deciding that, as it was a lovely sunny day, it was really Pimms o'clock...and therefore we got ourselves a big jug of Pimms - enough for three people to have two glasses each - and some fine sandwiches and made short work of lunch - Adam came and joined us for a while, so it really felt like a good get-together !! After lunch, we set off for the Courtyard Gardens, which were situated all along the back of the grassy area given over to all the food outlets...



SMALL COURTYARD GARDENS :-



Of course, not all the gardens at Chelsea were in the huge, full-sized 'Show Gardens' category, or the slightly daintier 'Small Gardens' category - there were also the 'Courtyard Gardens' - really tiny plots that were probably very difficult to design for... rather like writing a short story as opposed to a full-length novel, knowing what to leave out is as important as what to put in, but not everyone always gets this right !!

Here are the small Courtyard gardens that I really liked...and not necessarily because they were realistic garden designs either !!




THE YORKSHIRE RHUBARB CRUMBLE & CUSTARD GARDEN

(Silver Flora medal)

This was highly amusing and very novel - the design team consisted of Tom Walker, Kate Dundas, John MacCleary, and Simon Hall, who collectively decided to create a tribute to traditional Yorkshire elements in their crazy design...and showcase traditional Yorkshire skills and craftsmanship at the same time !!

These included a big bowl of delicious rhubarb, engulfed with yellow custard, created by planting yellow sedum in a small river overflowing from the edge of the bowl...the crumble topping is represented by a tradtional Yorkshire dry-stone wall around the edge of the space...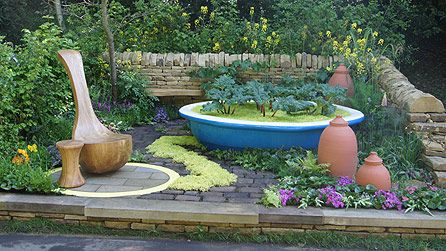 They have also included big Victorian-style rhubarb forcing-pots in groups around the bowl, beautiful York stone patio paving, and a big carved wooden seat in the shape of a ladle...marvellous stuff !!






THE MUSIC OF THE MOORS GARDEN

( Gold medal & Best Courtyard garden winner)

Now here's an unusual idea for a tiny garden - this was to celebrate the tenth anniversary of the Two Moors Music Festival, held in Devon near Dartmoor and Exmoor, of course !! This little garden tries to recreate the atmosphere of the wild moorland, with dark woodland trees, fern-fringed water and the music of the festival - and gained a gold for designer Christina Williams !!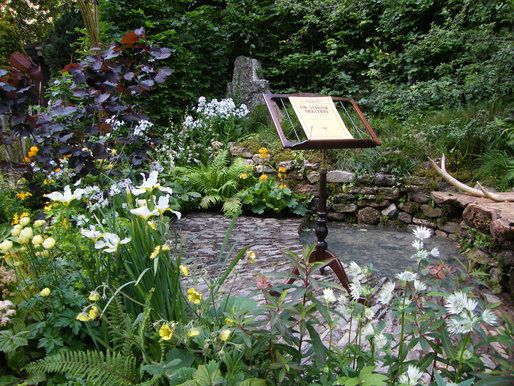 She incorporated various moorland elements in this design, including enormous willow arches, shaped to suggest the arched windows of the Gothic churches where most of the music is performed for the festival - a very novel idea indeed !!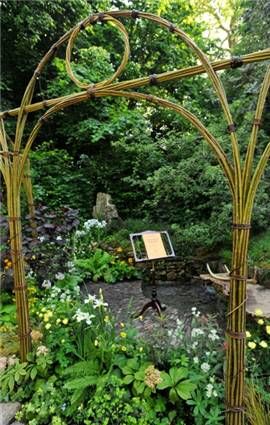 Ferns, foxgloves, ivies and bright yellow Alchemilla and orange Euphorbia...all against a backdrop of Dartmoor granite wall and pool, and a pavement of Exmoor cobbles...

Interesting, isn't it ?!!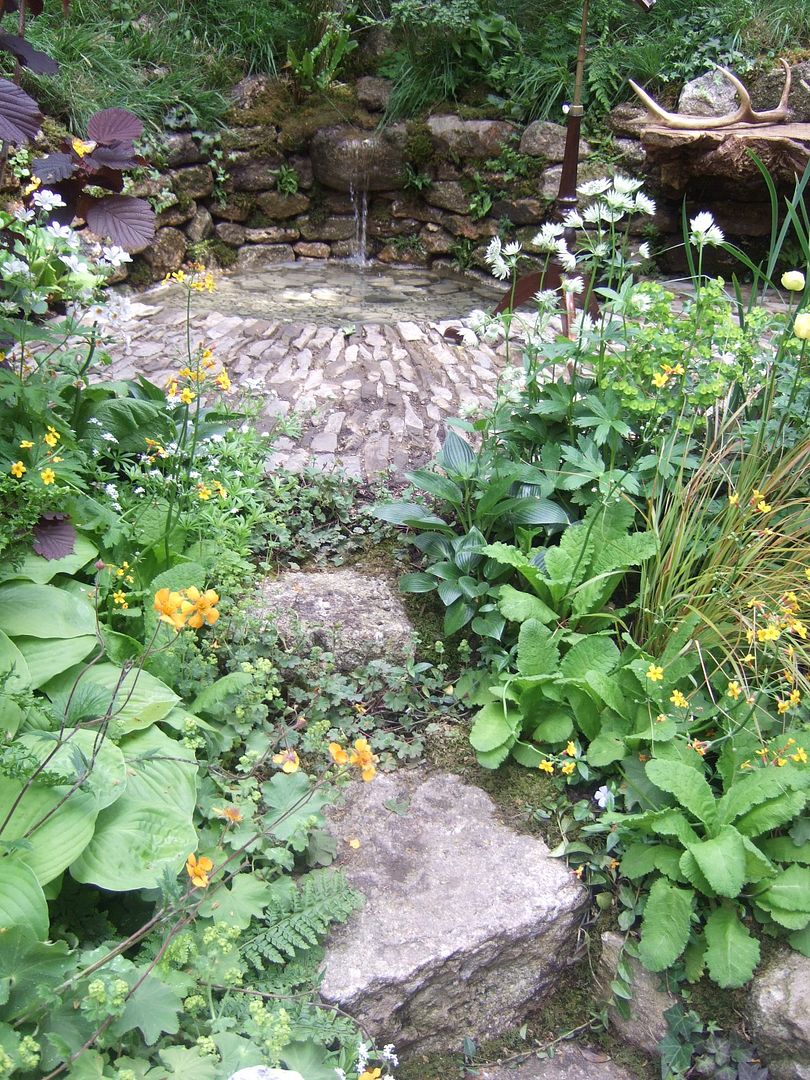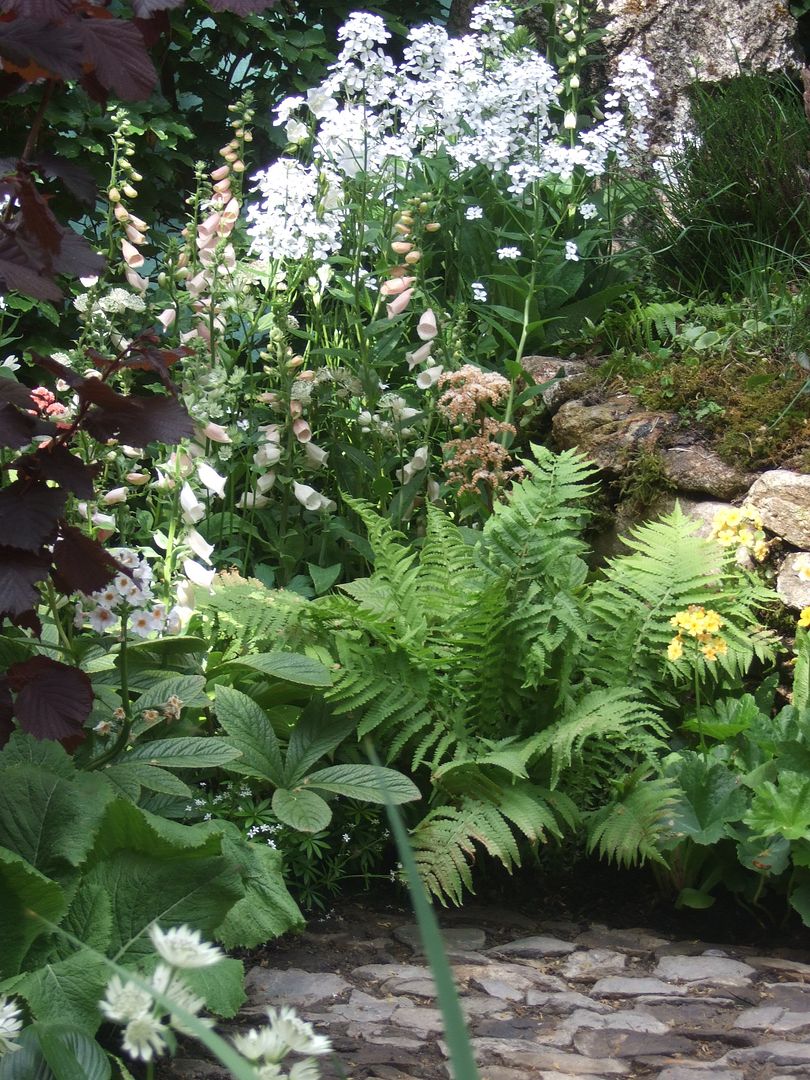 THE GLOBAL STONE BEE-FRIENDLY GARDEN

(Silver Flora medal)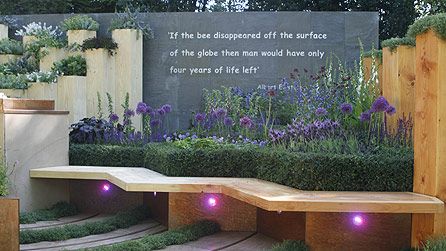 This was a beautiful little space designed by Janey Auchincloss and Paul Hammond, in celebration of our most humble garden friends, the bumble and honey bees...they are under threat from their dwindling habitats and various disease and pests that threaten their very existence - this garden was designed to bring awareness of this to the general public, and to spread the knowledge about bee-friendly planting...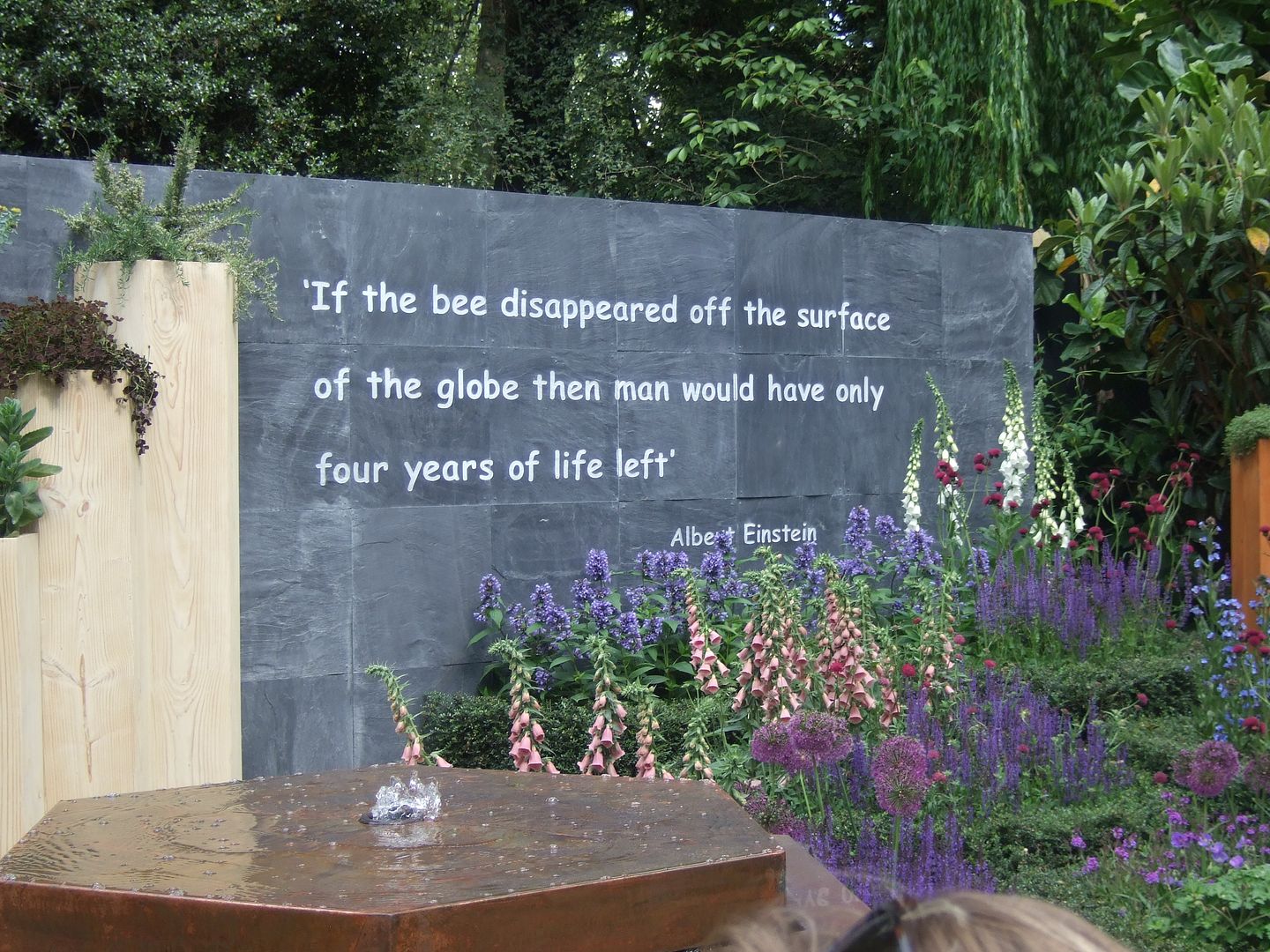 I loved the huge wall of black limestone that they used as a backdrop to the whole garden, no doubt supplied by the Global Stone company, inscribed with a quote from Albert Einstein, to bring their point home...against this was a set of tall hexagonal pillars planted up with various foliage plants, and against this was a long thickly cut and polished wooden bench that followed the line of the hexagonal planters against the wall...




The plants used were all very bee-friendly of course, including Alliums, and Lavender in purple, and block-planting of Salvia and Sedum, and a red clover lawn ...




'CHRISTIAN BEFORE DIOR' GARDEN

(Bronze medal)

Both Michelle and I really fell for this enchantingly beautiful garden - we really liked this a lot, and probably would have given it a big Gold medal and judged it the Best Courtyard Garden, if we had been judges !!




Designed by Patricia Thirion and Janet Honour, who really did a beautiful job with this...they explain what the garden is all about so well, that I have decided that they might as well explain it here too...

"The garden reflects Dior's love of flowers and design and the influence these were to have on his couture collections and perfumes...The garden returns us to the flowers and perfumes that were to become a life-long passion for the 15 year old Christian Dior. His pergola, bench and rectangular pool are reinterpreted here as a homage to the great fashion icon. A Dior jacket is draped across the bench; his favourite flower, lily of the valley, as ever in the buttonhole. The two vases on either side of the garden are designed by A Touch of France celebrating Dior's 'New look' and the beginning of a whole new fashion genre."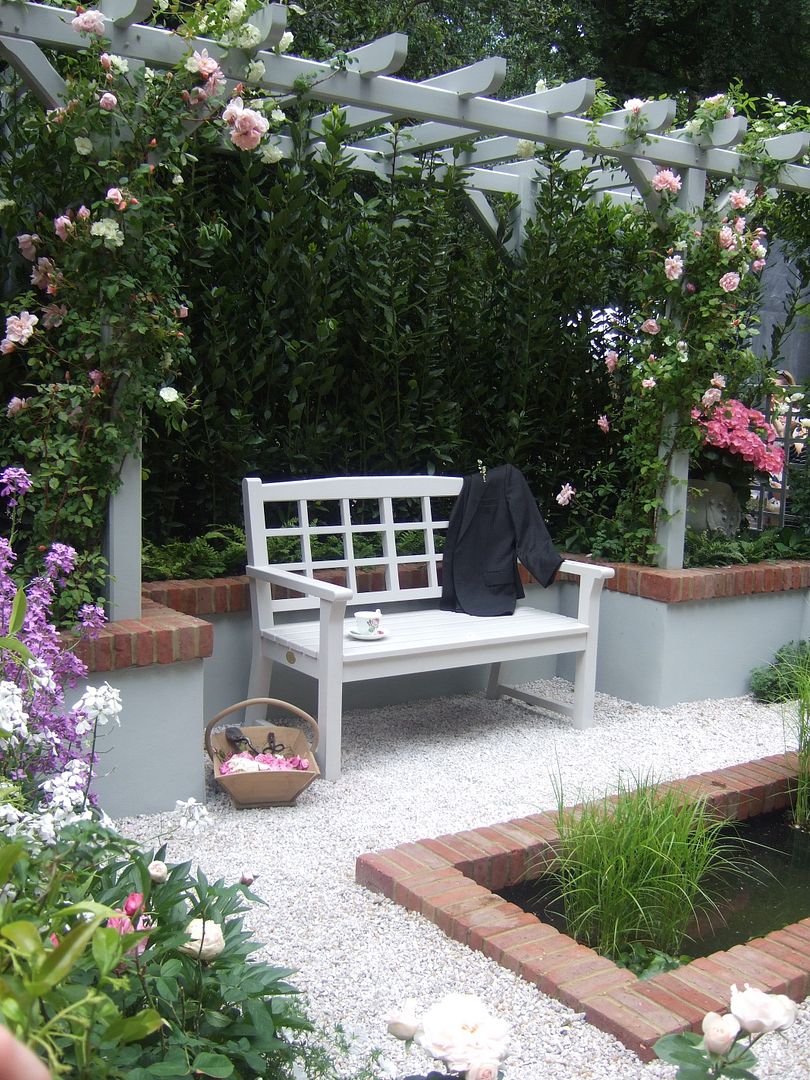 Just before we were reluctantly about to leave to go onto the next garden, a tiny white butterfly came and perched on the back of the bench - it was perfect !!
For me anyway, this little pool, trellis and bench corner with all the rambling roses, and the beach pebble mosaic designed by Maggie Howarth are the two design ideas that I would love to have in my own garden...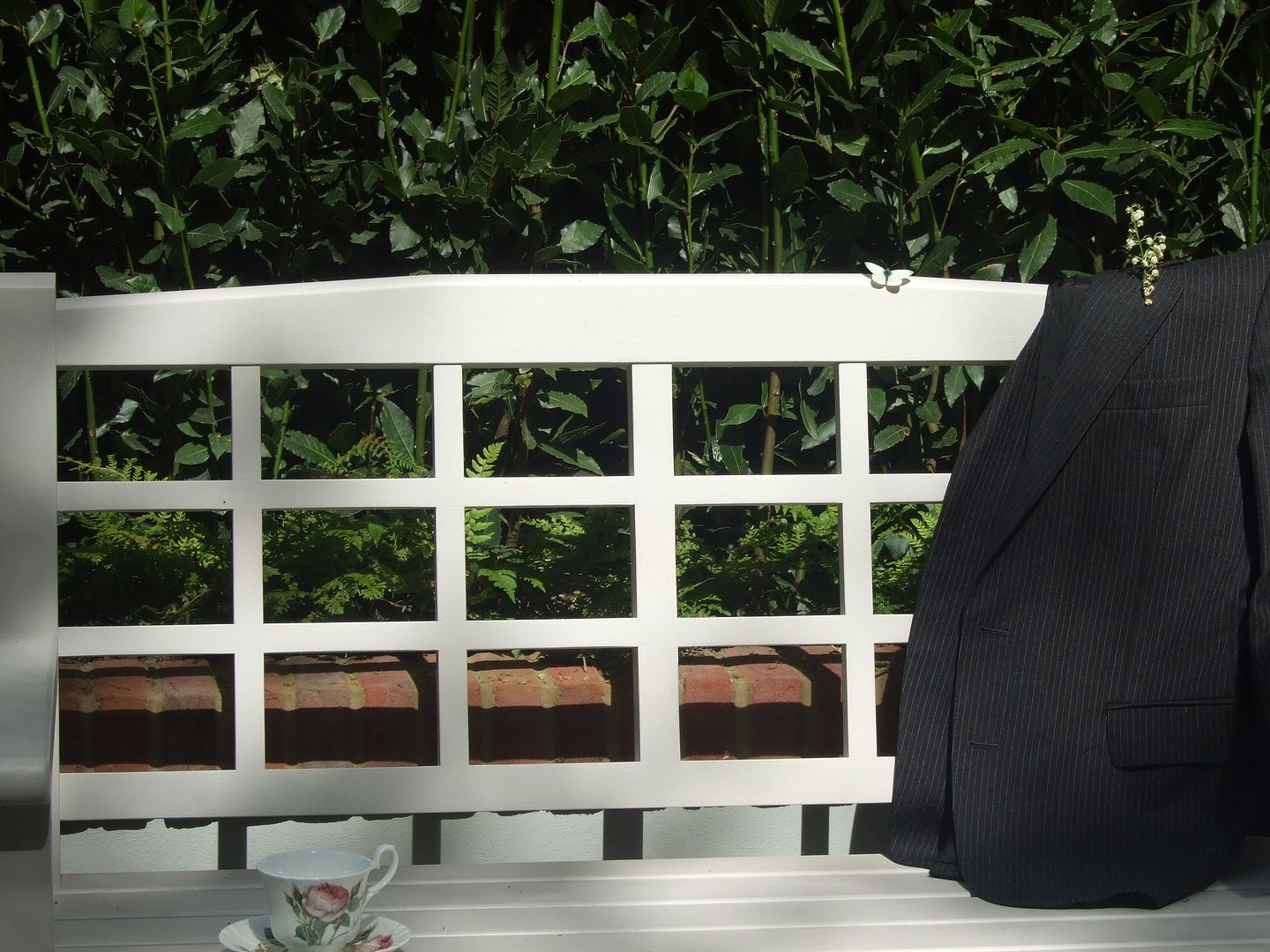 For all those of you who are wondering what Christian Dior's family garden looked like after he persuaded his mother to allow him to design it, and how close these two designers came to recreating the same features, here are photos from his family home on Normandy, near the Bay of Mont Saint Michel...

Here is the famous pergola that he designed when he was only fifteen years old, for the family mansion, which is now the Musée Dior...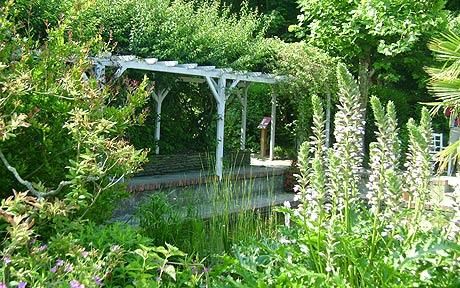 A longer shot shows the pool a bit better and the bench that sits at right angles to the pergola instead of directly under it, but that's OK !! I love the beautiful rose trellis tunnel too...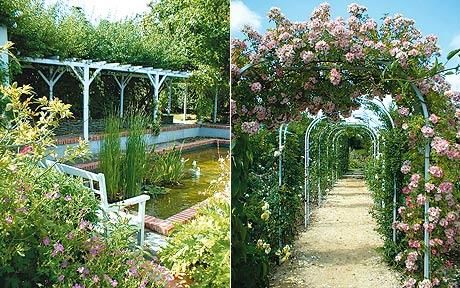 We both loved visiting all the gardens at the Chelsea Flower Show, and afterwards, I really enjoyed finding out about all the design ideas behind each one that I particularly liked myself...



GARDEN DETAILS TO INSPIRE !!



Of course, Chelsea Flower Show isn't just about complete garden designing - there are also dozens and dozens of retailers all vying with each other to get your custom !!
You can buy anything for the garden here, if you have the right amount of money - because it has to be said that most of the beautiful sculptures and artworks here are really expensive - into the thousands of pounds bracket mostly !!
Having said that though, if I was an artist, and only sold a few commissions per year that took me ages to create, then they would have to be priced that high just for me to continue working - so it's fair enough really...

In the course of walking around all these stalls, I took pictures of many, many things that inspired me for our own garden at home perhaps, or just because they were amusing and quirky, especially the sculptures, of which there was an endless supply !!



INTERESTING PAVING IDEAS...



Firstly though, here are some very interesting paving ideas that I gathered together because we will have to re-pave the patio at the end of our garden some time in the future...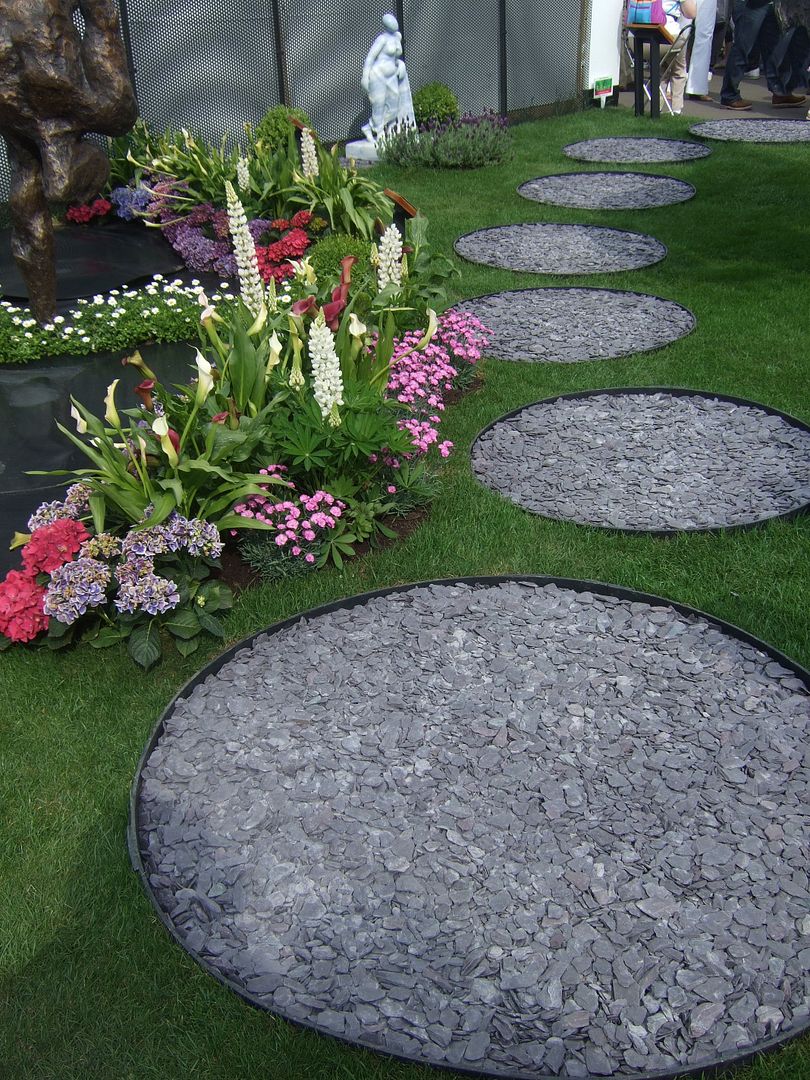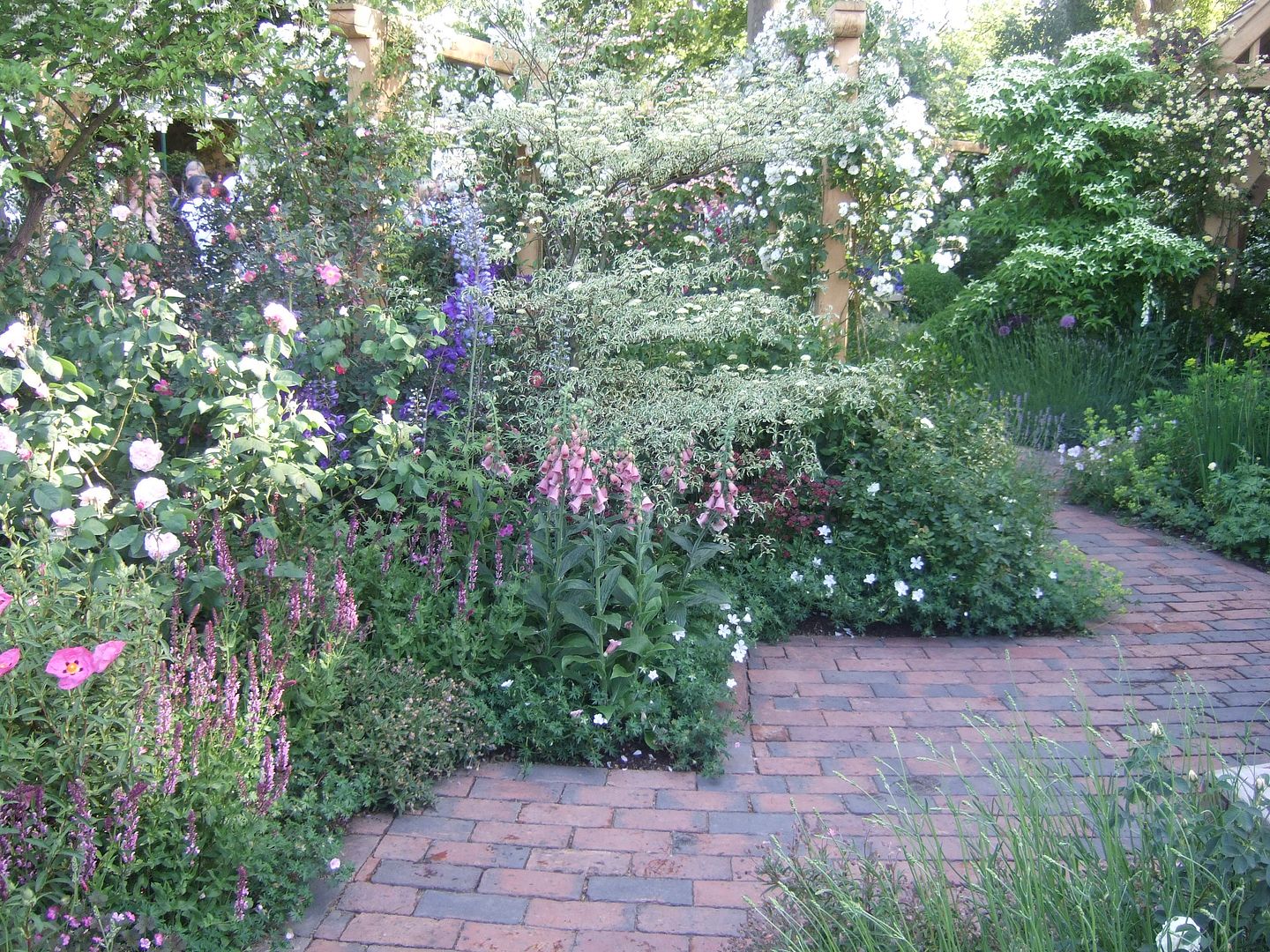 As well as interesting paths and paving, I noticed that round things were also a big theme at Chelsea this year !!

CIRCLES, RINGS & SPHERES...

Fancy a sculpture created out of old bits of washing machines and other household machinery, and bits and bobs !! Wonderfully batty, this was a feature in one of the Show gardens, which had been put together by a whole roster of homeless people, for the Eden Project down in Cornwall...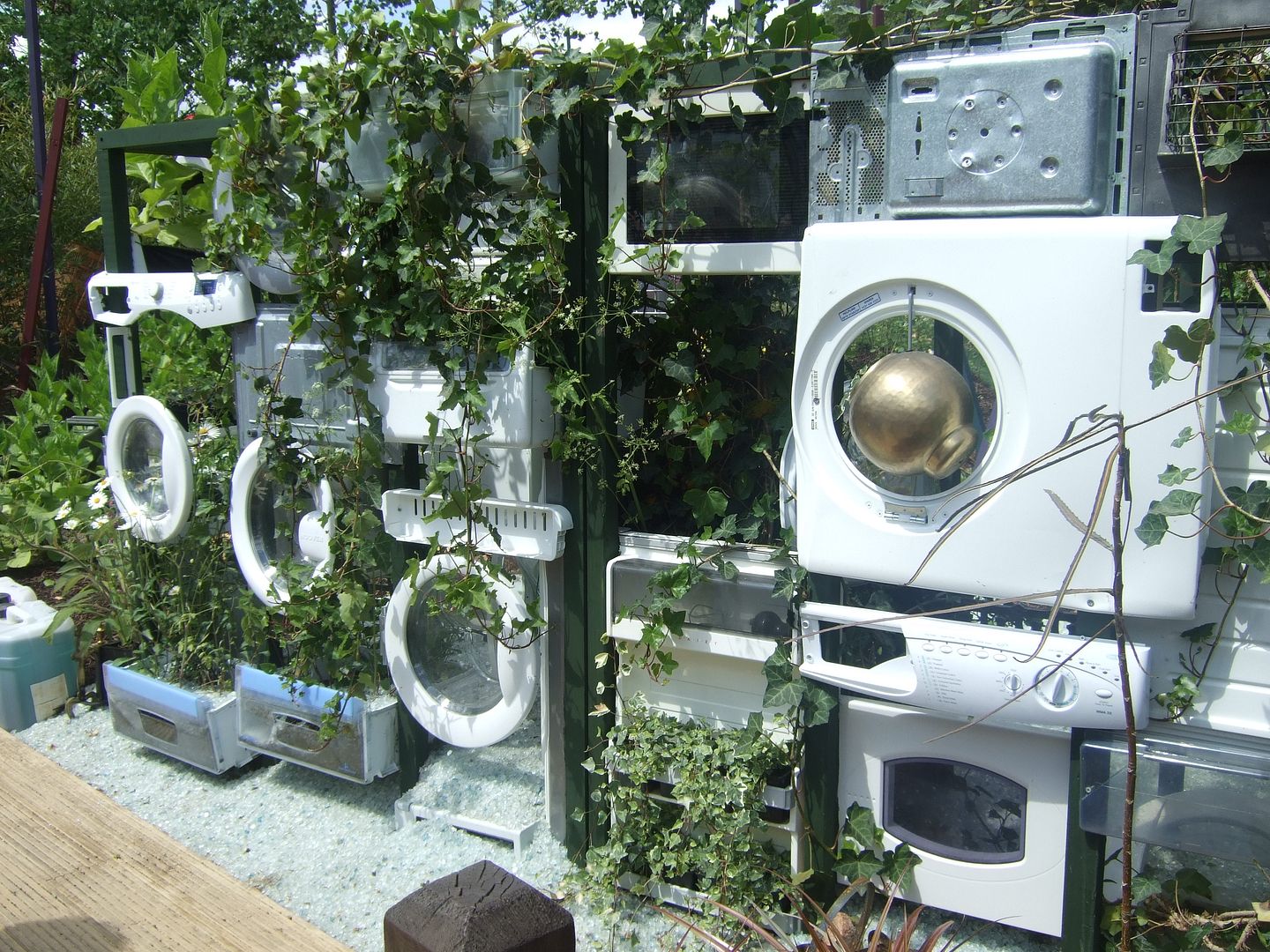 Other beautiful creations on a circular theme...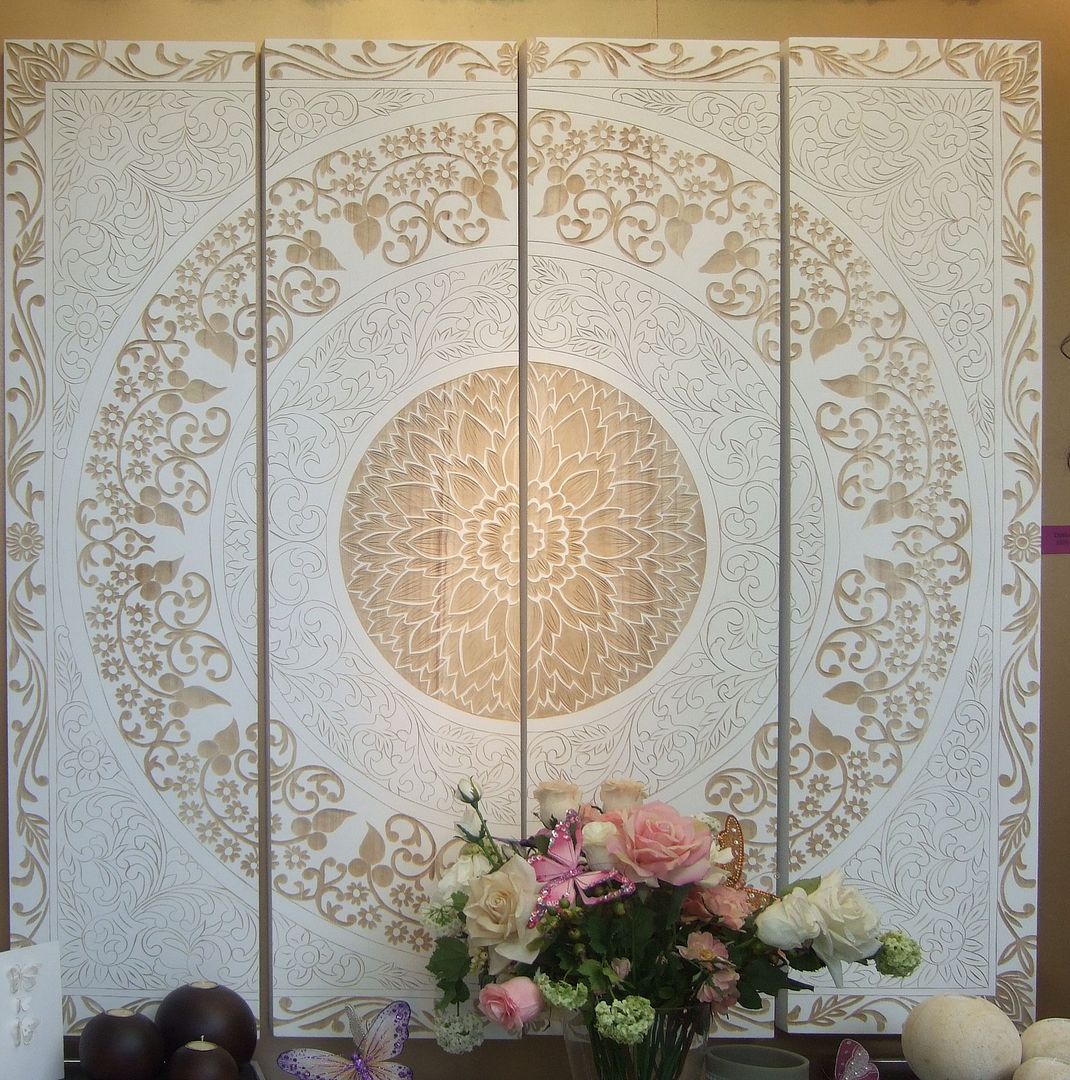 An exquisitely finely-carved wooden panel by Sarah Feather...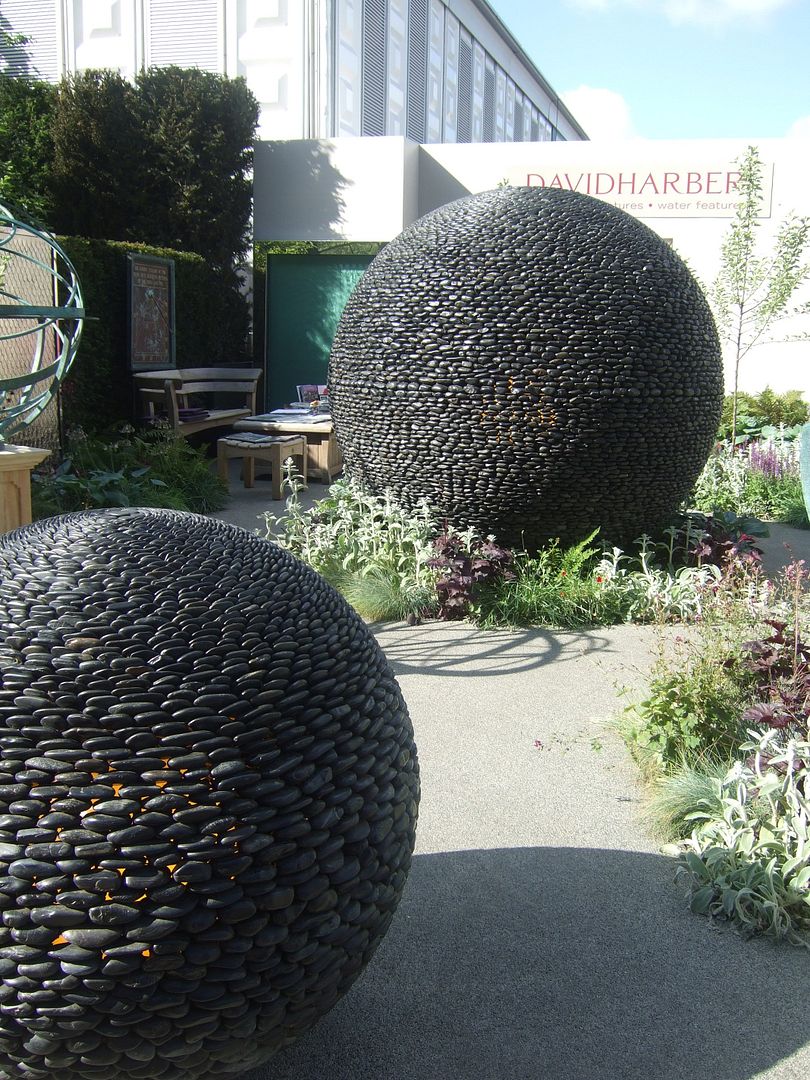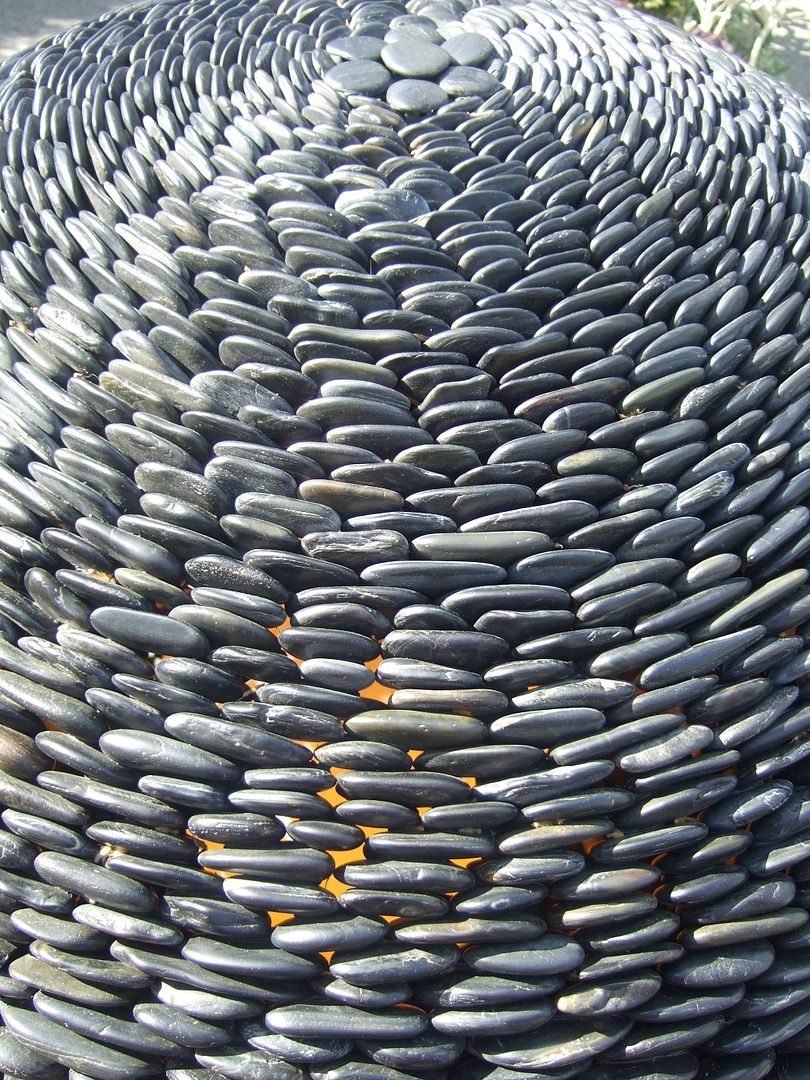 And some beautiful pebble globe-sculptures with light inside...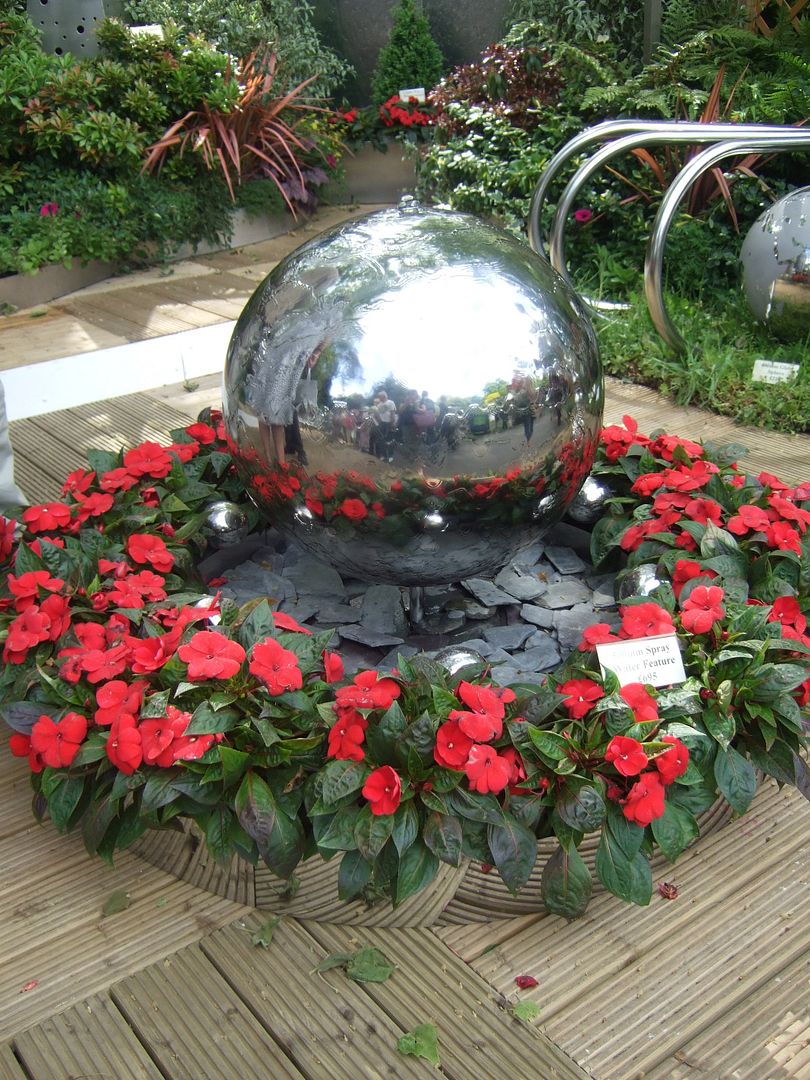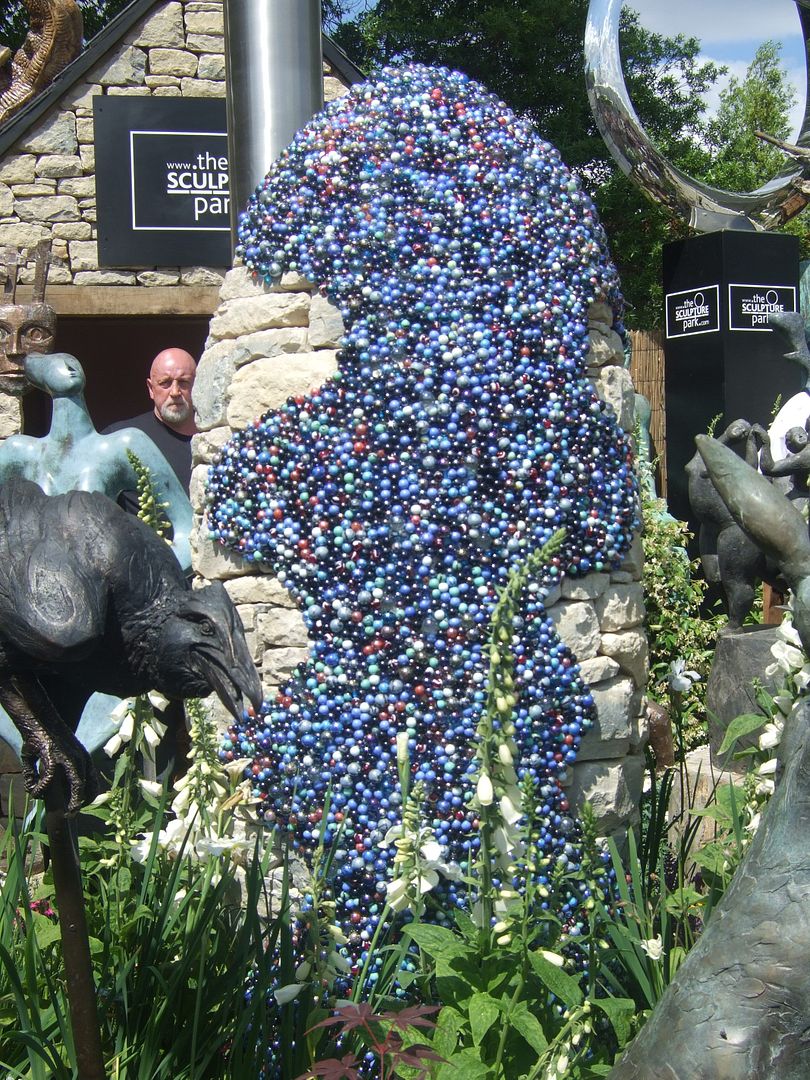 Here's what to do with all those unwanted marbles that you collected when you were small...no excuse for losing one's marbles then, eh ?!!...




ANIMALS, BIRDS, AND INSECTS...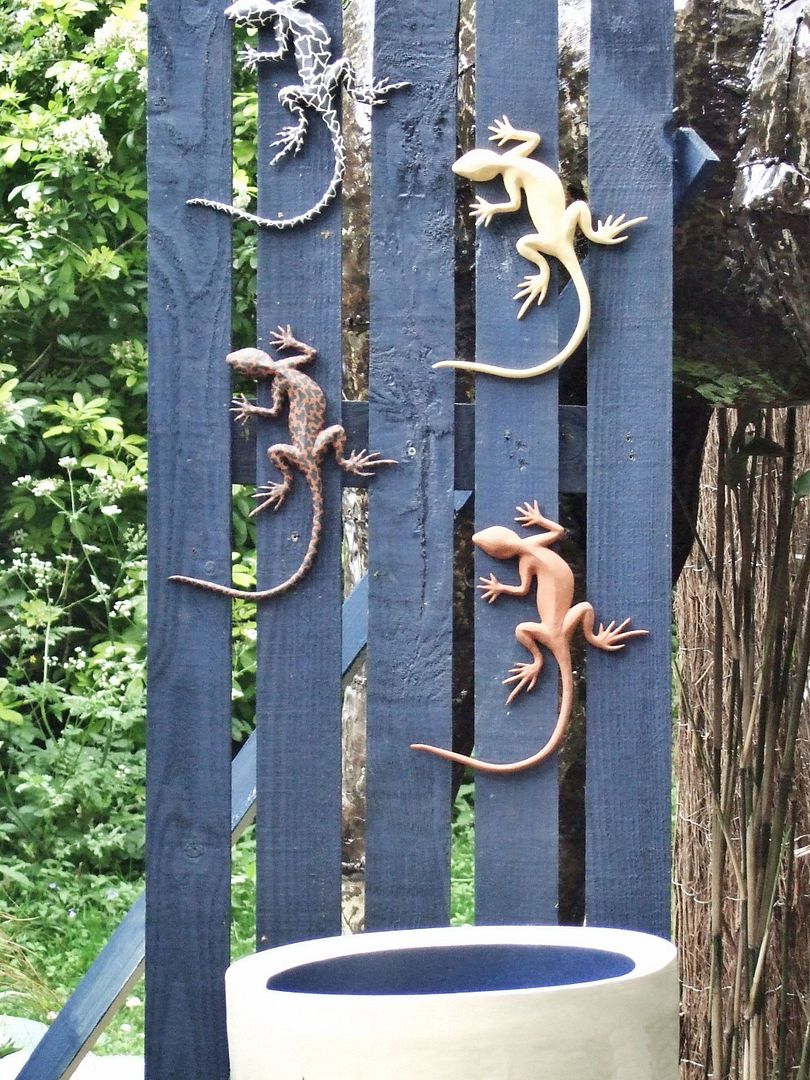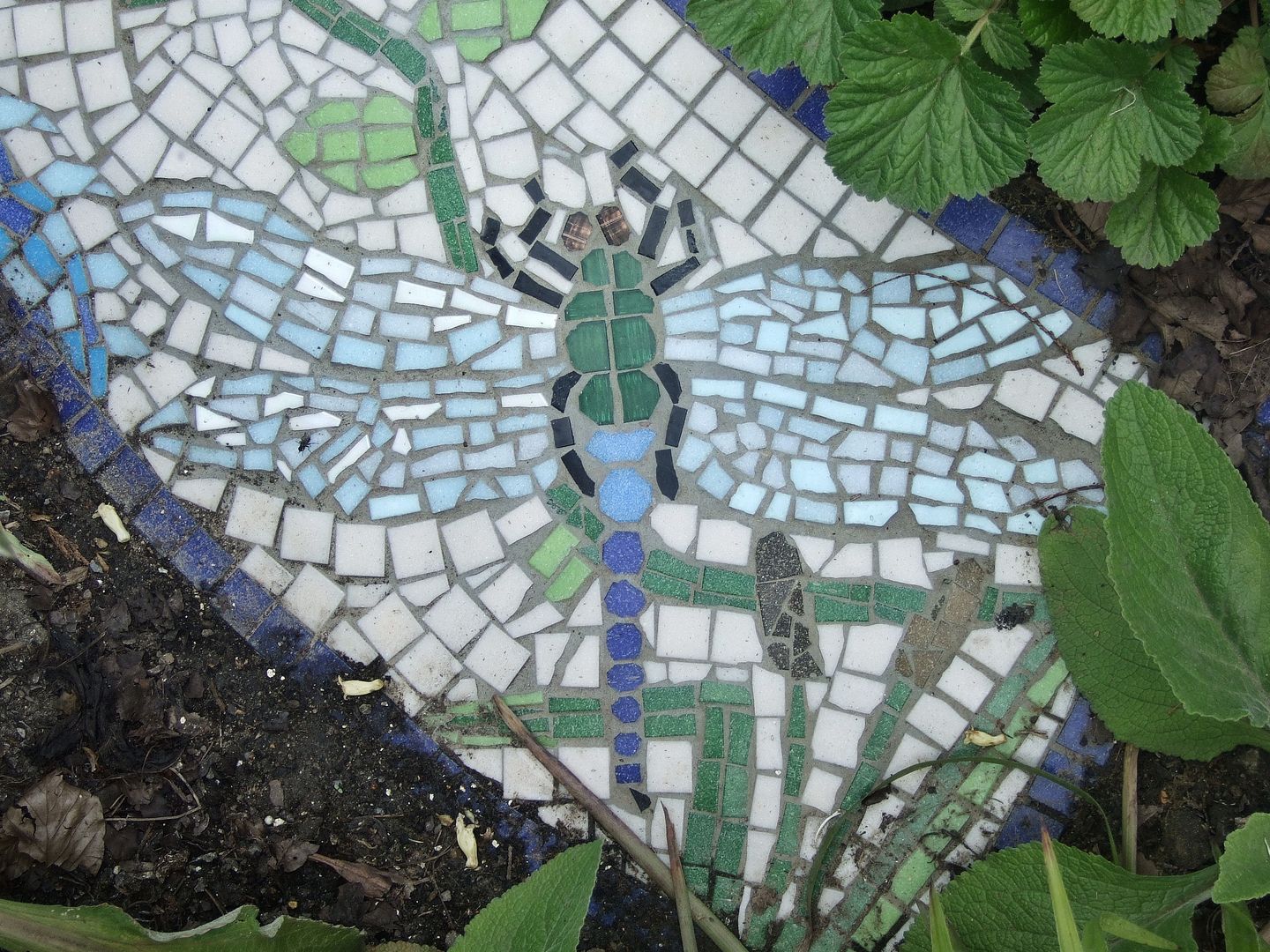 This gorgeous dragonfly mosaic was part of a long winding path through the homeless peoples' garden by the Eden Project - fantastic isn't it ?!!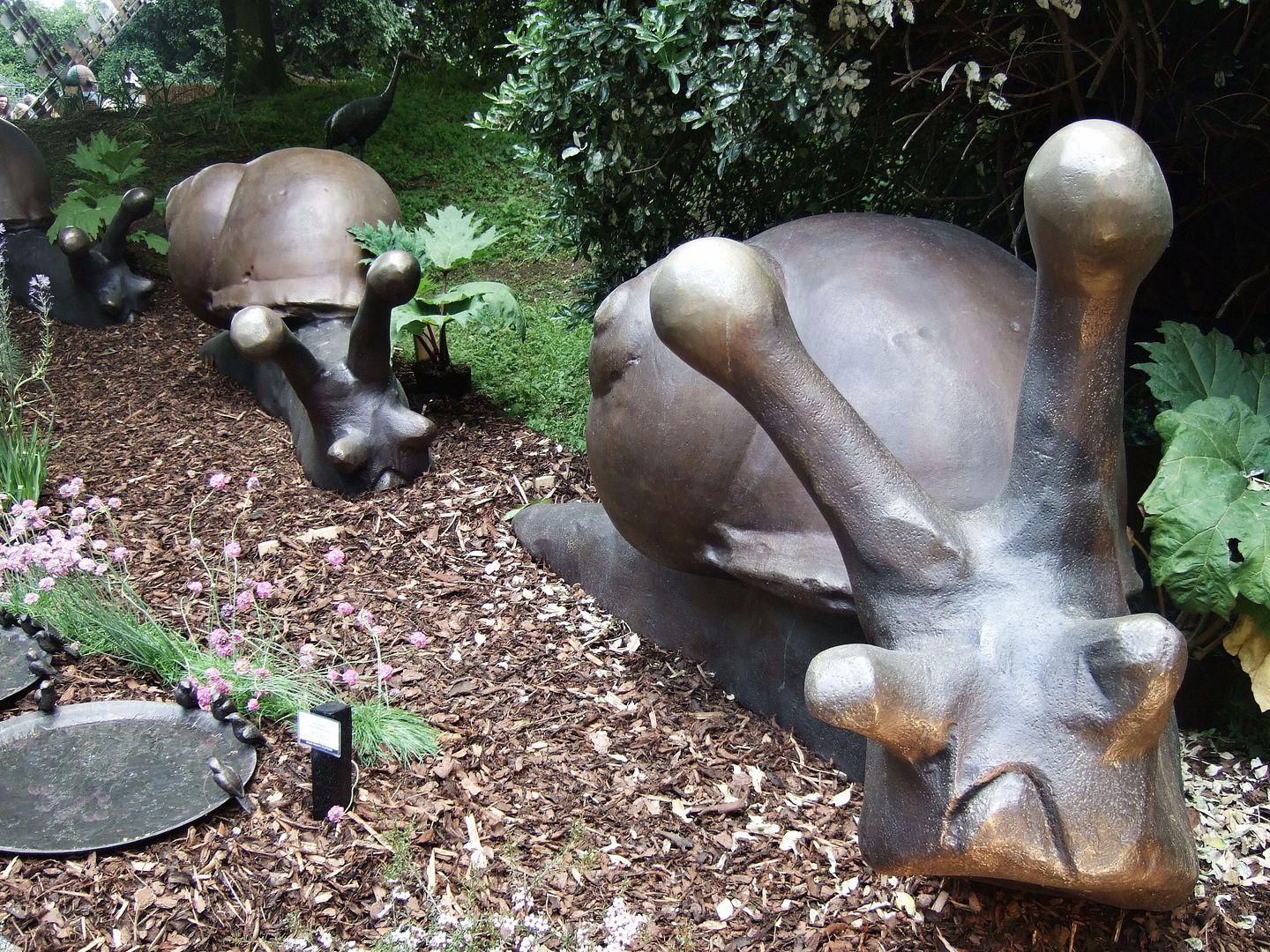 I love the giant snails...

THE SCULPTURE PARK :-

The Sculpture Park had a really amazing collection of various artist's work, including that giant marbles sculpture too...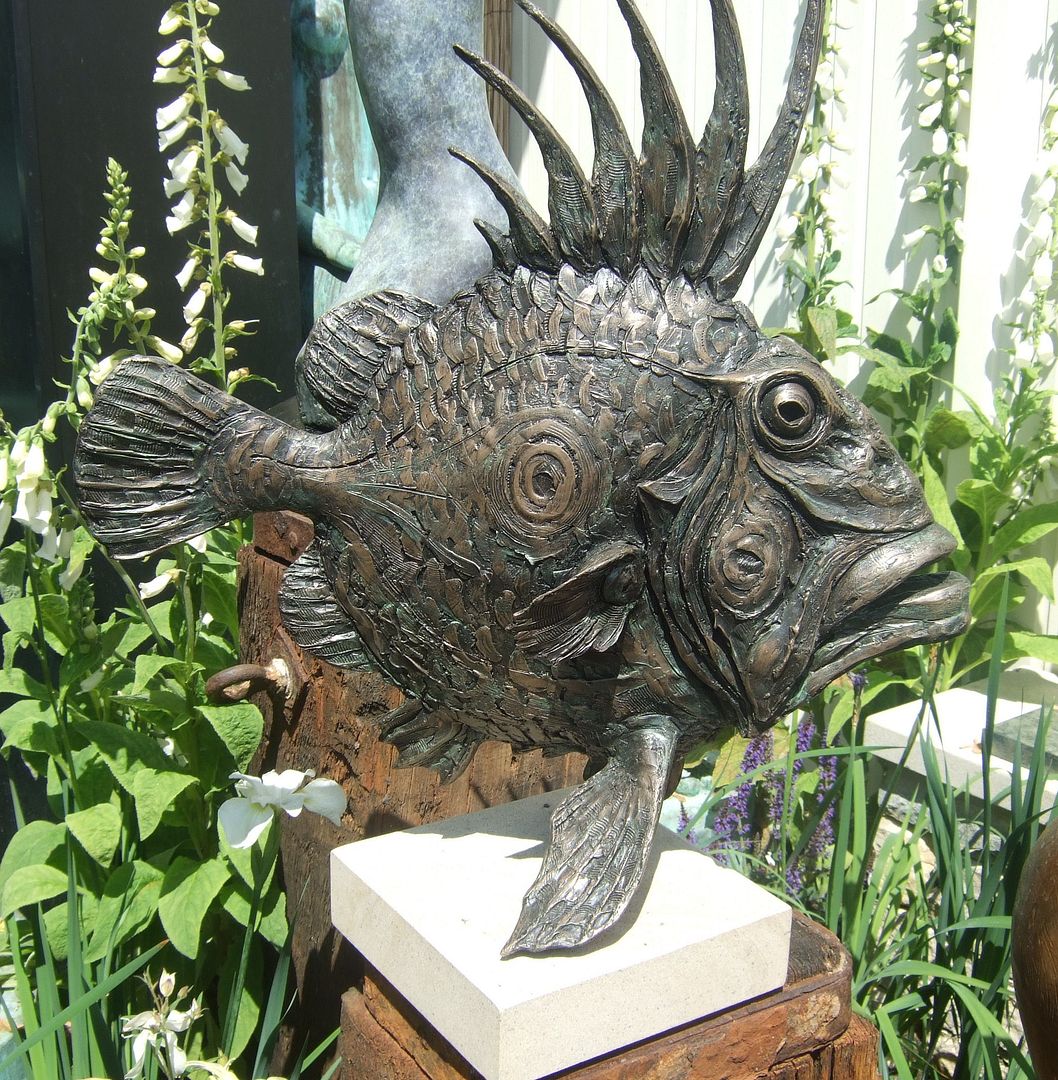 FRUIT, VEG, LEAVES & FLOWERS...



Also from the Sculpture Park, I particularly loved these gorgeous, white marble, flower sculptures...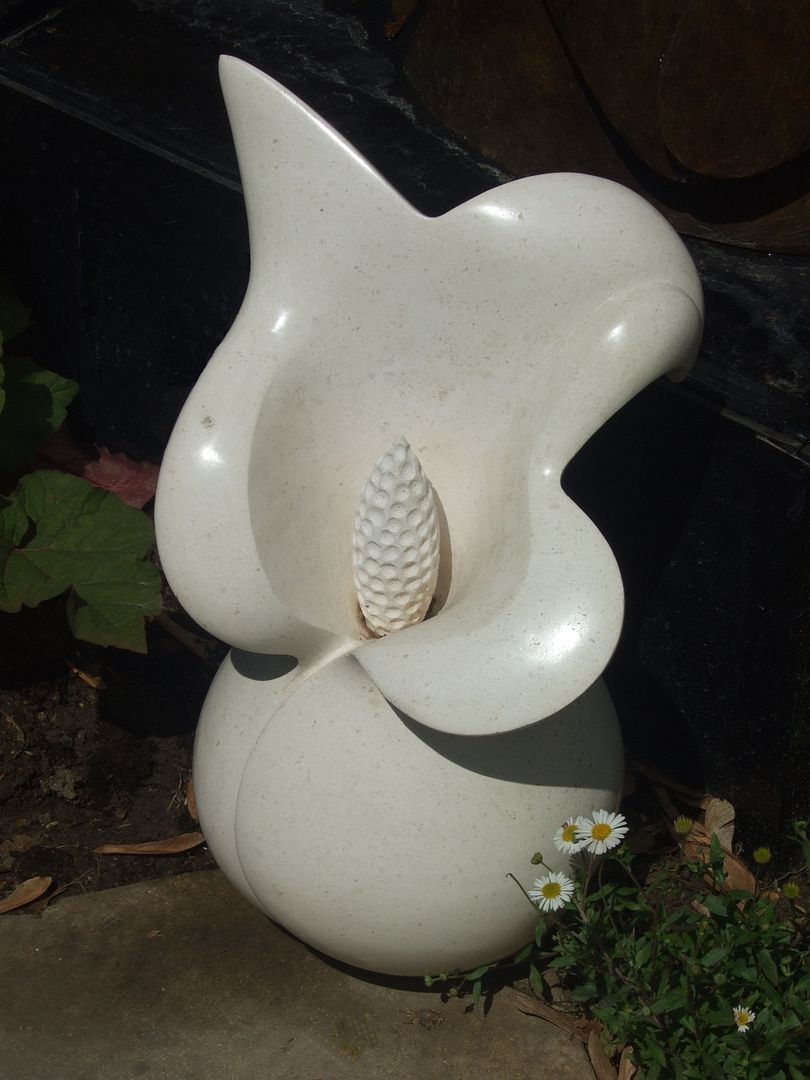 DAVID WATKINSON

David does the most amazing things with giant apples and other fruit and veg, including conkers and pine cones...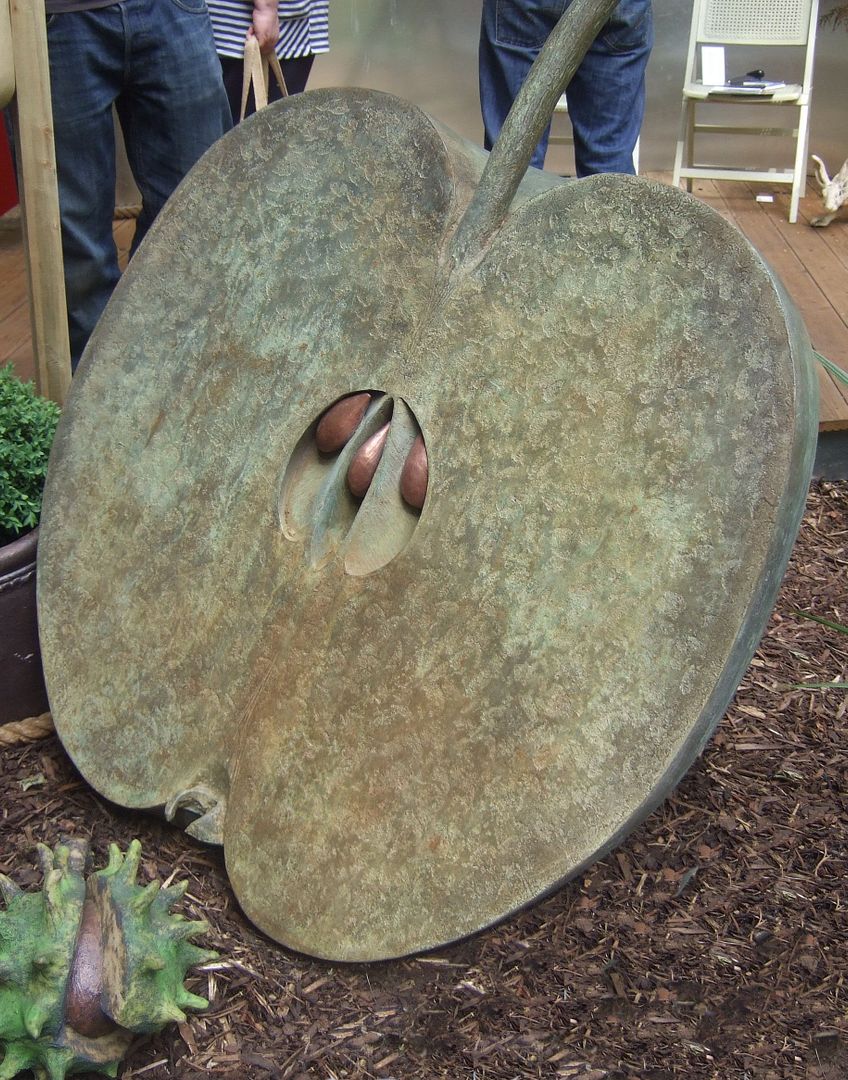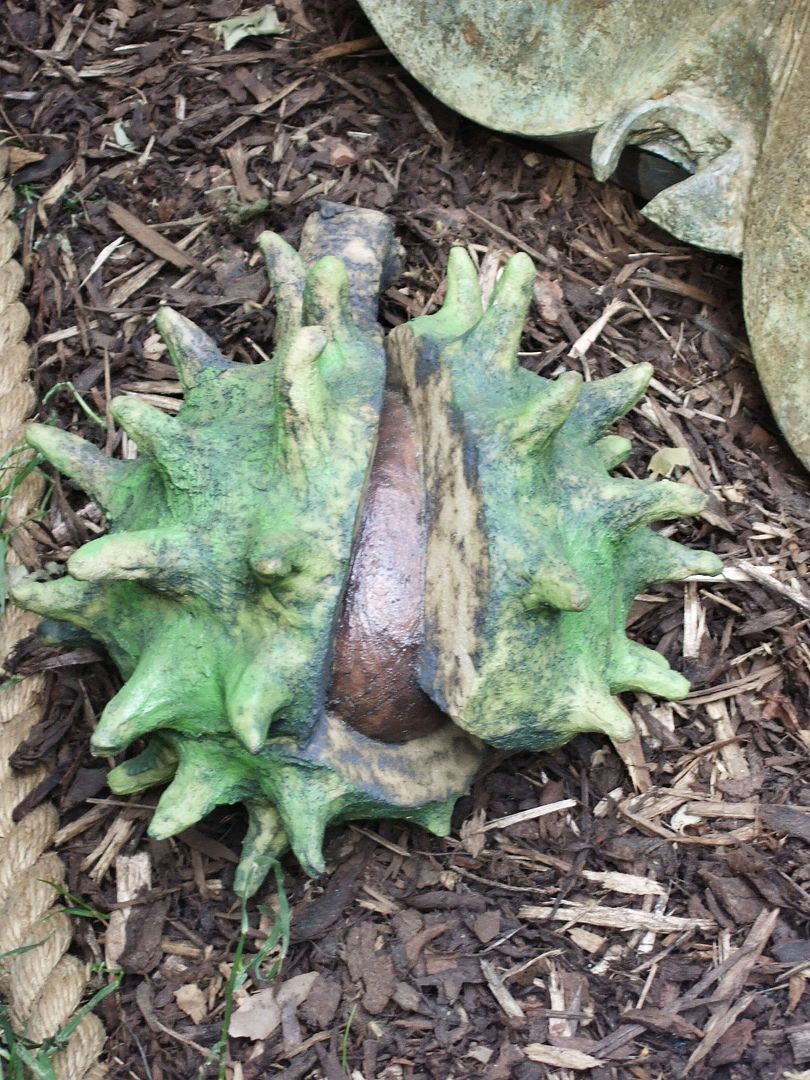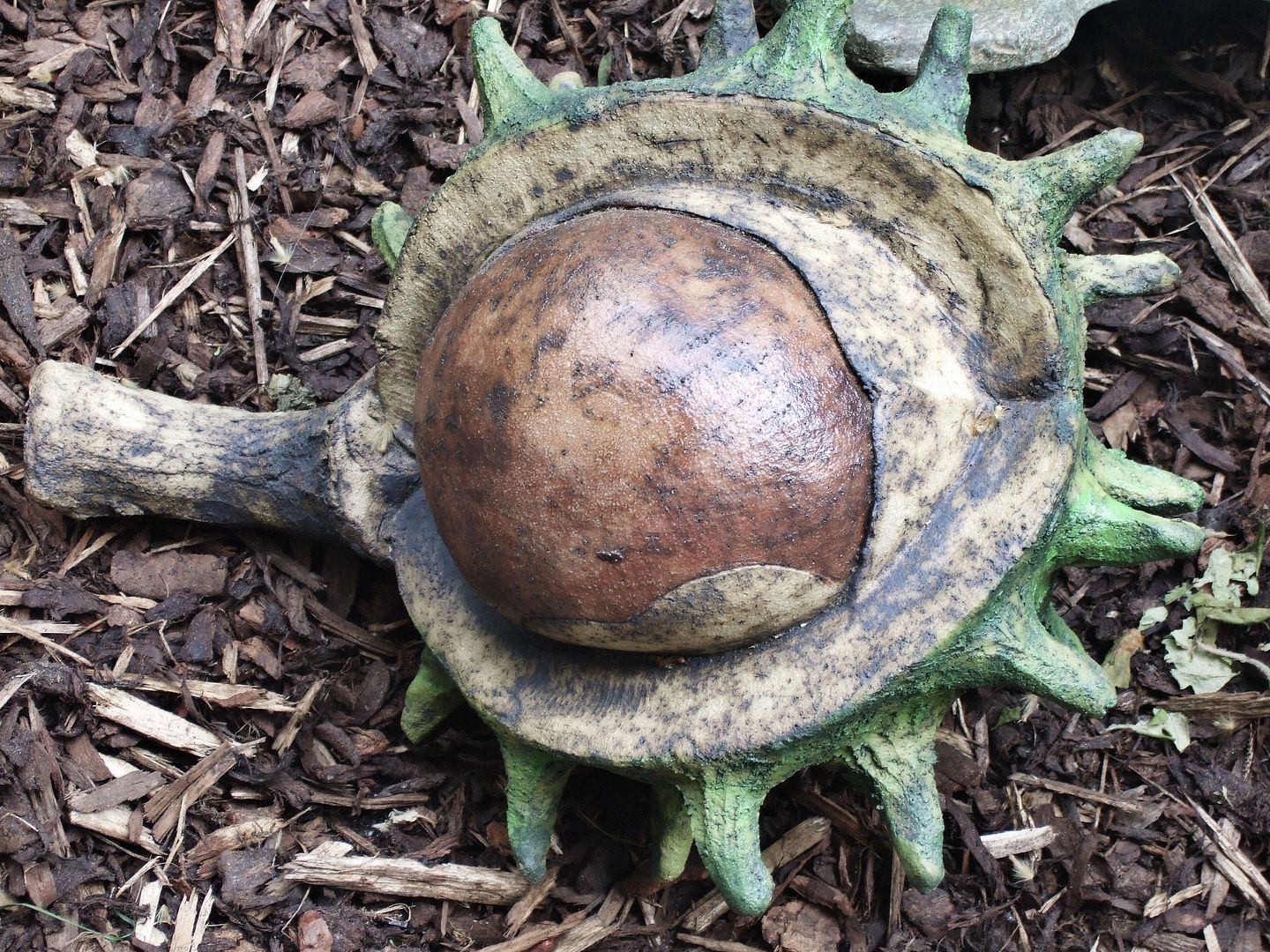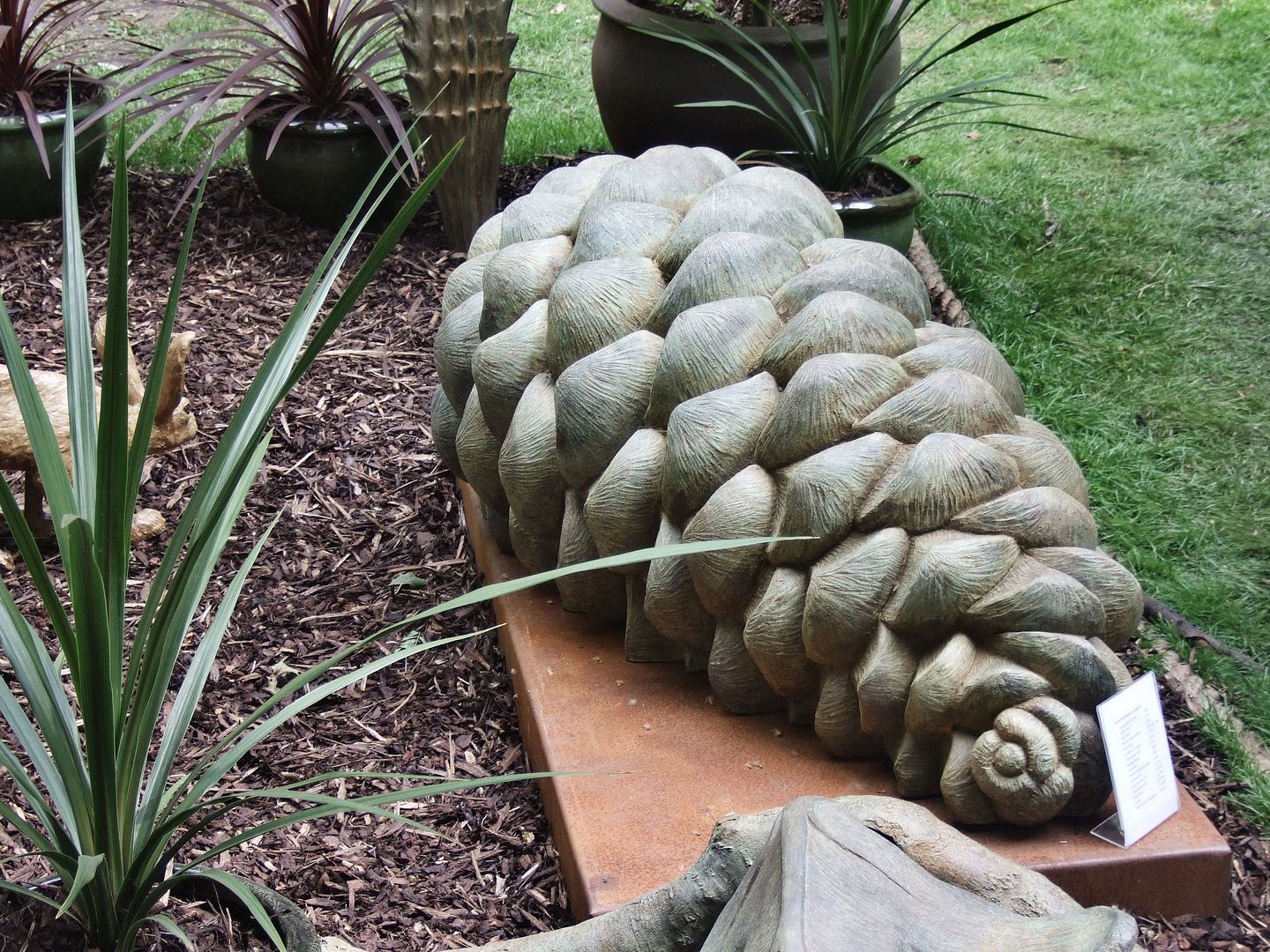 DRAGON'S FORGE



Pretty much next door to David's area was this little collection of metalwork sculptures, including these amazing rusty iron panels laser-cut with beautiful fern-leaf designs - absolutely gorgeous !!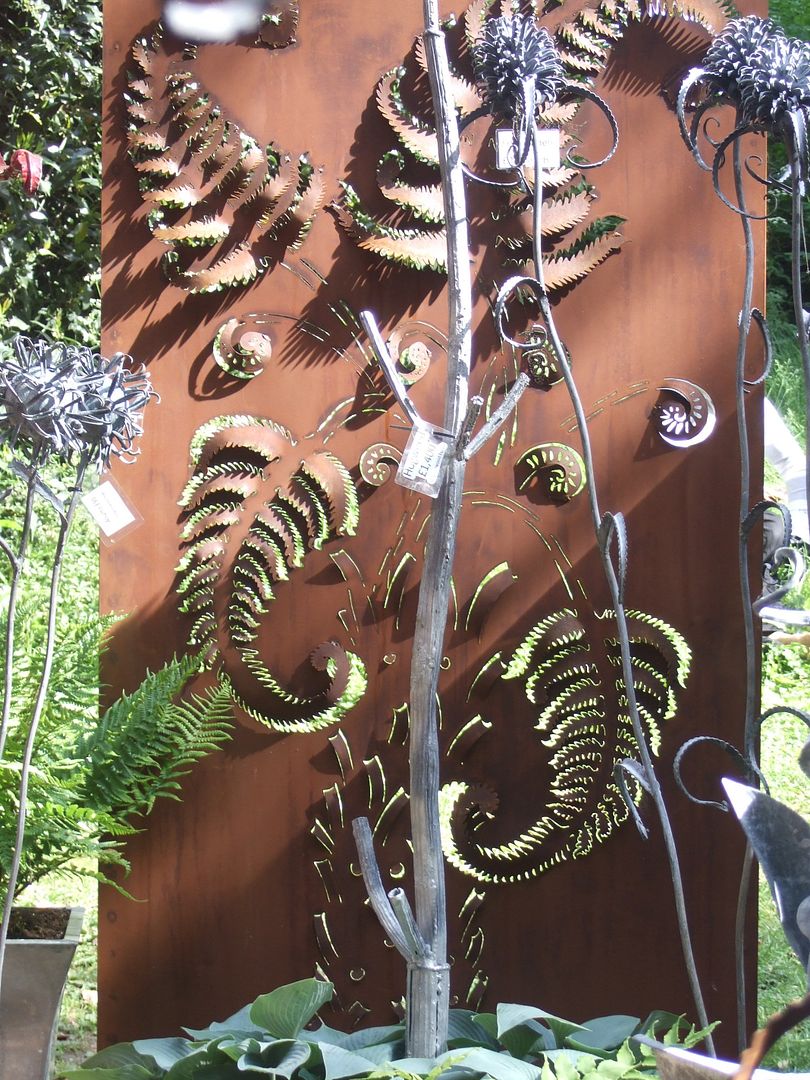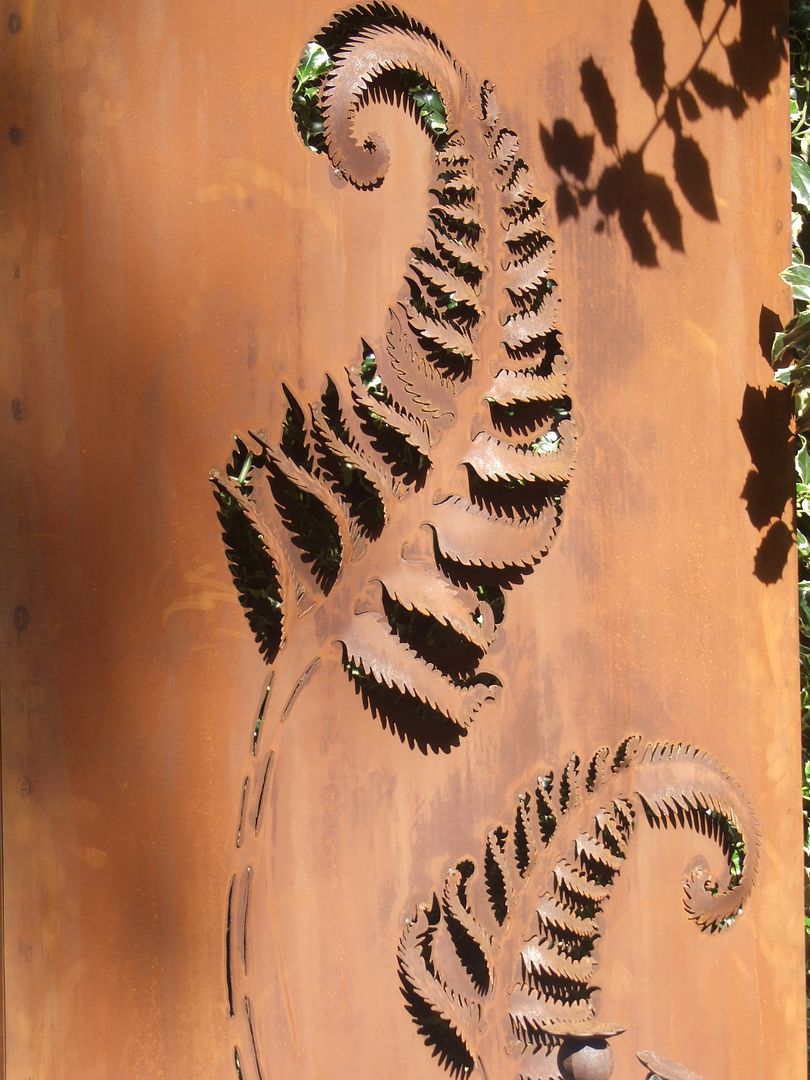 JENNY PICKFORD :-



Right up by the Grand Pavilion, which will be featured in my next post, was this selection of metal and glass sculpture by Jenny Pickford...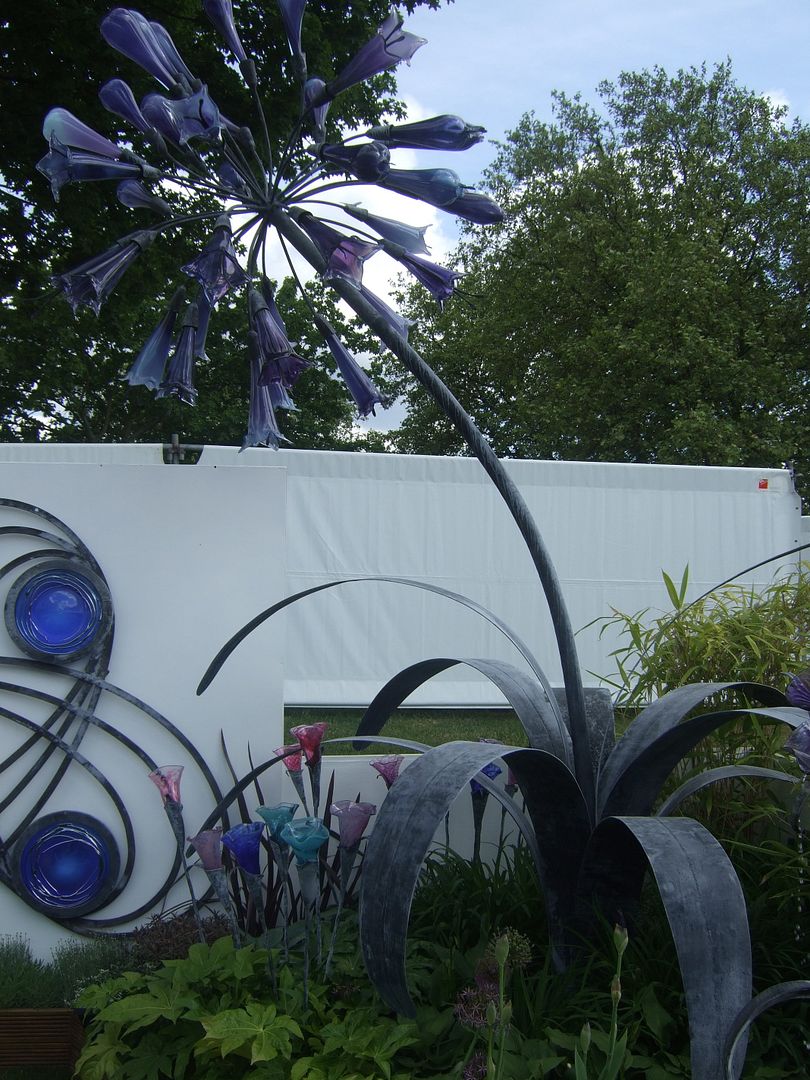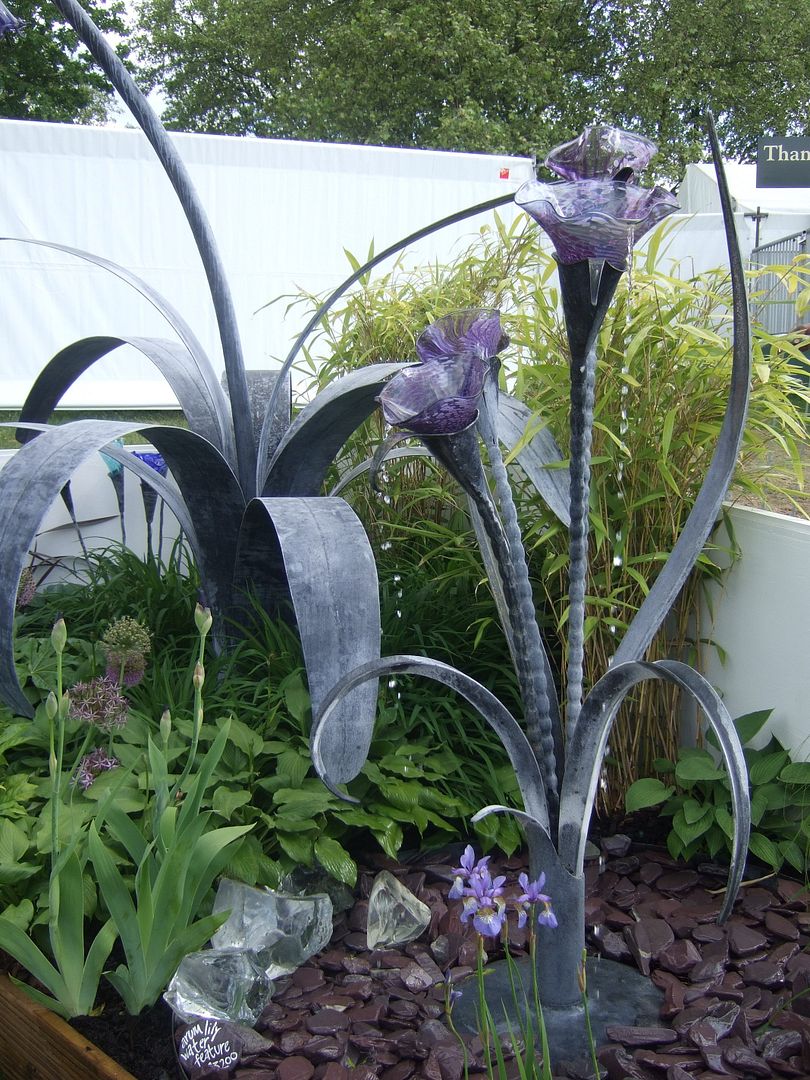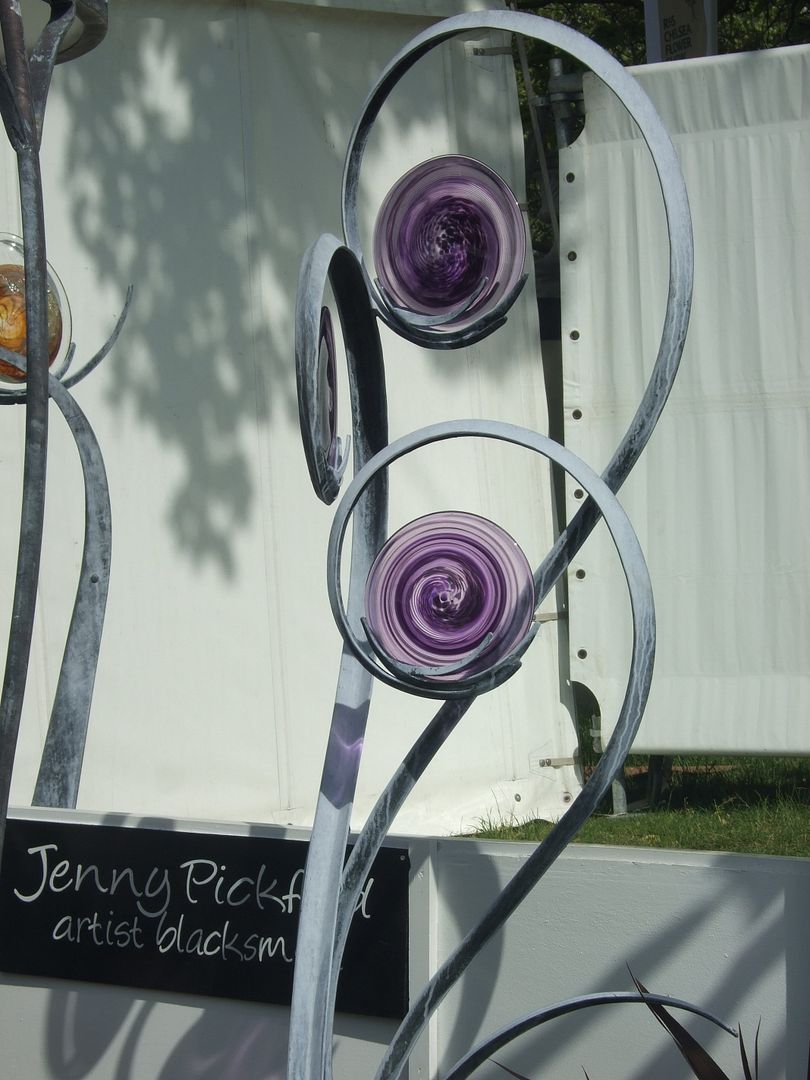 Along the Eastern Avenue on the way out at the end of a very, very long day, we spotted these amazing tiles - lovely beachy pebbles set in concrete - so simple but so effective !! Guess who may be trying this out for myself...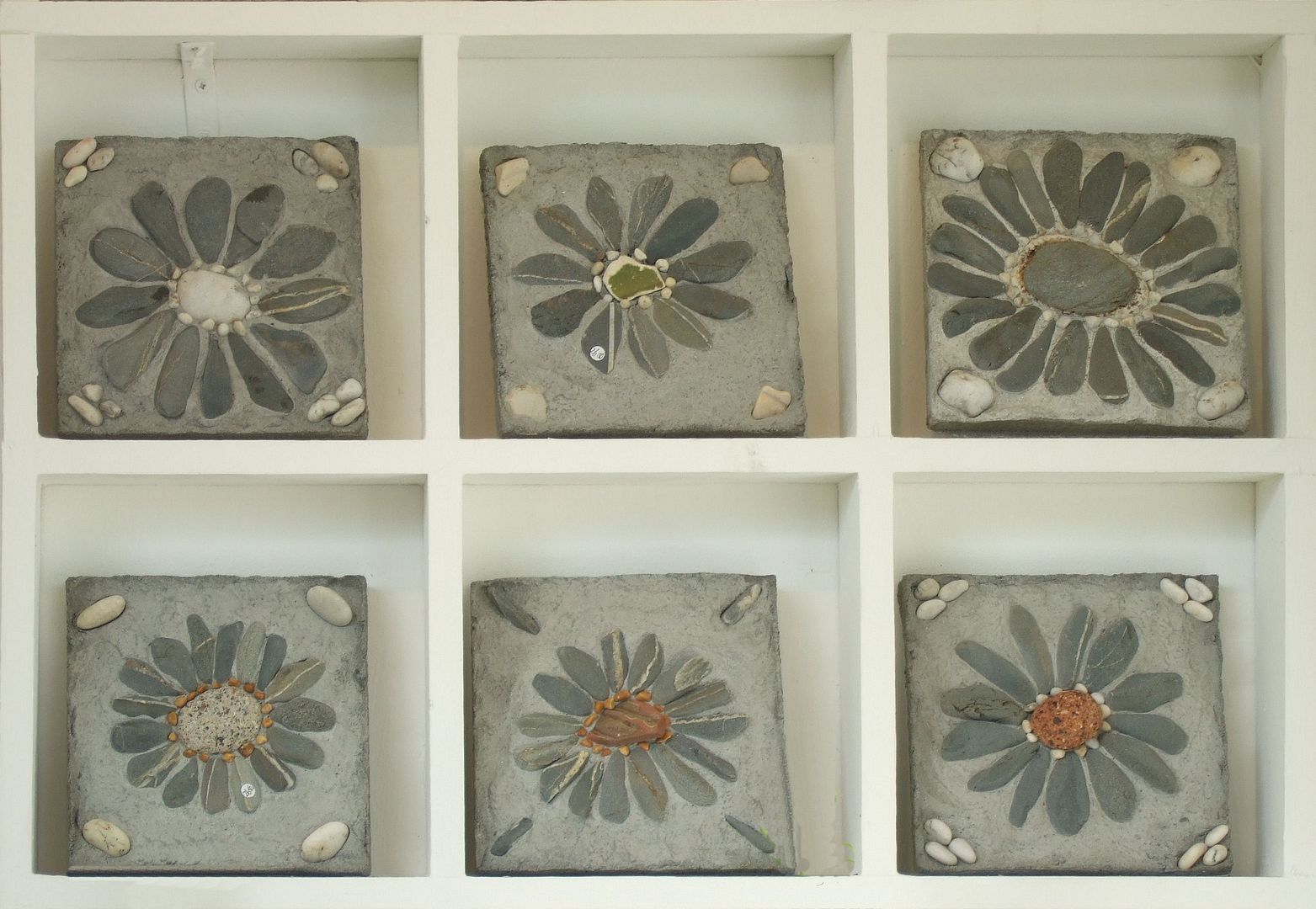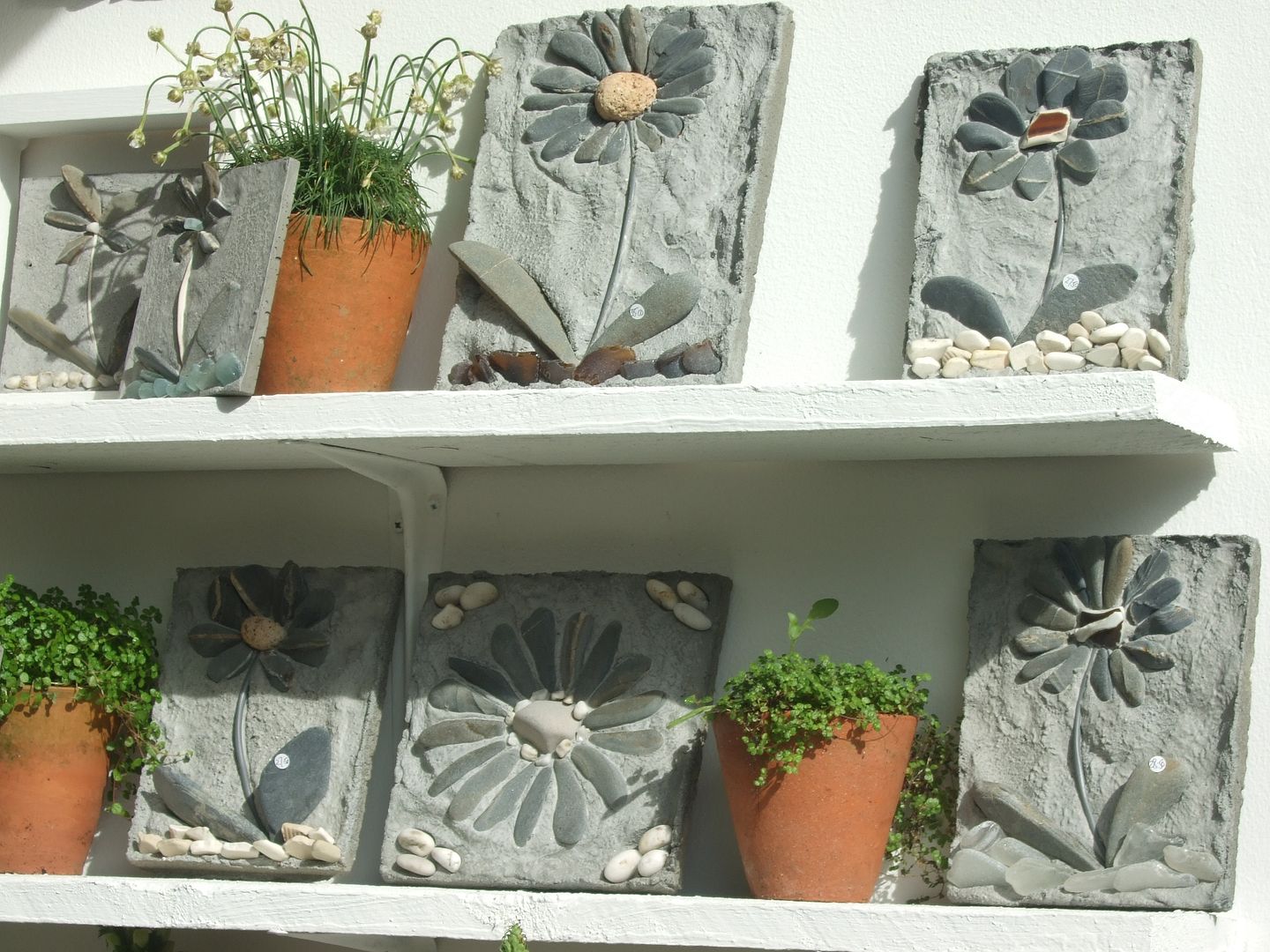 By the time it was around 5.15pm, we were fair whacked and truly all gardened out...exhausted but happy - and brimming with creative ideas, we headed back to the tube station at Sloane Square, having done a much longer day than we ever would have at work !!

I hope you all enjoy this first of my posts concerning Chelsea Flower Show !! My next post - Part 2 - will be all about the Grand Pavilion, right at the heart of the show, and featuring all the competition stands for the florists, fruit and veg growers, flower specialists and nurseries from all over the world...

So keep a look out for Part 2 - the Grand Pavilion and what we found therein...