EALING BROADWAY RI
OTS...
For the benefit of those of you who don't live in the UK, here is what happened in a quiet, leafy corner of West London, last Monday evening...
This video starts in slow motion and then proceeds with music from the Chemical Brothers, which makes it a whole lot more dramatic, I reckon...and the cheeky chappie smiling to camera half way through may be, I think, a friend of the cameraman, and not necessarily involved in the looting himself...but you never know, I could be wrong about that !! The film footage is pretty shocking...
THIS IS MY HOME TOWN !!
The whole of Britain is still reeling from the disgraceful scenes of out-of-control unruly gangs of teenagers, many of them on the young side of sixteen, rampaging round our major town-centres, committing crimes of violence, arson and looting - and far from being any kind of political protest or anti-police feeling, or the fact that they feel disaffected by a society that just gives them a life on the benefit system, or anything else that may be worth demonstrating against - whatever excuses you may have heard,
forget them all !!
This was just plain unadulterated greed...most of the kids committing these crimes were high on the excitement of being able to run amok, seemingly without any consequences - because it was happening everywhere at once, the Police seemed powerless to contain it all, and most kids joined it simply because everyone else was getting free stuff from looted shops and frankly, they wanted in...and most of them considered this to be no more than a big fun game of '
How Much Can You Get Away With
' !!
On Tuesday morning I arrived at Ealing Broadway tube station to go to work, having had to abandon my usual bus which couldn't go any further on its route, due to the car still burning in its path - I got on a different bus which took me to the tube station via the Ealing Broadway route - we passed many smashed shop windows on the way, and lots of broken glass and rubbish everywhere.
When I arrived the road was cordoned off by Police tape, with a narrow path free for access to the tube station, and the entire length of the road was strewn with debris from the night before - it looked like a very wild party had taken place, which in a strange sense it had...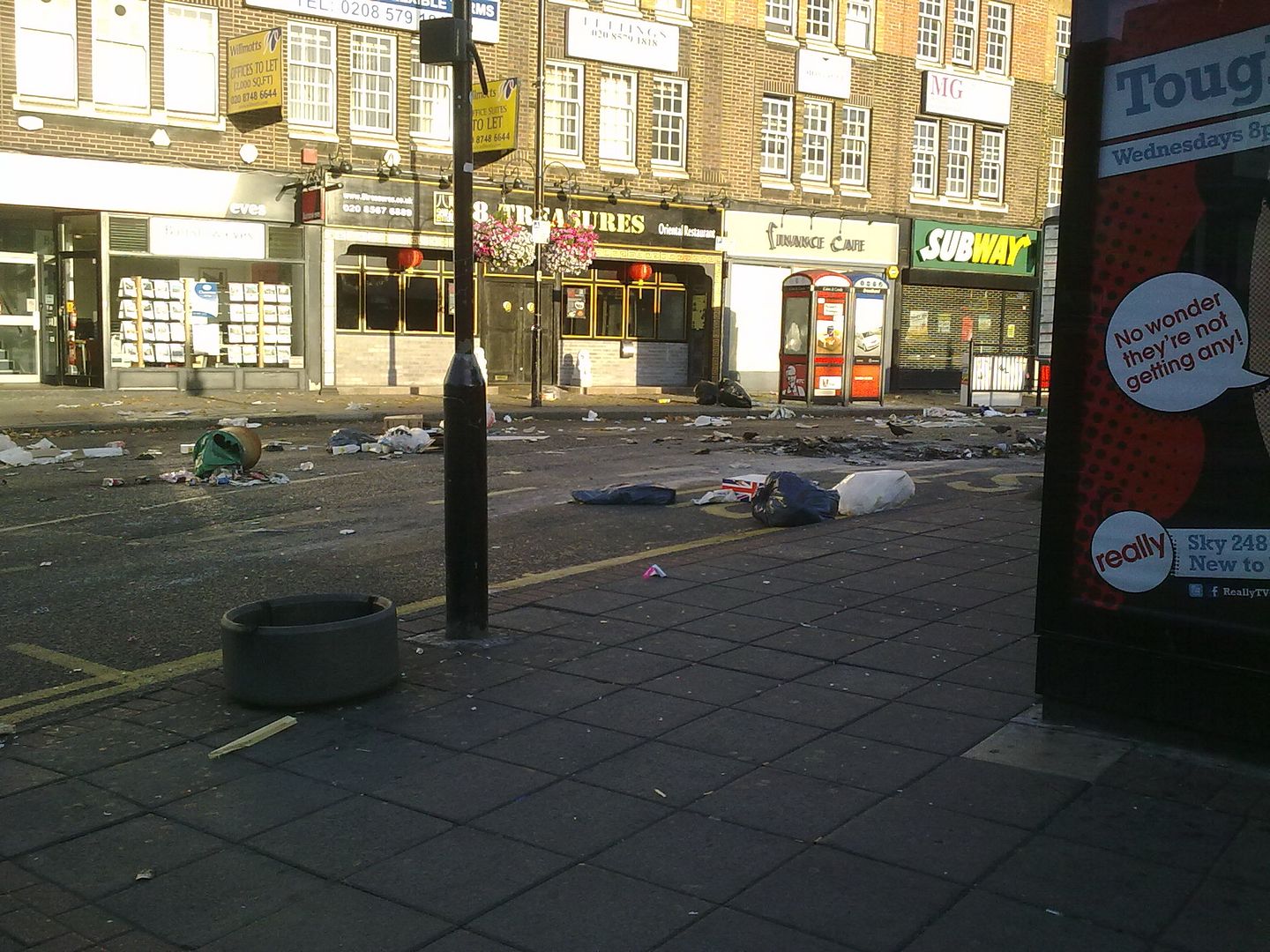 The night before : cars on fire in Ealing...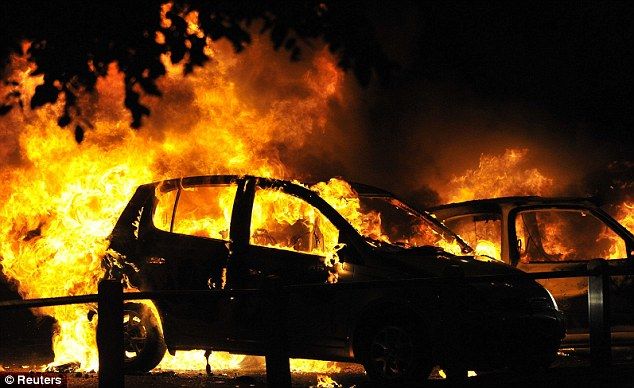 When I arrived at Sloane Square, in Chelsea, I was dreading what I would see - fortunately Peter Jones didn't come under attack, but poor old Hugo Boss, opposite the tube station, did...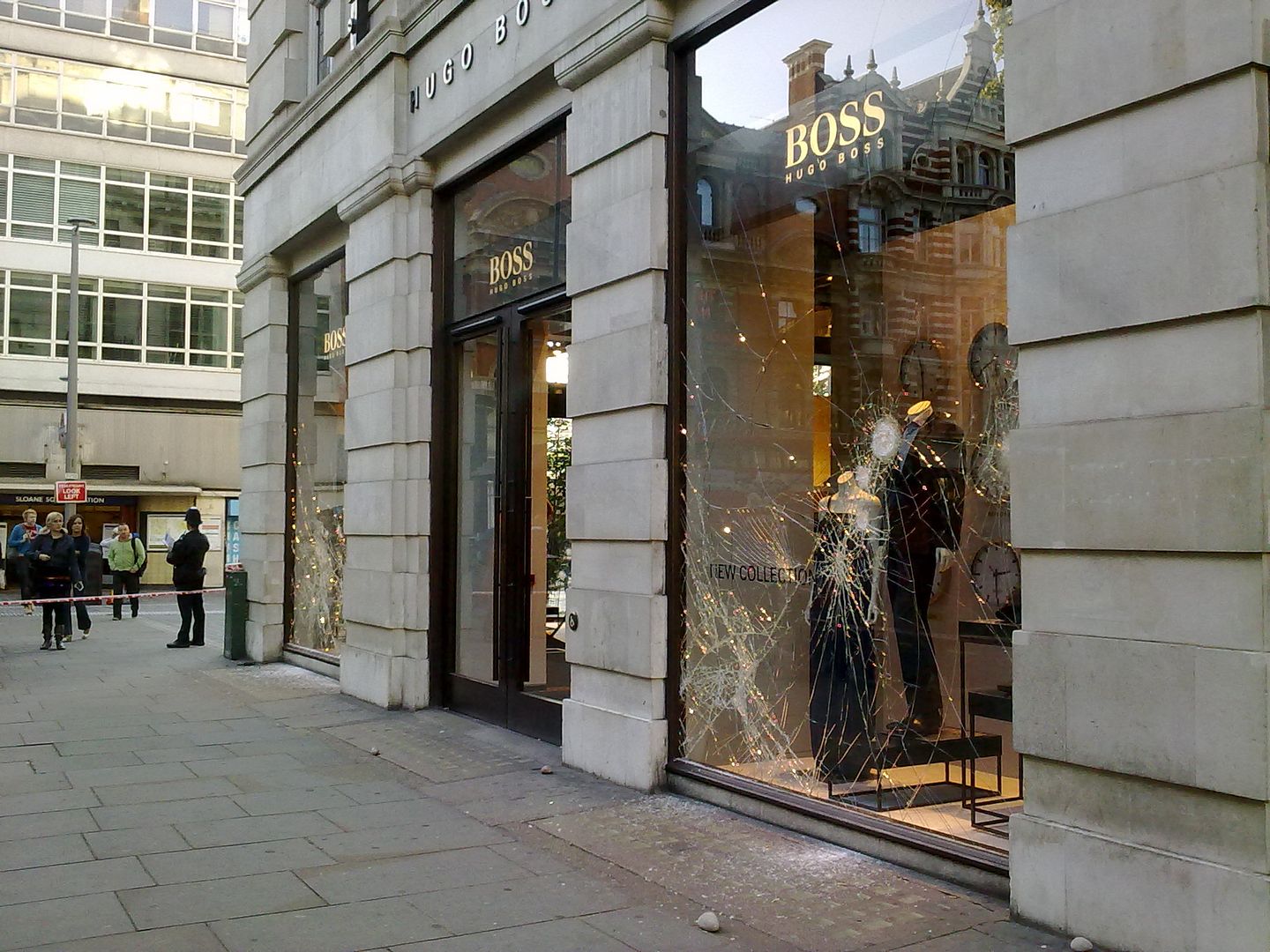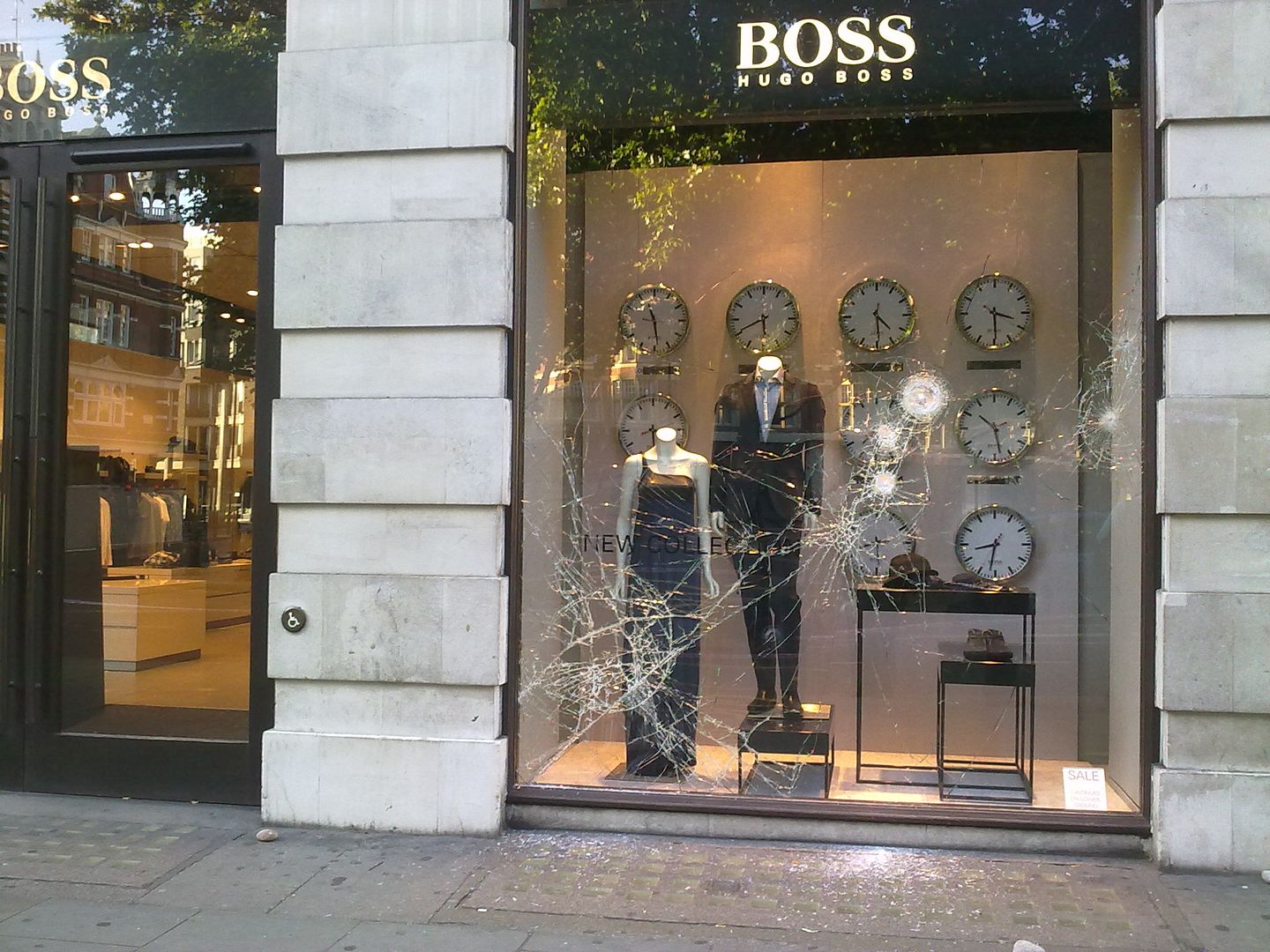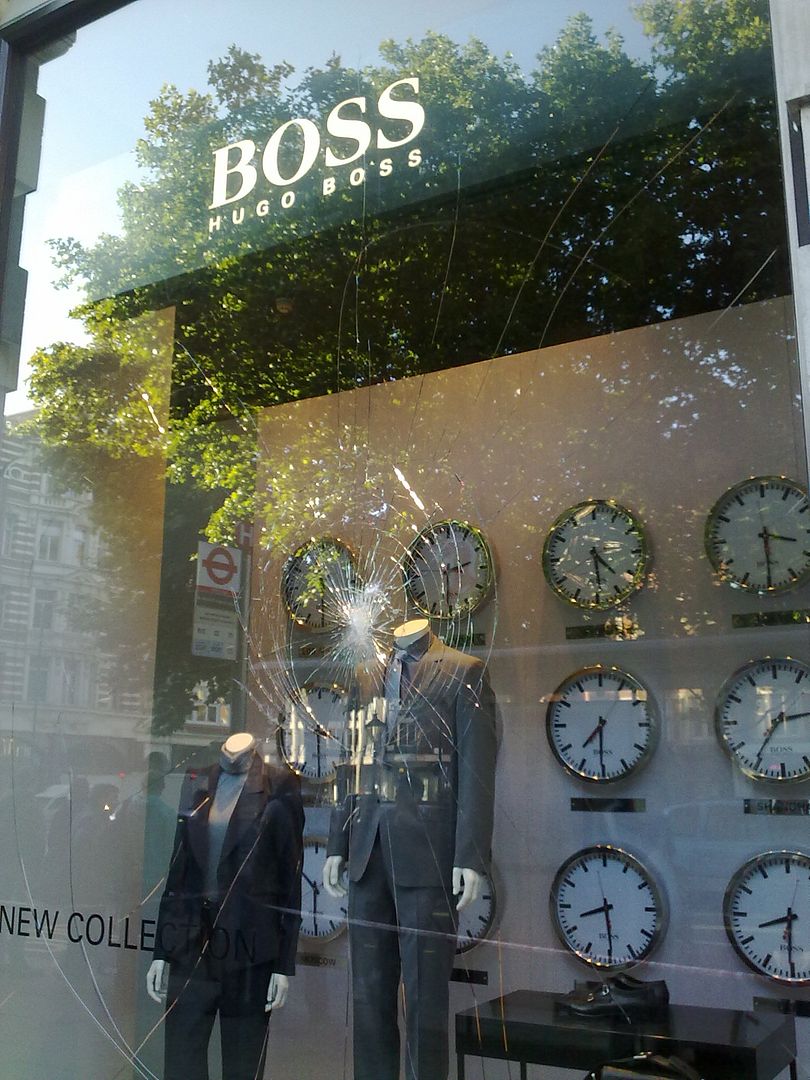 It may interest you to learn that two men have been arrested for this particular crime and they were caught as a direct result of one of our security guards taking it upon himself to check through CCTV footage from Monday evening, from canopy cameras, which look up and down the street 24 hours a day, just in case they caught some usable images, which they did !!
Elsewhere in London, this was typical of what was going on, pretty much everywhere :-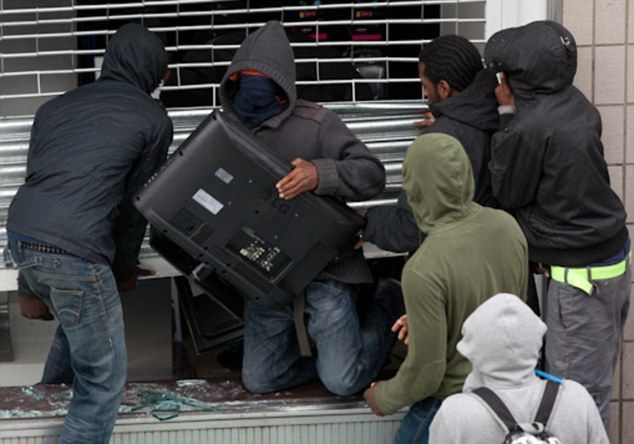 In Hackney, as everywhere else, an awful lot of the rioters went for the really high end stuff - wide-screen TVs, iPods, iPads, iPhones, (Apple was very popular !!) laptops and headphones, designer clothes, jewellery, watches, etc, etc - and this scene was repeated everywhere all over London - they knew exactly what they wanted and they just smashed their way in and took it, and it was a mind-boggling sight, caught on the BBC News 24 cameras in most of our major London town-centres !!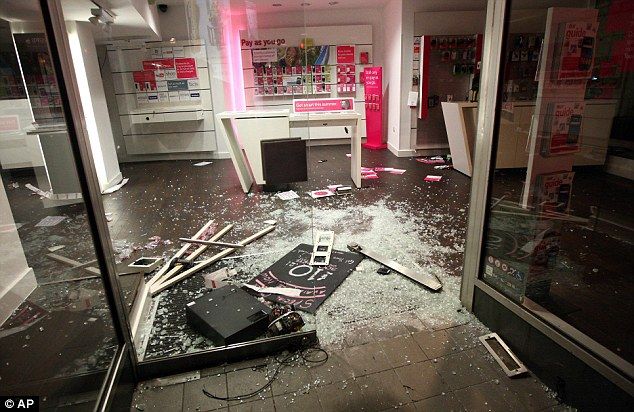 Mobile phone shops were among the favourite targets ...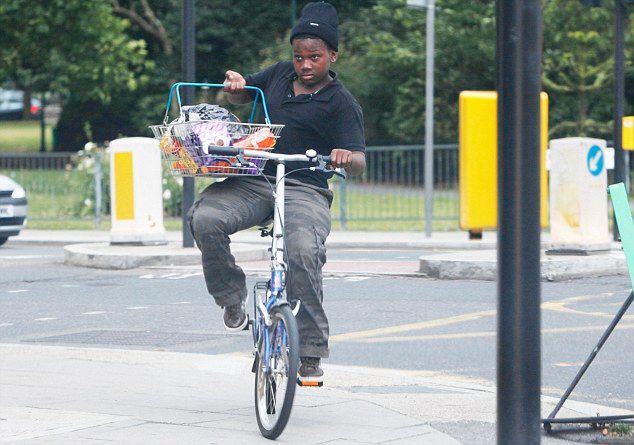 This little boy struggles home on his bike with a basket full of goodies from the local Tesco Metro...as you can see, broad daylight !!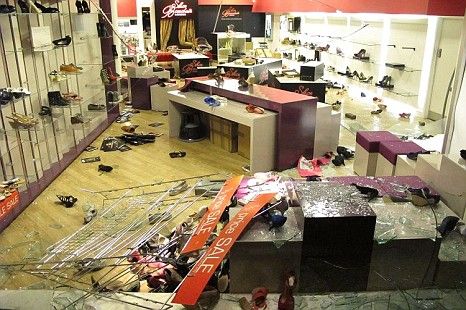 This is Debenhams in Clapham Junction, after the rioters had been looting for a good hour and a half before the poor beleaguered police and fire engines showed up - they were too busy dealing with rioting in other places nearby, but we all watched on TV, as looters went in and out of Debenhams through the front entrance, which had been smashed to smithereens, just helping themselves to stock - I wouldn't be surprised if they used the fitting rooms to try stuff on first...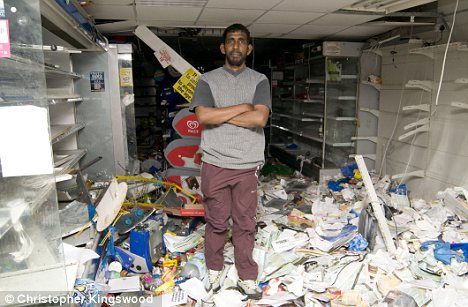 'He accepted that I had to cancel the papers...'
This is small business owner, Shiva Kandiah, who was left with only 25p to his name after his corner shop was totally ransacked and then set on fire - he lost goods and property worth £10,000 and he is uninsured...his cause has been picked up by the national papers and there is a fund in place to help him get back on his feet - his plight has come to represent every small business affected, and he has touched the hearts of everyone - here is what he said :
"All I have left is 25p. That's it. All the money was in the till and I had just spent £6,500 on cigarettes and wine and that has all gone. I had no contents insurance so will never see that money, but I have realised that I can start again because most people are so kind and supportive. The people of Hackney have been coming to the store and saying they will help clean it up and rebuild it. They were always good to me and very chatty, but today I feel like they are my family.
Today, I got up at 4.30am and got ready to go to the shop and for the first time in years I could have gone back to sleep as the shop is no more, but I still went to the store and met the newspaper delivery man and chatted to him. He accepted that I had to cancel the papers.
I did not think I would ever feel like re-opening the shop, but I have to do it for the good people of Hackney. They are my friends and that means people of every colour and religion and that is the great thing about an area like Hackney. It will take some time as I don't have the money to order new stock, but I will re-open. I promise my friends that.I must not let these youngsters who did this get away with beating me. I hope they will see me as a person who overcame their terrible actions and learn from it themselves as they cannot be very happy with their own lives to do that."

OUT OF LONDON
Croydon town centre really suffered, and this is the saddest picture of all, because this big old furniture shop in Croydon meant something to me,...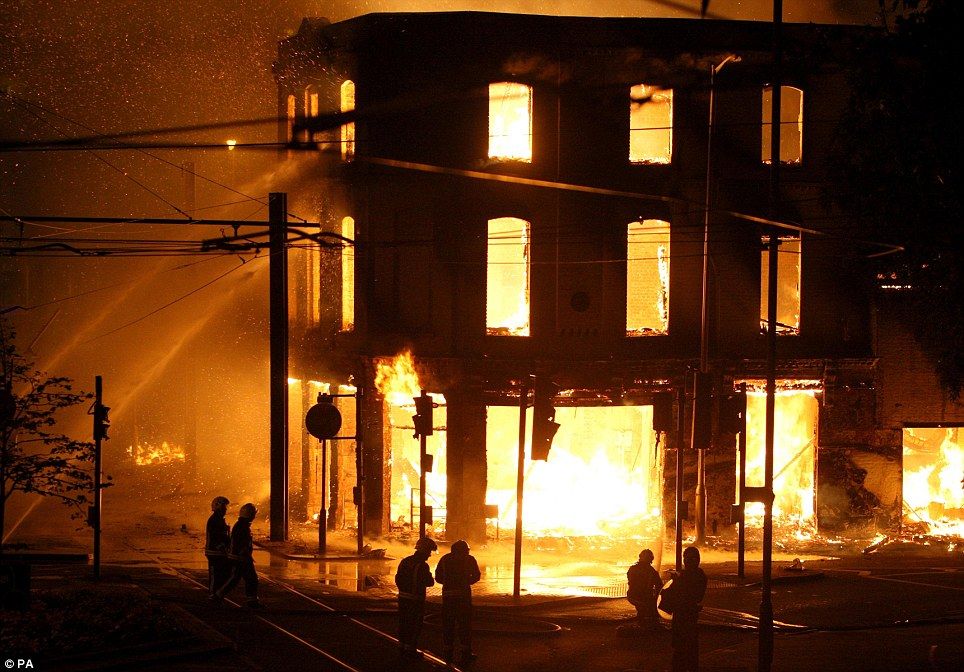 This is the front of Reeves Furniture shop, at Reeves Corner in Croydon - this furniture business belongs to my ex-boyfriend's family, on his mother's side - Maurice Reeves, the man who has been interviewed by numerous reporters over the last week, and is the father of the current owners of this business, is her brother, and thus I know it pretty well !! It had been their family business for over 140 years and was a well-respected part of the local community - but apparently, as it happened, not all of it, it seems...
From the other end of the building, after arsonists set it on fire...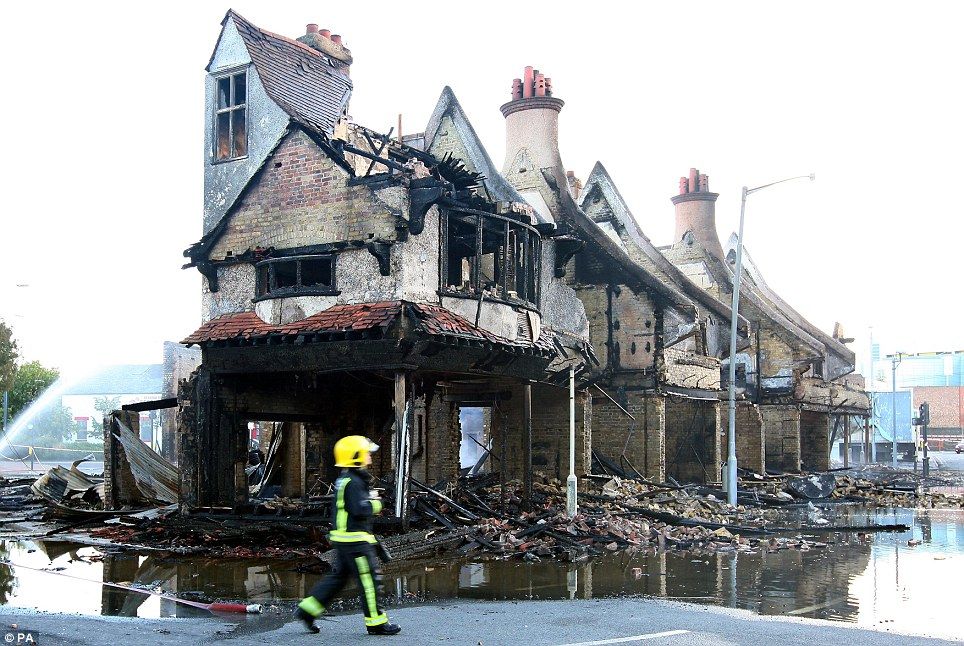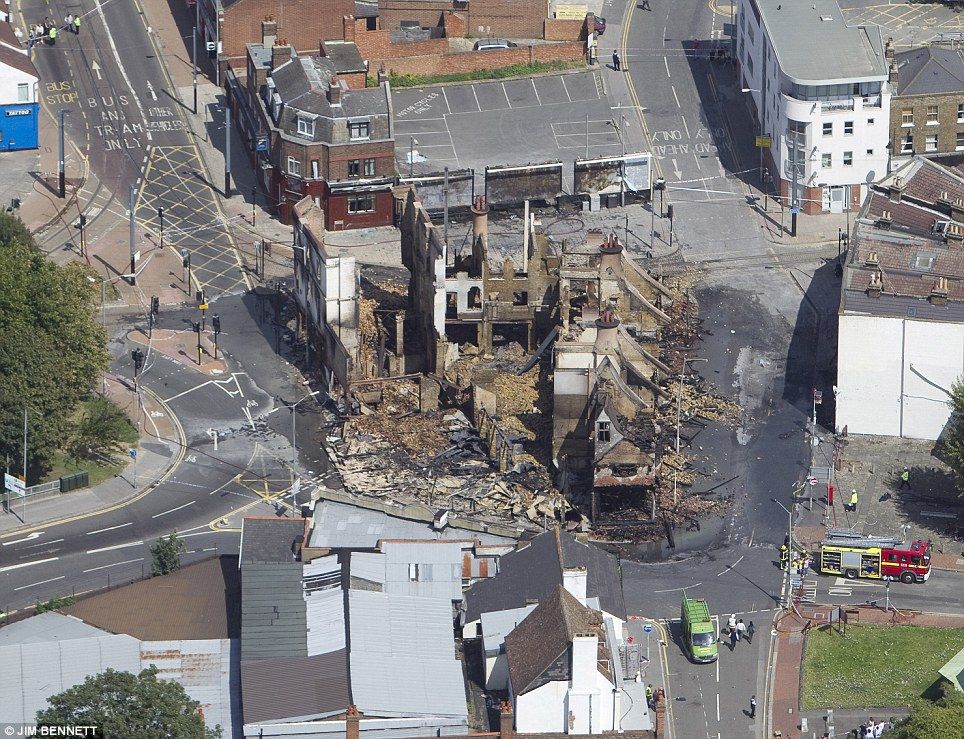 These riots went on for five days, evening after evening spreading from town to town, and by Wednesday evening, the Manchester police had intelligence information from the Blackberry messenger service that their town centre was going to be targeted next and they were prepared...
As you can imagine, there have been endless discussions about what the police could have done better, what tactics they could have used, and whether they should use water cannon, and whether it would actually be practical in the difficult circumstances -well, no, as it turns out, as the mob were turning up at one street, looting as many shops as they could get into and then melting away down side streets as soon as the police showed up...water cannon trucks would be heavy and unwieldy vehicles to manoeuvre and wouldn't be able to respond quickly enough !!
The Blackberry messenger service has been pointed up as the main communication method used by the ring-leaders, as it is a private circuit, and the texts are untraceable to a large extent - so there have been numerous discussions about that too...
AFTERWARDS...
Since last Wednesday, the papers have been chock full of the amazing stories about the locals, in various different communities, all pulling together in true British Blitz spirit, to clean up their own neighbourhoods - they have banded together with hundreds of brooms and got themselves organised...
Many looted shops were tiny local businesses with little or no capital, and certainly no insurance in lots of cases, and there have been hundreds of collections and offers of help, both financial and legal and all free of charge, for these people, many suppliers offering to re-stock their looted shops for free...
In Peckham High street, someone wrote on a boarded up shop-front, the words 'Why we love Peckham' and invited people to scribble on multi-coloured post-it notes to add to the wall...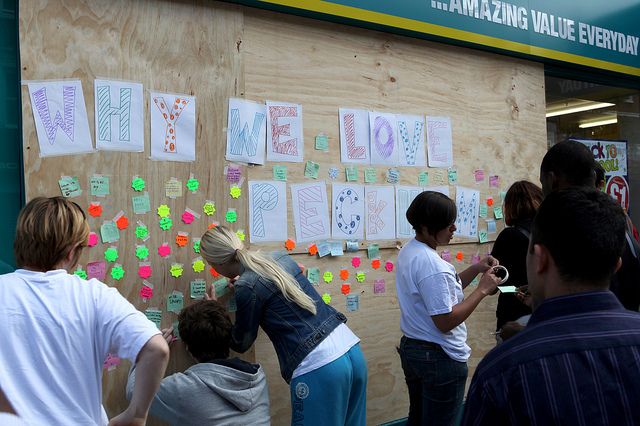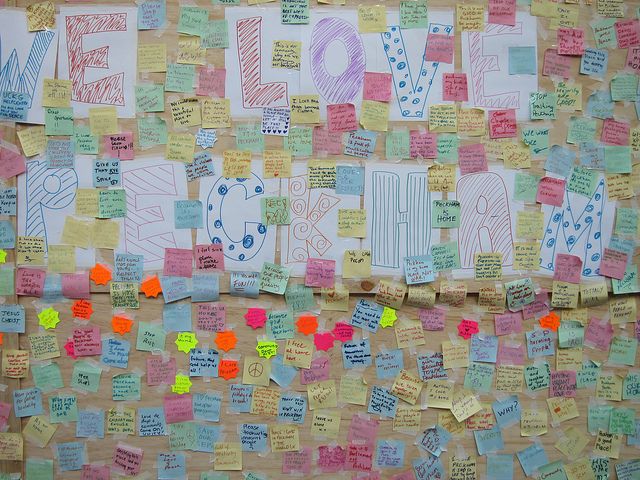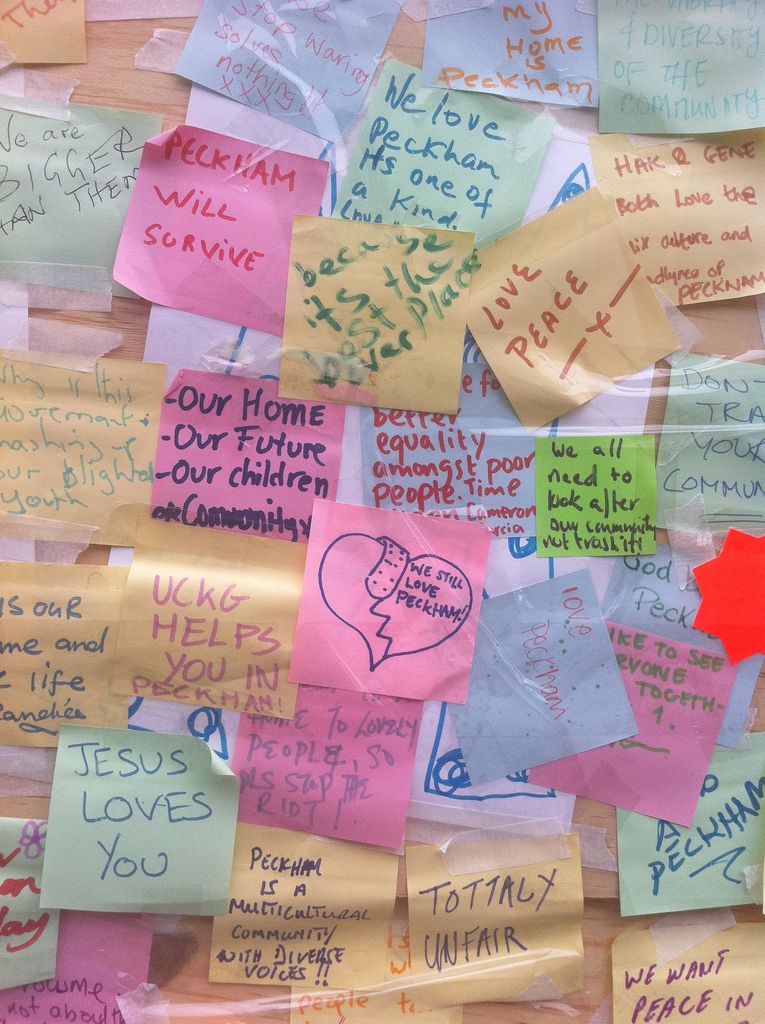 As you can see, this random gesture has been taken up by the locals with gusto - everyone is pretty disgusted with these kids, and as it transpires, many of the perpetrators weren't the disaffected youth you may expect - there have been almost a thousand people arrested so far, and many of them have respectable jobs - youth workers, school teaching-assistants, models, university students, etc, etc...
Parents have turned their own children in to the police, when they've arrived home with a wide-screen TV they couldn't possibly afford...one mother saw her own daughter on the TV news, looting from one of the shops, and she marched her down to the station the next day !!
I have been very heartened this week by all the stories that have emerged from all the local communities who have fought back and have decided to take responsibility into their own hands and say
'Enough is enough !!
'
Why should your local community, your local town centre with all the shops you use on a daily basis, be targeted in this way - it just doesn't make sense, but then, very little about this kind of rioting for the fun of it makes sense - that's why people call it mindless, because it is...unbelievably, there were two girls involved in the looting in Croydon, who agreed to be interviewed on the street at the time,
by the BBC !!
With their faces to the camera, in full view, they said that they had fun and it was the best night of their lives.
'Just a game, ennit !!
' said one, as she chewed her gum to camera...
I mean, really - how stupid do you have to be ?
Needless to say, both of them are appearing in Croydon Magistrates Court this week, alongside hundreds of others...in fact, the courts are sitting in session 24 hours a day since Thursday, just to process these nasty little oiks through the court system...
I have no doubt that there are loads of reasons why this blew up last weekend - it all started with the shooting of a young man in Tottenham, who turns out to be the nephew of a famous gangland leader in the area, and who had a police record as long as your arm, and he was armed with a gun the time...his family staged a demonstration that got out of hand when they didn't get the answers they wanted from the Police Complaints Commission, which may explain the Tottenham riot, but certainly doesn't explain why this went from town to town like a viral disease, and neither does it explain why ordinary citizens suddenly thought it was somehow OK to loot and steal just because there was a large mob doing it unhindered by police. It just goes to show that even the best of people can be caught up in something and get carried away...
I have
zero
sympathy for any of these rioters and the large part of the general Public agrees with my view on this - this whole shenanigans blew up out of control and had nothing to do with any demonstration about being unemployed, poor, or feeling like a disaffected member of society...and everything to do with getting stuff for free, coupled with a general adrenalin rush, like playing an exciting computer game - talking of which, '
Grand Theft Auto
' and other games have also been cited as contributing factors...
We're slowly getting back to normal, most of us here in London, but the poor small business owners, who have had their shops ransacked and in some cases burnt to the ground, are going to have a long, hard slow road to recovery...