NEW YORK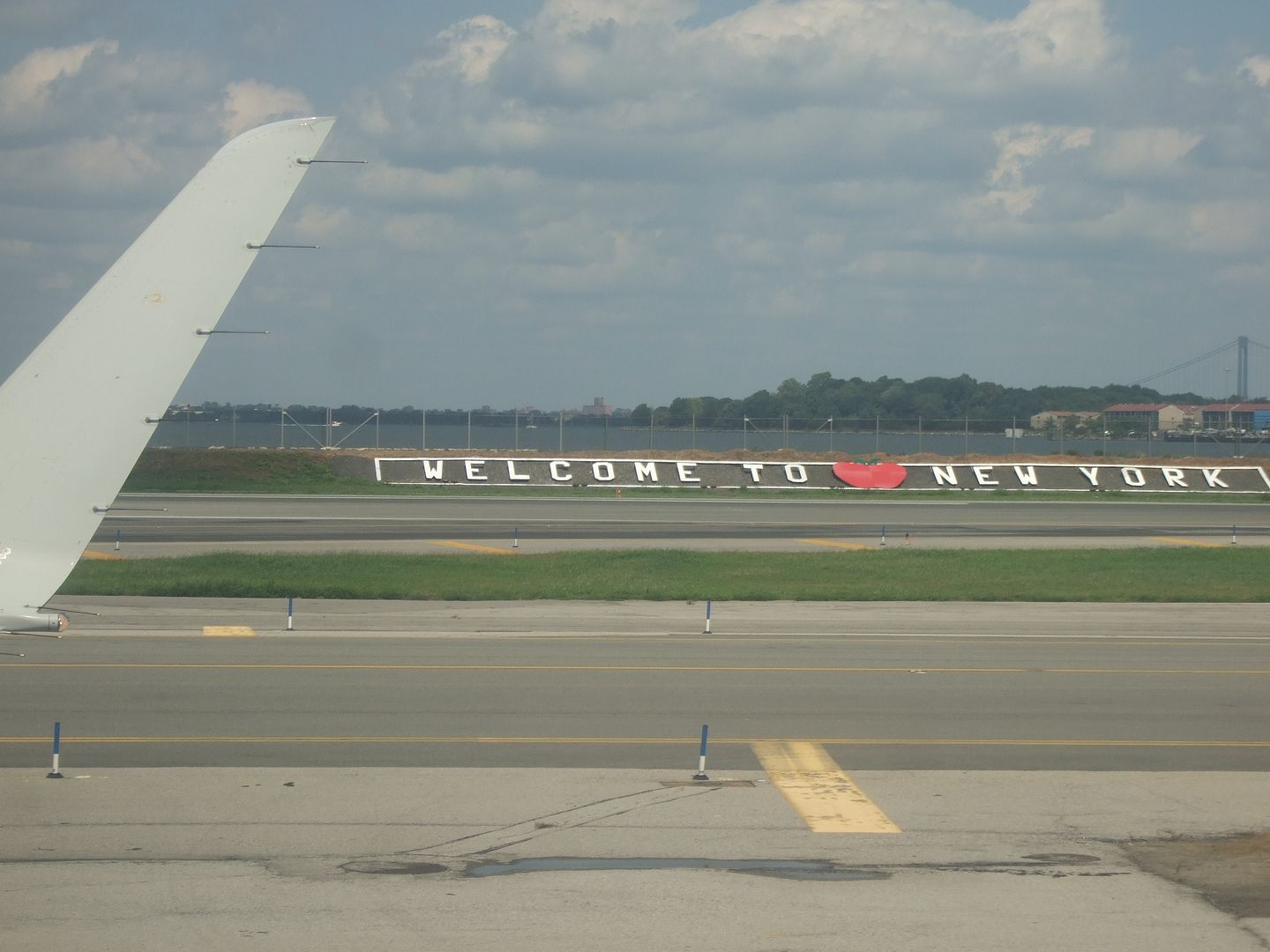 Touchdown at La Guardia Airport..

As most of you are aware, we just got back from New York last week, having spent just three days in the Big Apple and a further week in the company of Adam's family in Ontario...
Of course, I have to tell you about our amazing time in New York - 'twas far too short but of excellent quality just the same !!
I took so many great pictures...
We flew to America via Toronto, as the Air Canada flight was the cheapest option, as it turned out...it still cost an arm and a leg, but maybe left our ankles intact...and we still had to wait around for two hours on the tarmac at Toronto airport - the pilot had received the information that La Guardia Airport was currently closed due to the bad weather, which didn't bode well !!
Finally we got airborne and arrived in New York at around 8.30pm, in the dark with rain lashing down all around us !! Luckily for us, we would be staying in an apartment near the Fort Tryon Park area - quite far to the north of Manhattan, but still only about 30 minutes ride on the express subway to get to the Downtown areas which, as you all know, is where all the action is !!
We joined the enormous queue for yellow taxis outside the airport, which was dispatched with alarming efficiency by a controller at the head of the queue, who not only directed you to the cab, but also negotiated a price for you at the same time - simply marvellous !!
Our cab-driver was a chatty Italian who told us that it was his dream to go to London one day - yeah, sure !! I'm pretty certain that he probably says that to all his foreign passengers - still, he was very entertaining and made the ride doubly interesting as we drove across Brooklyn Bridge and made our way uptown, absorbing all the famous place-names on the overhead direction signs...
The apartment was absolutely lovely - up on the fifth floor of an enormous apartment block - clearly built in the Thirties in a slightly Art Deco style, the apartment itself was quite elegant, extending off in all directions from a large square entrance hall...glossy wooden floors with large rugs, and just the essential furniture made it feel quite spacious and airy !!
MONDAY 23rd AUGUST

THE MUSEUM OF MODERN ART

The next morning it was cloudy and wet underfoot, but not actually raining thank goodness - I have to say though, that everyone expressed their apprehension when we said were going to New York in August, because it's usually so horrendously hot and sticky, therefore the rain really was a Godsend. It was much more pleasant to walk around all day in the cool instead of the roasting heat... I ended up ditching all the hot weather clothing I had packed for New York and wore the somewhat cooler weather stuff I had packed for Ontario instead..
The first place we headed for was, I should say, one of the major museums of the Western World and an extremely cutting-edge building in the Upper Midtown area, just south of Museum Mile...this was the only major art collection that deigned to be open on a Monday ( New York museums and attractions generally practising the rather European habit of closing every Monday for whatever reason)
This was the amazing Museum of Modern Art, which was, without doubt, one of the most beautiful art spaces I have had the pleasure to walk through !!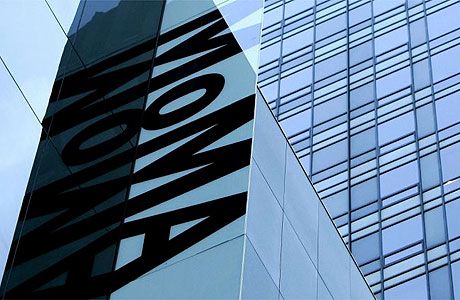 It is a vast expanse of open space encased in glass and steel, all white-washed walls and open-sided staircases, which all contributed to the general feeling of being able to fly down through the floors from the top floor to the ground level in one fell swoop..not for anyone who doesn't like heights then !! I loved this building and its treasures within...I have seen a fair bit of Modern Art in the major art venues of London,Paris and Rome, and this wonderful gallery is definitely up there with the best of them..
We explored the Impressionist collections, and travelled through all the major art movements from Post-Impressionism, through Cubism and Dadaism, to Fauvism and Surrealism, ending up at the inevitable 'Pretensionism' and the later exponents of the 'Let's Pile It All On The Floor and Call it Art-ism movement of later years..thankfully there wasn't too much of that sort of thing, but this museum has its fair share of pretentious arty New Clothes for the Emperor !!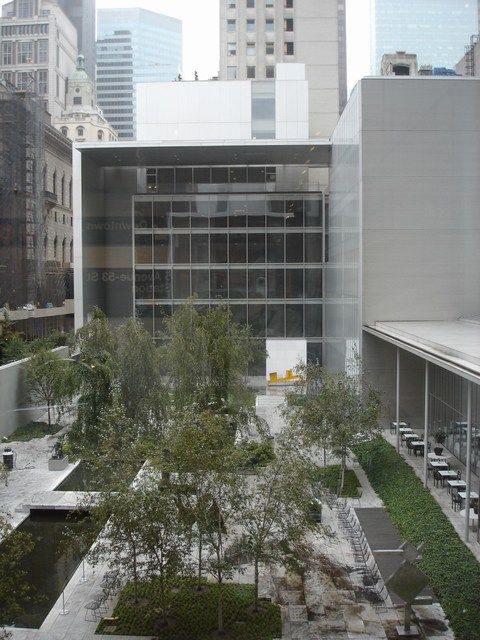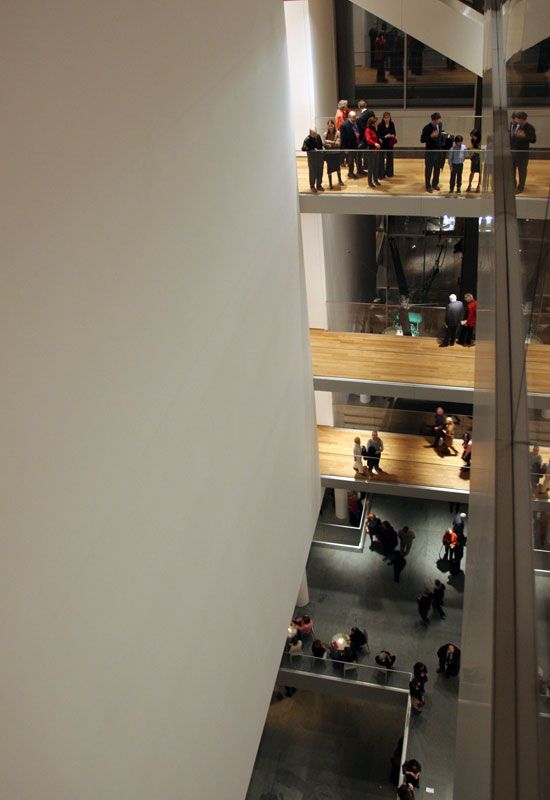 We decided that New York has a really great collection of what I would term all the most important B-list works - after all, it's somewhat inevitable that the most important A-list works are in Paris, as this is where most of the artists actually worked and got exhibited in their lifetime - a lot of the rest is in Rome and London, which leaves the US to gather up all the best of the rest, and what an amazing collection of slightly lesser known works this is, all gathered together in one beautiful place - the point I am making is that we probably would never have had the pleasure of seeing any of them had they been scattered around the globe !!
For instance, here is their collection of Brancusi sculpture, and he happens to be a particular favourite of mine - his work is quite sublime.. these are all variations of major works in other major museums in Europe, but they are all gorgeous and even though they are second versions, they are every bit as brilliant !! I am so glad I saw them..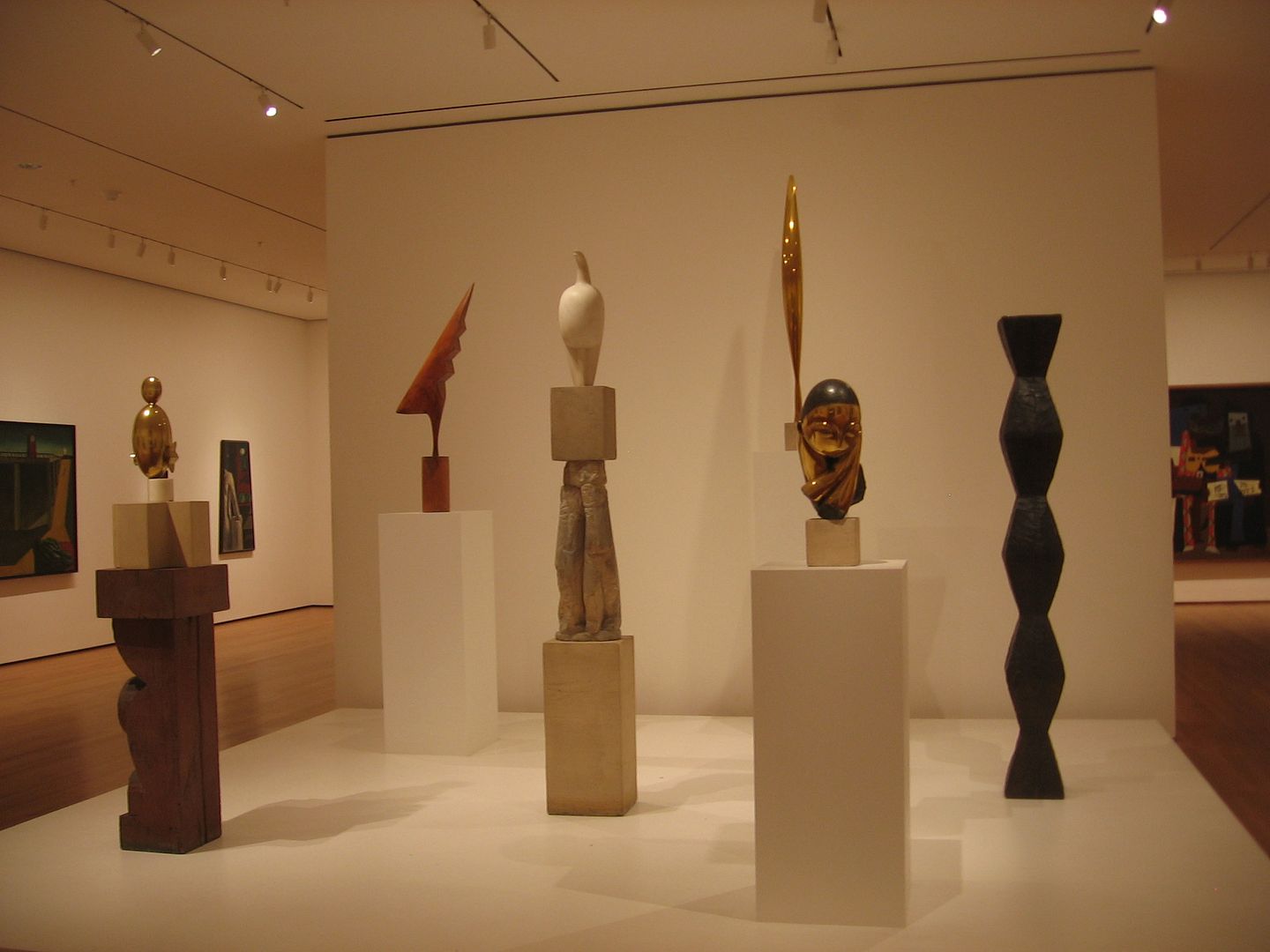 There happened to be a special exhibition of Pablo Picasso drawings on when we went, and so we had a look...and what treasures !! You think of Picasso as being all about Cubism, and he was for a while,but he was also a very talented realist sketcher - here are the drawings that most made an impresion on me..
This beautiful bull was part of a series of sketches which he did as a study in how something starts off as a real-life study in charcoal, and then becomes a cubist sketch and then a simplified modernist shape..fascinating !!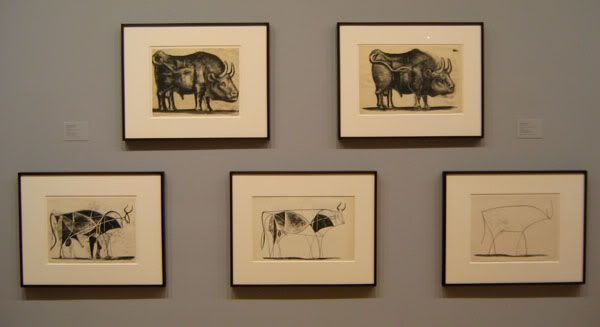 I was extremely taken with his series of drawings of animals, birds and insects for a book of beasts published in 1936..aren't they gorgeous !!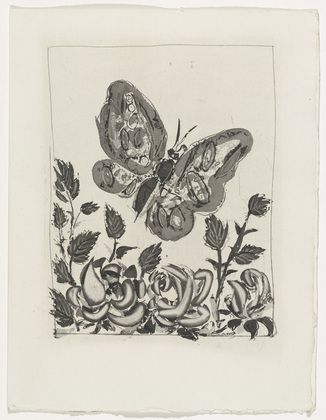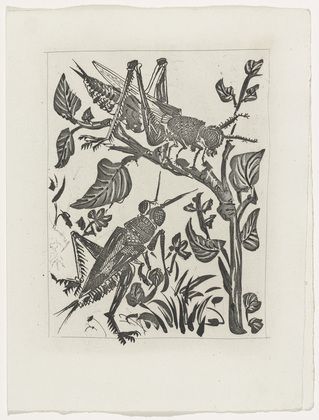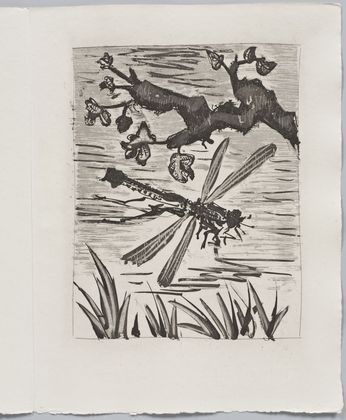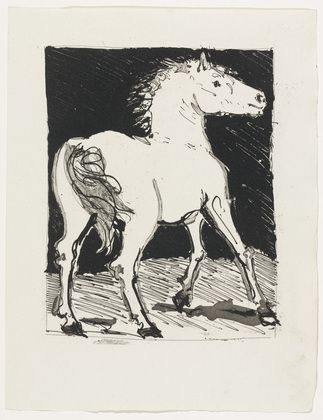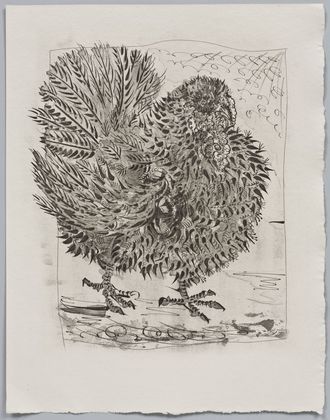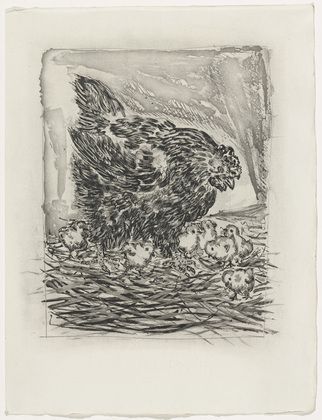 You see,all you people who profess to not understand Picasso's work, he is not so different after all..
When we had had enough Modern Art for our first morning, we left the MoMA, and went off down to Times Square in search of lunch..
TIMES SQUARE
There probably isn't anywhere else in New York City that sums up the sheer energy and verve that this cosmopolitan city buzzes with, everywhere you go - the sheer amount of people gathering there all day as a meeting point, and/or a starting point for their day's fun is amazing !! It reminded me totally of our very own Leicester Square / Piccadilly Circus area, which pretty much serves the same function. It is the centre of Broadway'sTheatreland as well as a great place to find bars, diners, and restaurants...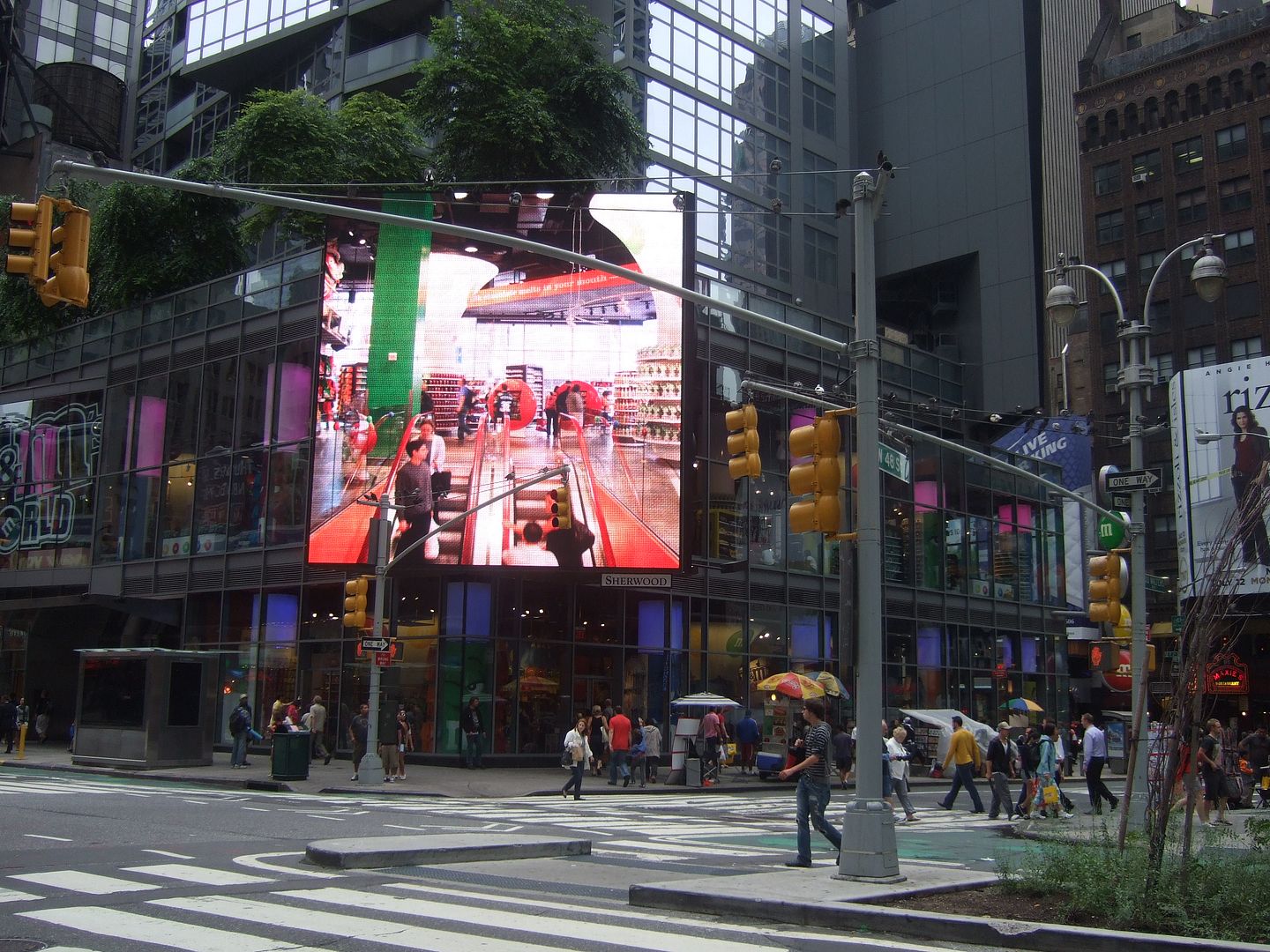 ..and shops selling just one brand of candy - here's M & M's World...mmm, peanut M & Ms !!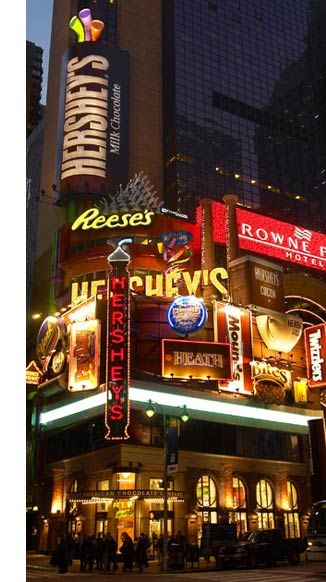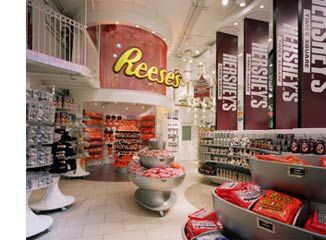 Just down the road there is the biggest Hershey'sstore in the US...hurrah for cheap sugary chocolate-flavoured candy !!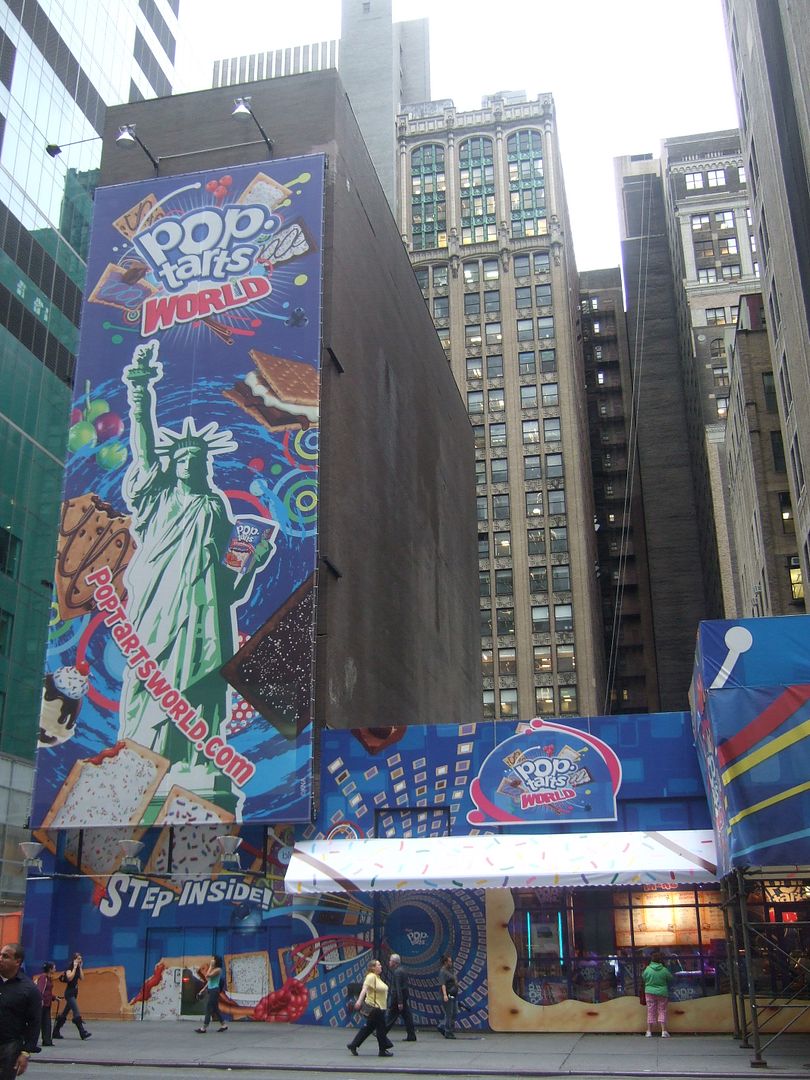 Oh and look, not to be outdone, the sugary breakfast snack-foods are getting in on the act..here's Poptart's World !!
Of course, the main architectural attraction of Manhattan are the amazingskyscrapers everywhere, and this ws my first really T
A
L
L building..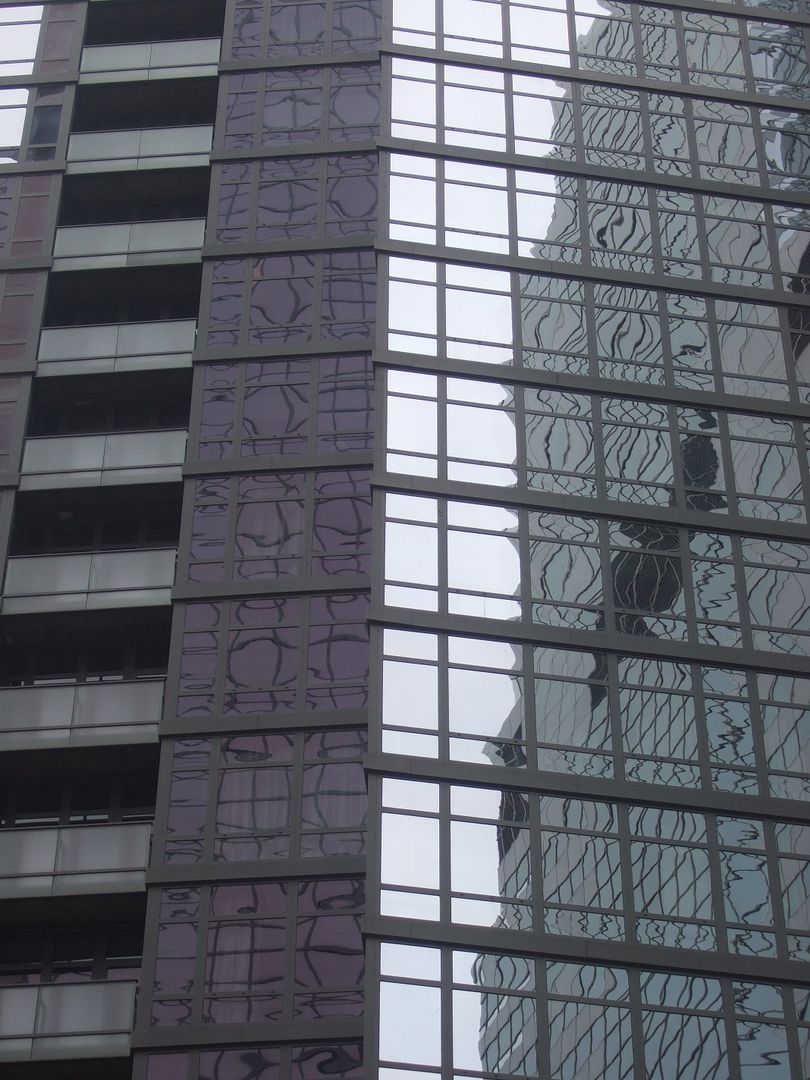 See the interesting reflections of the buildings opposite, all wiggly and warped by the dark glass used in the windows - fantastic !! These amazing skyscrapers are simply
made
for abstract photography...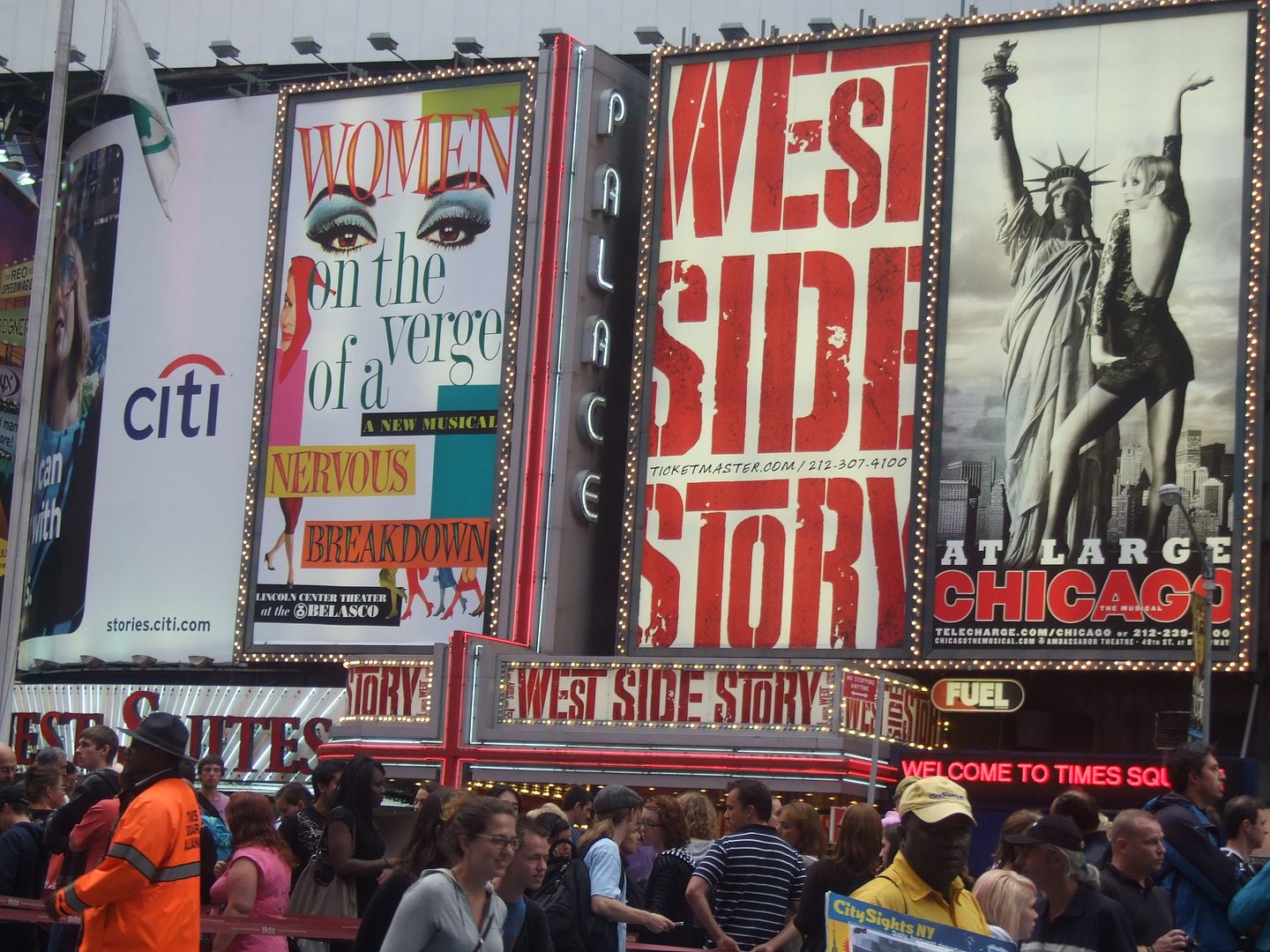 GREEN ISSUES :- Standing in the middle of Times Square, with my camera set to camcoder mode, and turning around in a 360 degree circle filming the positively
staggering
amount of flashing billboards and advertising, I couldn't help wonder just how much electricity is used by all this amazing light-display on a daily basis...
Times Square has the maximum number of billboards and thus, you would think, the maximum usage of eletricity of anywhere in the US, but I am very pleased to report that all these thousands of bulbs that flash on and off seem to be mostly powered supremely energy-efficiently, with various green schemes constantly being tried out to save the energy consumed without compromising the essential excitement of the whole place...all the different buildings use their own ways of generating electricity with many buildings having solar panels all over the front to catch and harness the overwhelming power of the sun hitting all that glass, and there are some solar-powered billboards that simply go off if there isn't enough stored power to keep them on. Per person, New York is the least wasteful big city in the US by virtue of the fact that it is very dense in population - there simply isn't the room to be as wasteful as the rest of America, and all the residents use the public transport instead of owning a car..
If this interests and/or concerns you, go and read this very interesting article written by an ex-resident of New York who moved out to the rural suburbs of Connecticut and promptly multiplied his consumption of elecricity by approximately eight times, and called his move an ecological catastrophe !! It's an absoluely fascinating read !!
www.walkablestreets.com/manhattan.htm
GRAND CENTRAL STATION

From Times Square, we walked downtown direction,past Grand Central Station, and we couldn't rsist taking a quick peek inside - oh, what a building !!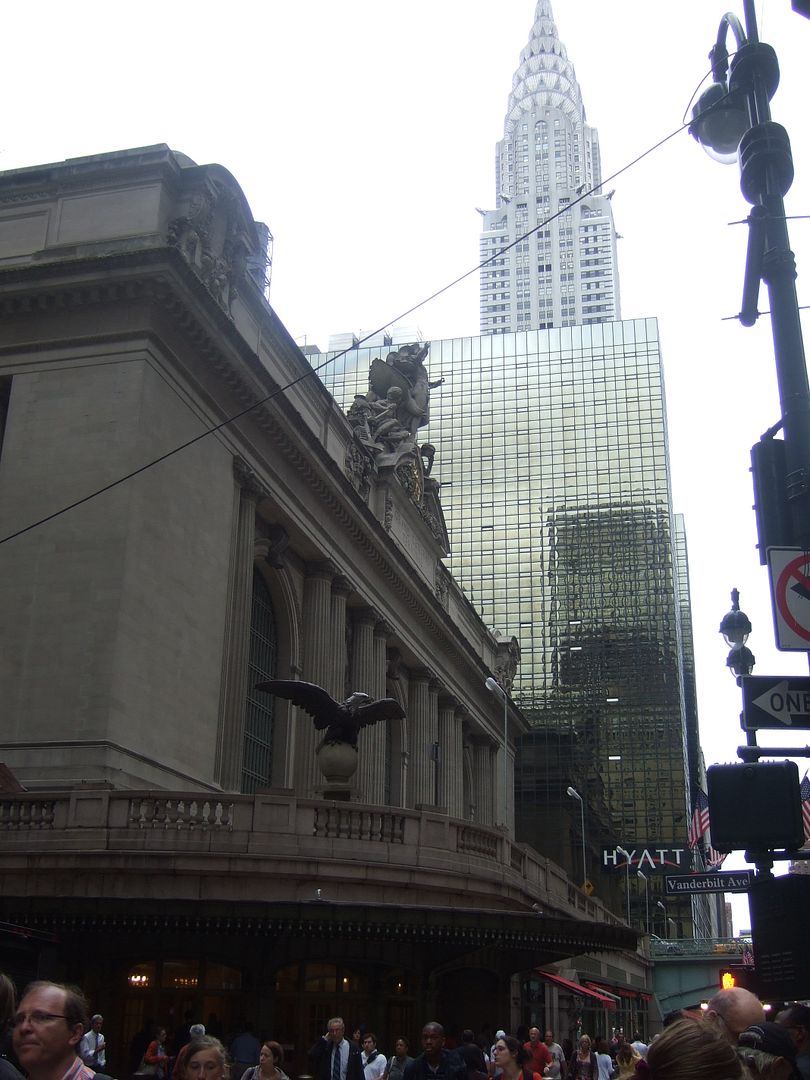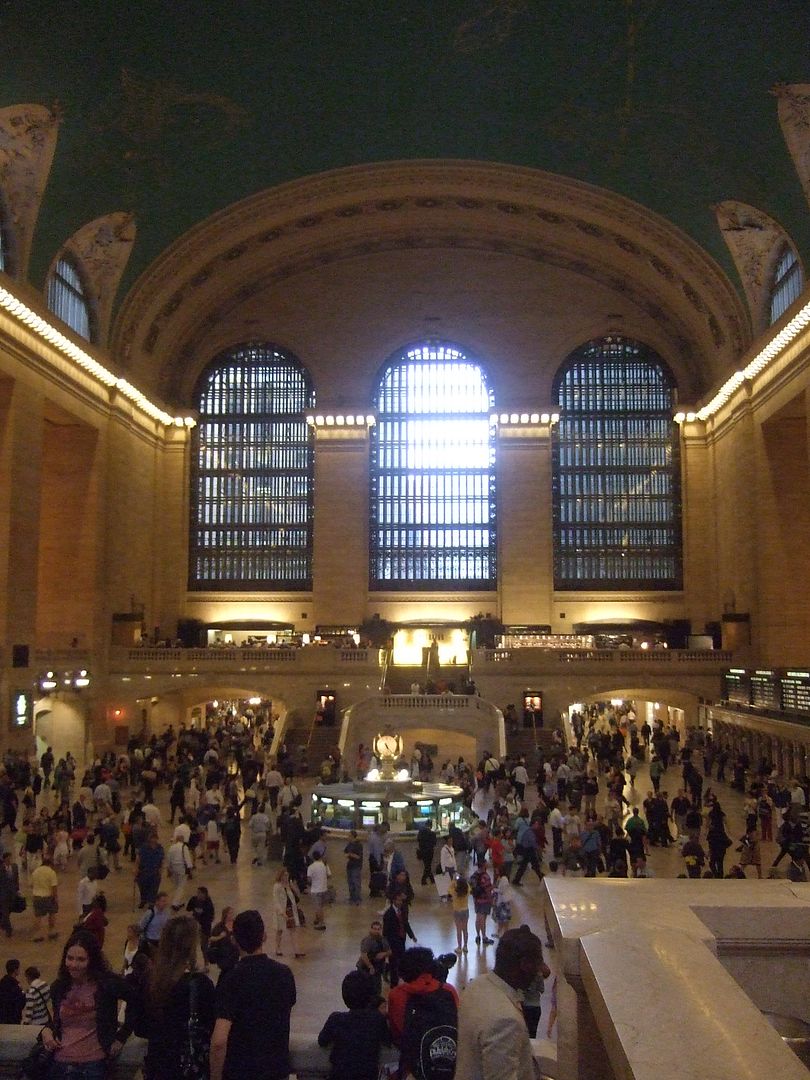 Such a grand concourse, with a high vaulted ceiling overhead, all painted with the signs of the zodiac in constellation form..and busy with people rushing here, there and everywhere !!
THE CHRYSLER BUILDING
Just behind Grand Central Station stood one of the most iconic buildings of the whole city - the Chrysler Building of course, and we decidd that this was too important to miss.. the thought of going back to London and mising one of the most important Art Deco interiors would be too awful to contemplate!!
We were richly rewarded for our decision, as this is certainly the best example of Art Deco art I have ever seen..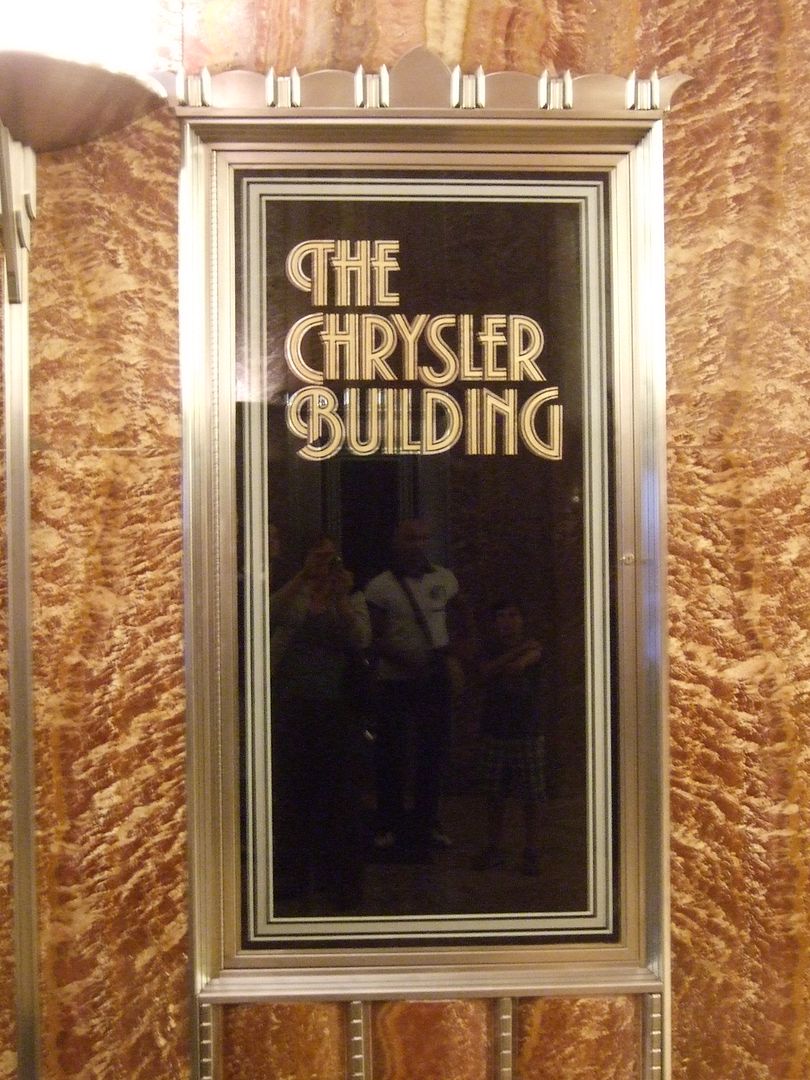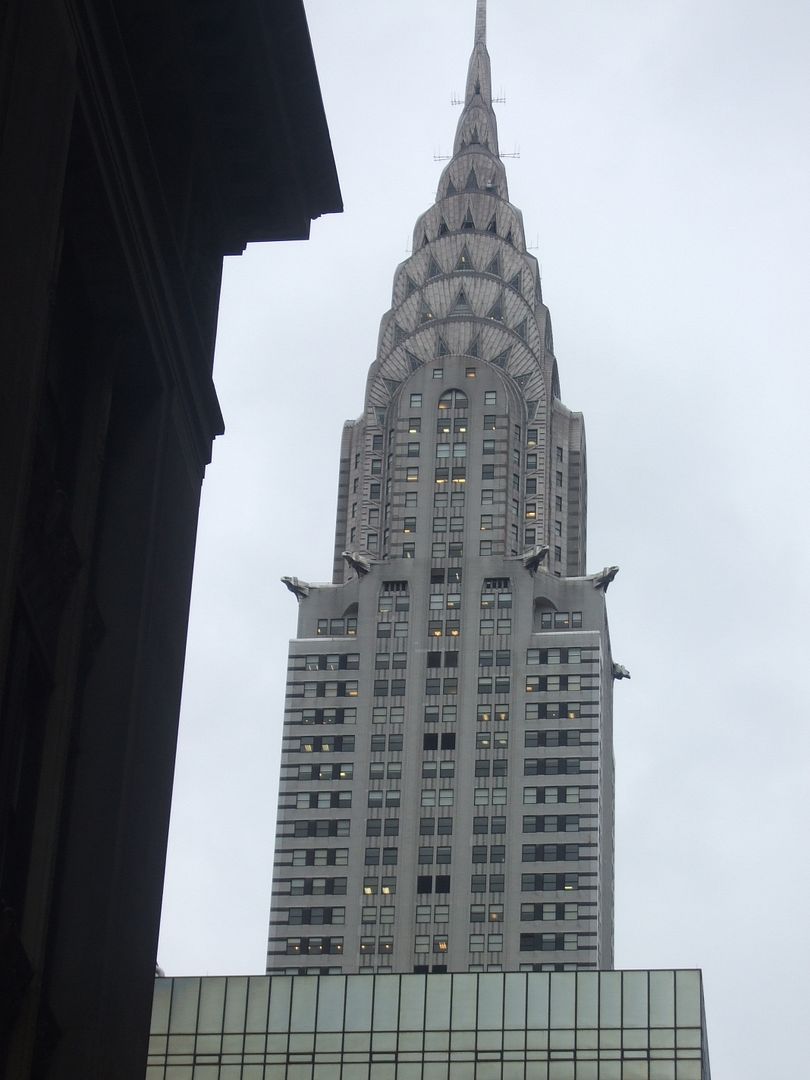 The whole interior is lined with rose quartz marble and the entire design is based on methods of transport of the 1920s, which is when it was built - Mr Chrysler founded the Chrysler Corporation in 1925 and wanted a headquarters inNew York that reflected the car, train and aeroplane industries that dominated the age..he commisioned this building but amazingly, although they showed off the latest Chrysler cars in the spacious lobby, this building never actually performed the function of the company's headquarters after all...how mad is that ?!!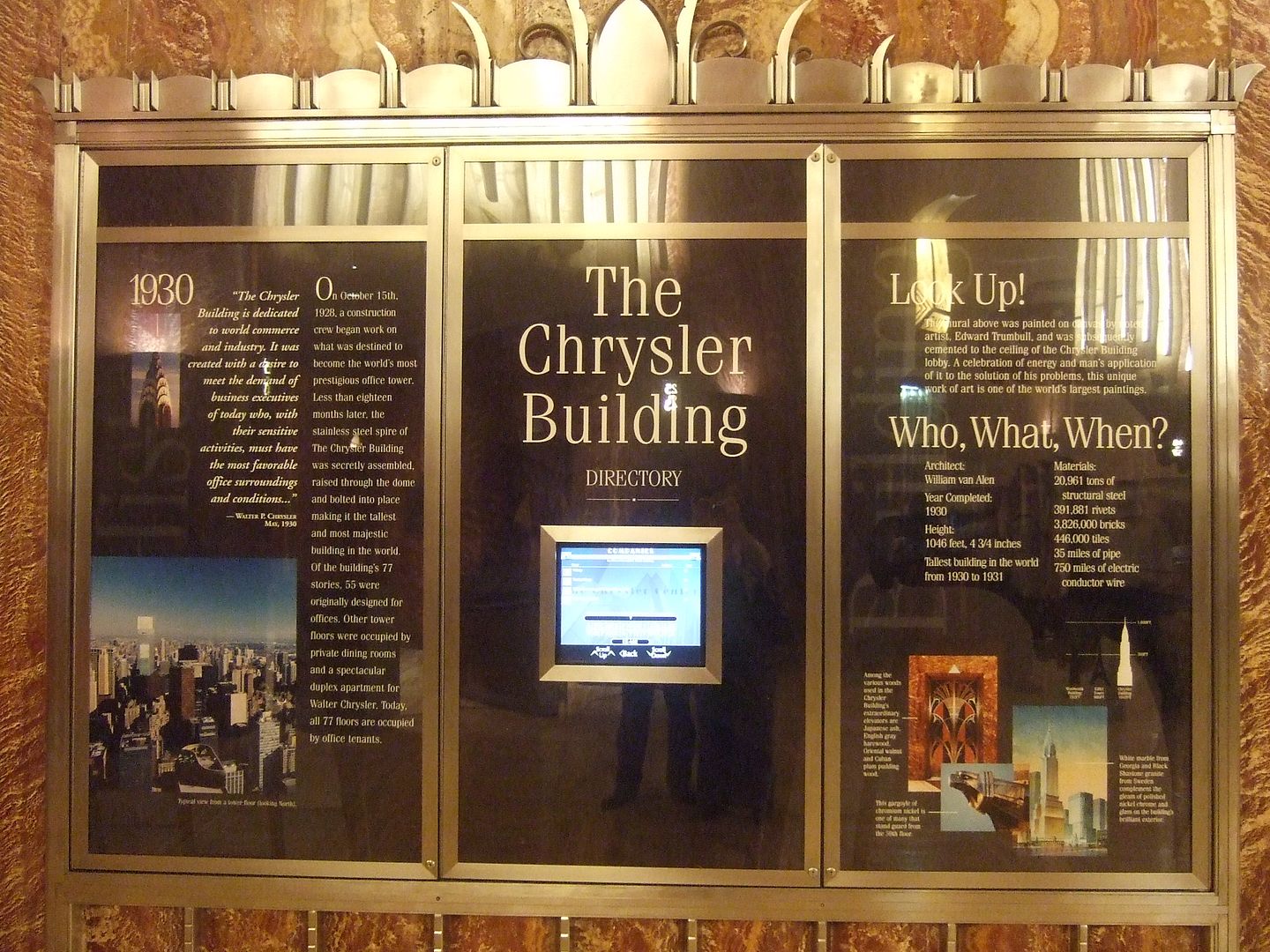 The whole interior is an exercise in Art Deco patterns, using chrome in various repeating triangular patterns, and radiator-grill chic everywhere - it is truly amazing !! Even the lights are shaped like the front of a car..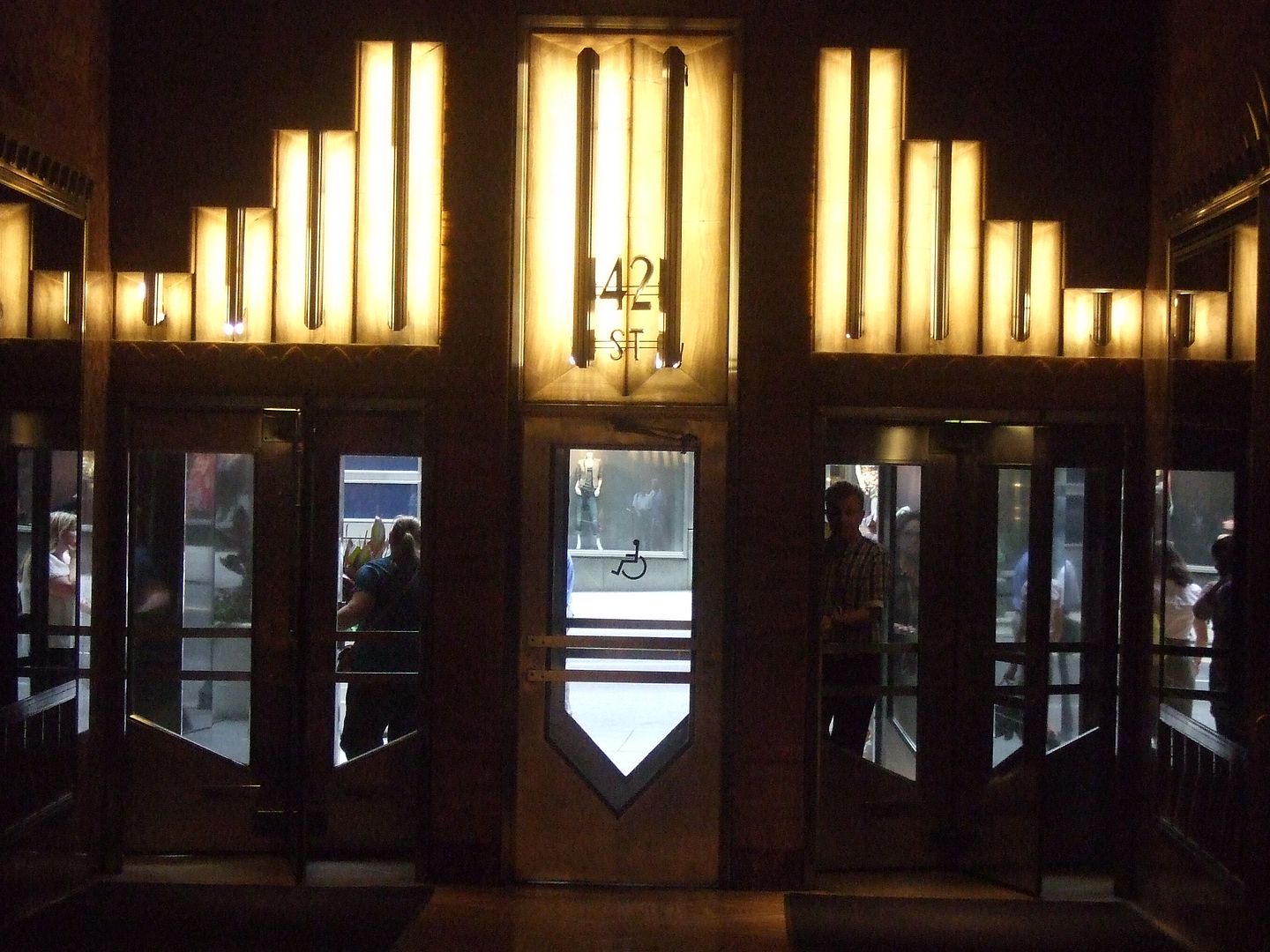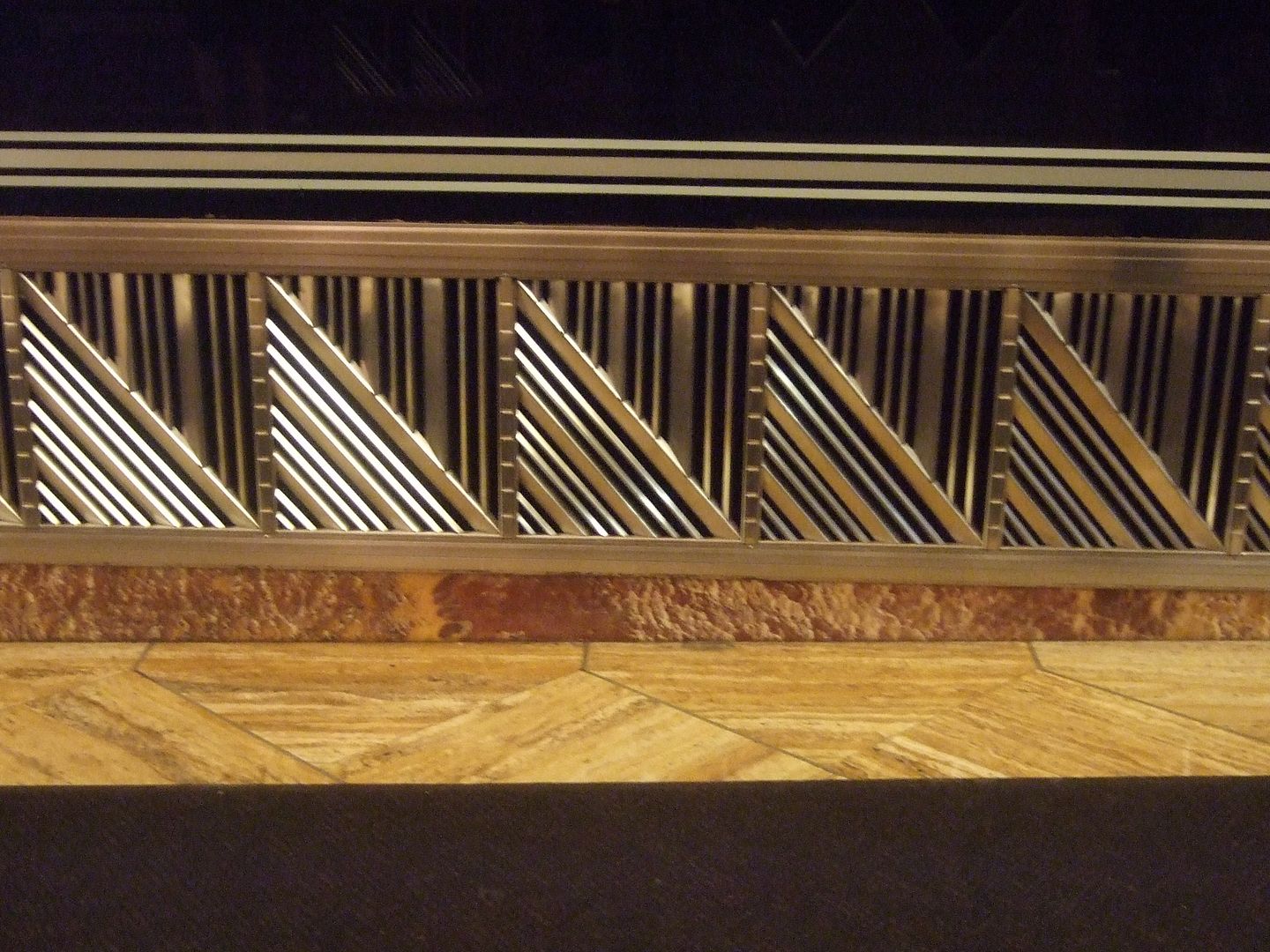 The elevator lobby was a fantastic display of creatively inlaid woods of many colours, and brass all done in a lotus pattern - quite Art Nouveau in a way, which was closely associated with Art Deco, as one was a highly stylised developement of the other, back in the 20s...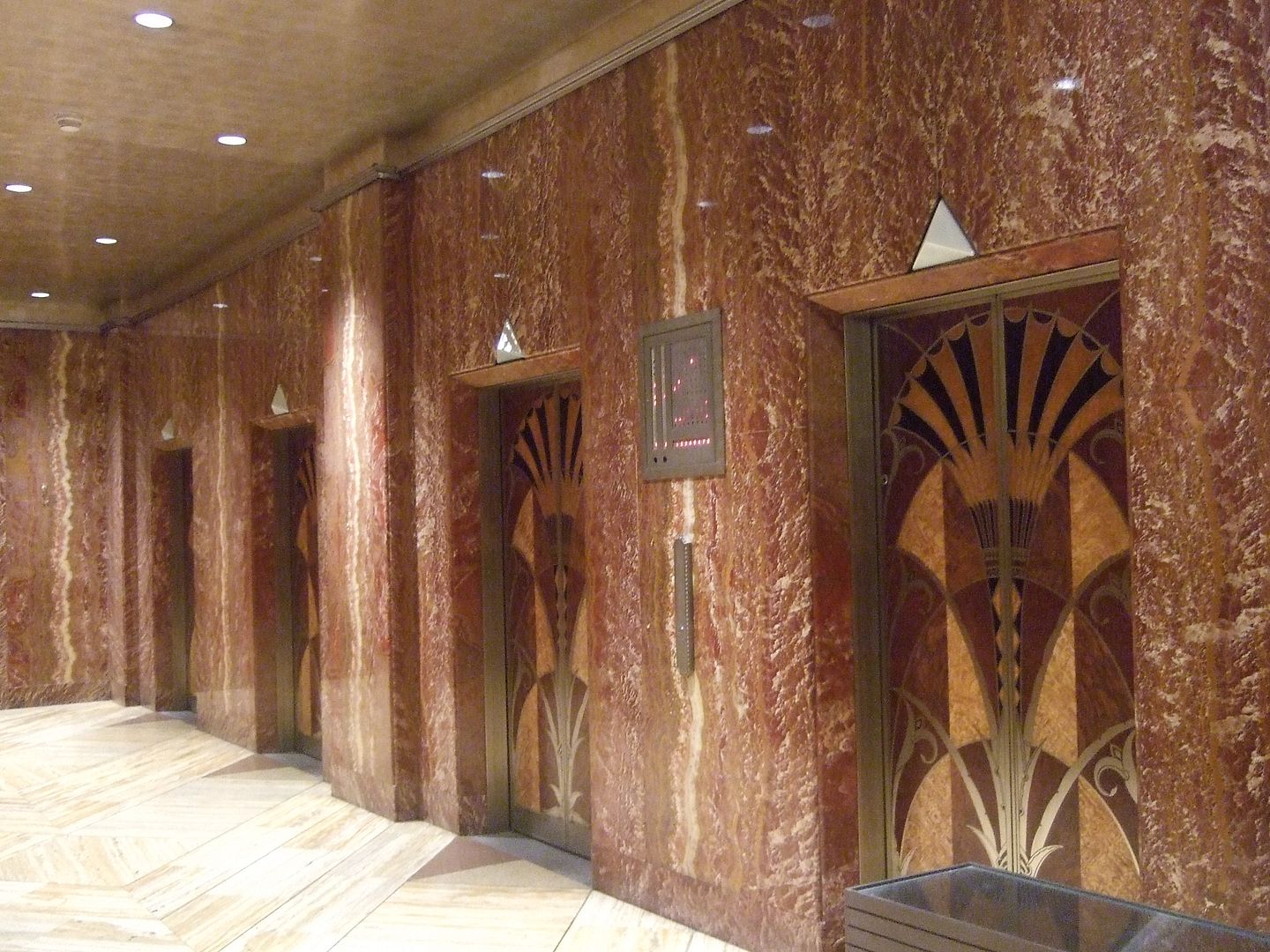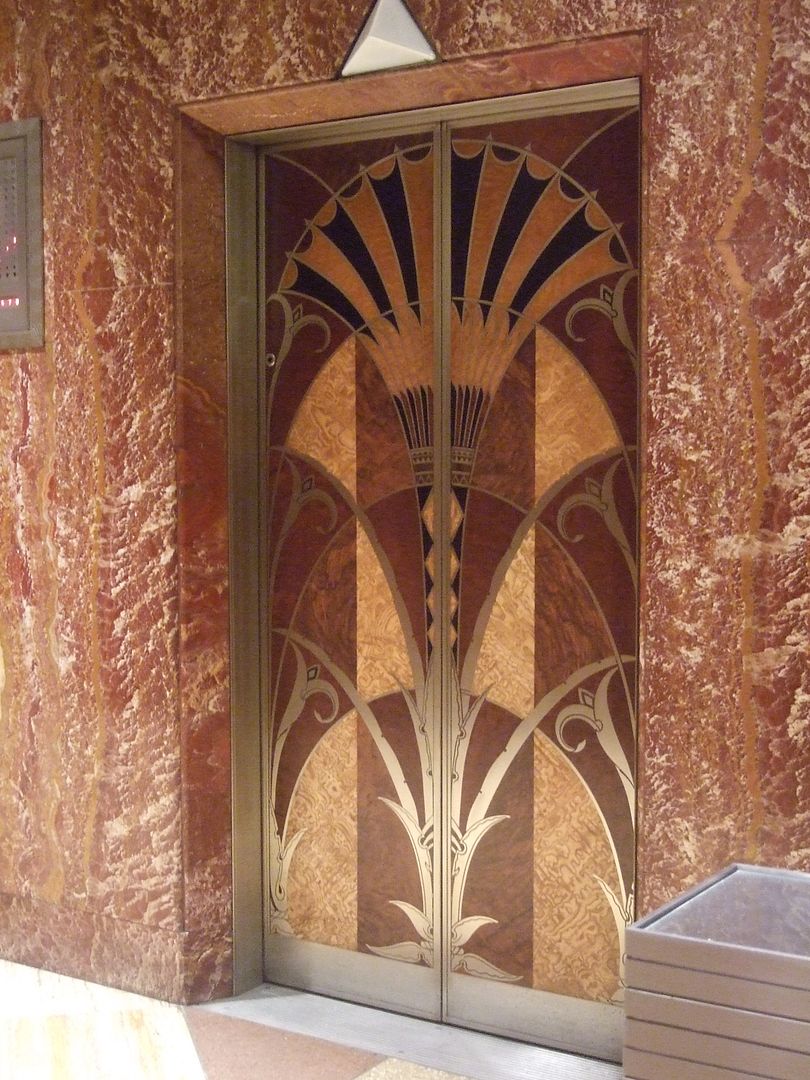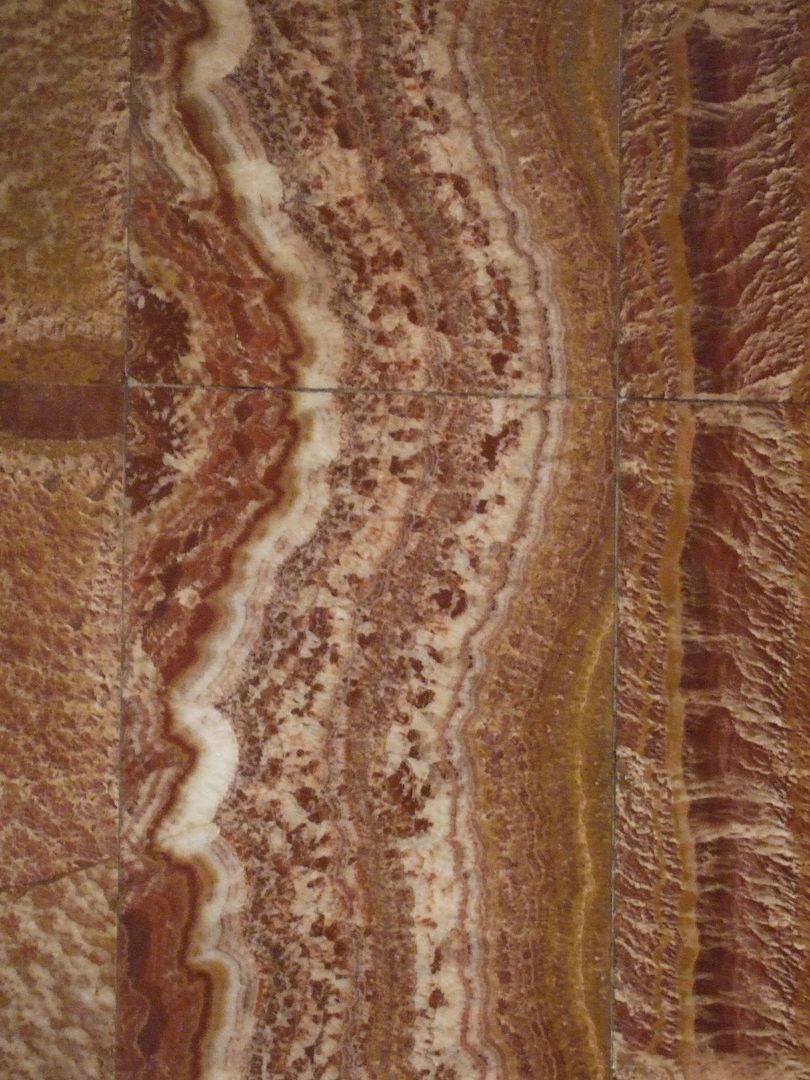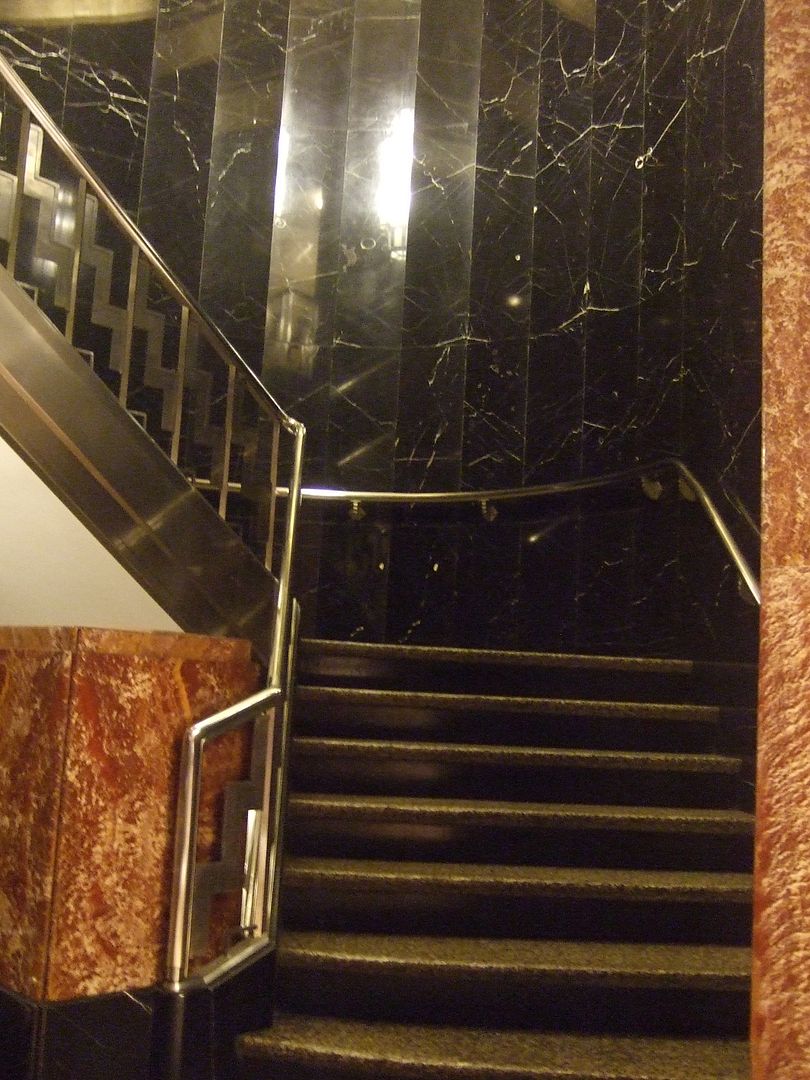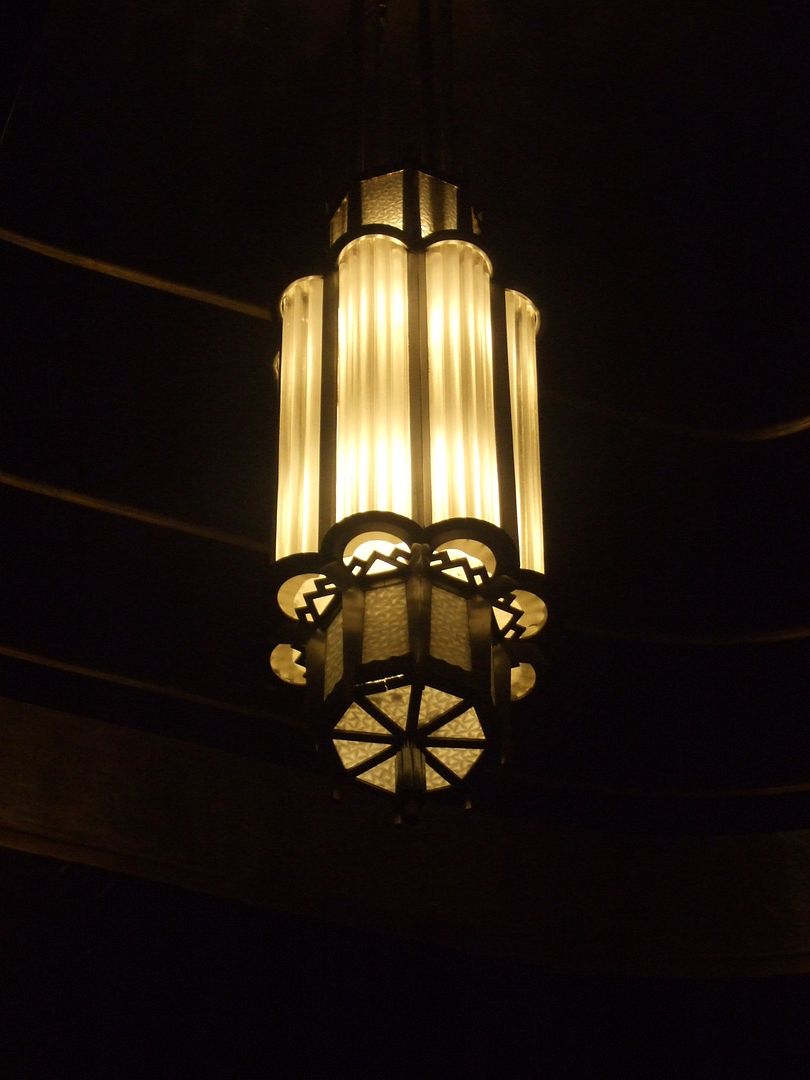 The following photos are all taken looking straight up at the ceiling, where there was all kinds of hand-painted stuff going on..mostly scenes from the automotive industry and lots of planes and cars..marvellous !! Even the Chrysler Building itself got featured in its own ceiling mural !!
This was the border pattern around the edge of the ceiling where it met the wall...beautiful !!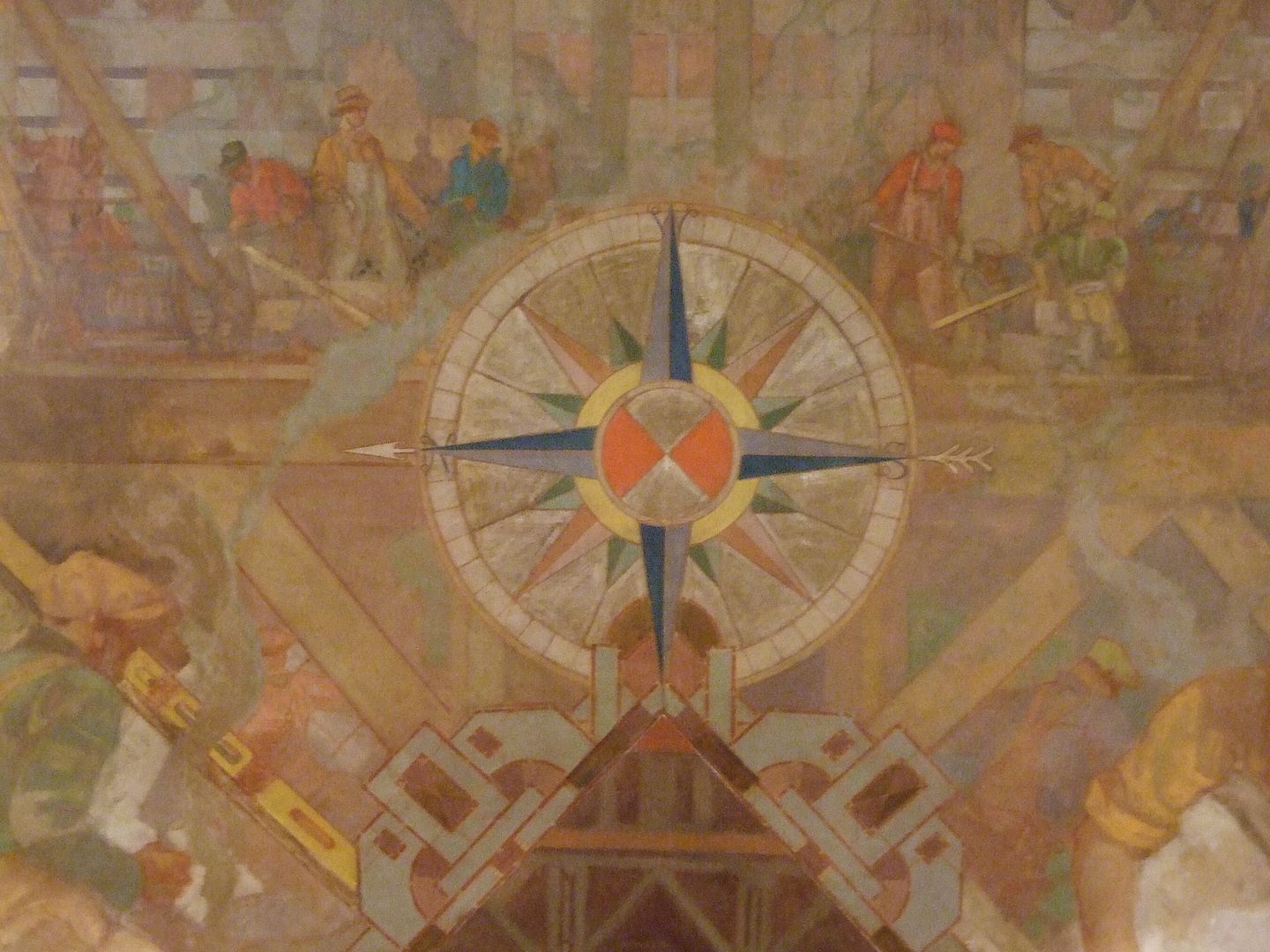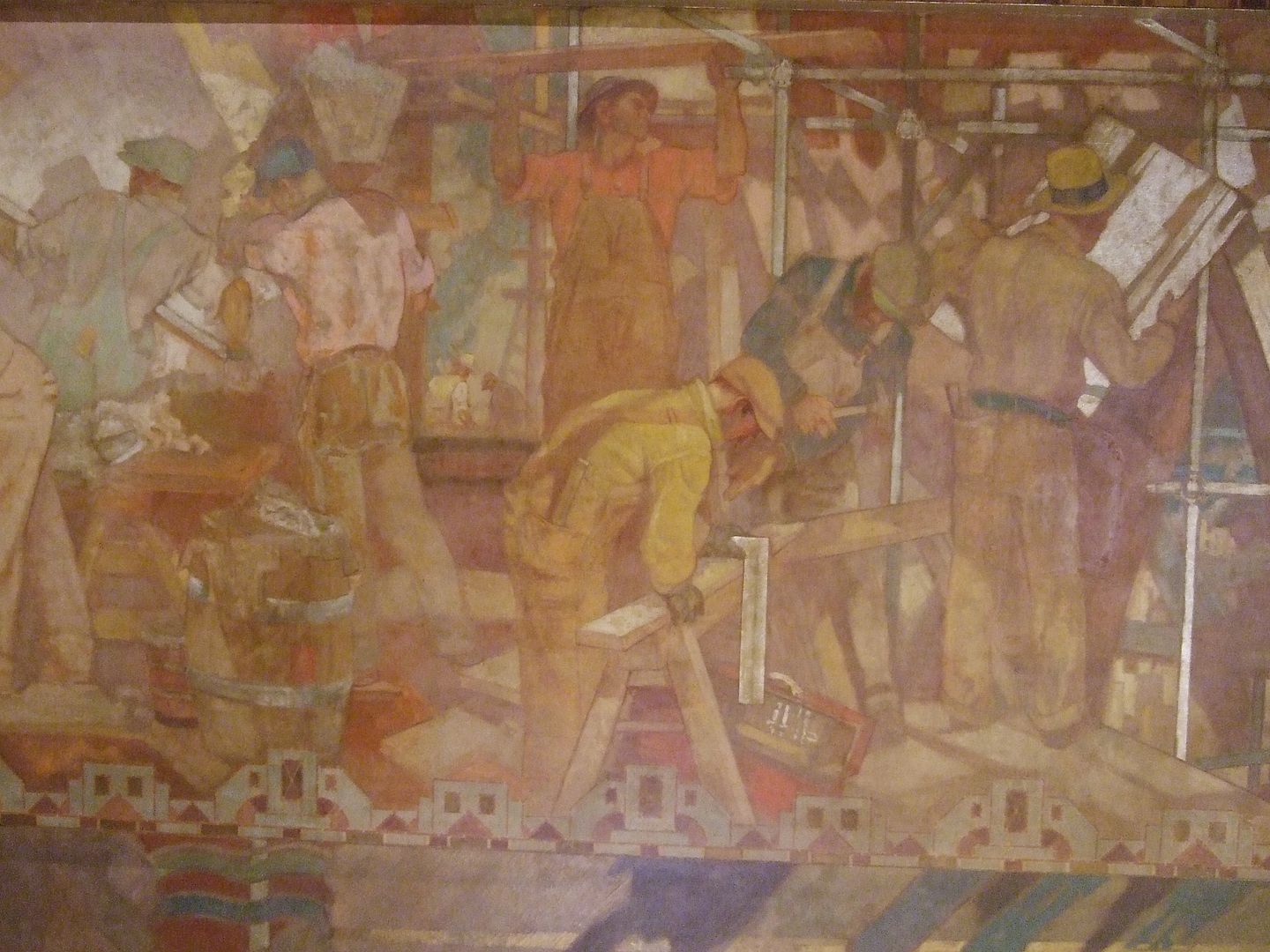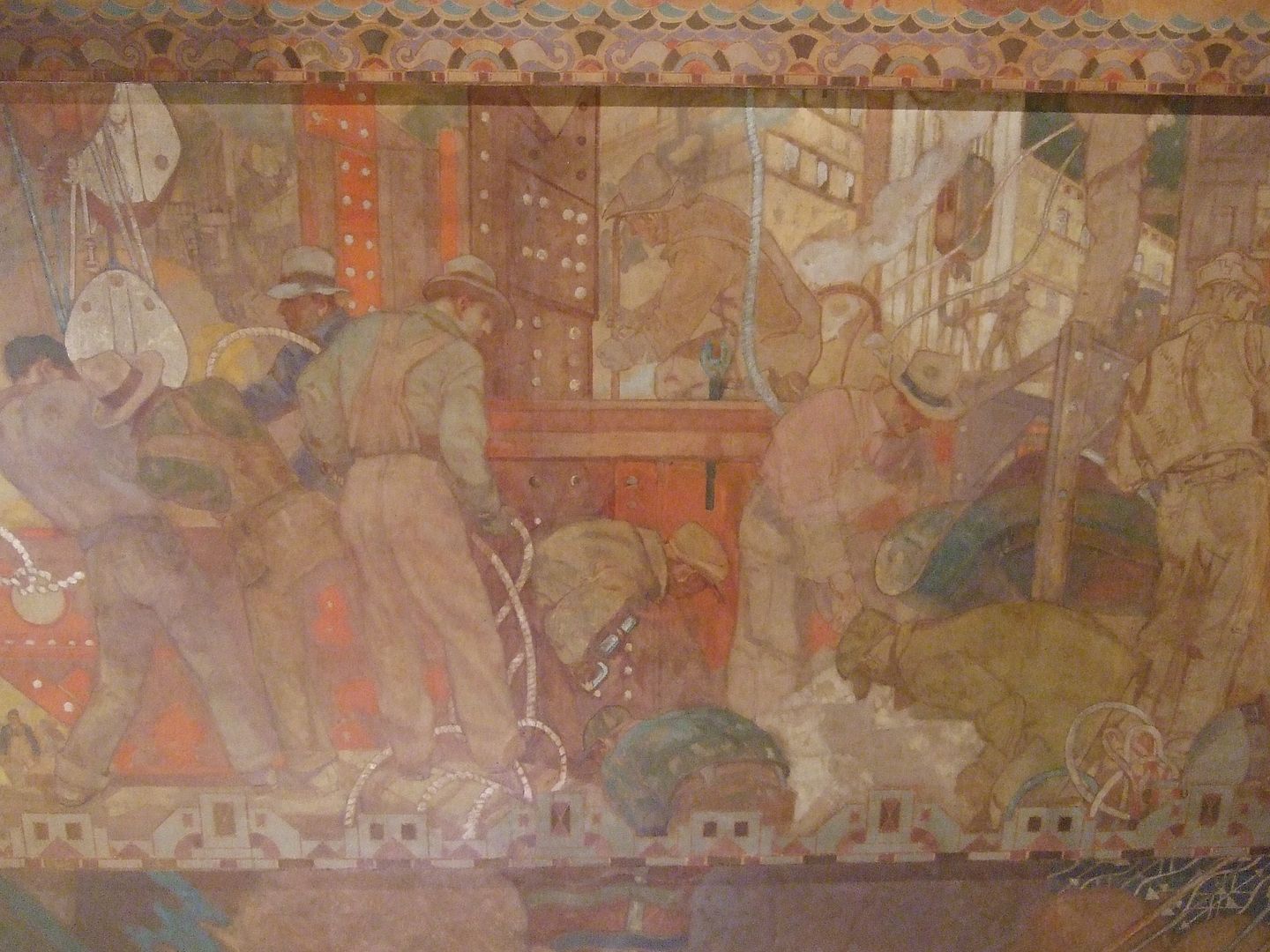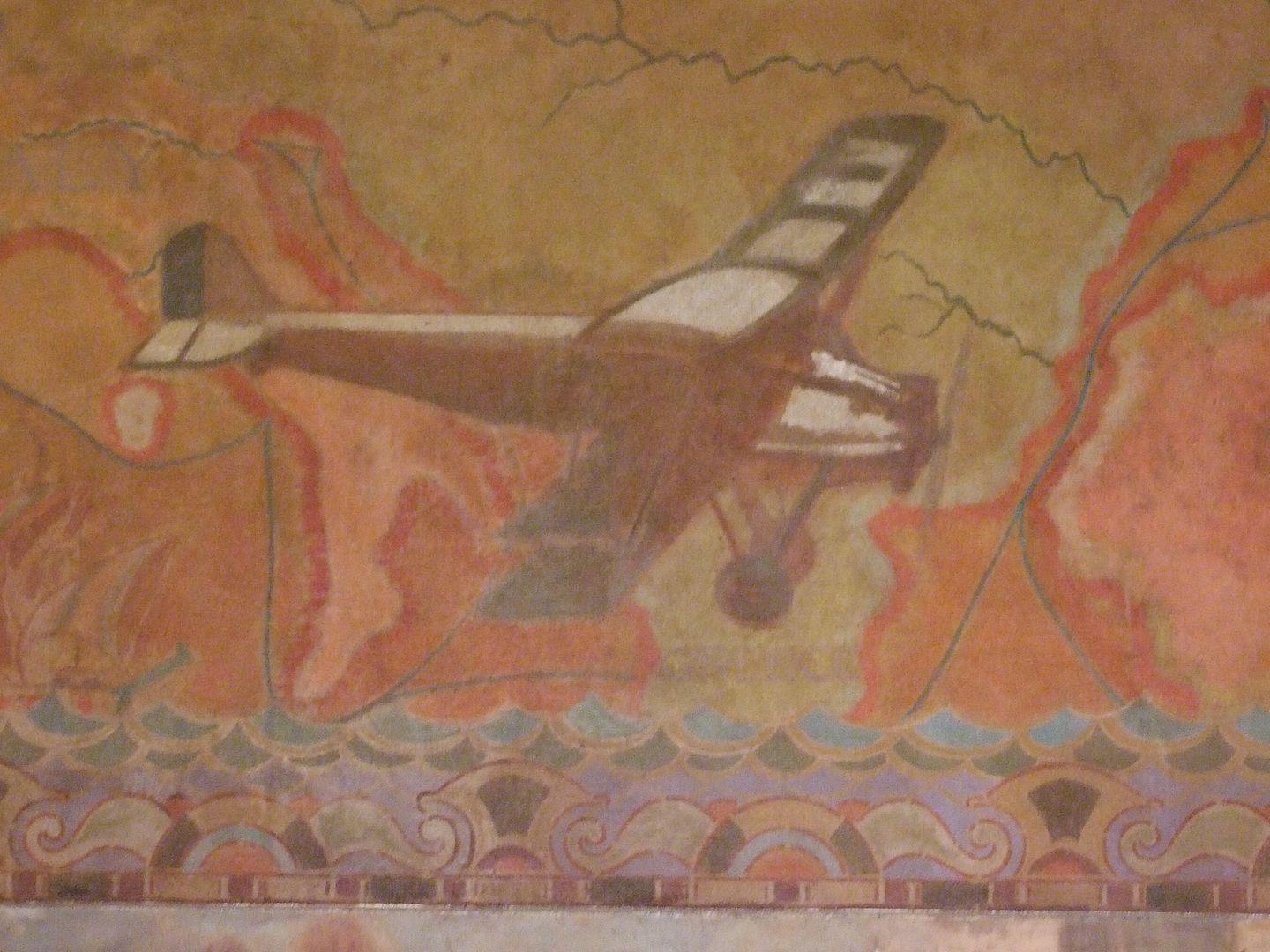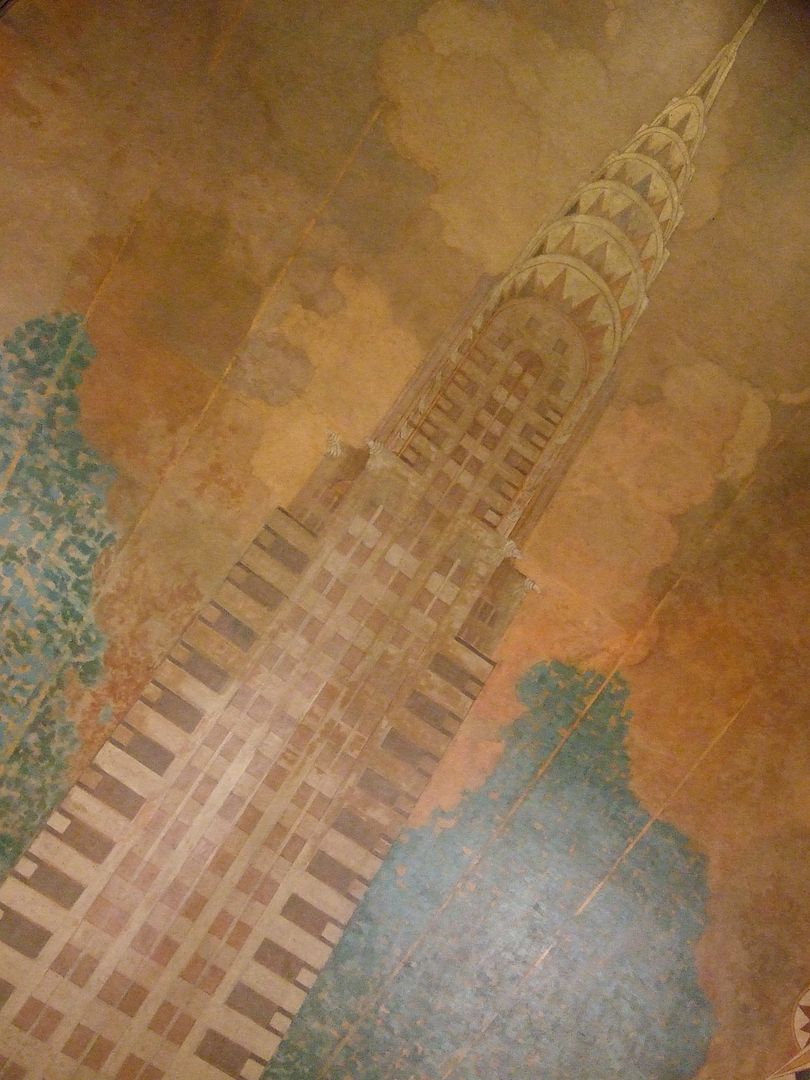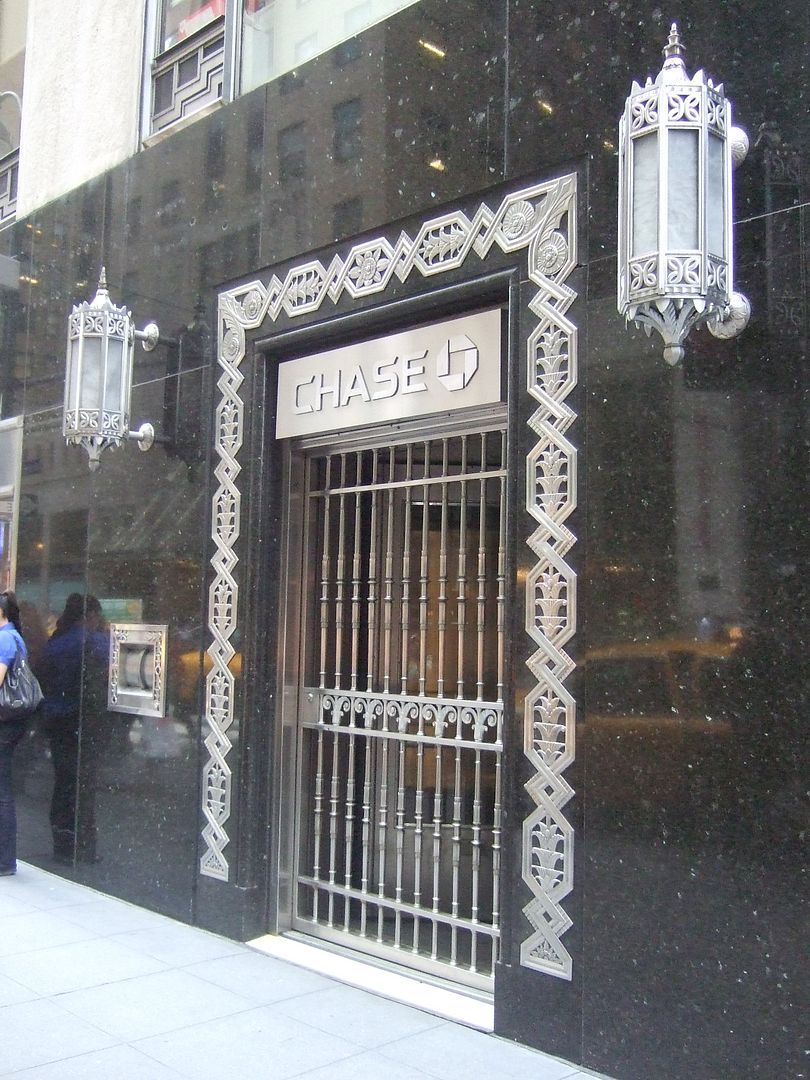 We left through the set of double doors pictured above, turned right and saw this amazing doorway a little way down the same side - isn't it incredible ?!! All jet-black slightly sparkly marble and brushed chrome...
All in all, I can say that the Chrysler Building was stunning..quite why we didn't have to actually
pay
to see it is a bit of a mystery, but we happily breezed in and had a good look around the lobby whilst the people who worked there went about their daily business, quite unfazed by all the tourist gawping at the beauty around them !! I guess it comes under the same heading as a spectacular hotel or department store really, but in this case it is a working office-block !!
After that we went back to Times Square and searched for a decent bar for a drink., after which it had got dark whilst we were inside with our Happy Hour cocktails...
TIMES SQUARE AT NIGHT

At night of course, Times Square comes alive..the lights come into their own in the most spectacular way..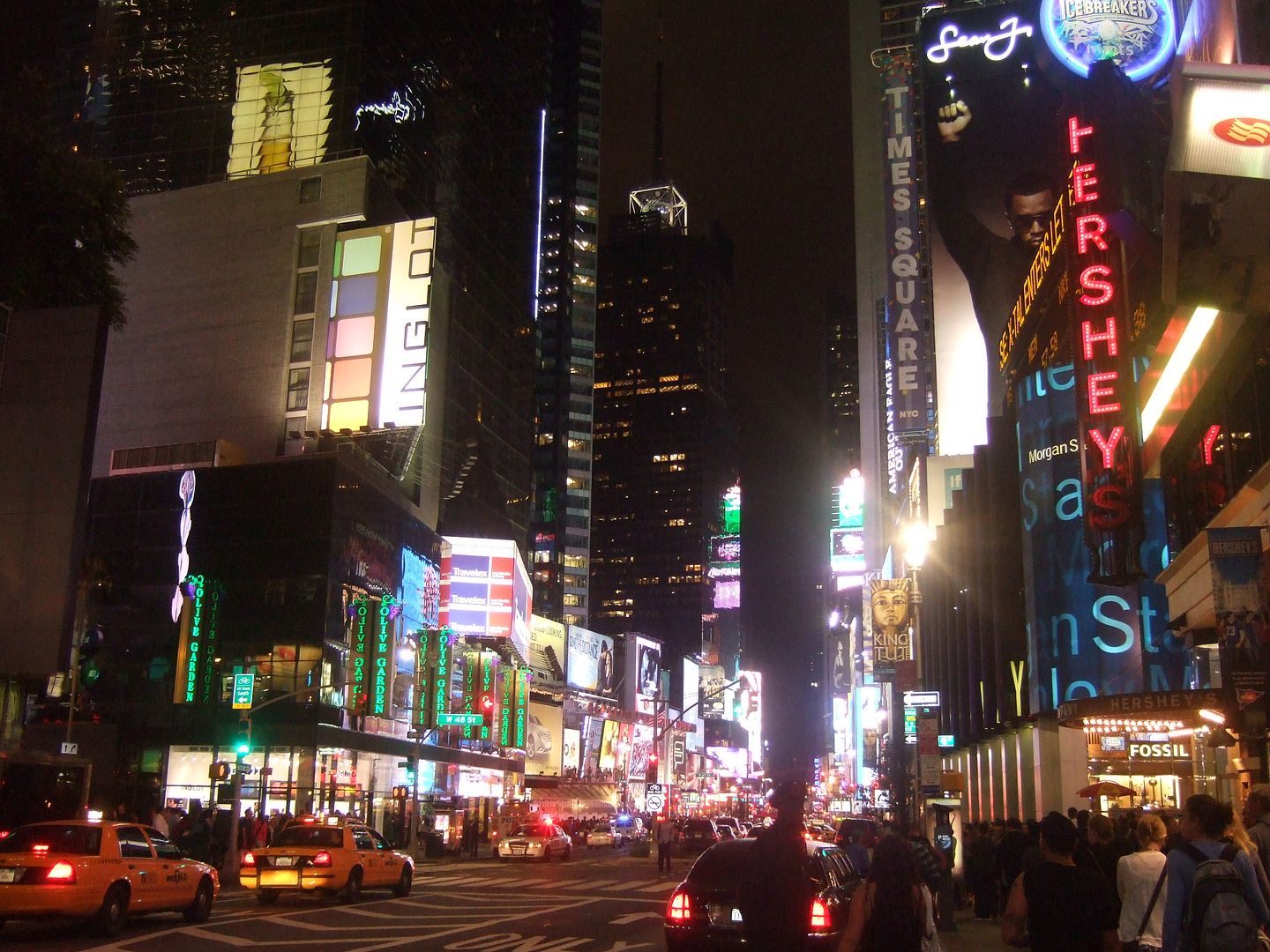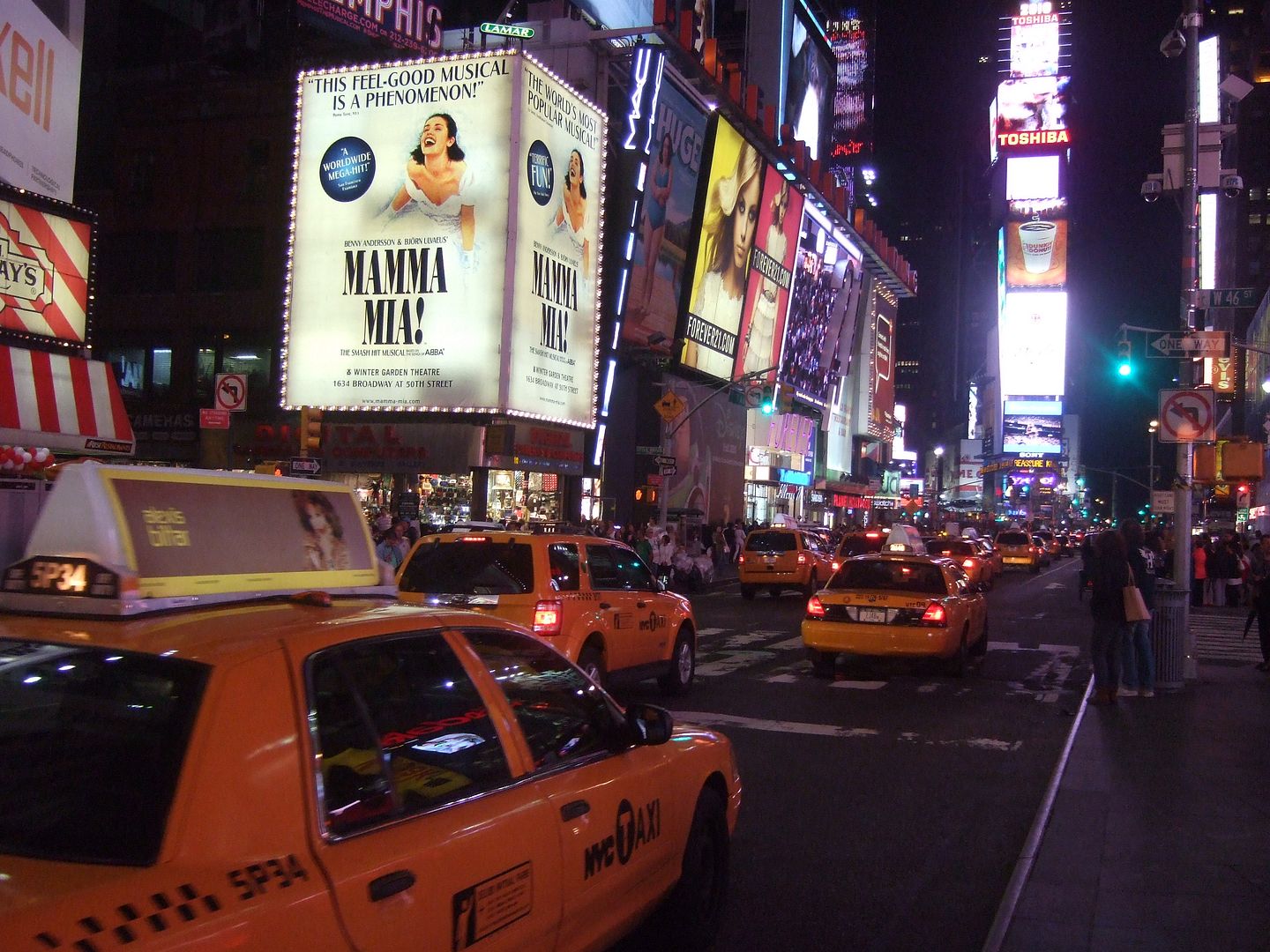 BROADWAY AND A SHOW...

Before we came to America, Adam booked us a couple of seats online to see '
Chicago
' at the Ambassador Theater on West 42nd Street, and a good show it was too..I have seen it before in London, and I must admit that of the two productions, the London one had the edge - the Broadway version felt a little too rushed, and I'm not sure that it worked so well with the orchestra onstage here, as it did in London because it didn't leave quite as much room for the dance sequences - in London they had simply oodles of space to prance about in - but it was still an enjoyable night out at the theatre !!
TUESDAY 24th AUGUST
The next day, we were pretty stiff after all that walking, and so - sure in the knowledge that you must get moving if you feel stiff, and not take it easy at all - we decided to take a gentle stroll around Central Park, getting a bagel and coffee on the way in..what a great way to get to the Met !
CENTRAL PARK
We were so glad we did, and even though it started to rain a little,the weather wasn't too bad for walking in the park...we got our breakfast from the kiosk at the Colombus Circle entrance, and walked around the path towards the centre - before long we came acros this...
THE CENTRAL PARK CAROUSEL
This was a mysterious striped building with very old-fashioned kiosk for dispensing tickets for something, but we didn't know what - could have been a public loo for all we knew - the reason we had no idea what was inside was because the shutters were down and locked and somehow I managed to completely miss the little carousel horses around the gateposts on the way in...
Anyway, there we were,eating our bagels and drinking our coffee, when I noticed the little horses dancing along the wrought iron gates across the shuttered entrance arch..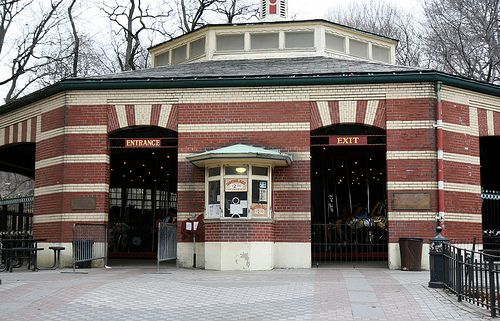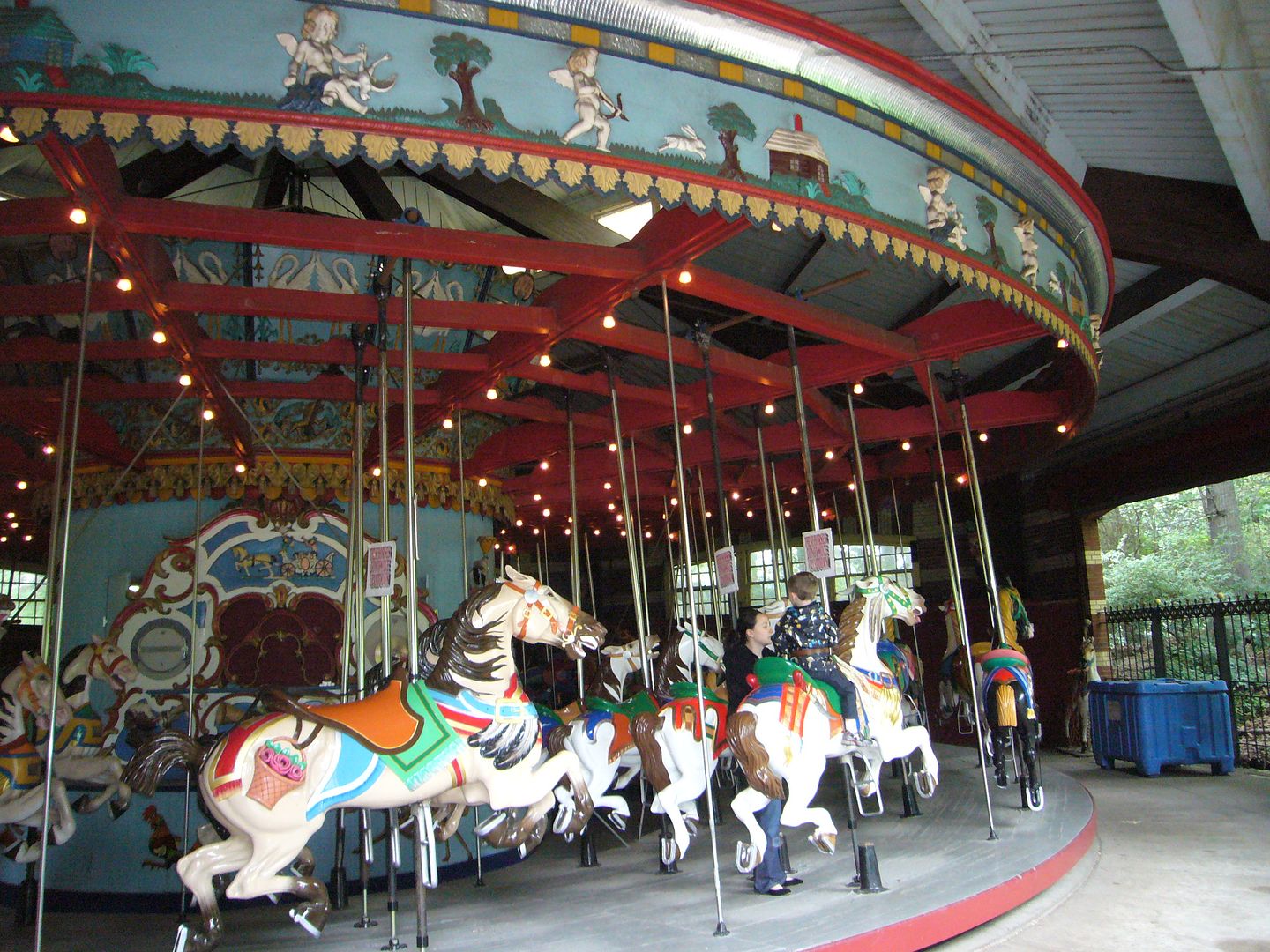 I was sufficiently intrigued with the thought of a really old carousel in the middle of Central Park that I did some googling...here's what I discovered:-


The original Central Park carousel was installed in 1871 and was, according Sara Cedar Miller's excellent park history, hand cranked - can you imagine ?!! Manual labor was soon replaced by a blind horse or mule that was hitched to a crank in the building's basement. In 1924, an electrified carousel was installed, but this burned down the night of November 7, 1950, in what was perhaps an electrical fire, and the carousel we have today was opened soon thereafter.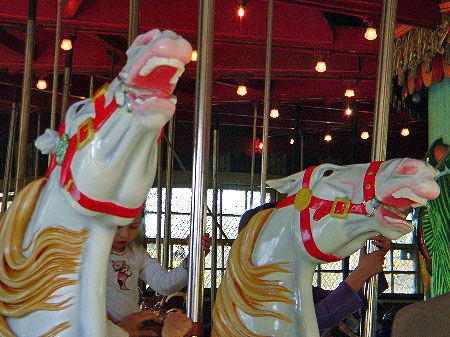 The current Central Park carousel originally opened at Coney Island in 1908 during the heyday of the boardwalk as a leisure destination. Known as the BMT Trolley Carousel, it was built by the firm of Stein & Goldstein, one of America's premier carousel manufacturers. Many of the early amusement parks at Coney Island were run by the trolley companies—as an incentive to ride a certain line, your ticket to Coney Island would also include admission to that company's rides. However, by the 1940s the subway had displaced the old trolley companies and the BMT carousel was in a warehouse gathering dust. Luckily, when the Central Park carousel burned down, someone remembered that this old Stein & Goldstein merry-go-round was in storage and it was moved to Central Park.

Stein & Goldstein's handiwork is amazing: each horse is unique and the outside horses are 3/4-life size. (According to Carousel News and Trader, the Central Park horses may be largest hand-carved specimens left from the golden age of carousel manufacturing.) The carousel also reaches a top speed of about 12 miles an hour—more than double the speed of a typical modern merry-go-round.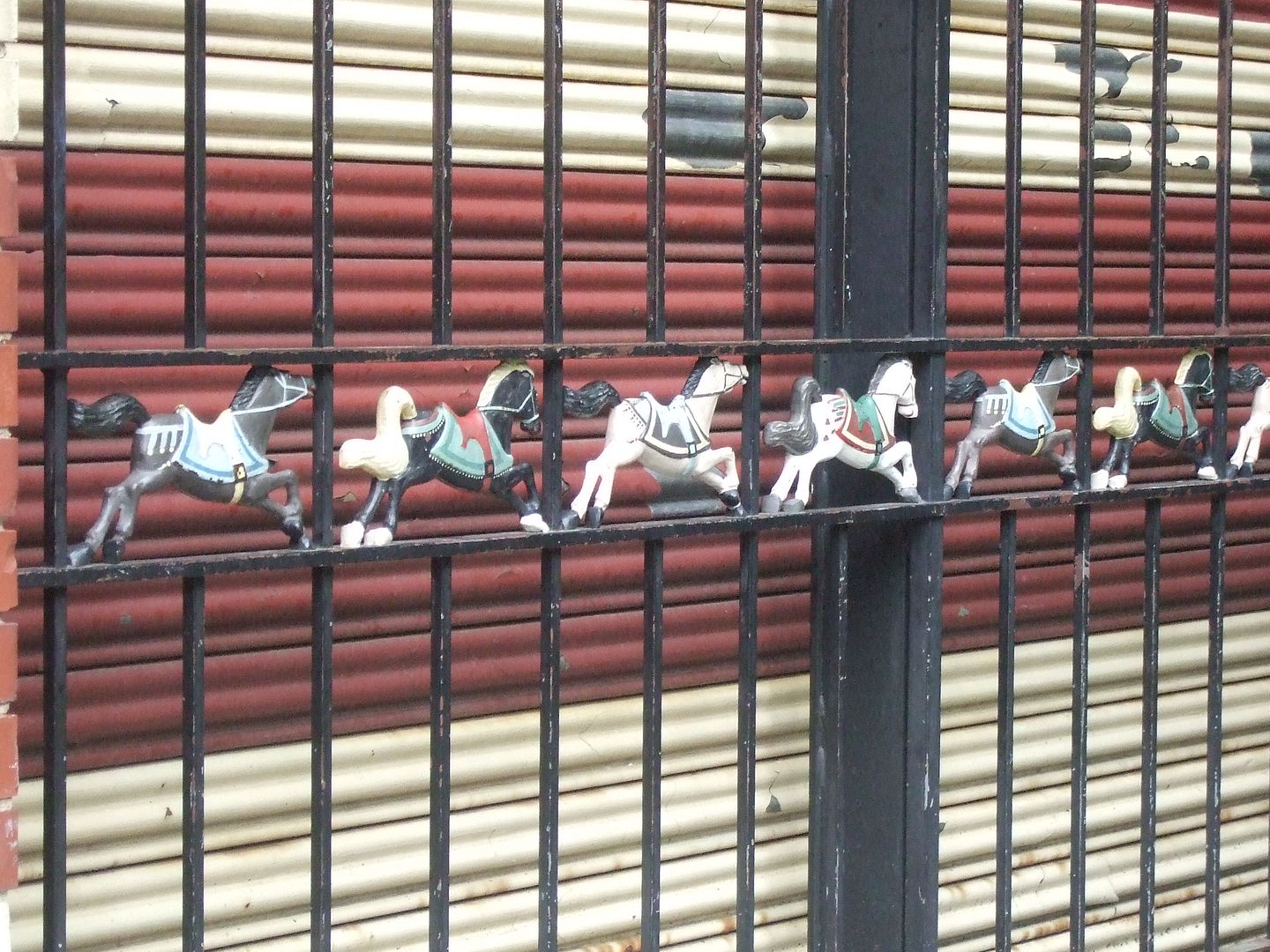 Here are the tiny horses galloping along the wrought iron gate, that first attracted my attention..
Soon, a couple of guys came and started to open up the shutters and get the carousel ready for its day's trading, and it was sudden obvious that this was far from old and derelict - it was indeed, a current attraction, and seemingly a very popular one too..

We picked up our litter, threw it into the horse-decorated bin and went on our way, back down to the path which went through a tunnel under the road..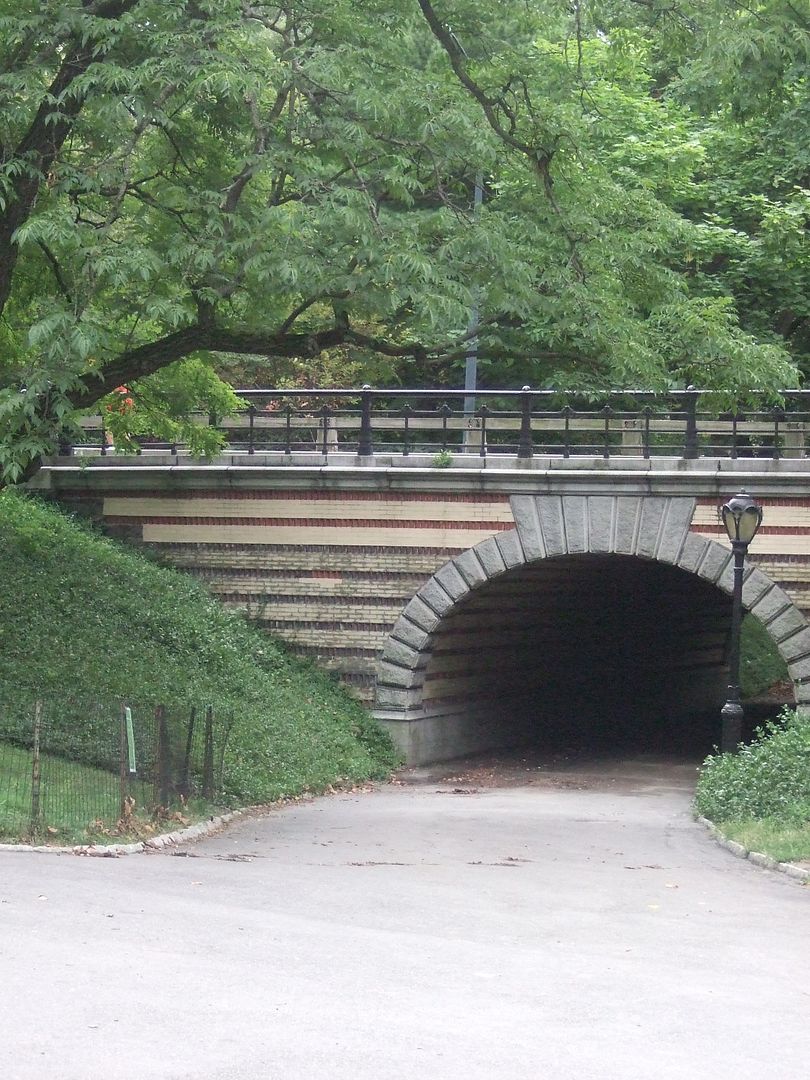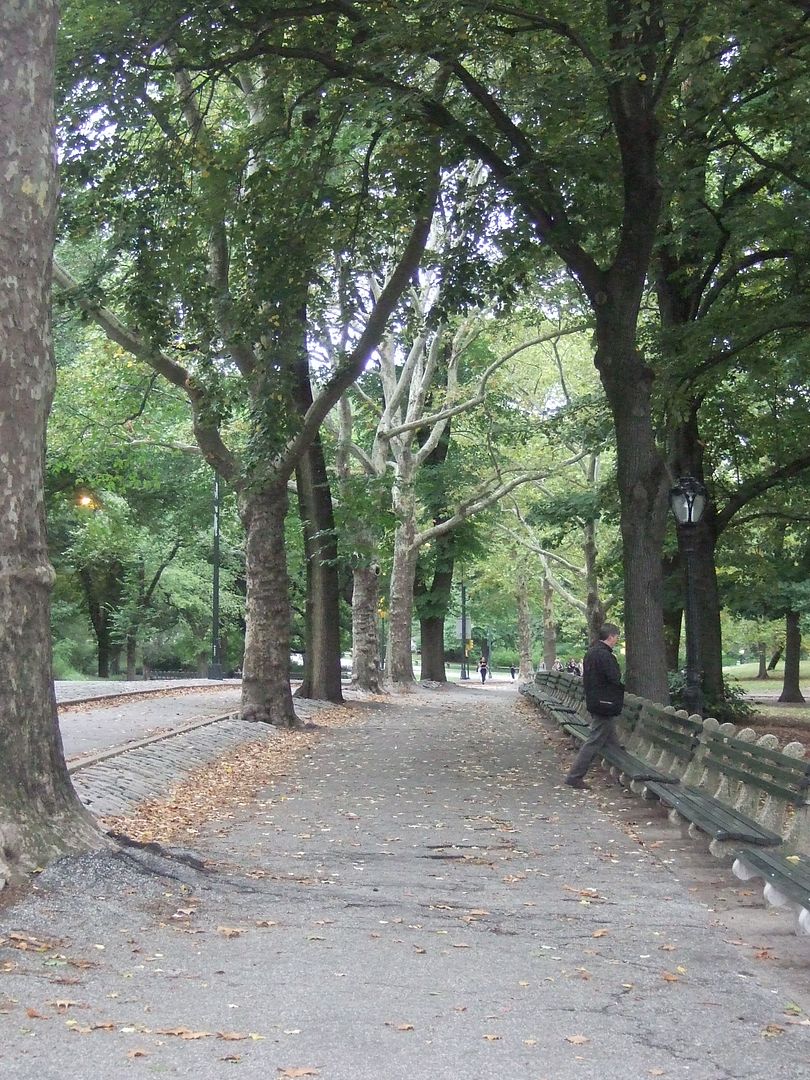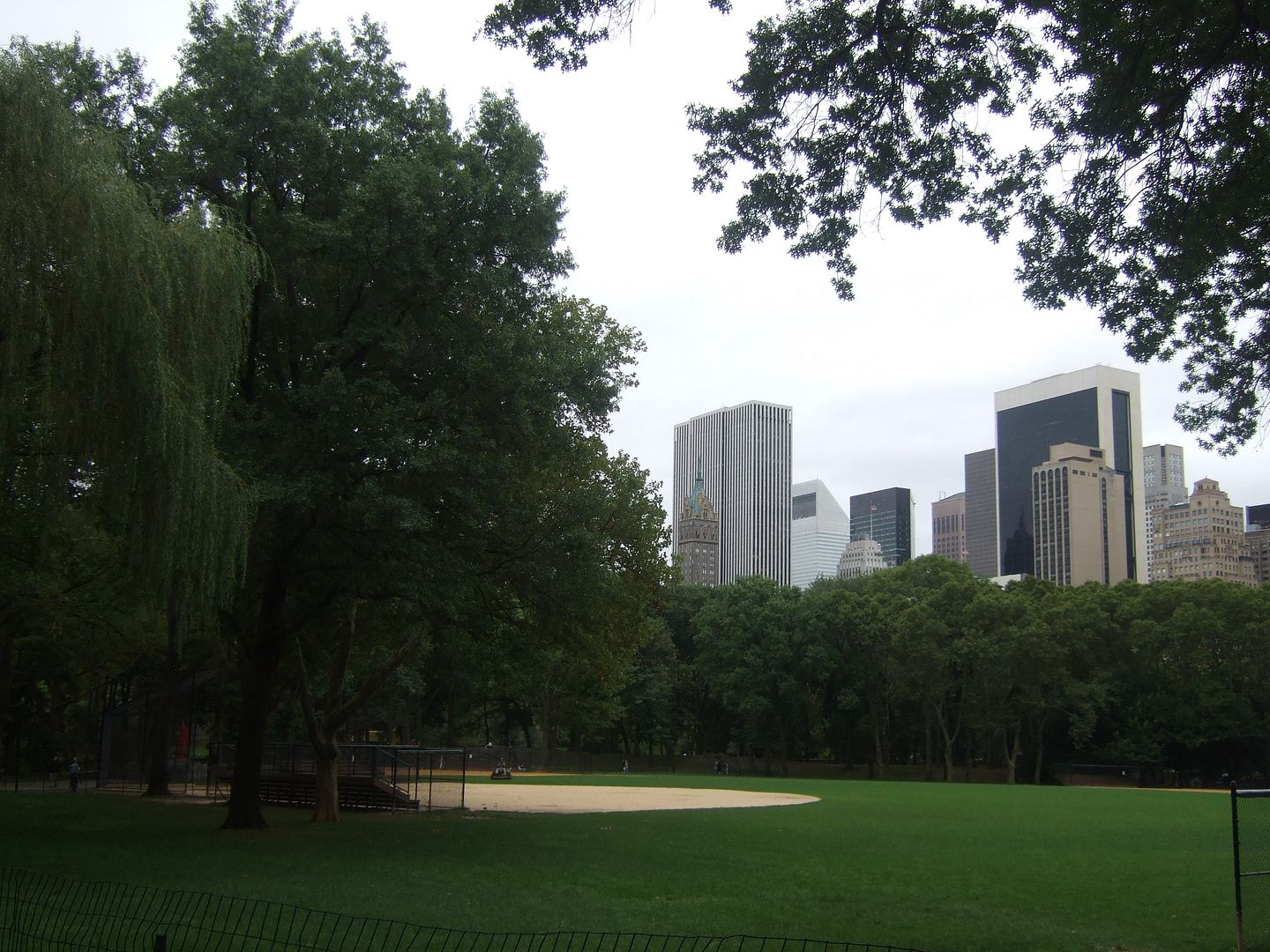 Central Park is truly a beautiful place with marvellous tree-framed views of the New York skyline...and lots of secret little nooks and crannies, tunnels and copses under the trees..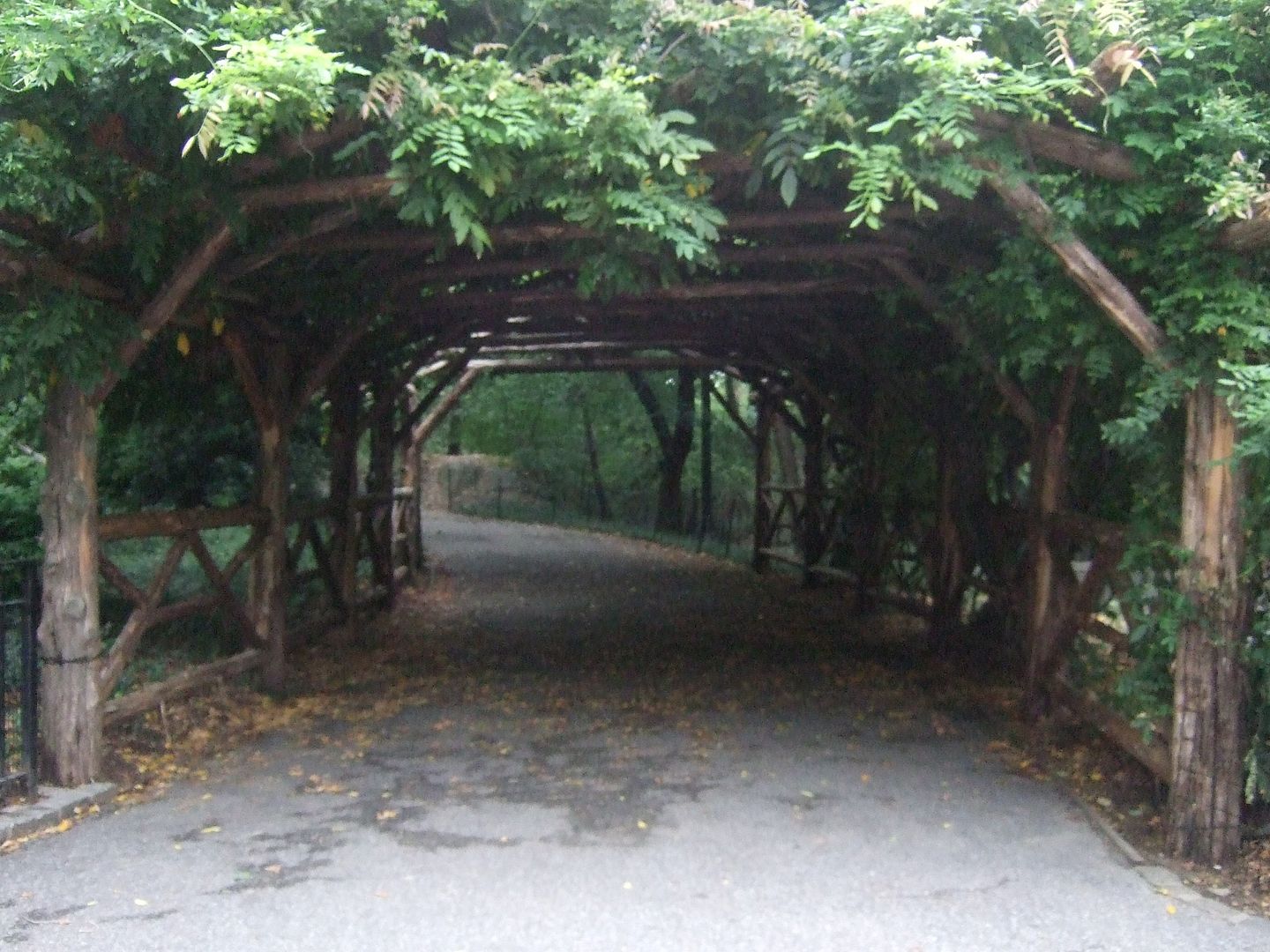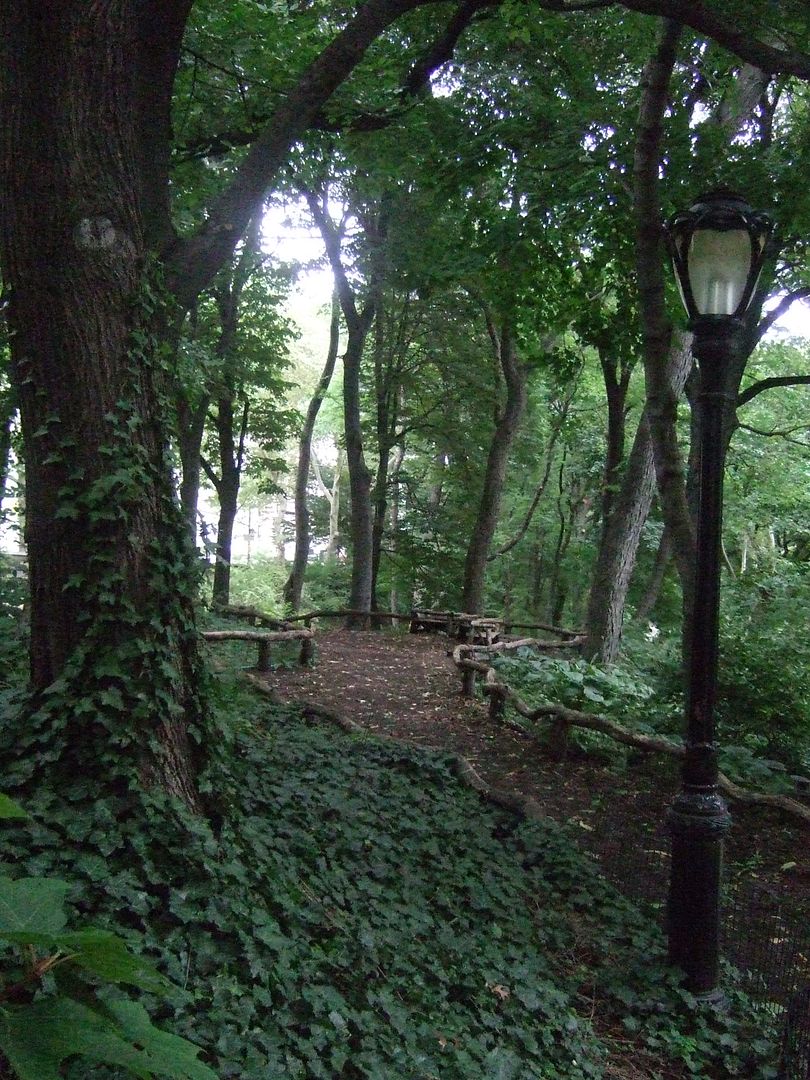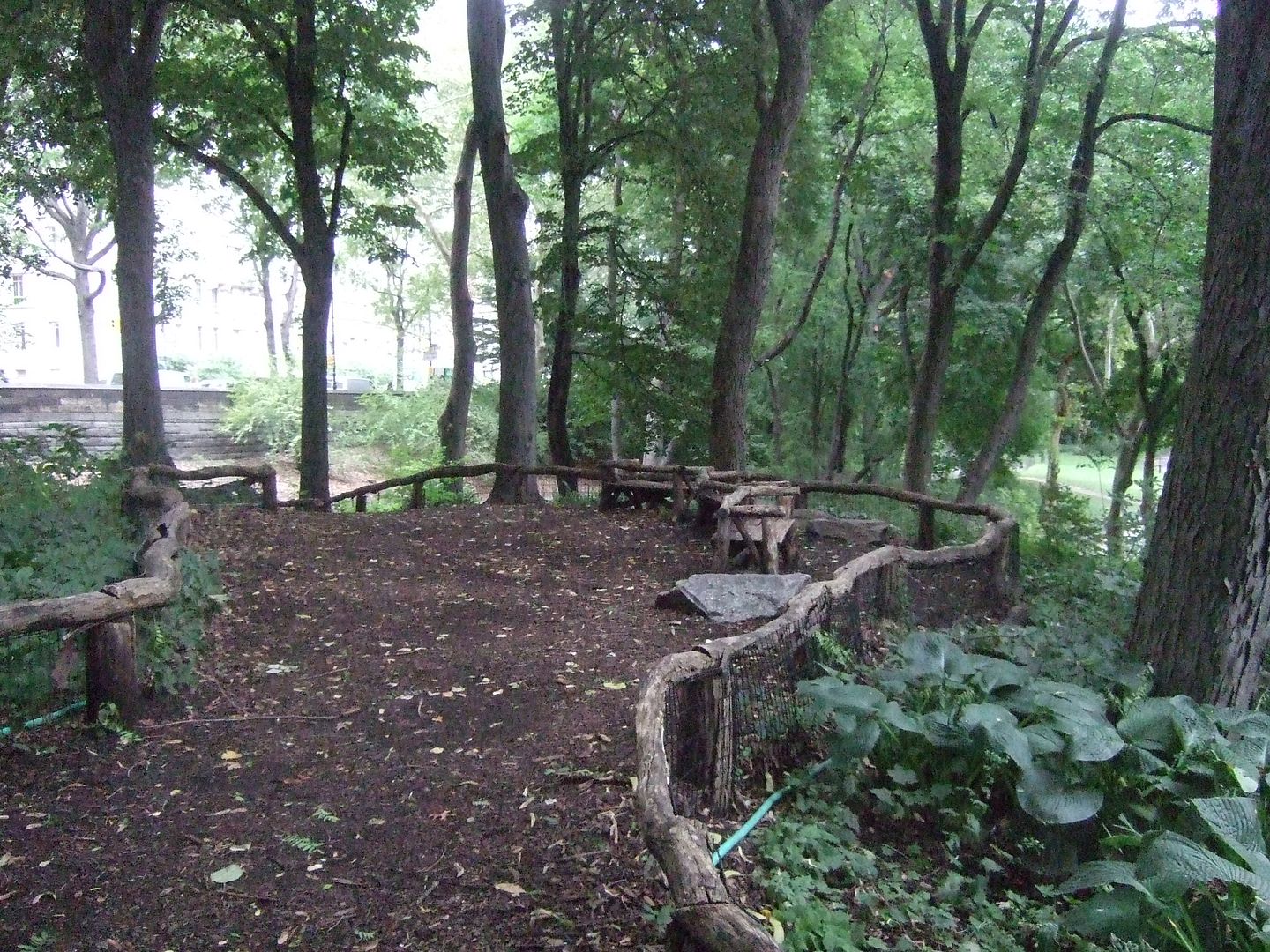 STRAWBERRY FIELDS

Of course, we couldn't possibly walk through Central Park and not pay a visit to Yoko Ono's lovely tribute to her husband, installed after he was assassinated on his own doorstep...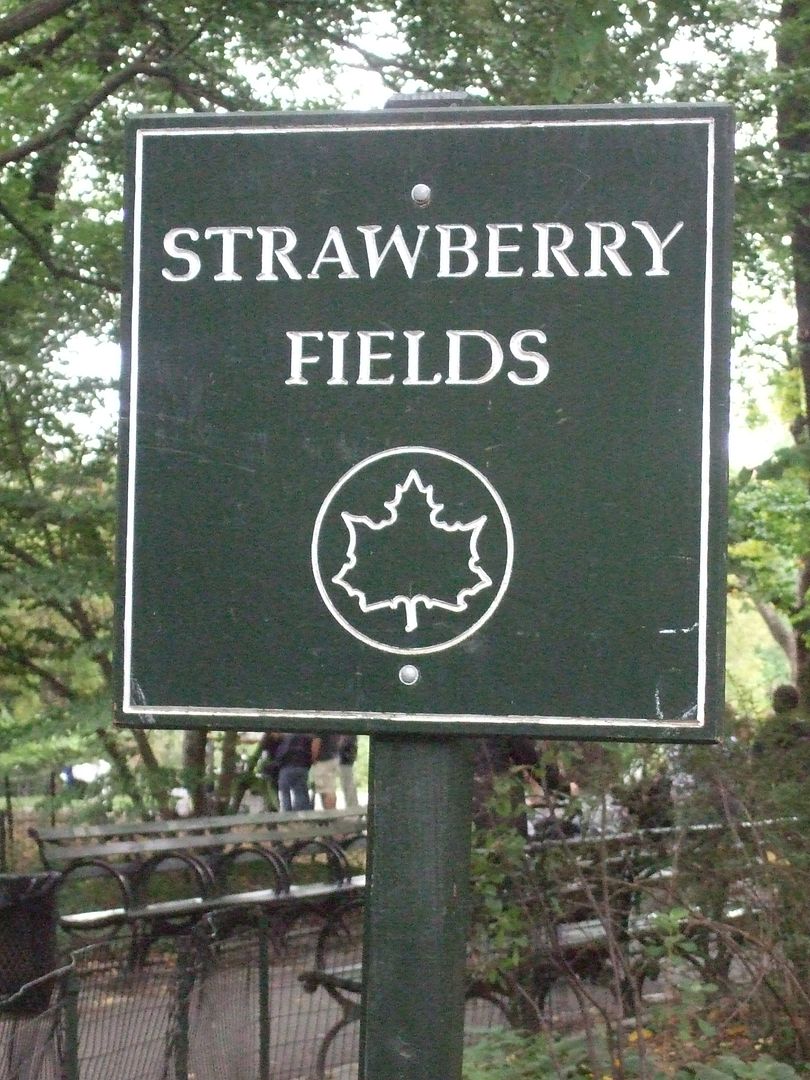 As you can imagine, this lovely 'Imagine' mosaic is pretty much permanently crowded with tourists, all intent on photographing it decorated with their own flowers and their own mates, and other bits of memorabilia...I couldn't get a look in as there was a crowd of about twenty people there at any one time..so once again I have had to rely on good old Google to come up with the goods...




A little way down the path from the mosaic is this plaque with all the countries who have signed up to the idea anyway, of Universal Peace !! You will notice some interesting names in the list..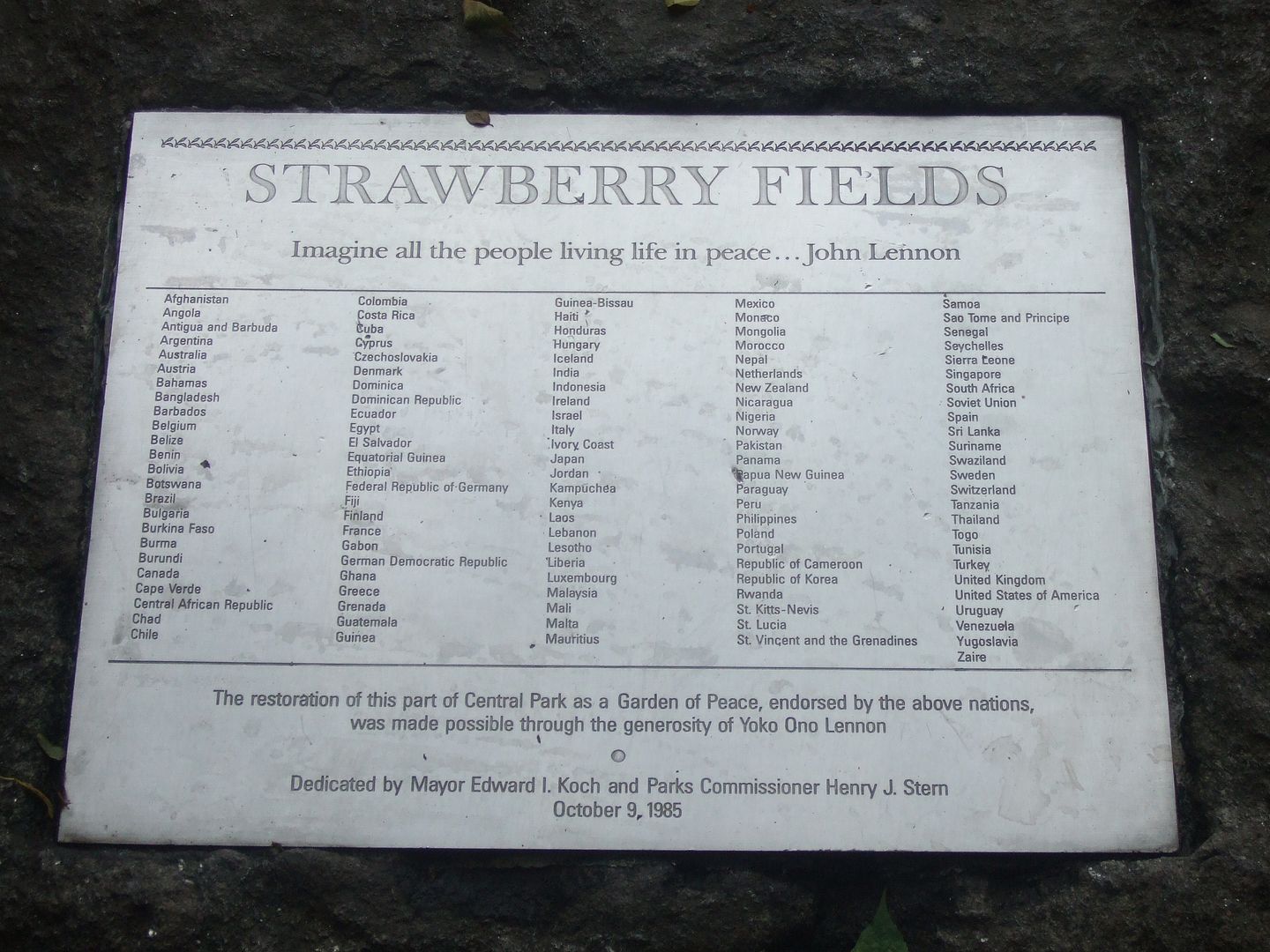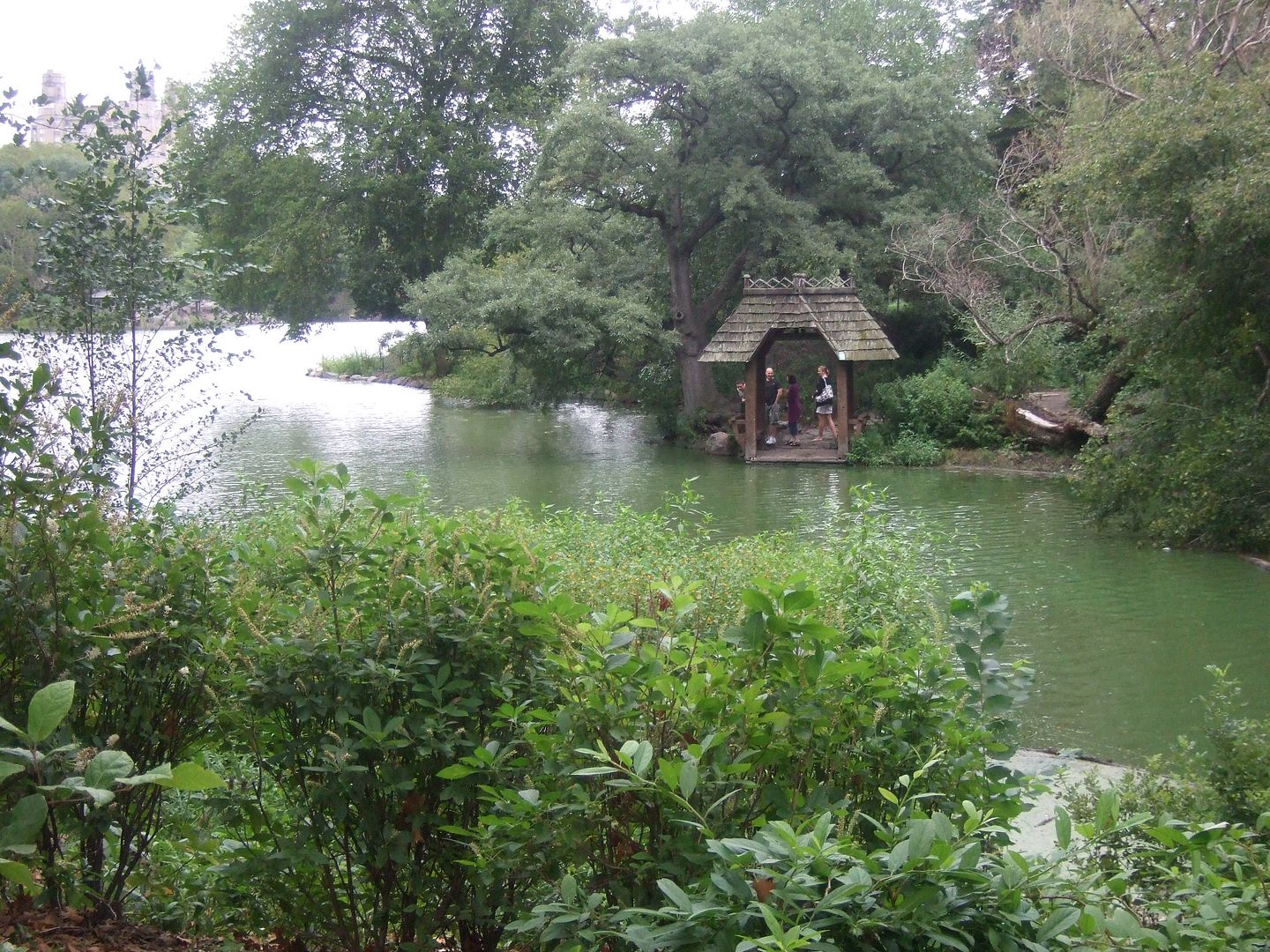 This lovely peaceful lake was across the way from the plaque, and a little further on still, we came across the Bethesda Fountain..

BETHESDA FOUNTAIN AND TERRACE

This was a beautifully landscaped area with a huge central fountain with an enormous flight of stone steps leading down the terrace to it, and some truly beautiful stone carvings...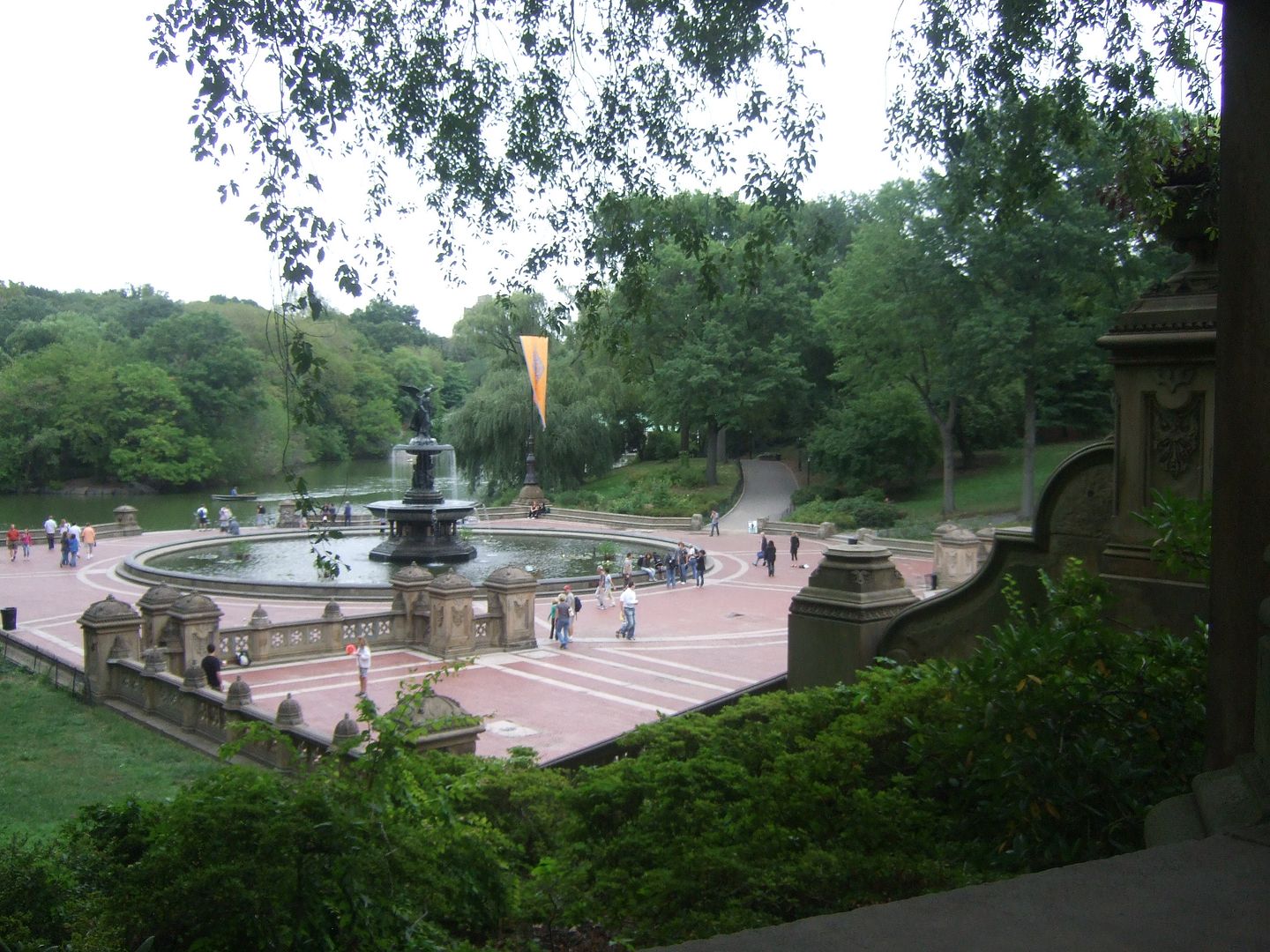 I love stonework when it is crisp and new, and I love it when it is old and lichen-covered - these carvings were still looking like new, although I have it on very good authority that these steps were designed back in 1873 by Jacob Wrey Mould. The statue in the middle of the fountain is called 'The Angel of the Waters' and commemorates the opening of the first aquaduct system which brought the first supply of pure running water to the residents of New York - bet that was a relief !!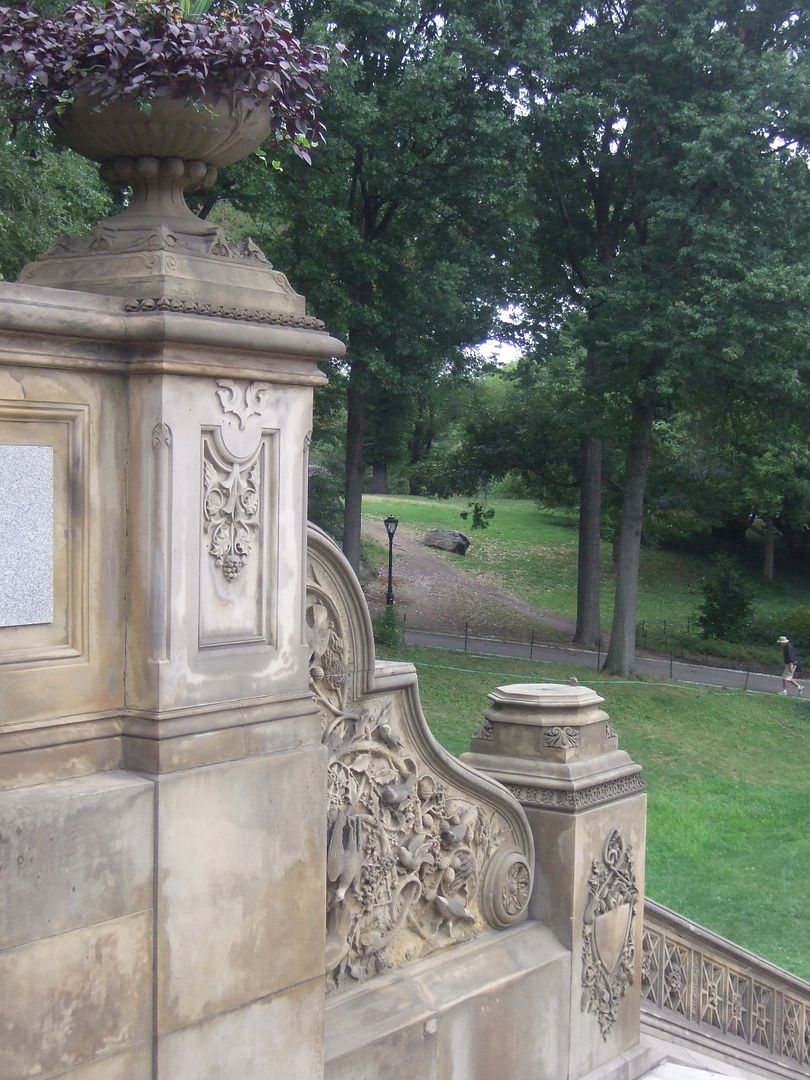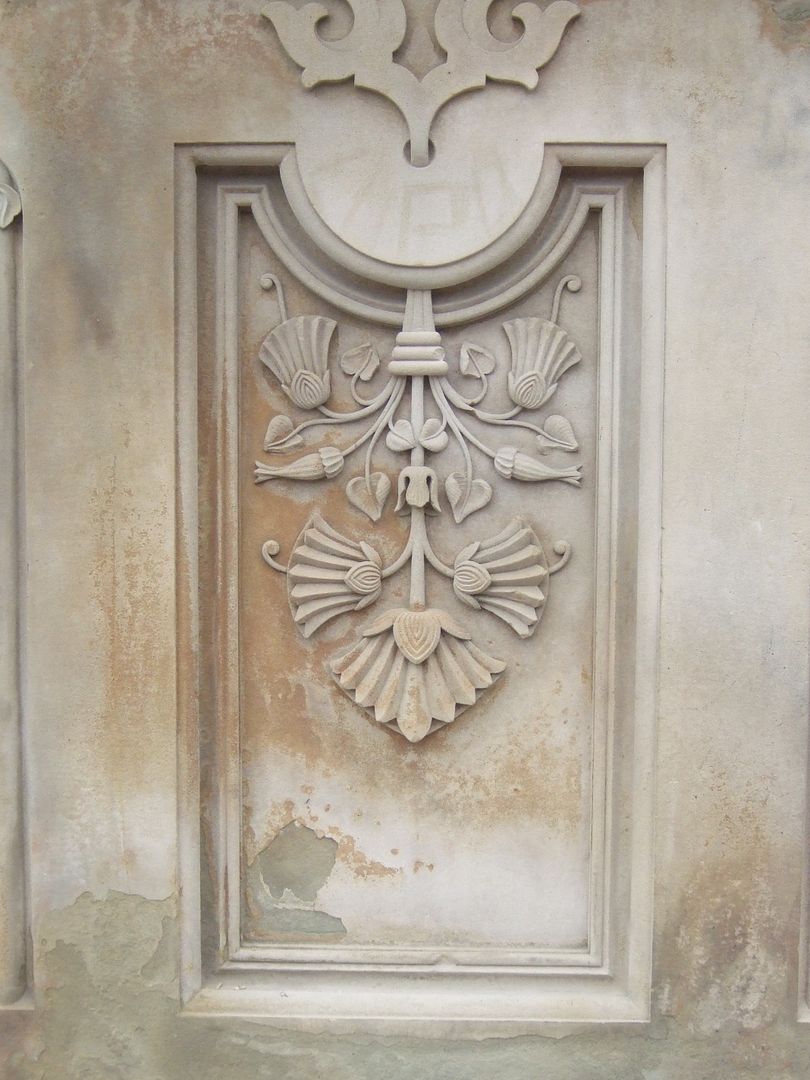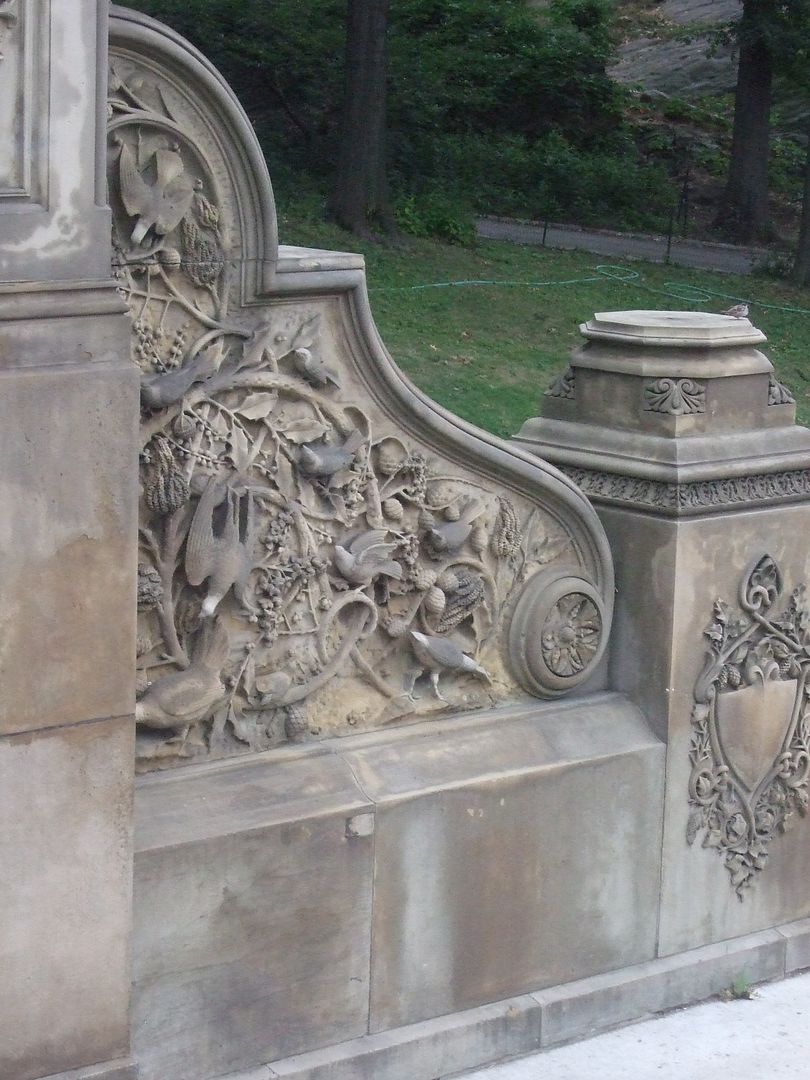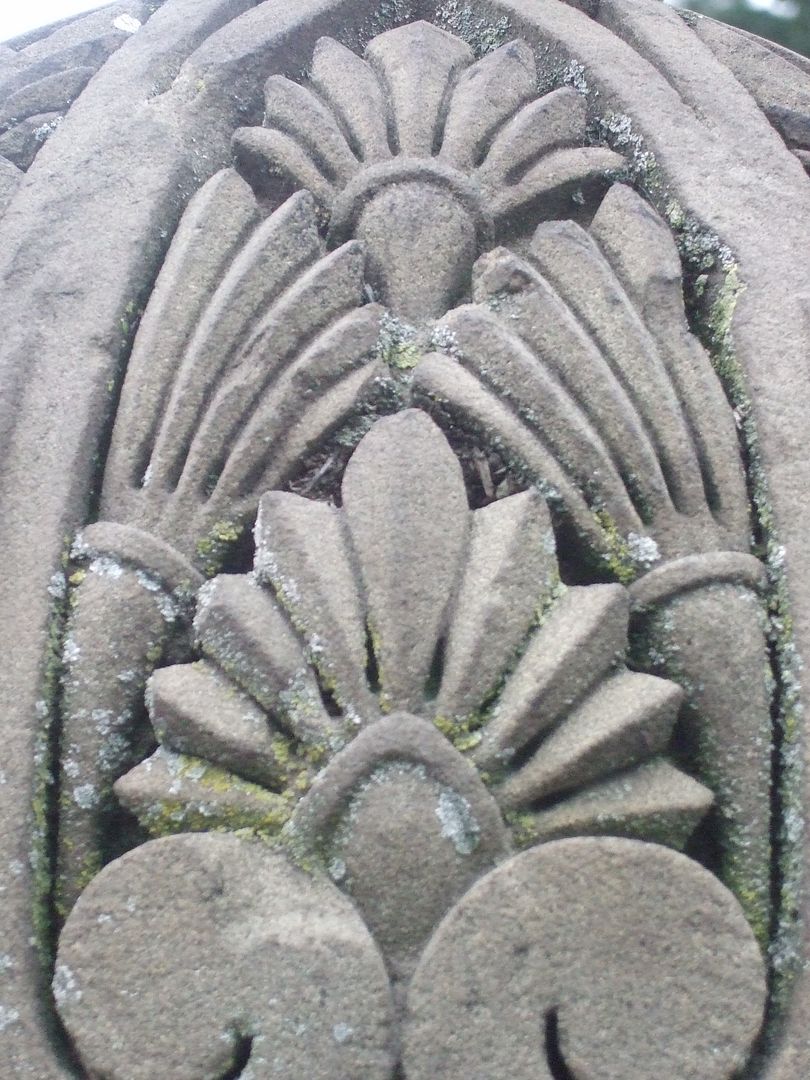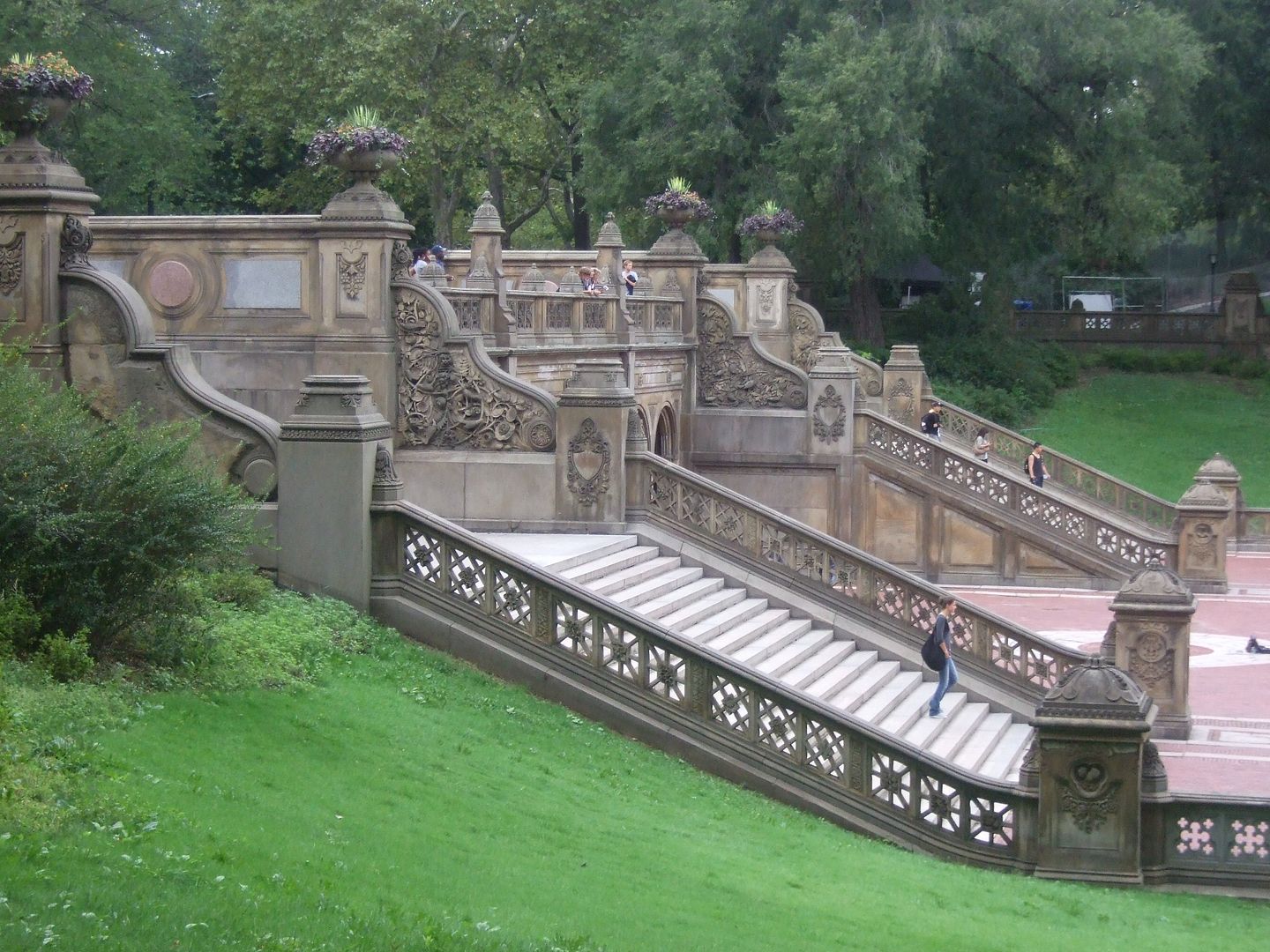 All in all, a pretty nice spot to have a rest, and people watch !!

THE 'ALICE IN WONDERLAND' STATUE

A bit of a wiggle around some paths and over to the right side of the park and we came upon this amazing work..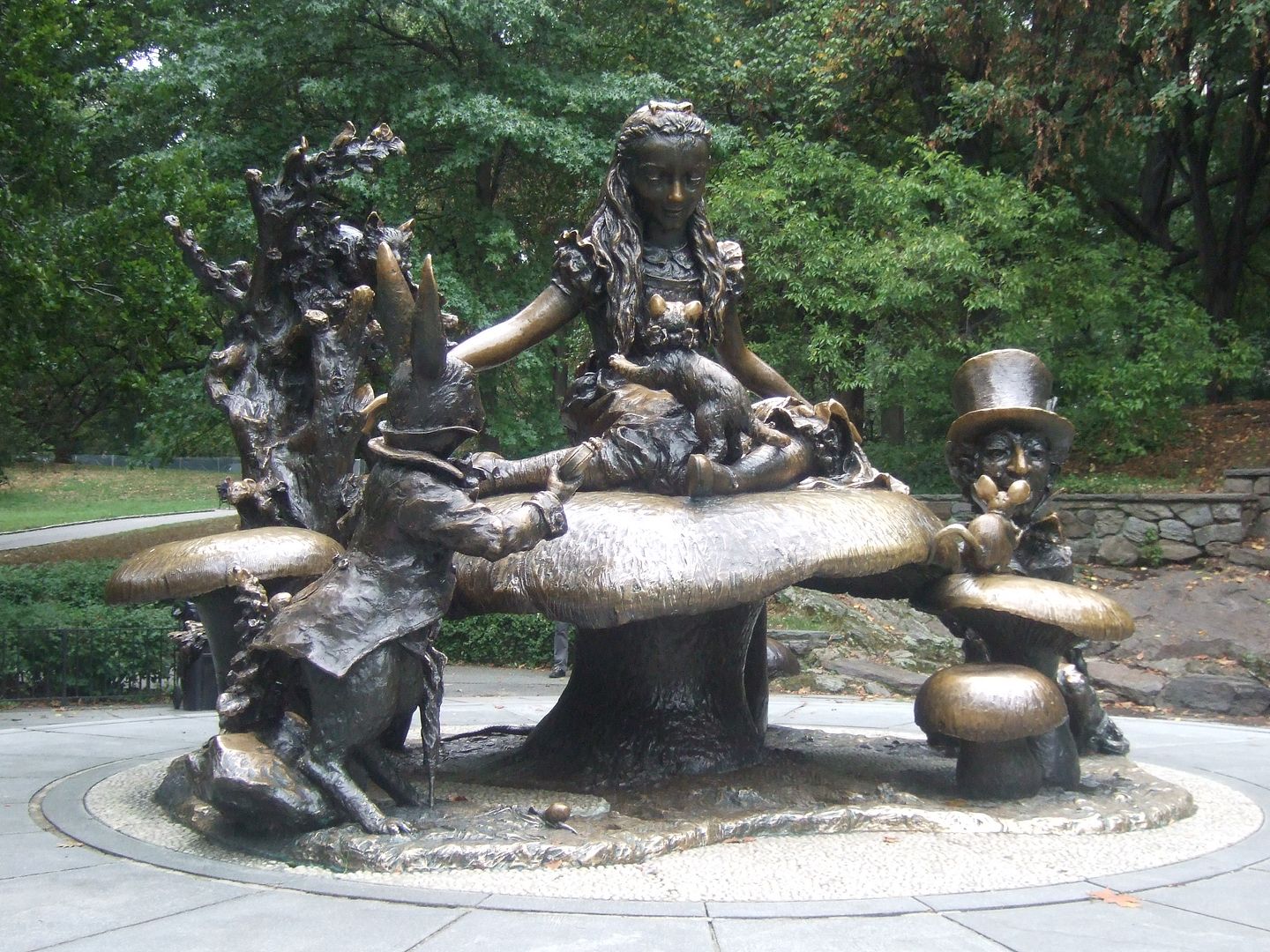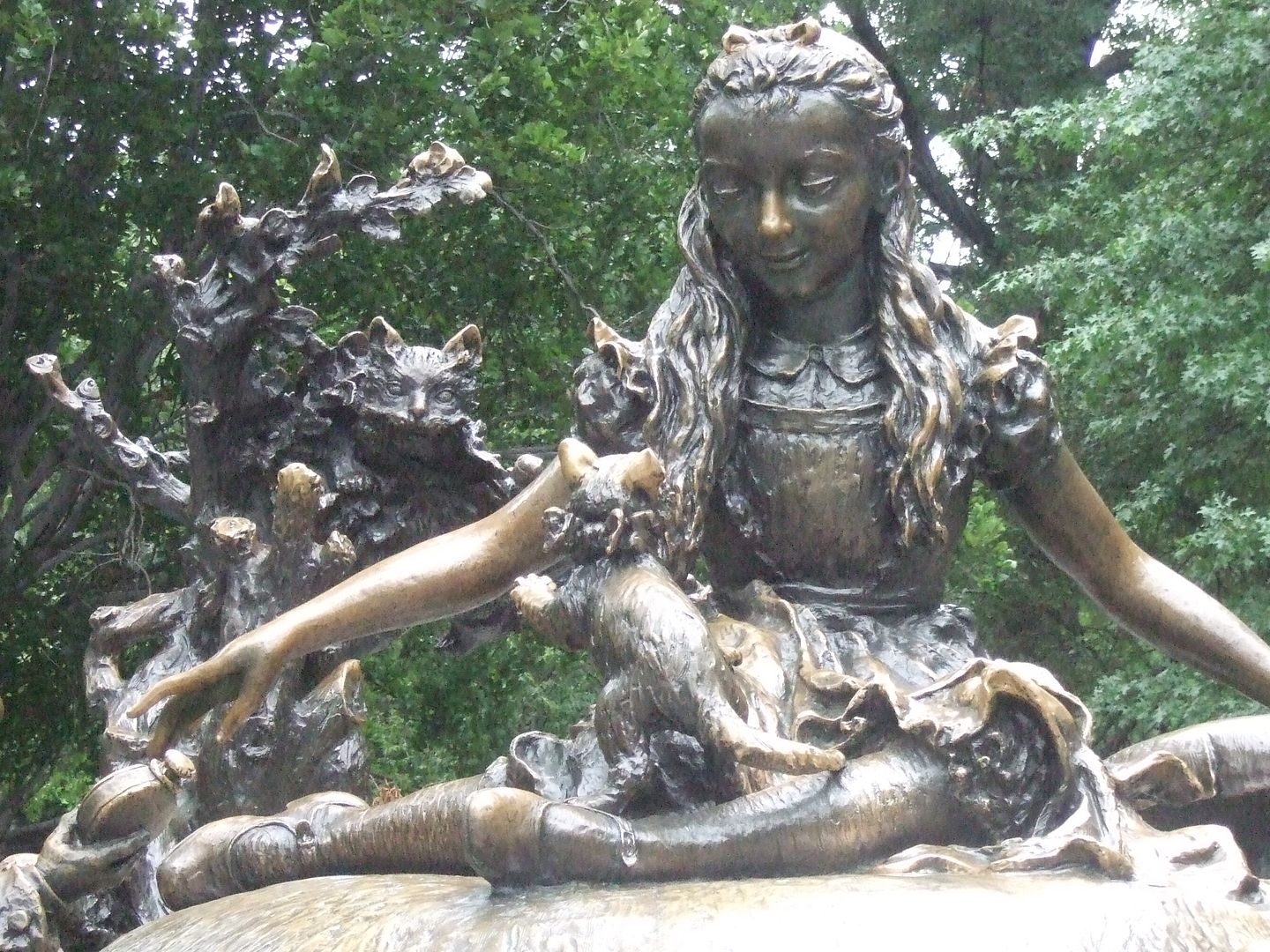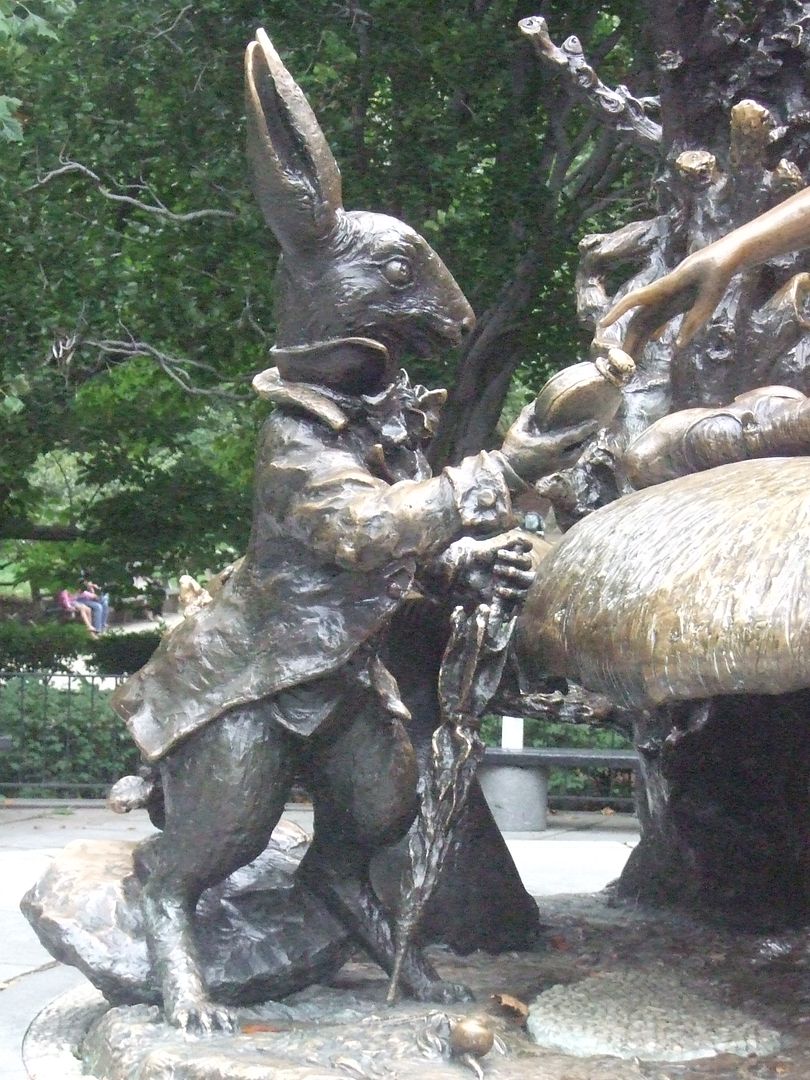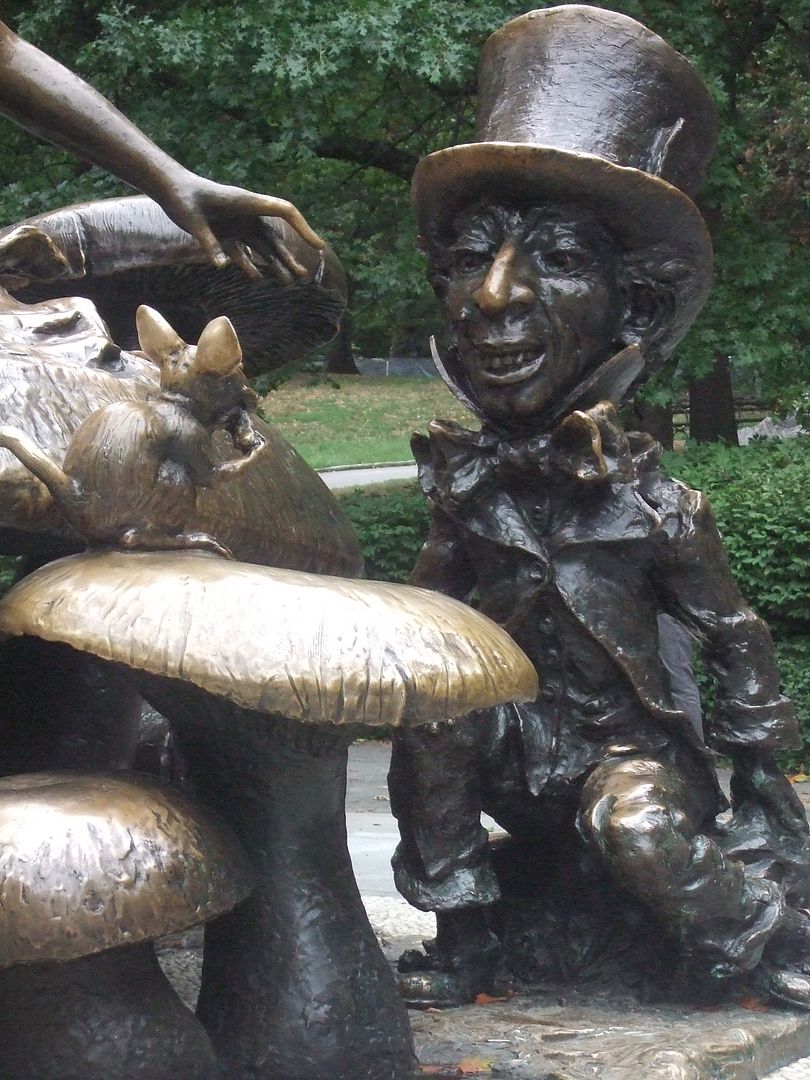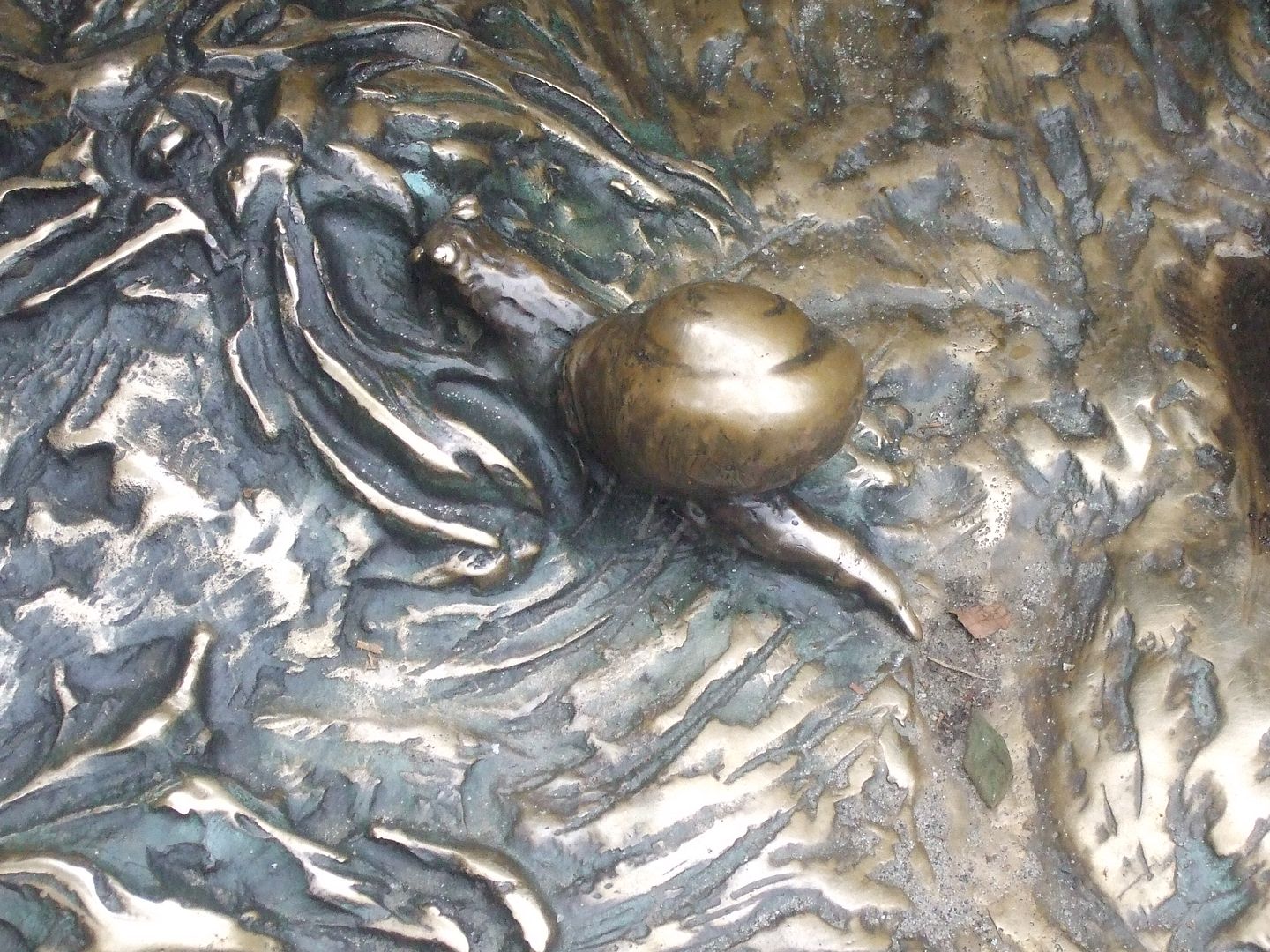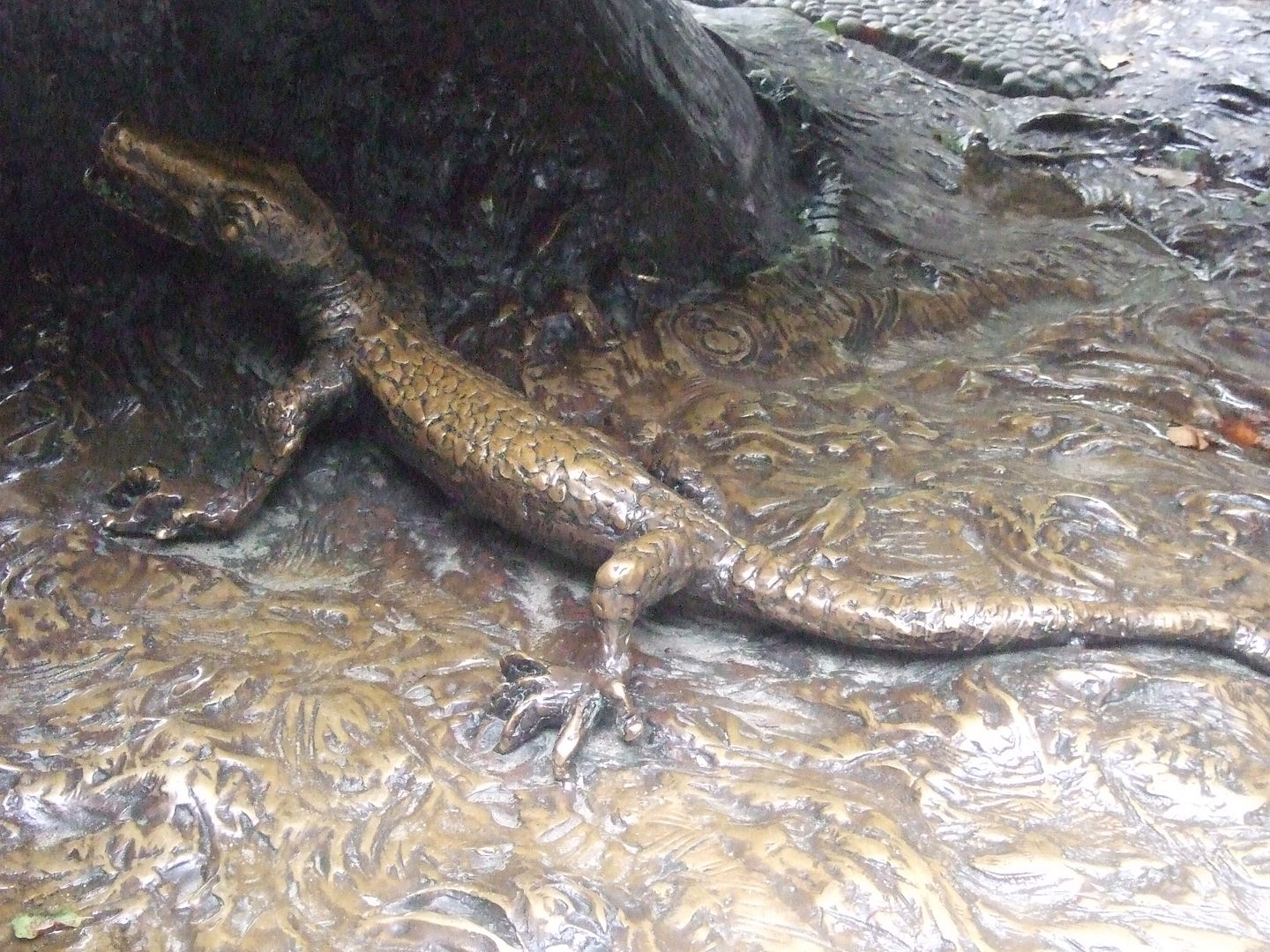 Here's Alice, in all her glory, accompanied by the White Rabbit, the Mad Hatter, the sleepy Dormouse and the grinning Cheshire Cat...there was also a tiny snail and Bill the Lizard around the back !!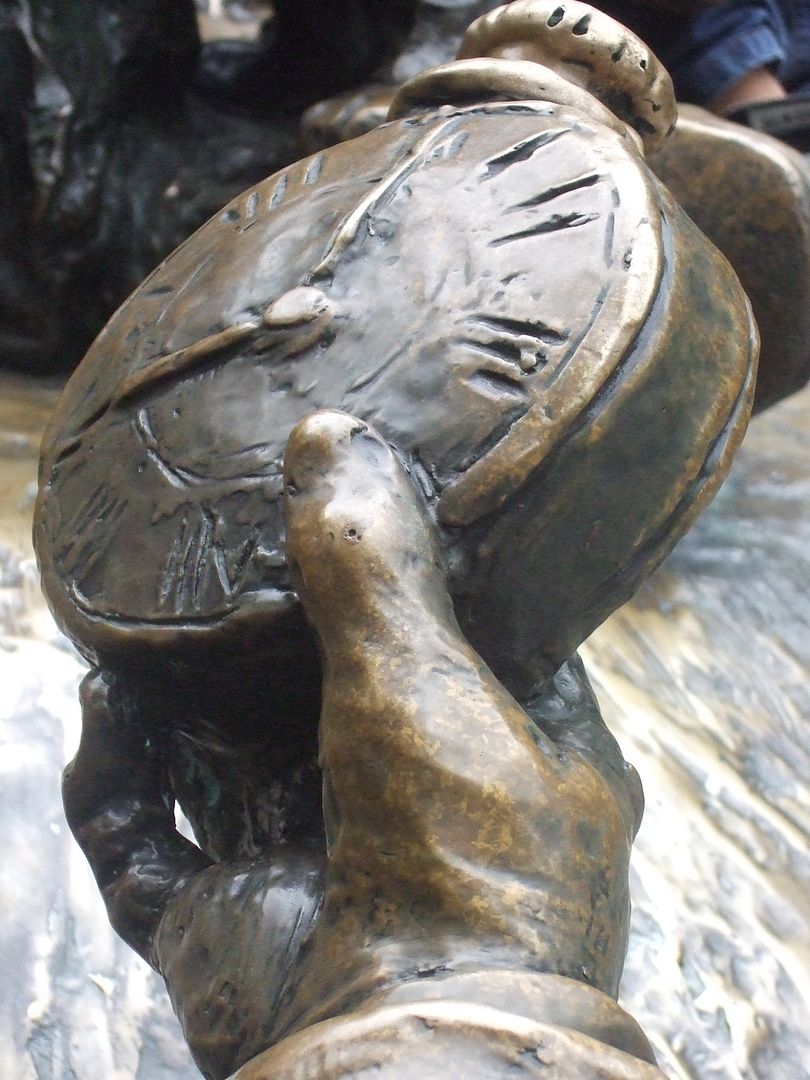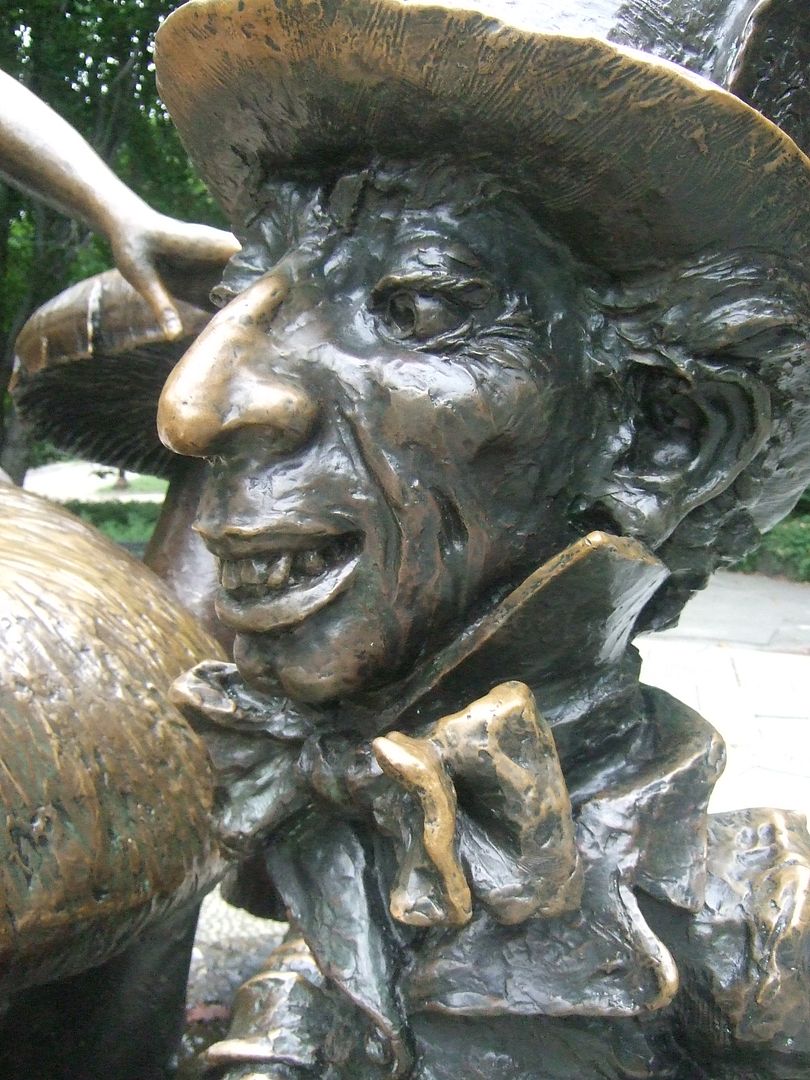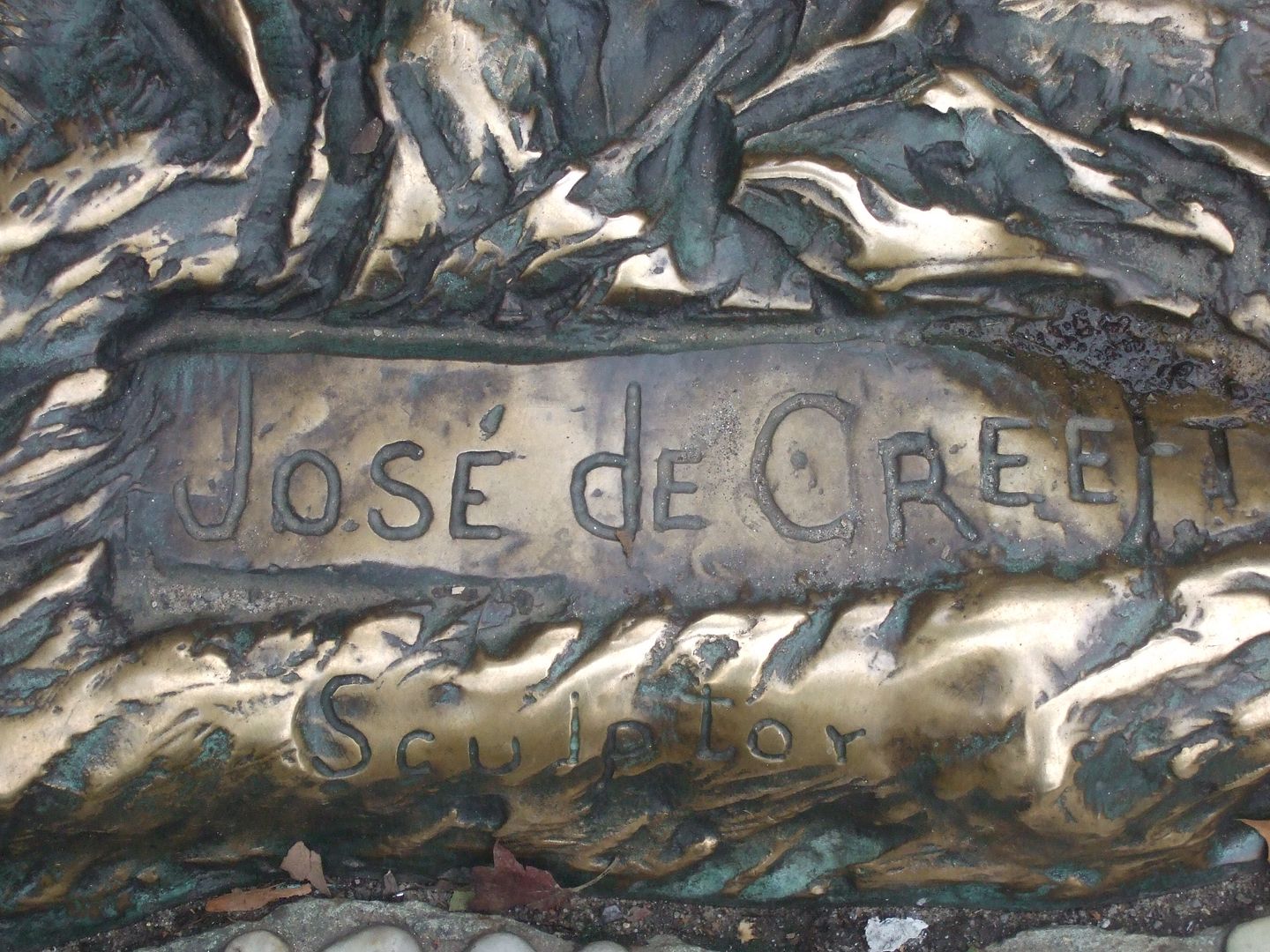 I rather liked this staue, and the fact that you could clamber all over it - a children's story statue made for kids - marvellous !! I liked the fact that bits of it were permanently shiny because of all the wear and tear it got - clearly a popular piece of sculpture if ever I saw one..

CLEOPATRA'S NEEDLE

Having walked right up to the halfway point of Central Park, we made a slight detour to see Cleopatra's Needle, which is supposed to be a matching pair to the London one on the Embankment, but as you can see, the London one is actually quite different - very much more ornate and much less weathered ...the Central Park obelisk is very worn down indeed, and mysteriously has four crabs at its base - very strange !!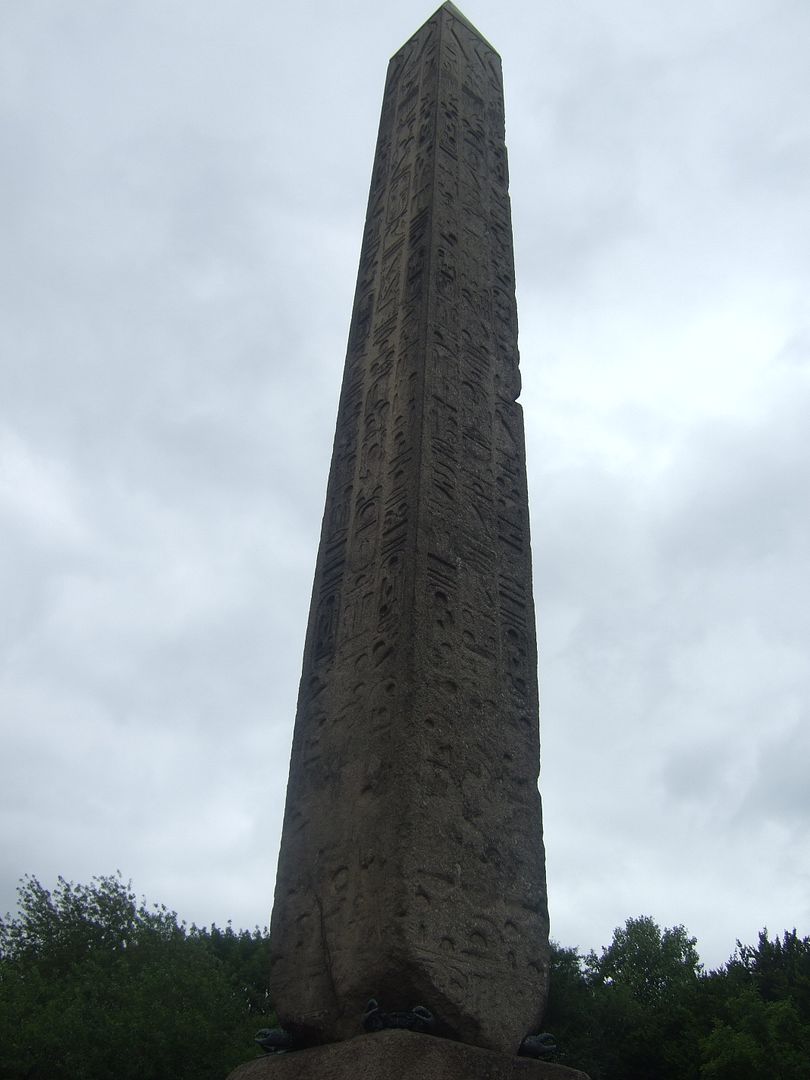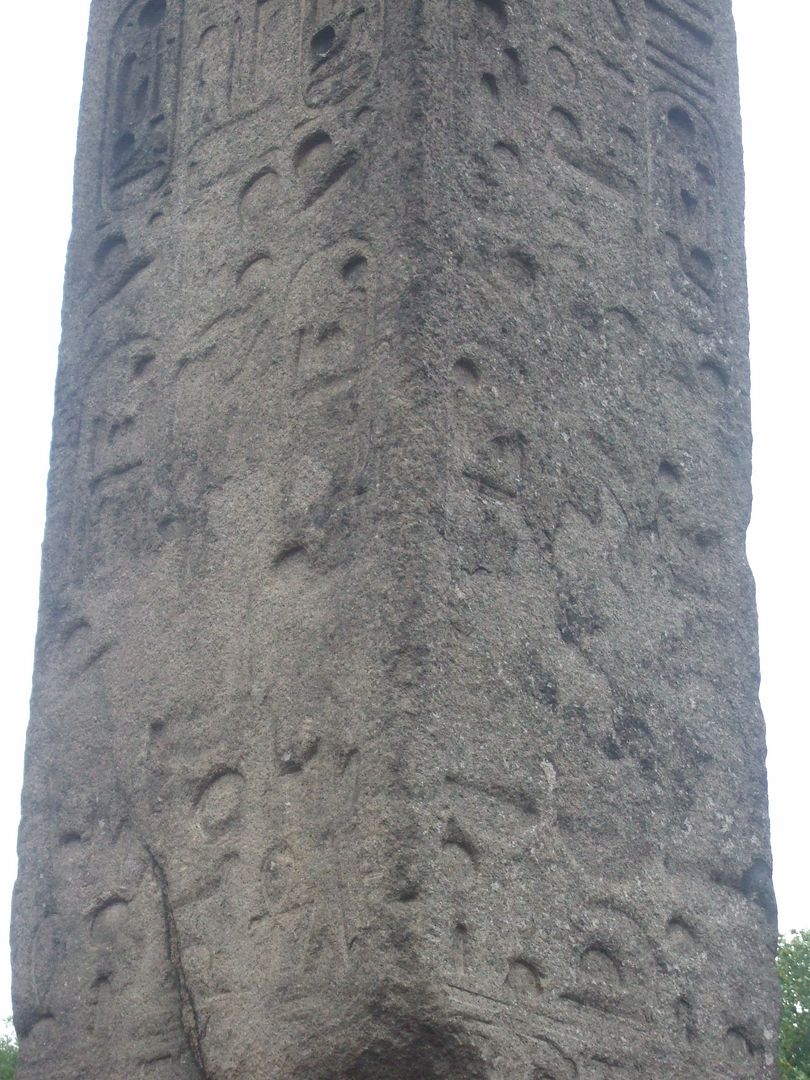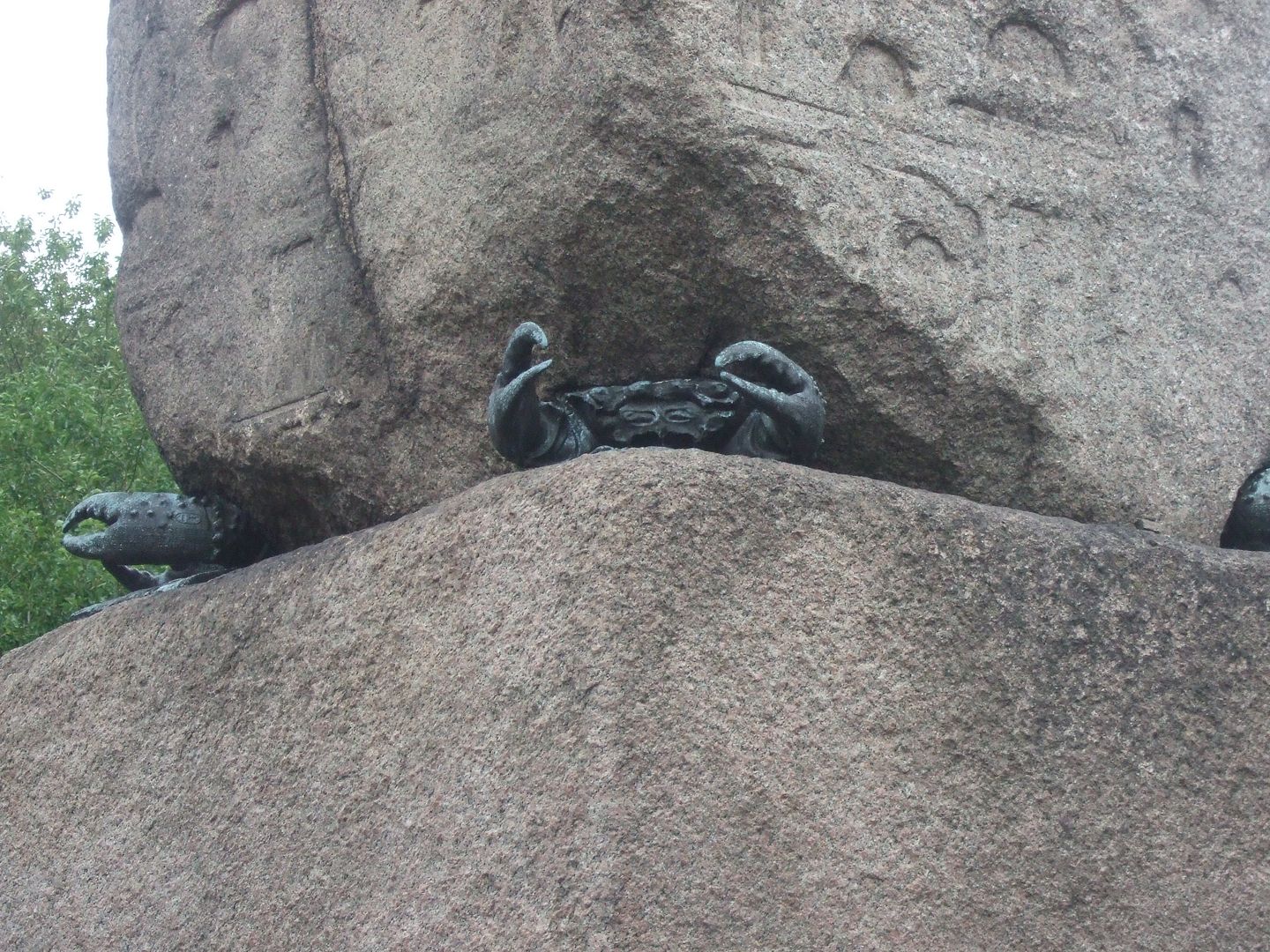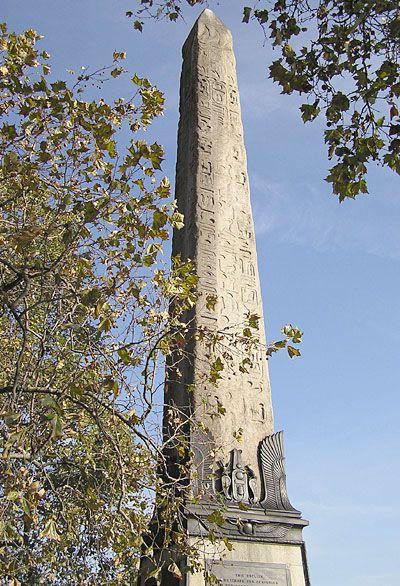 Here's the London one for comparison..


After we had pondered upon this obelisk, it was time for us to go and pay a visit to the other biggest museum in New York - the truly enormous Metropolitan Museum of Art, situated right on the edge of the park, where we planned to see the Ancient Egyptian, Roman and Greek Collections...

All in all, I will remember my first visit to New York with great affection, and I hope I will be visiting again soon...