ST. IVES 2010...
OF SUN, SEA, SAND & RARE JELLYFISH !
I have just returned from my week down in Cornwall, and feel refreshed and raring to go...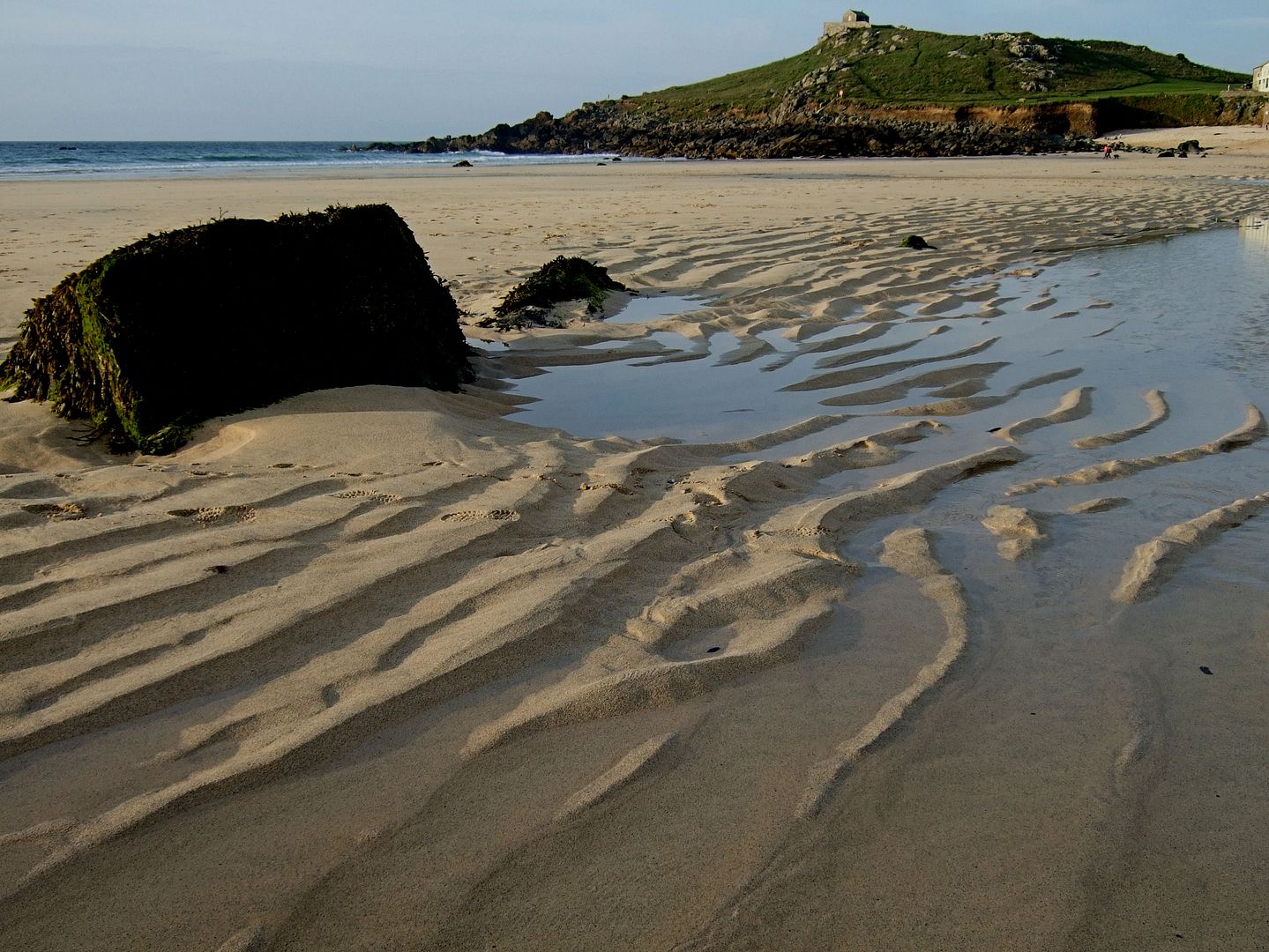 Porthmeor Beach in the late afternoon sun...
Happily my computer is also raring to go - whilst I have been away, Adam has been working
extremely
hard on various rather major jobs around the house, one of which was switching my badly-behaved, and
stupifyingly
slow computer upstairs, with the ultra-swish, ultra-fast one that was currently resting pretty much unused by both of us, in our lounge downstairs...
What a difference !! I can upload 100 or so new pictures to Photobucket whilst posting to my journal
at the same time
, instead of having to go and do another job somewhere else while it decides to think about each picture for half an hour !!
Well, not quite, but you get my drift...
He also managed an amazing amount of DIY work on the house while I was away - this included relaying the lounge wood-flooring which wasn't quite to his satisfaction, painting the wood panelling in the hallway and lounge, which we installed to cover up the total mess the cats have made of the new wallpaper, and also, laying the beautiful ex-display slate tiles, that I acquired from Peter Jones for next to nothing, out on the tiny bit of patio we have left outside the new conservatory doors...
He also painted the new shelving unit that he made in the conservatory, in gloss white - this was built to house gardening books, a small DVD and MP3 player, about twenty of the current favourite batch of board-games that we are playing regularly on a Sunday afternoon, and incorporating a conveniently wide shelf for some plants on top...it looks so much better in glossy white than the bare wood !!
Phew, what a lot of hard work - I feel exhausted just thinking about it !!
I, of course, was having an extremely lazy week down in St Ives with my Mum, who comes from round those parts - Camborne actually, born and bred !!
I took quite a few photos of course - I always do - this place has been photographed to within an inch of it's life, by me over a number of years, but I can't help it - it's just
so
photogenic !!
Now then, you
may
remember the massive 2-part post I wrote this time two years ago, looking at how St.Ives had changed over the last hundred or so years with old photos of the town and the beaches around the bay...it's a truly fascinating read, so if you are interest in reading them again, go here :-
wendylady1.livejournal.com/60667.html
wendylady1.livejournal.com/61420.html
I also included a separate post with several really cracking photographs - close-ups and textures taken all around the various beaches, the main harbour and Smeaton's Pier...
wendylady1.livejournal.com/60266.html
This time though, I simply went and relaxed for a week, without anything too taxing to do, see, or photograph for that matter...and it was a well-appreciated rest, I can tell you !!
I did take several walks across the beach in front of our balcony of course - the first one yielded up some really interesting bits and pieces, and some lovely photos taken in the very late afternoon sun, as people walked their dogs after the dog-ban time comes to an end at 6pm...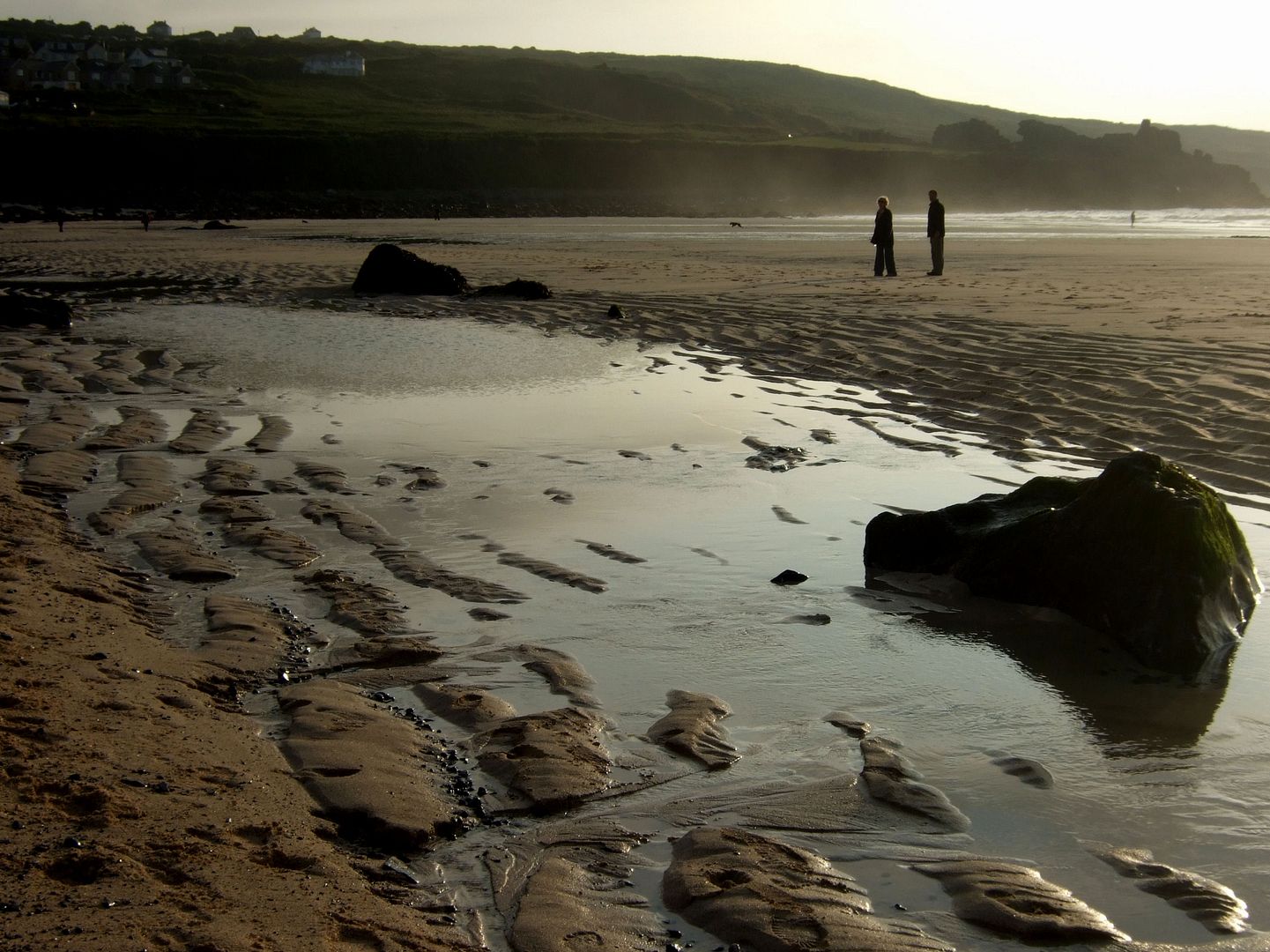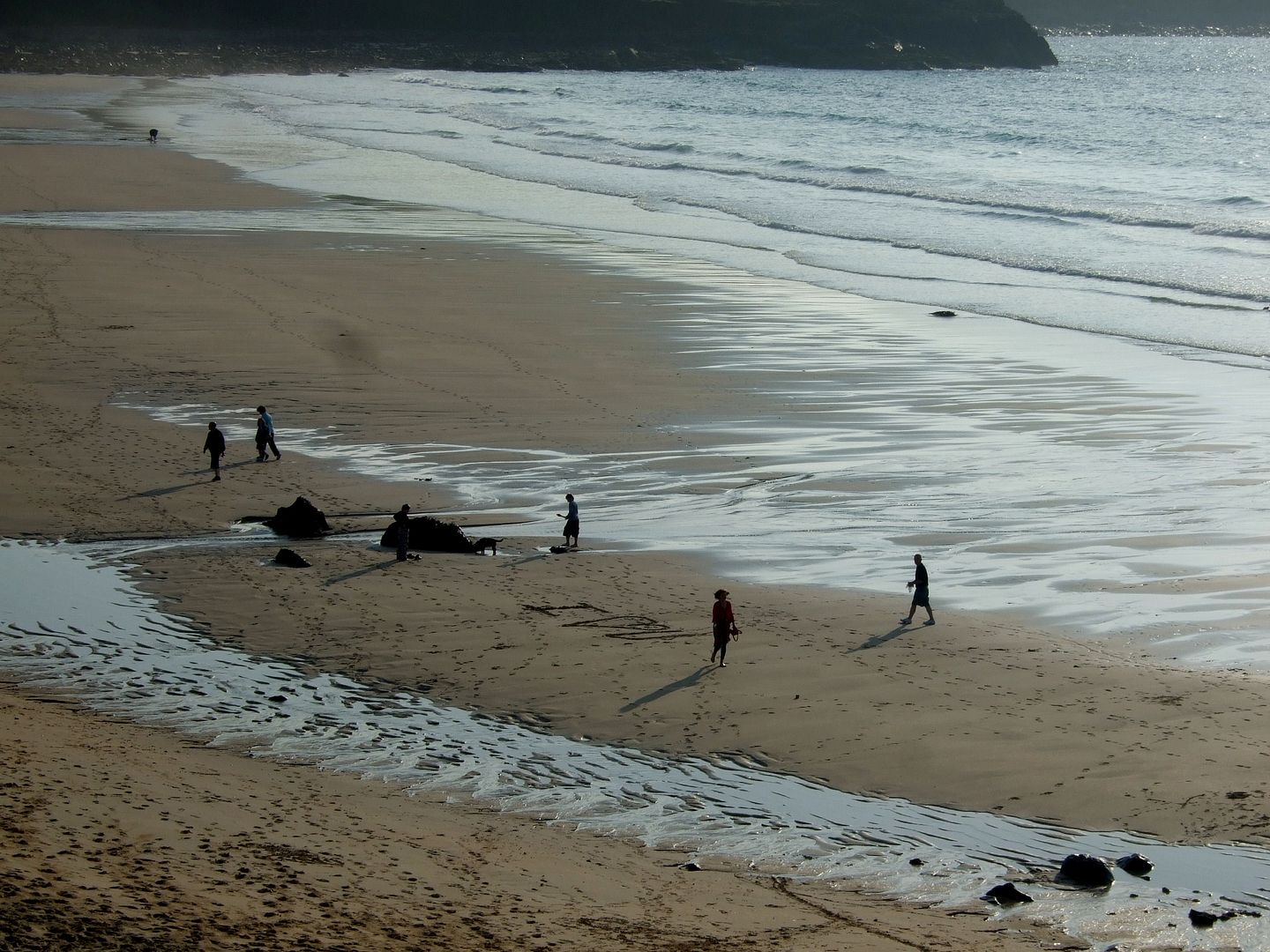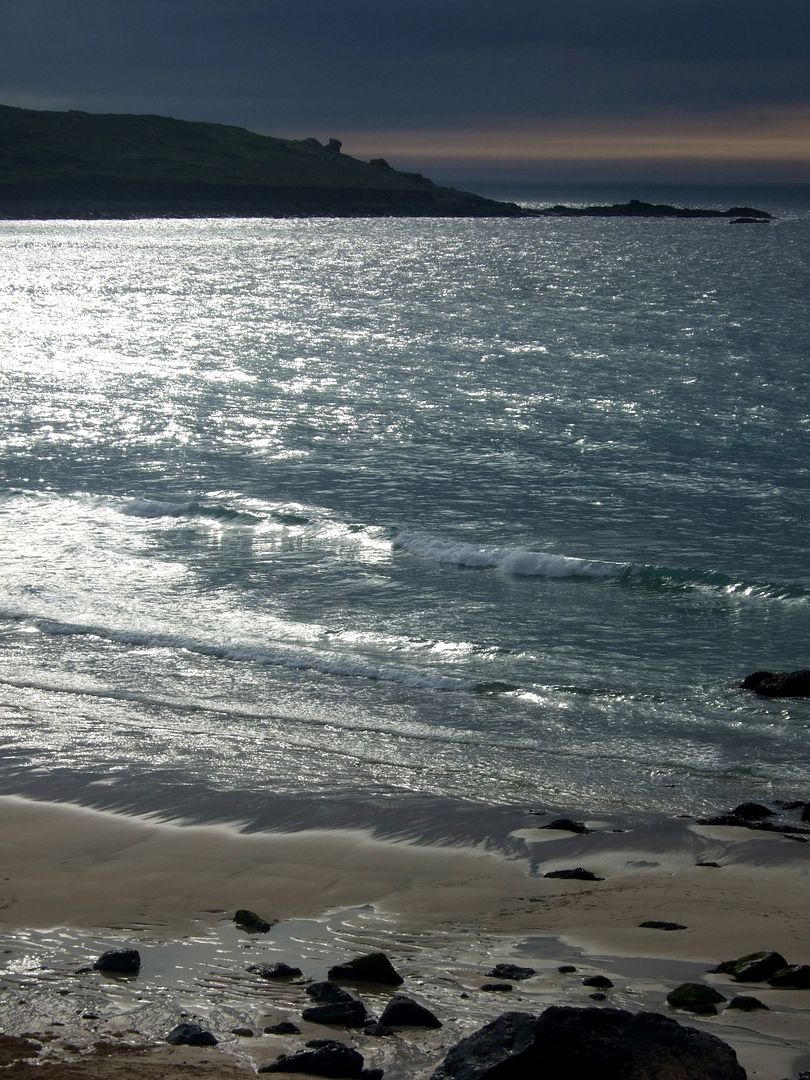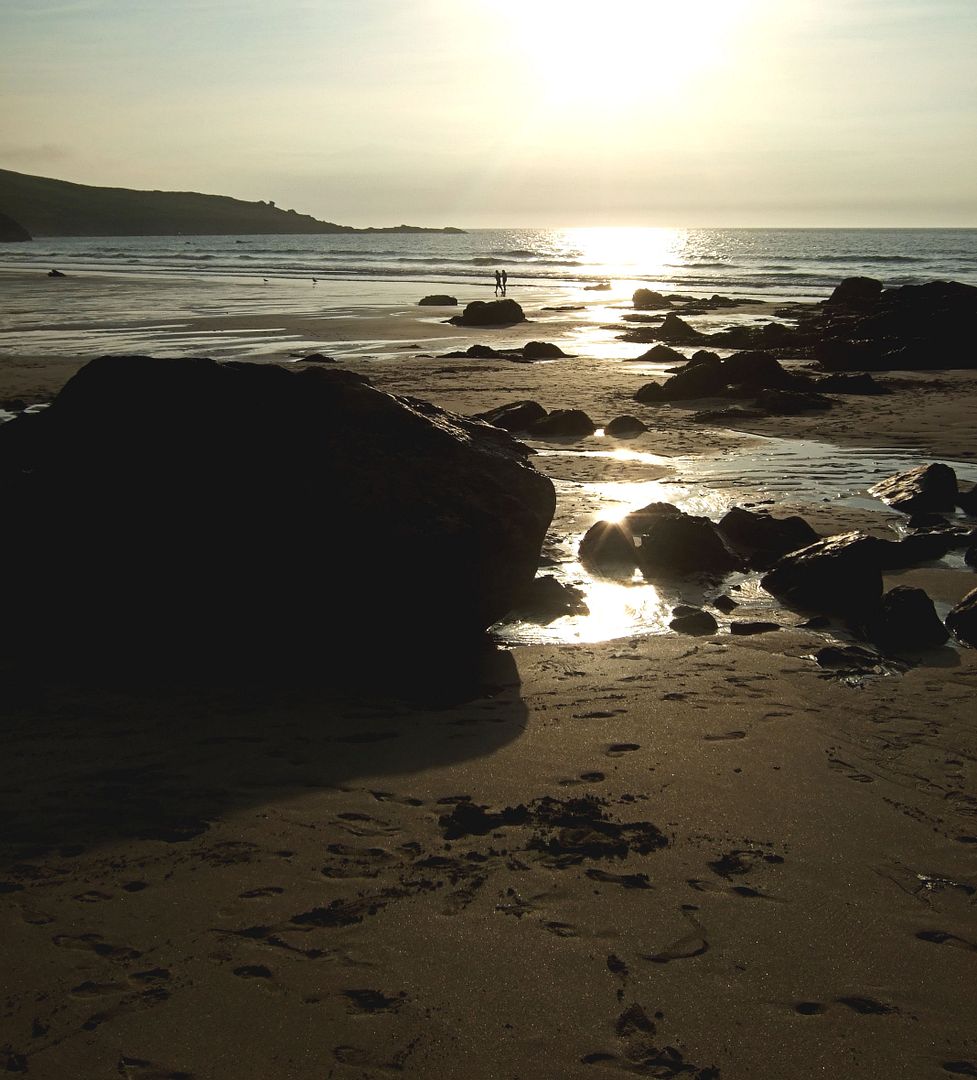 Firstly, there was wildlife of great interest all across this beach - two years ago, for one tide only, the whole beach was strewn with cuttlefish, if you remember - well this year, the entire beach was strewn with stranded jellyfish...hundreds of them all spaced around a metre apart,so it was easy to avoid stepping on them luckily...they were only about 7 to 10 cms in diameter on average, as far as I could see even though this particular jellyfish can get up to 30 cms across eventually...so I am guessing that these were quite young specimens, and a whole shoal of them too...
Thanks to Google Image search, I managed to identify them as
Cyanea Lamarckii
, or the 'Blue Jellyfish', even though the actual variation in colour, pattern and size was remarkably wide-ranging !!
These creatures ranged from a deep magenta-like pinky-purple...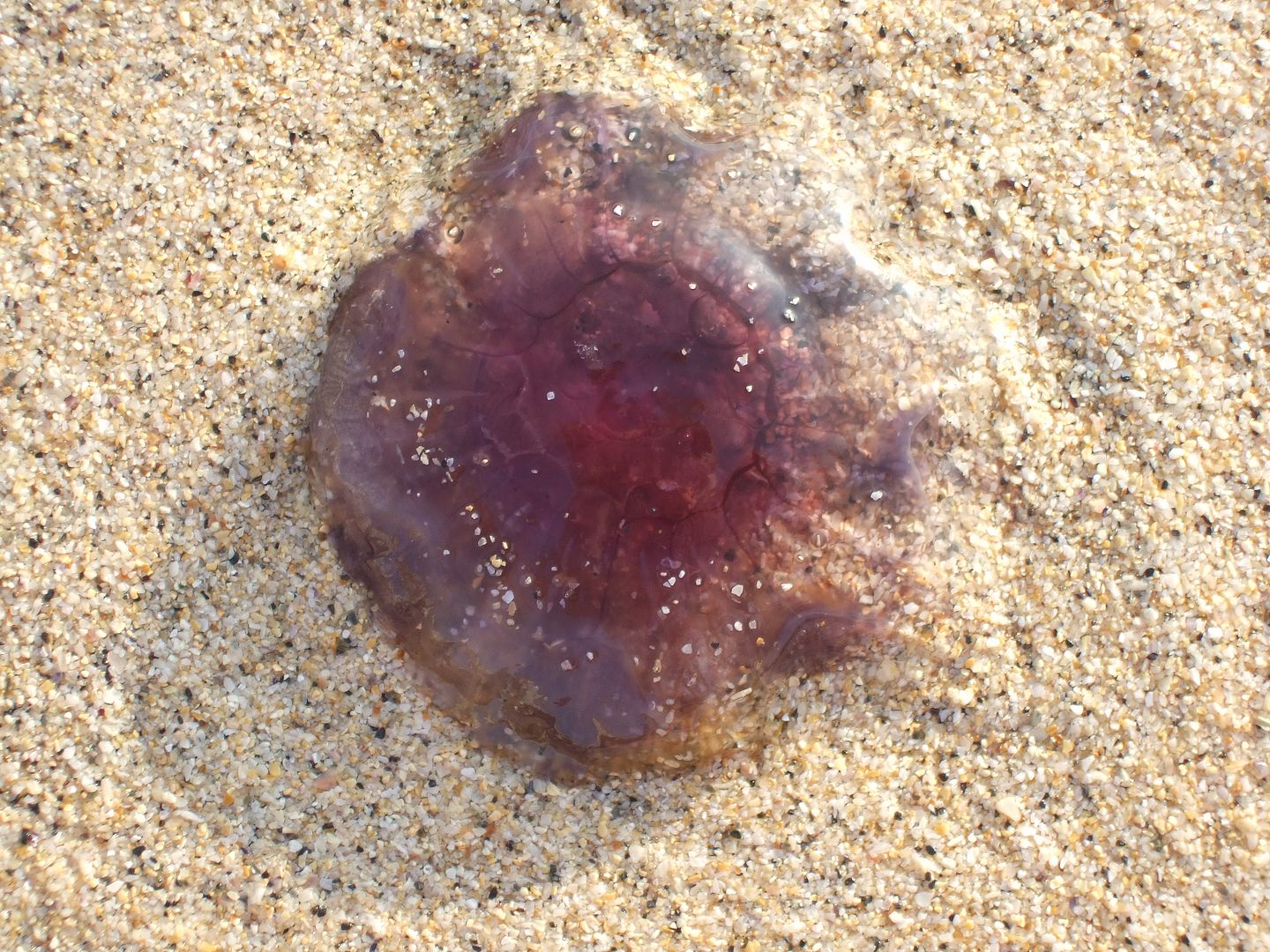 ...via a real purpley-violet-blue...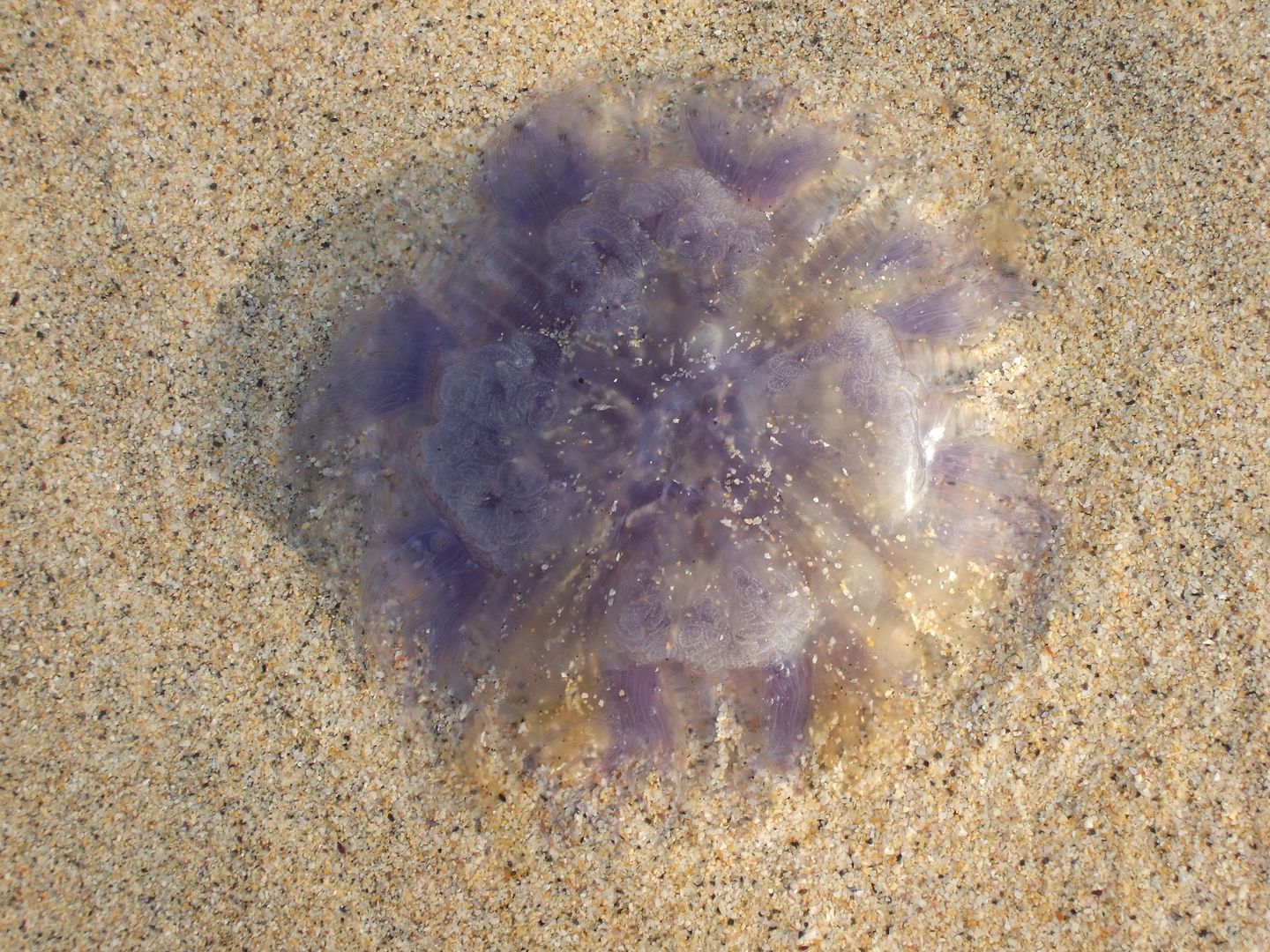 and a proper regal purple...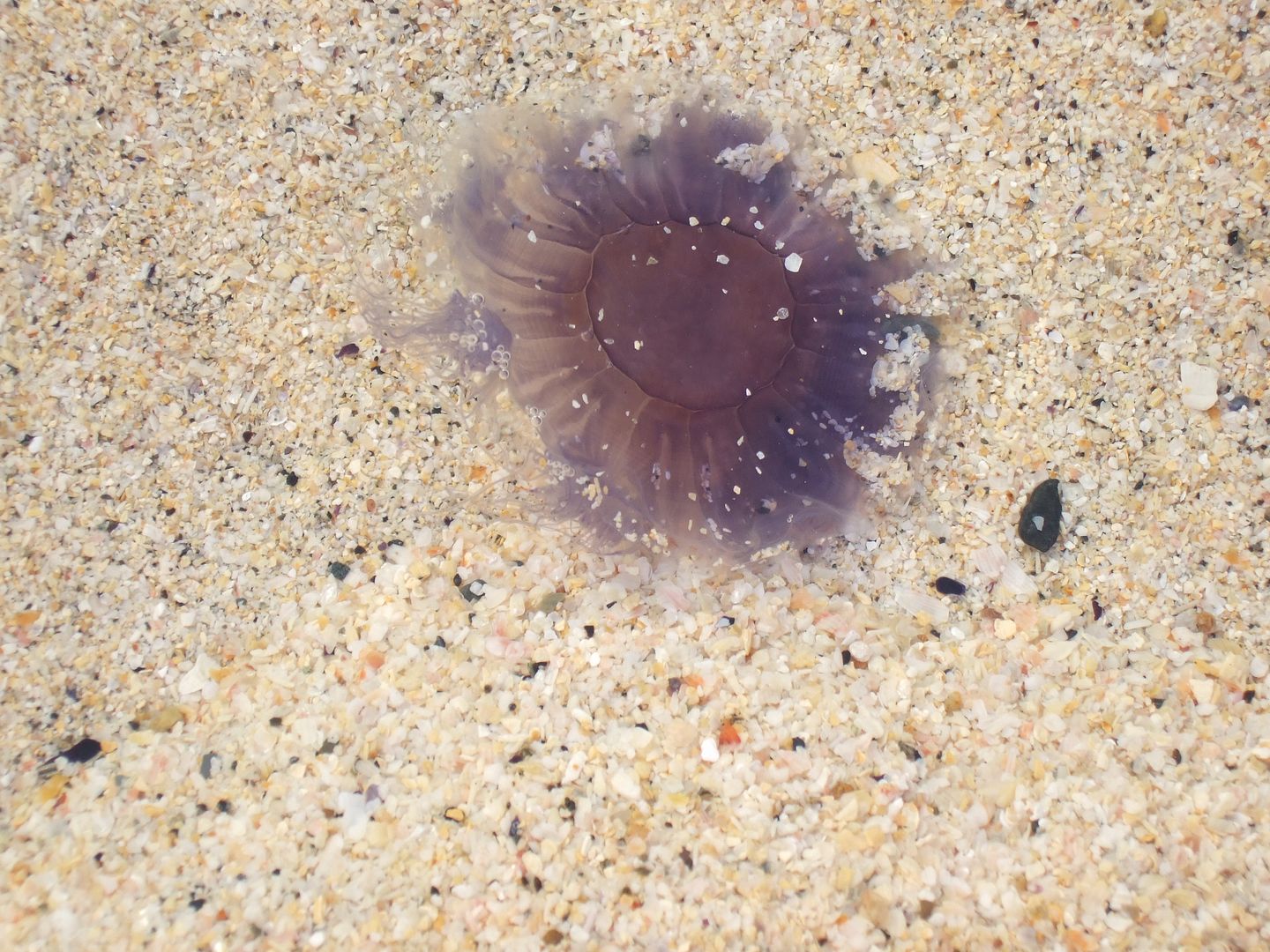 ...there were even honeyish-brown ones too...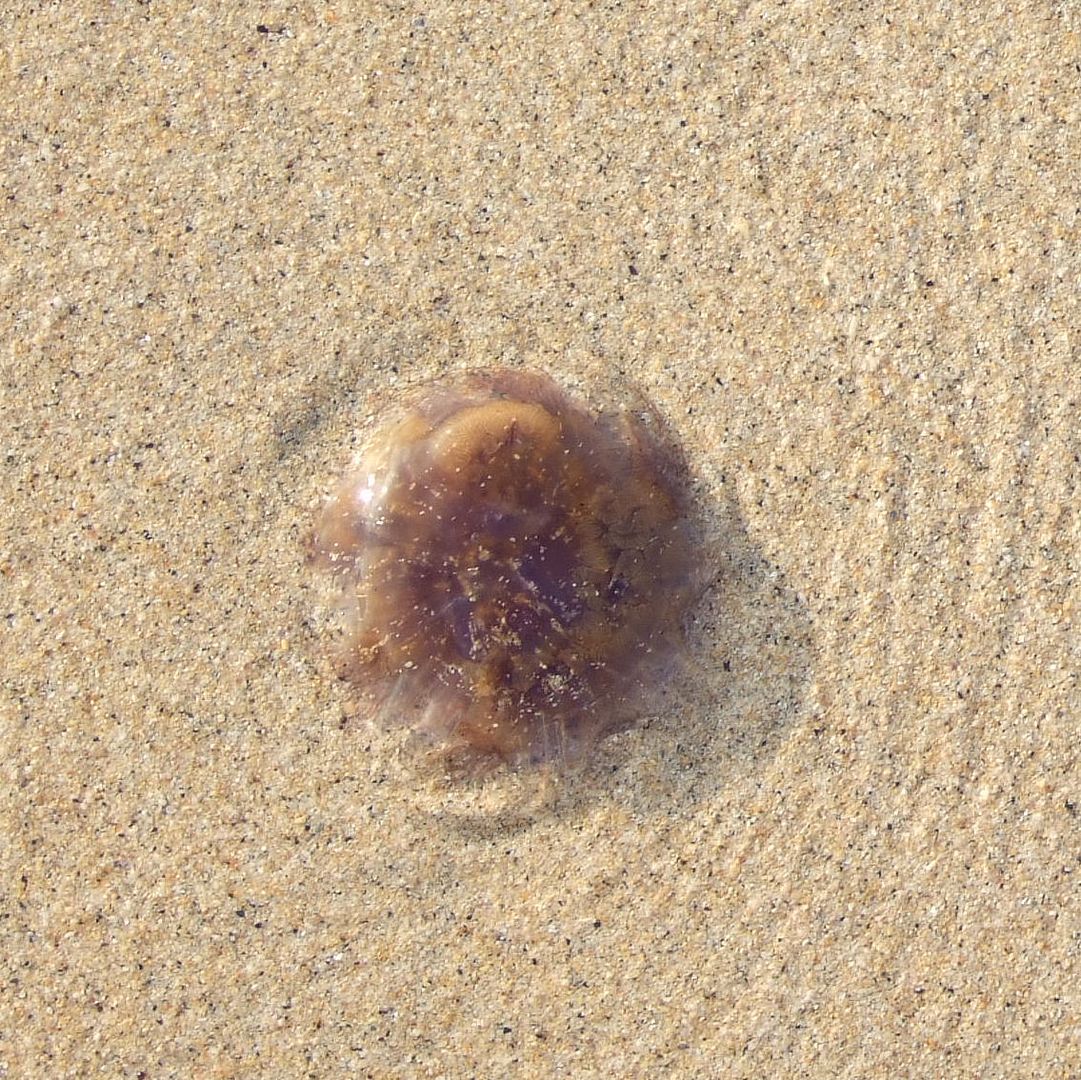 ...and some with deep markings around the edge...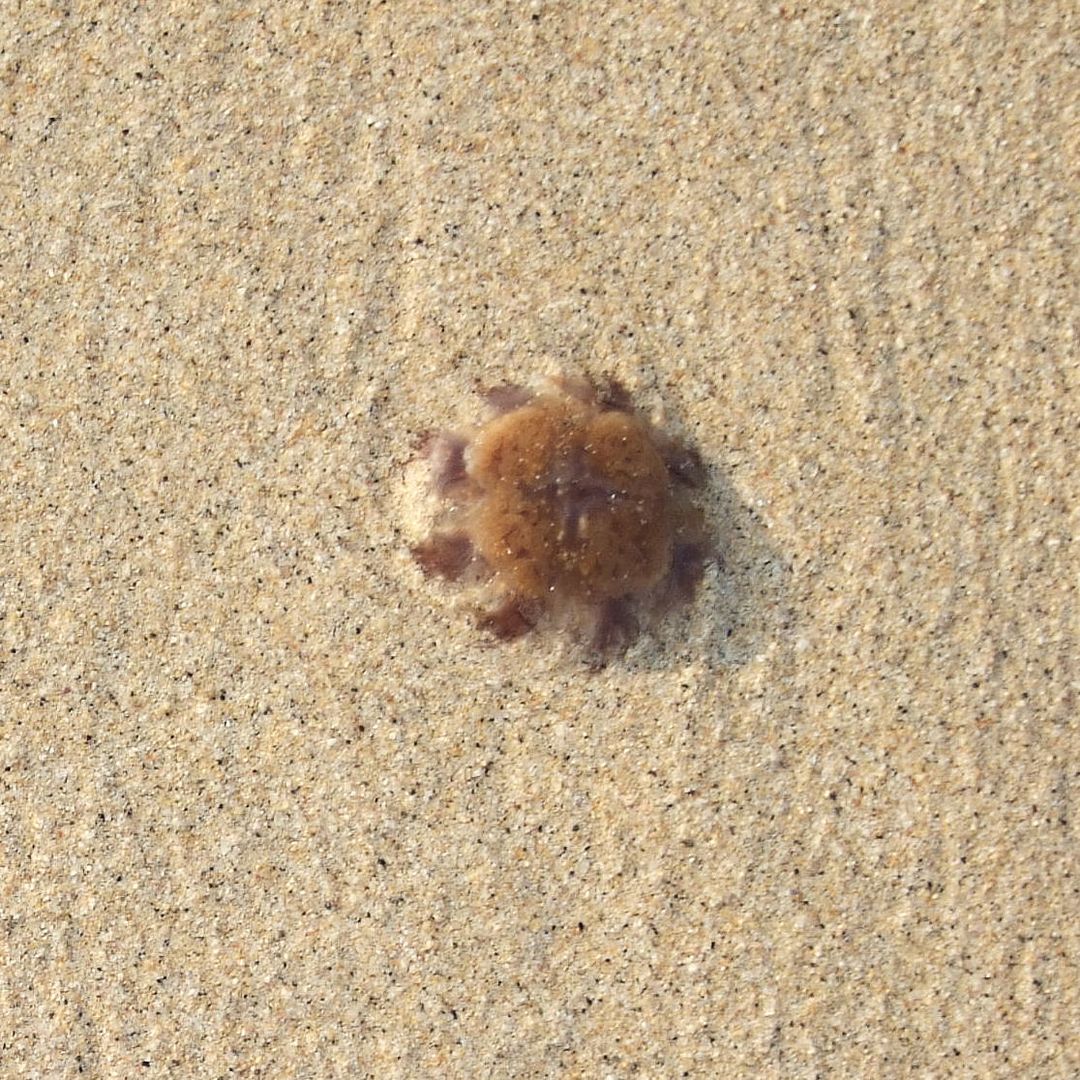 Aren't they beautiful ?!! They are a somewhat unusual jellyfish to see on British beaches, being a reasonably rare visitor - depends on which currents they get washed in on, I suppose ...they
are
a stinging variety, and although they certainly aren't fatal, they will inflict quite a nasty nettle-like sting which will hurt for a good 24 hours...
I discovered a couple of these in that great long puddle of water left quite high up on the beach, in the top photograph - and so I waggled my finger in the water, making quite a small specimen move around, which I filmed...I find the way these creatures swim around very graceful indeed, even in two or three inches of water !!
Other wildlife that I found included the most impressive amounts of seaweed - in copious quantities, looking for all the world like a massive great sweep of hair across the sand...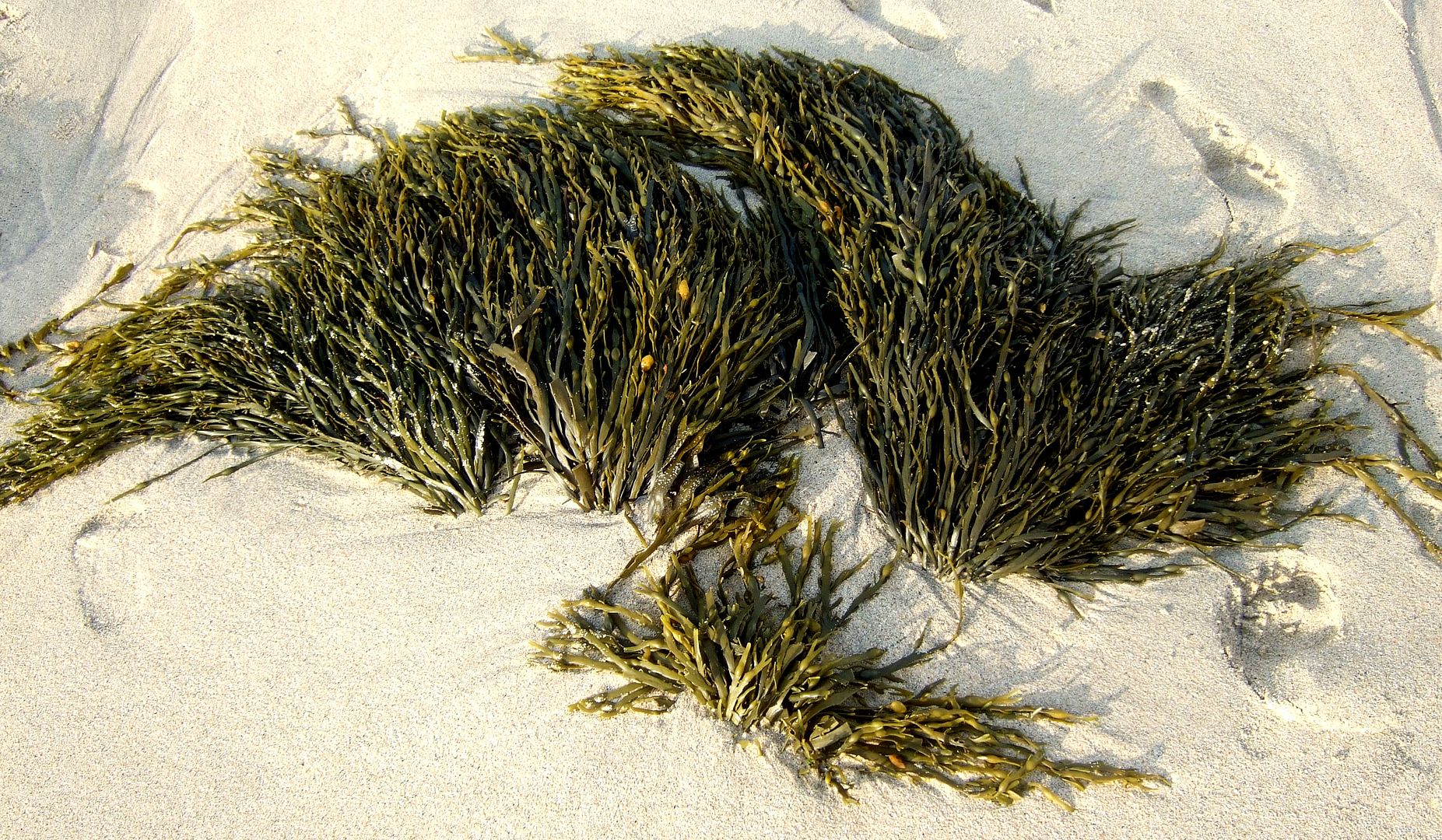 This was only one swathe of weed amongst many that had been left by the tide of course, and most of it was anchored to rocks that had got themselves buried in the sand...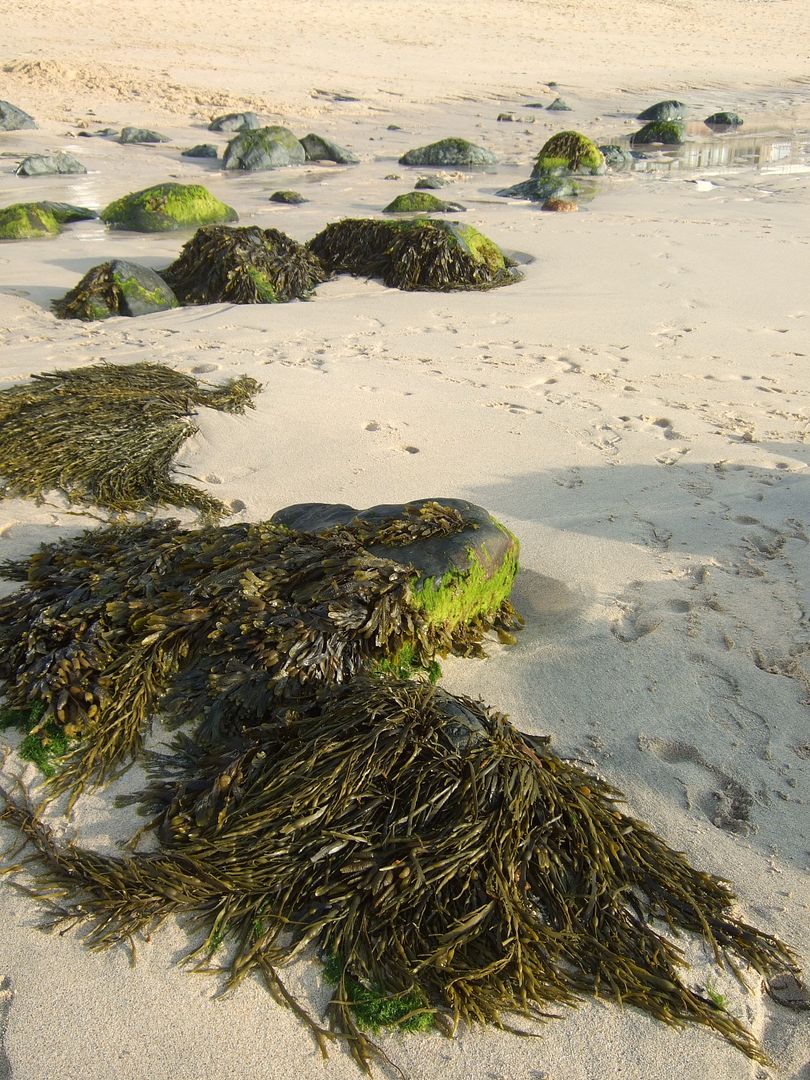 I also noticed that the receding tide was leaving tiny rivulet marks that reminded me of how frost forms on a window pane...isn't this delightful ?!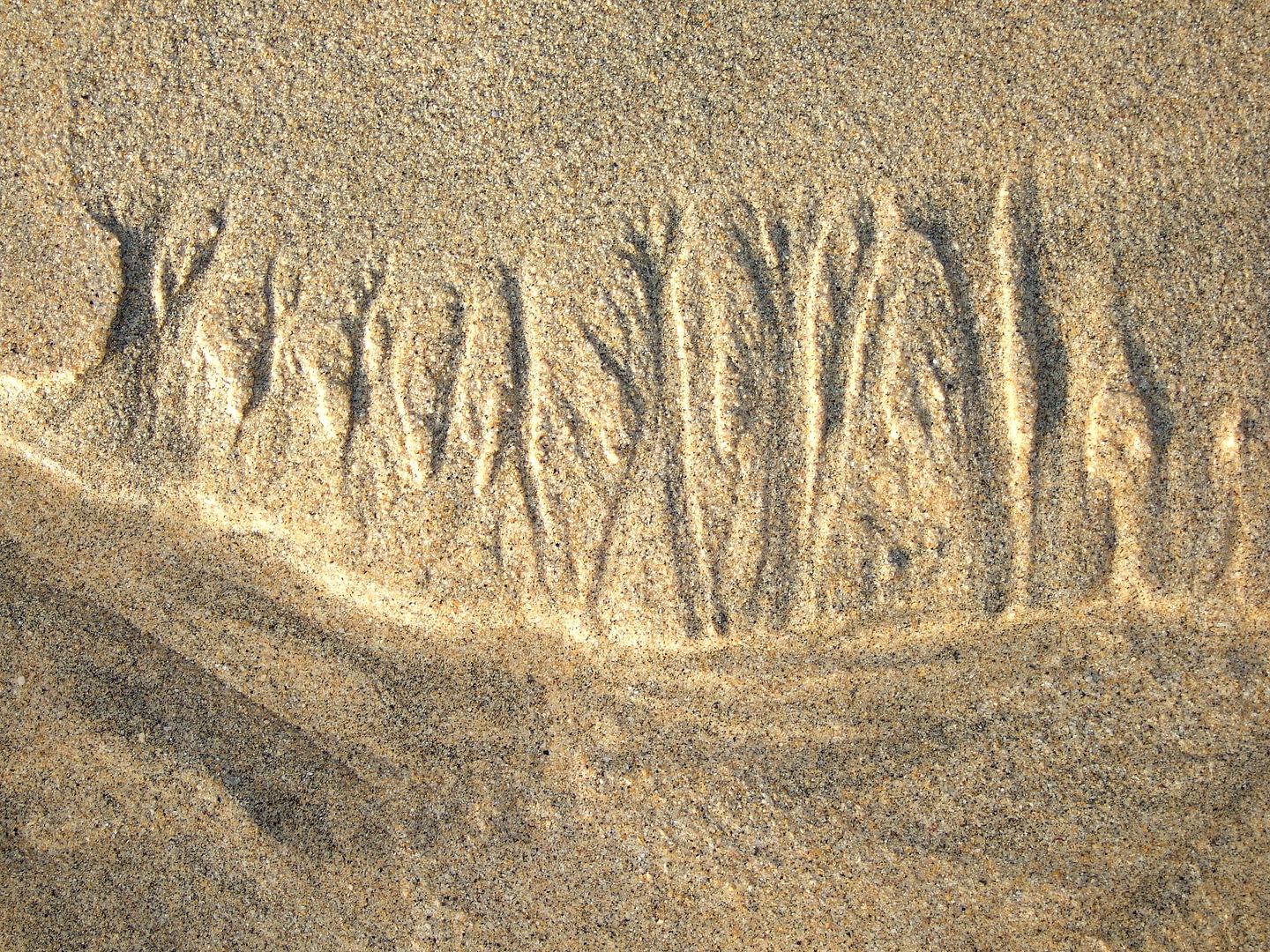 PORTHGWIDDEN BEACH
Over on Porthgwidden Beach, the other side of the rocky headland that's known locally as 'The Island', I found the rocks were encrusted with thousands upon thousands of mussels and limpets, and I was struck by their beauty in the late afternoon sun, highlighting all the many bands of glossy colour on their shells...we think of these shells as being basically black, but I realised that they are in fact many, many shades of inky blue, grey, beige, tan, chestnut, chocolate and charcoal as well as black...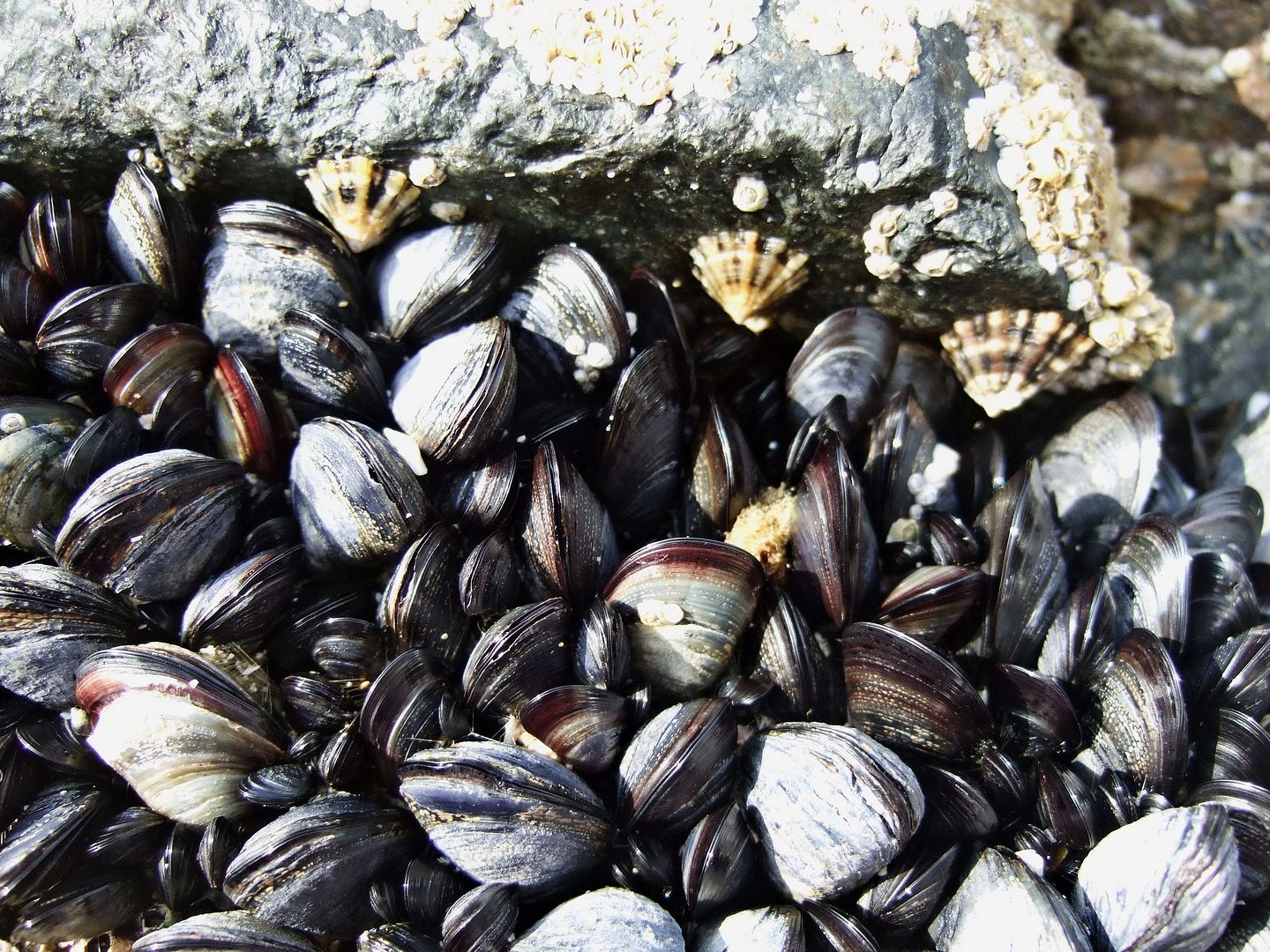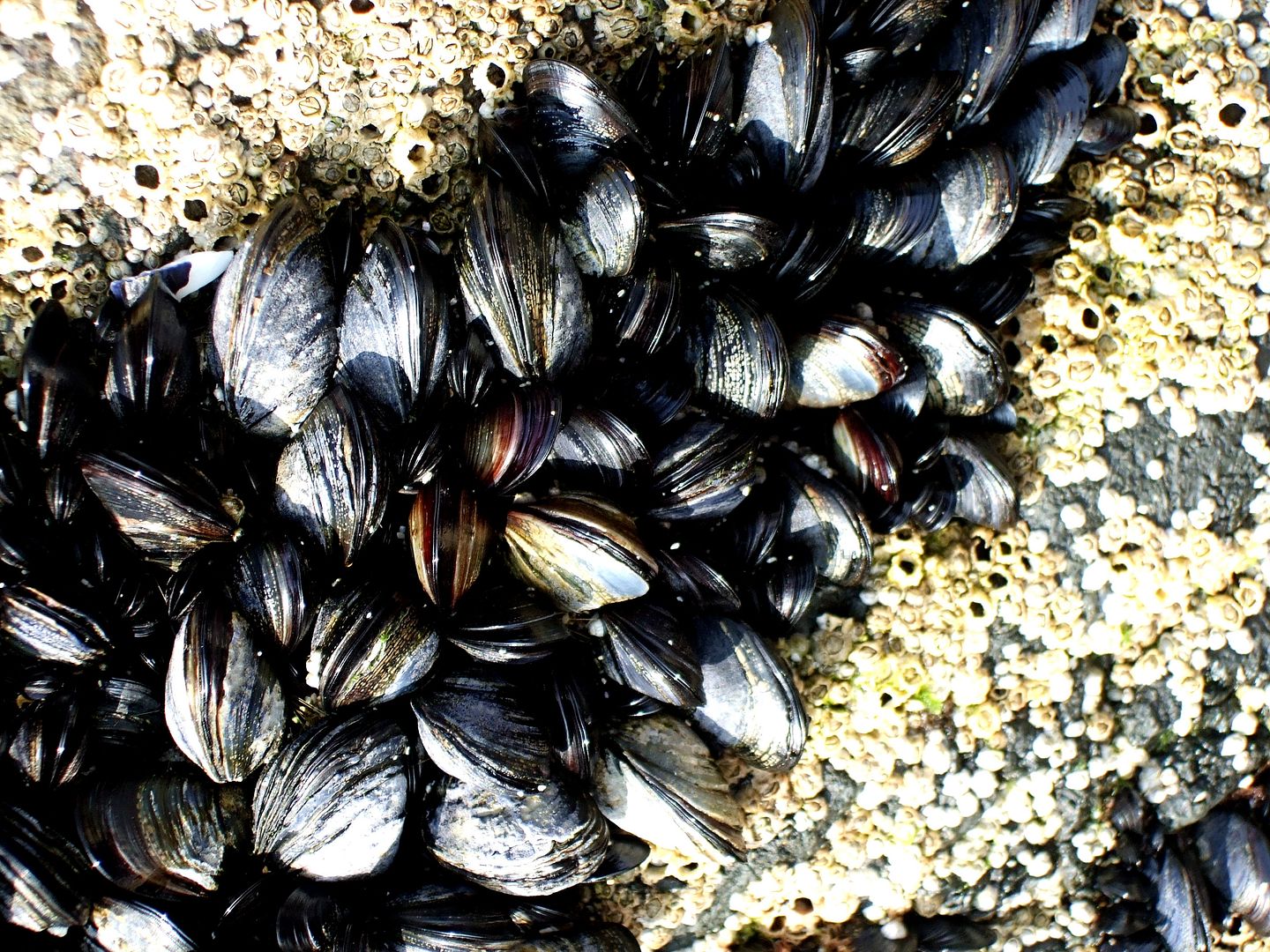 See - boring old mussel shells aren't that boring after all !! Especially when they're bedecked with glossy lime-green seaweed and olive-green bladderwrack,and set about with creamy barnacles for added texture...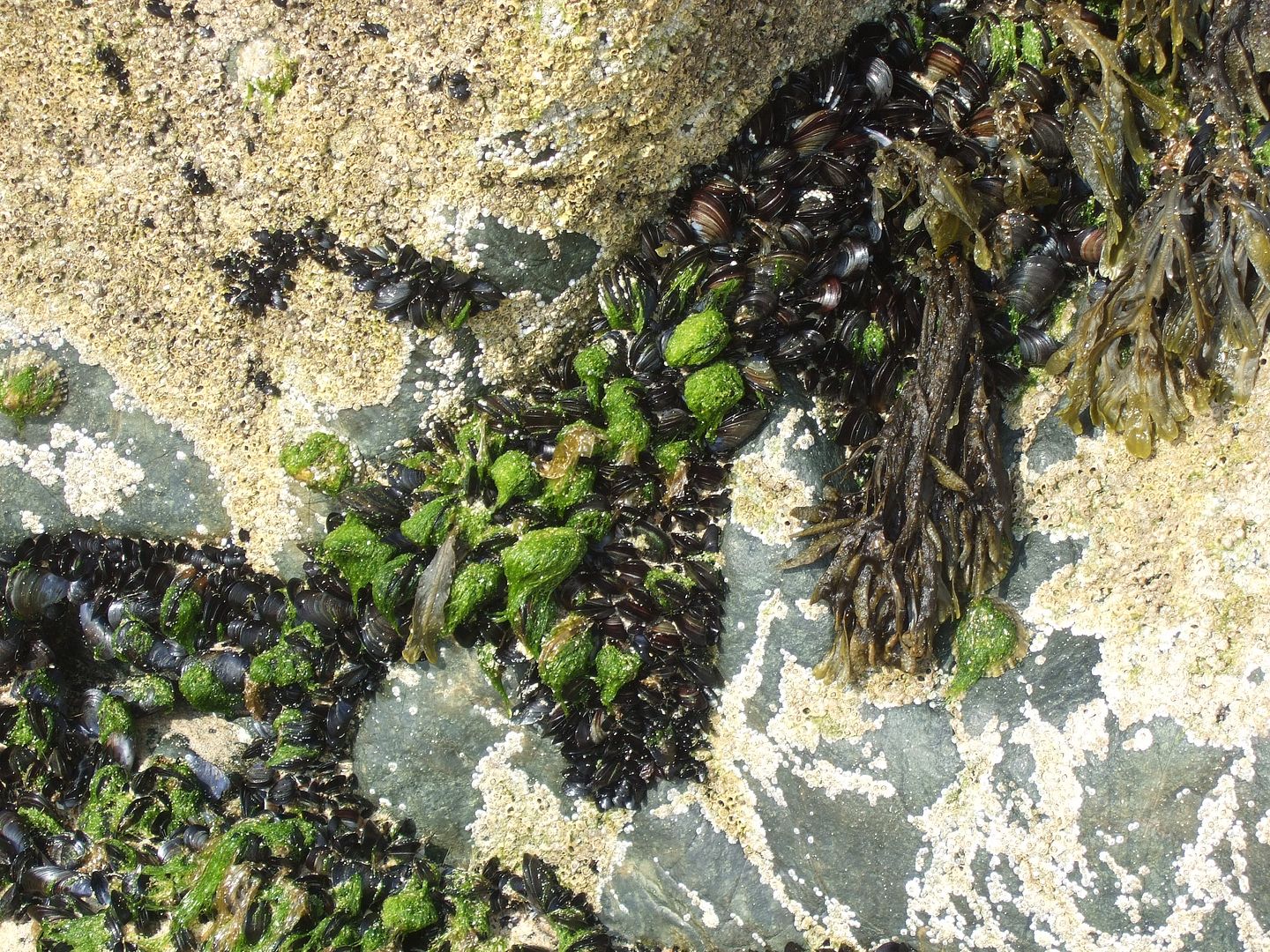 Porthgwidden Beach is a relatively tiny beach compared with Porthmeor, and not at all good for surfing, but it has many things to commend it as a family beach - good warm sheltered aspect, and fantastic changing facilities with its long line of proper beach changing-rooms with lockable cabin doors, and a really great beach-cafe at the end of the run, with proper table and bench sets like you get in the park...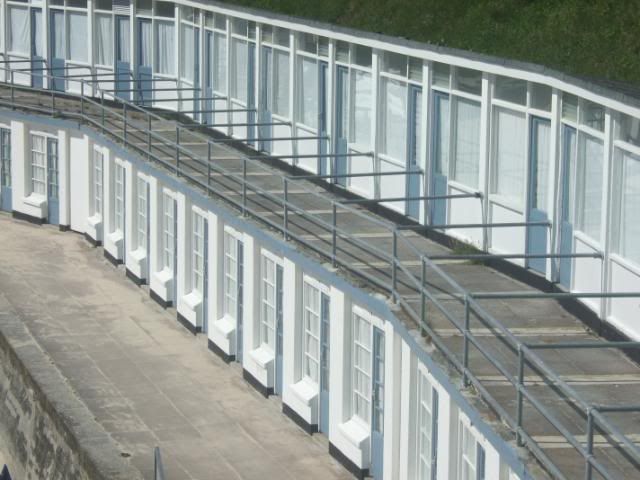 This is a beautiful sheltered little beach to walk along at the end of the day...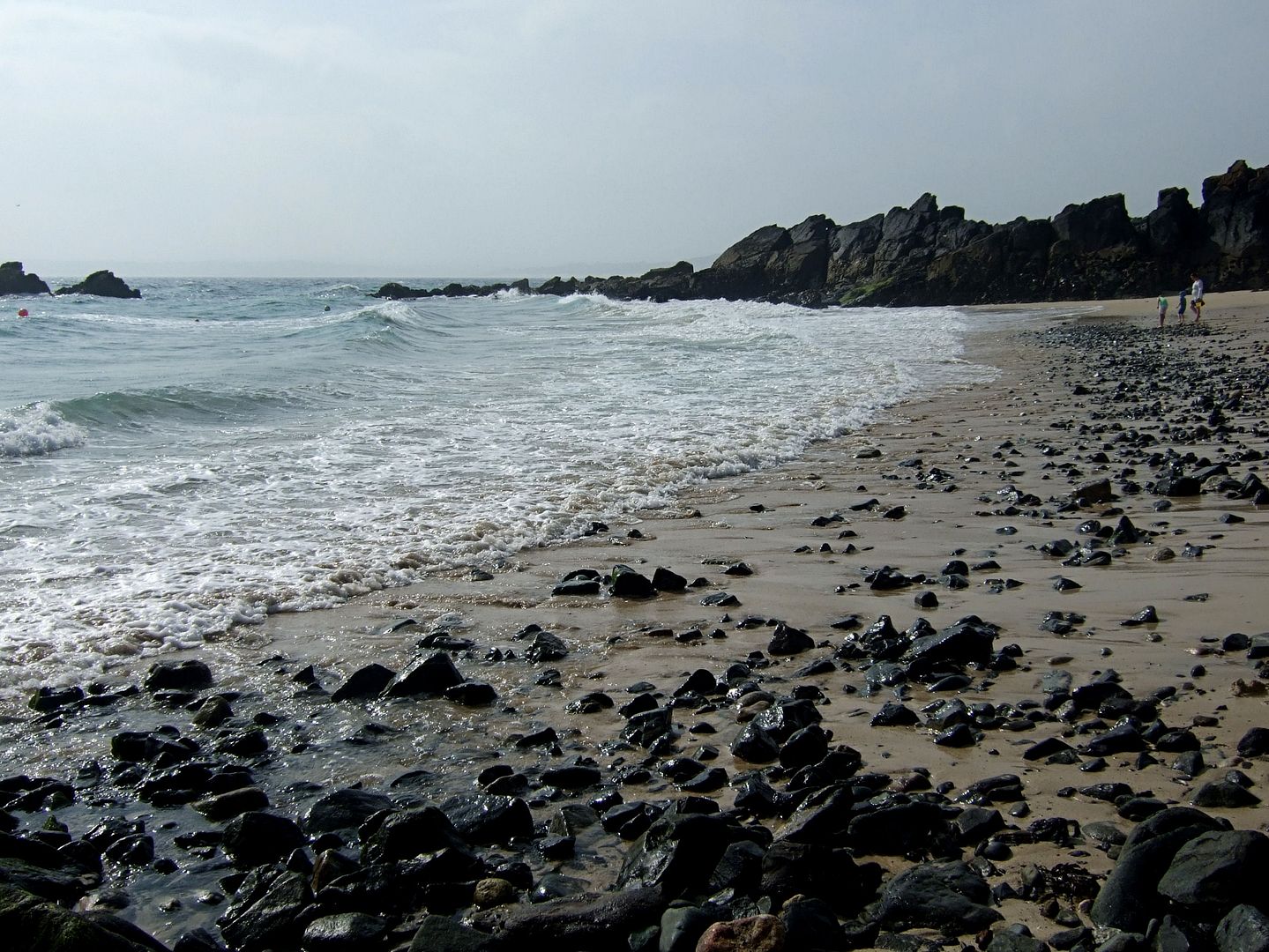 St.Ives was as lovely and restful as ever, and the local food was fab...fabulous Cornish ice-cream, Cornish pasties, fish and chips and mushy peas, and of course, the locally-caught grilled mackerel, and all washed down with good West Country cider - yummm !!
Can't beat it !!