RHS WISLEY...
( OF CYCLAMEN WOODS, GLASSHOUSE ORCHIDS AND THE BIGGEST ROCKERY IN THE WORLD !!)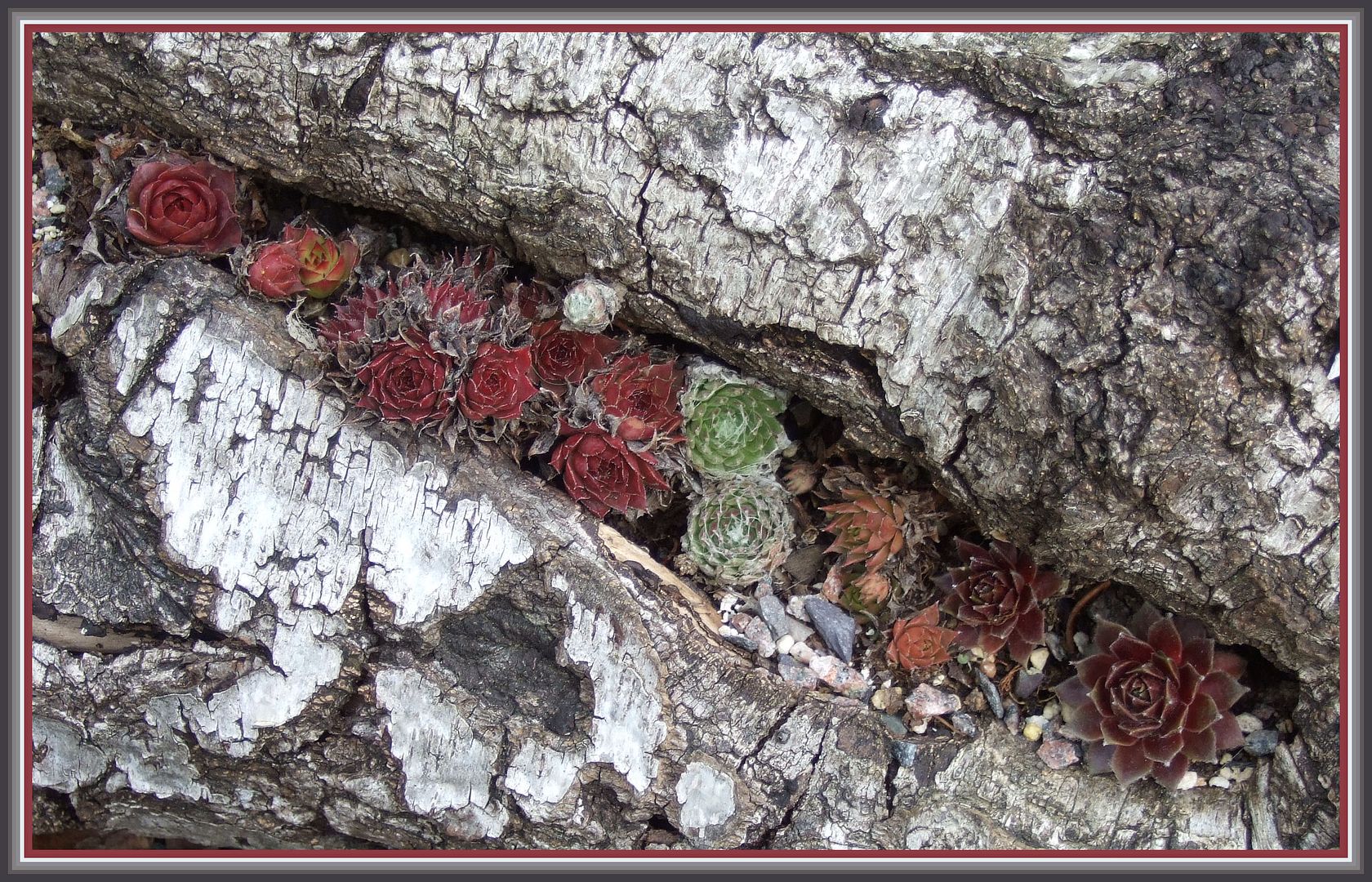 Last weekend, for the first time, I got to go to RHS Wisley, down in Surrey - Adam had to go in to work just for a couple of hours, because they had a book-signing event going on, so it was a perfect opportunity for me to go and see this beautiful place...
It was the sunniest day of the year so far, so we had beautiful weather all day to enjoy this amazing garden...
RHS Wisley is a huge garden, comprising around 240 acres of ordered walled gardens, bordered walks, rolling flower meadows, wooded hills, and possibly the largest and most impressive rockery in the world...there are trial gardens where they grow new varieties of fruit and vegetables to test out their hardiness, small Alpine glasshouses with waist-high beds, where you can examine and photograph the tiniest flowering plants at eye level, and the biggest and best Tropical Glasshouse to rival anything outside Kew Gardens itself...
HISTORY
The information about the history of Wisley is all on the RHS website and makes for interesting reading...
"The Royal Horticultural Society was given Wisley in 1903, although at that time only a small part of the 60-acre estate was actually cultivated as a garden, the remainder being wooded farmland. The original garden was the creation of George Fergusson Wilson - businessman, scientist, inventor and keen gardener and a former Treasurer of the Society.

In 1878 he purchased the site and established the 'Oakwood experimental garden', with the idea of making 'difficult plants grow successfully'. The garden acquired a reputation for its collections of lilies, gentians, Japanese irises, primulas and water plants. The present Wild Garden at Wisley is the direct descendant of Oakwood and despite changes is still true to the original concept.

After Wilson's death in 1902, Oakwood and the adjoining Glebe Farm were bought by Sir Thomas Hanbury, a wealthy Quaker who had founded the celebrated garden of La Mortola, on the Italian Riviera. In 1903, Sir Thomas presented the Wisley estate in trust to the Society for its perpetual use.

That little piece of info was all from the RHS Wisley website here :-
www.rhs.org.uk/Gardens/Wisley
THE MAIN LAB AND GARDENS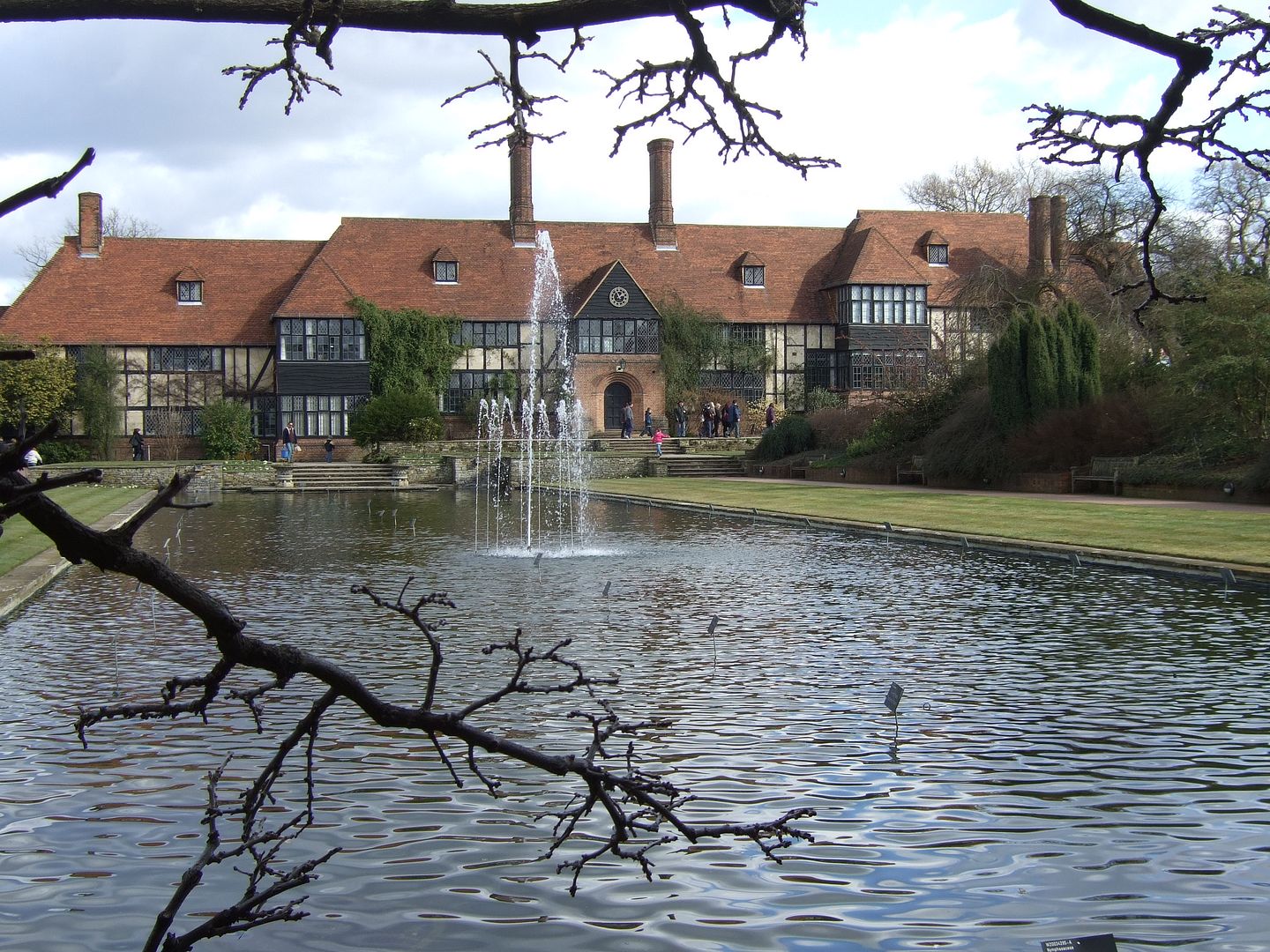 This beautiful old building is the main RHS Research Lab where all the scientific and botanical experimentation stuff takes place - this is where all the trial garden data is examined and used to make decisions about what to release to the public and what recommendations to make for the cultivation of various new plants...fruit, vegetables, flowering plants and shrubs and trees all get researched here and named too...
In front of this lovely building is a very long pool with a fountain, and later in the year, hundreds of water-lilies, which are in flower all through the Summer months - hence all the stick things in the water - they are name labels !!
At the moment, the water-lilies are all dormant of course, but subsequent visits will yield lovely photos of this pool, I suspect !
At the other end of the pool is a pavilion from where you can shelter from the rain and take photos of the main house and pool to your heart's content...behind the pavilion are a couple of formal gardens, the first of which is laid out in diamond shaped beds with brick paths running in a criss-cross pattern, and a huge formal urn at the centre...the seedlings are all just beginning to sprout of course, but in the Summer, this is an absolute riot of colour...
During the Winter and early Spring, the colour is provided by little bright red and orange Dogwood plants - just like at Hyde Hall, they are in their element here...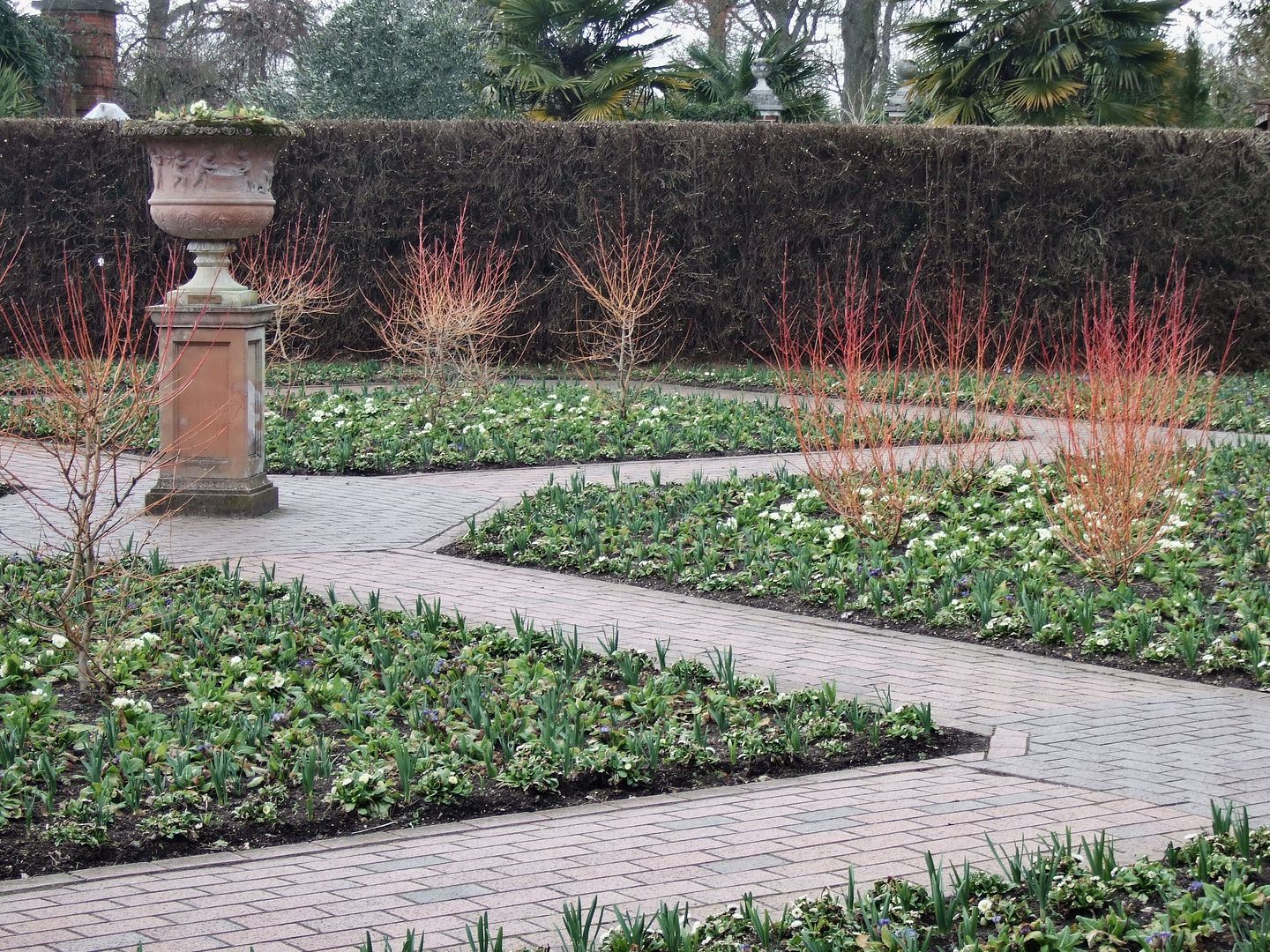 Behind this formal garden is another, which is laid out along traditional Italian designs, with a rectangular pool running down the middle with a little bridge and lots of formal flower beds, with various types of palm trees and large shrubs - a lovely place to sit and contemplate the world...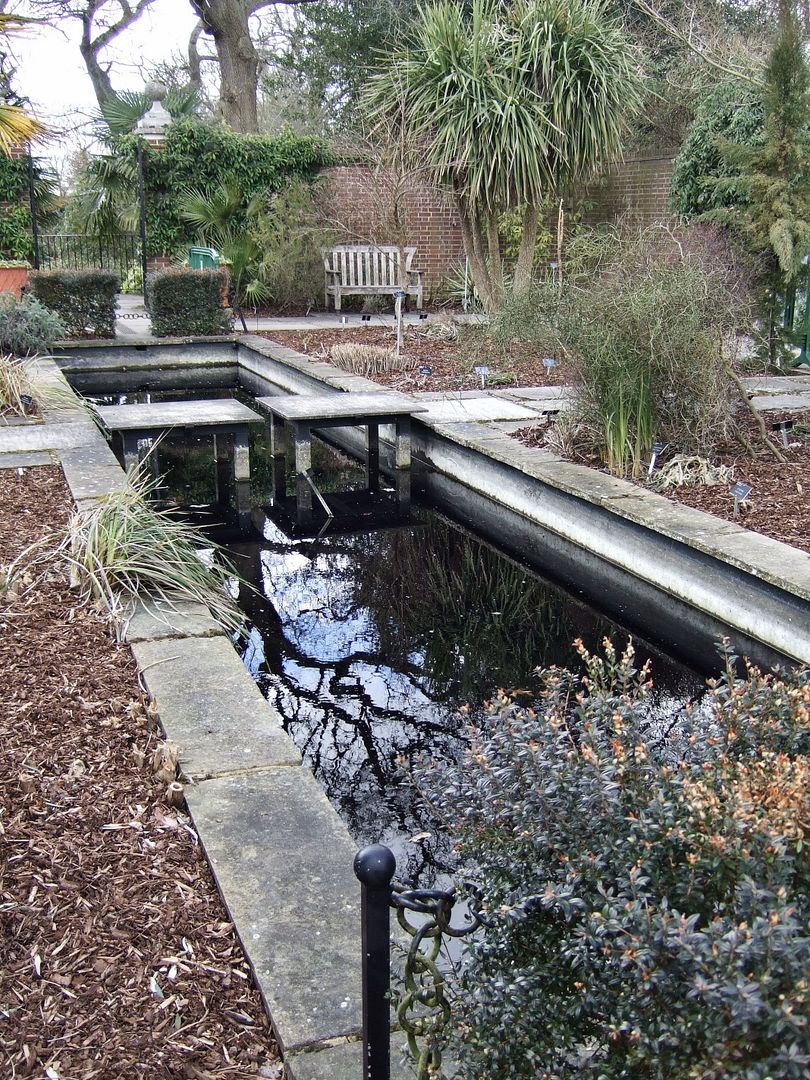 BATTLESTON HILL
Off to the right of the Research Labs is a large wooded hill, called Battleston Hill, which has been planted with enormous Spring-flowering shrubs, most notably Azaleas and Rhododendrons, which are out in flower a tiny bit later on, and of course, a huge range of Camellias which are most decidedly out now...here are two of the best:-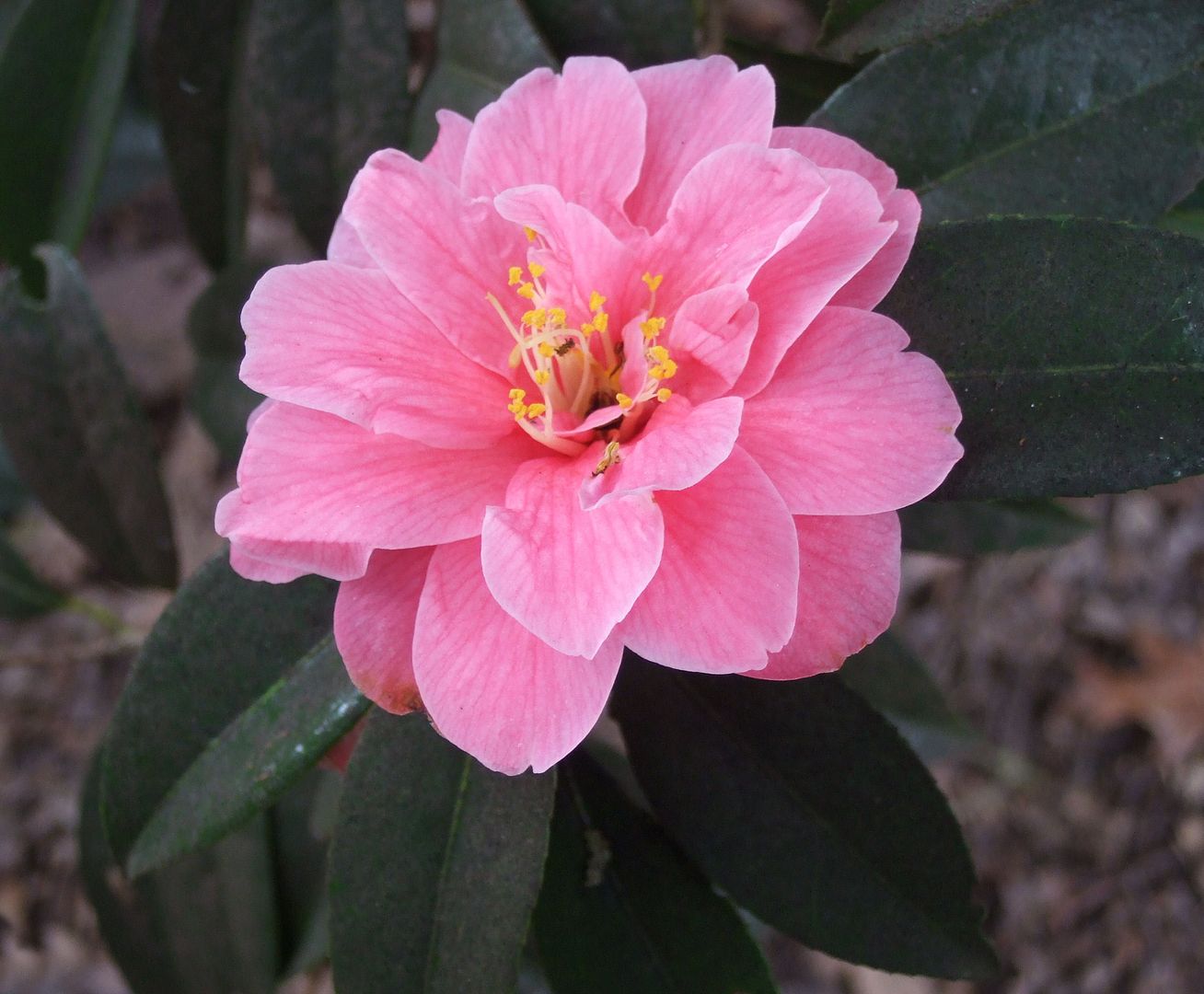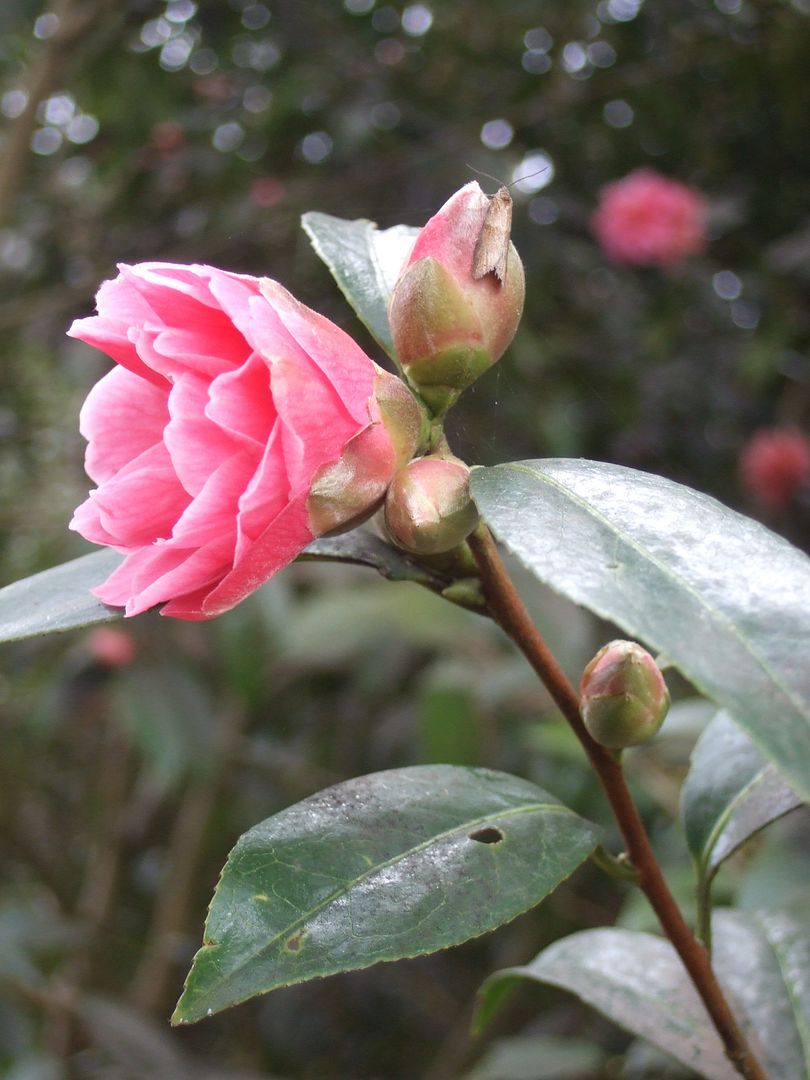 Camellia 'Maud Messel' -
in glorious pink, with insect friend...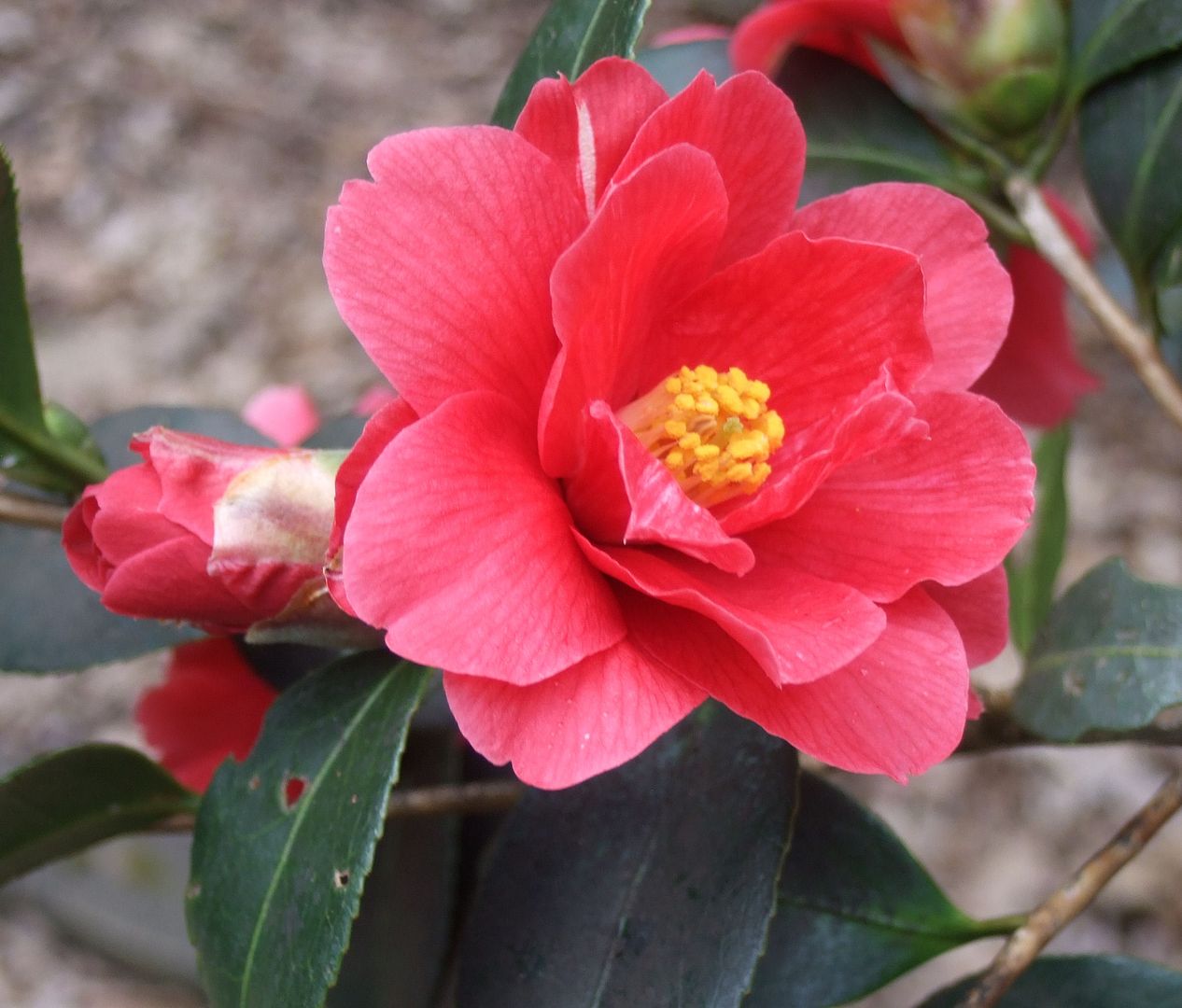 Camellia 'Freedom Bell'
in bright red...
Also, all over this wooded hill are clumps of beautifully naturalized bulbs - snowdrops, Iris Reticulata, and everywhere naturalized Cyclamen, which drift all around the base of trees in beautiful swathes of brilliant pink flowers and zig-zag patterned leaves...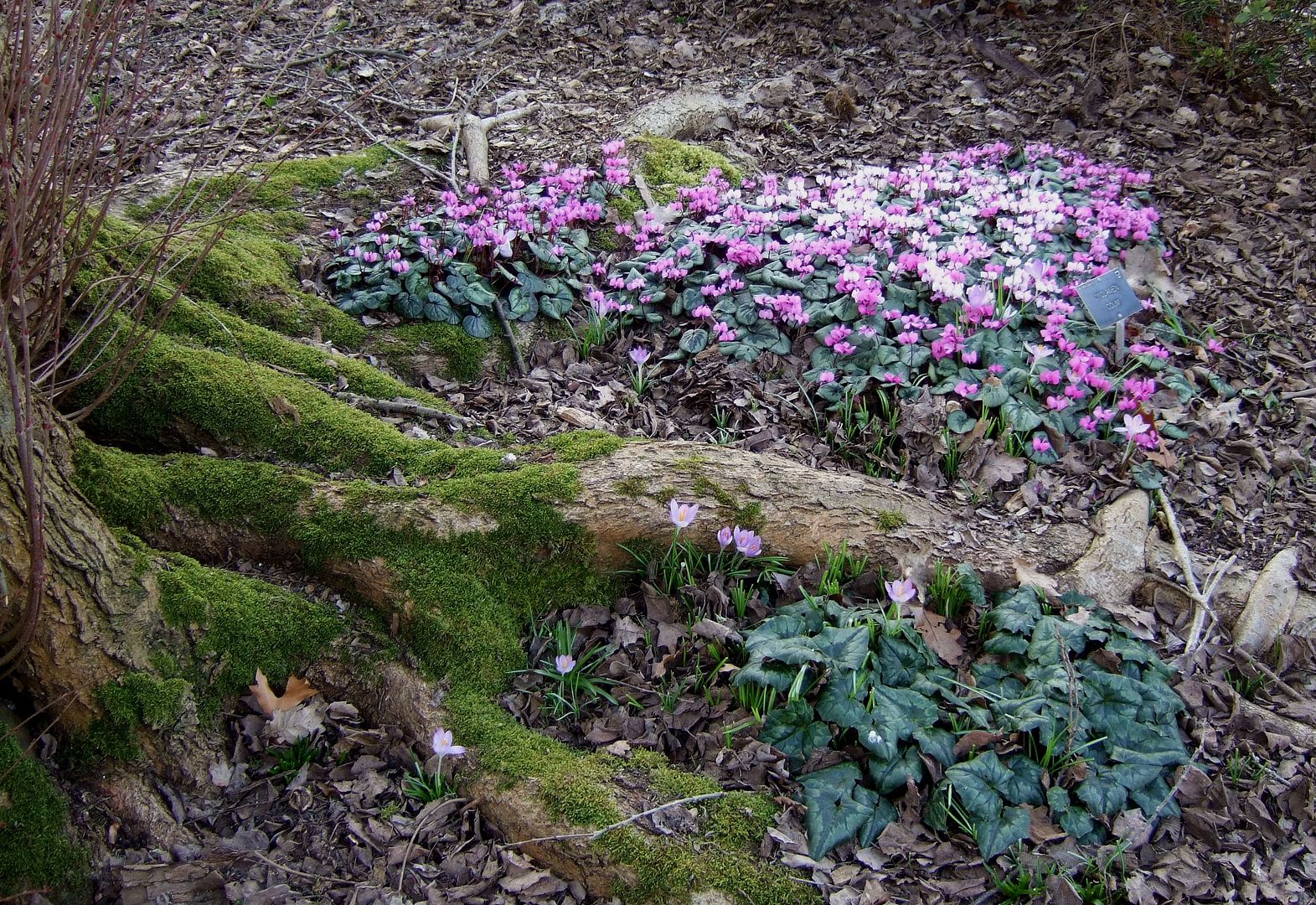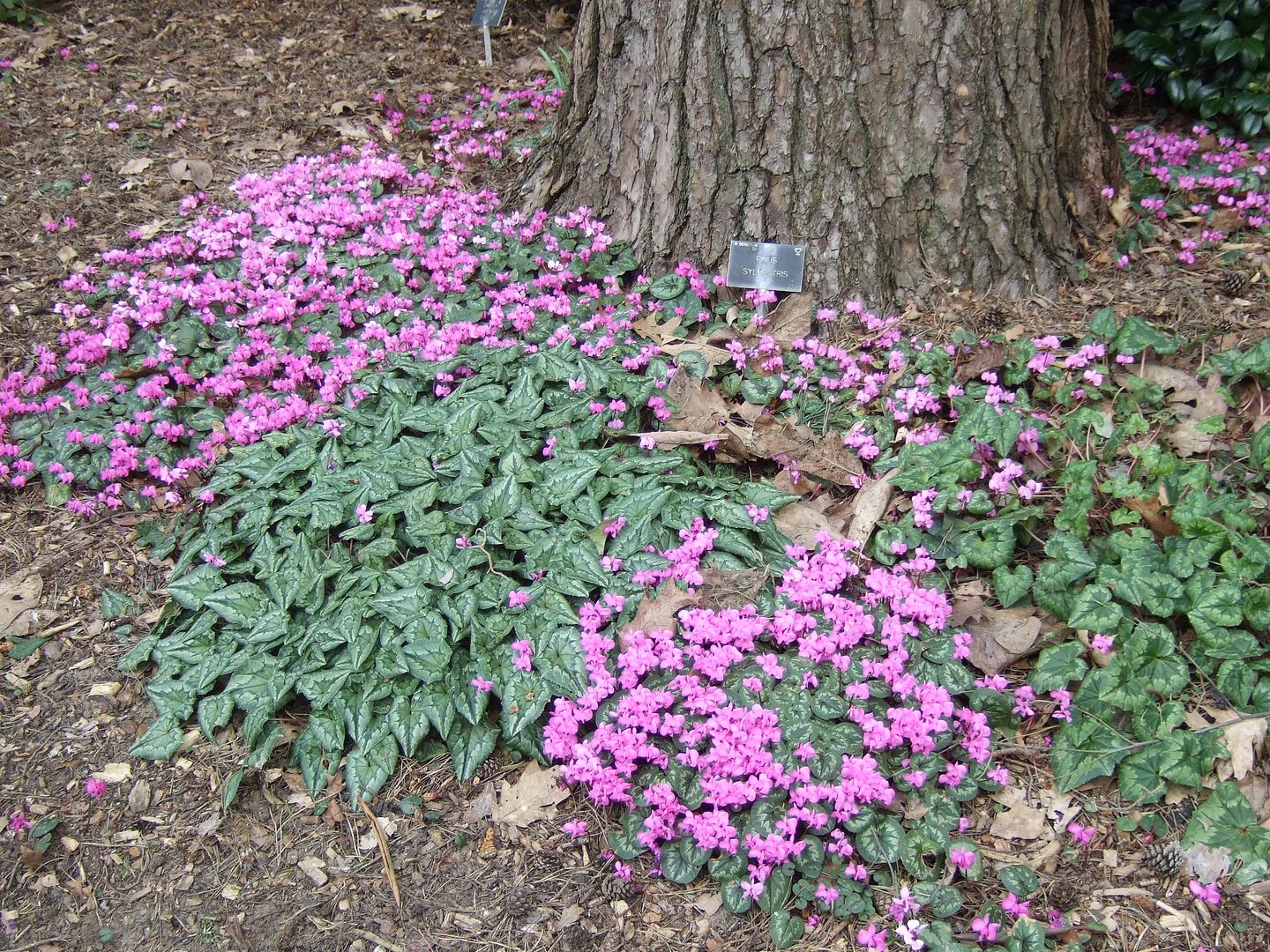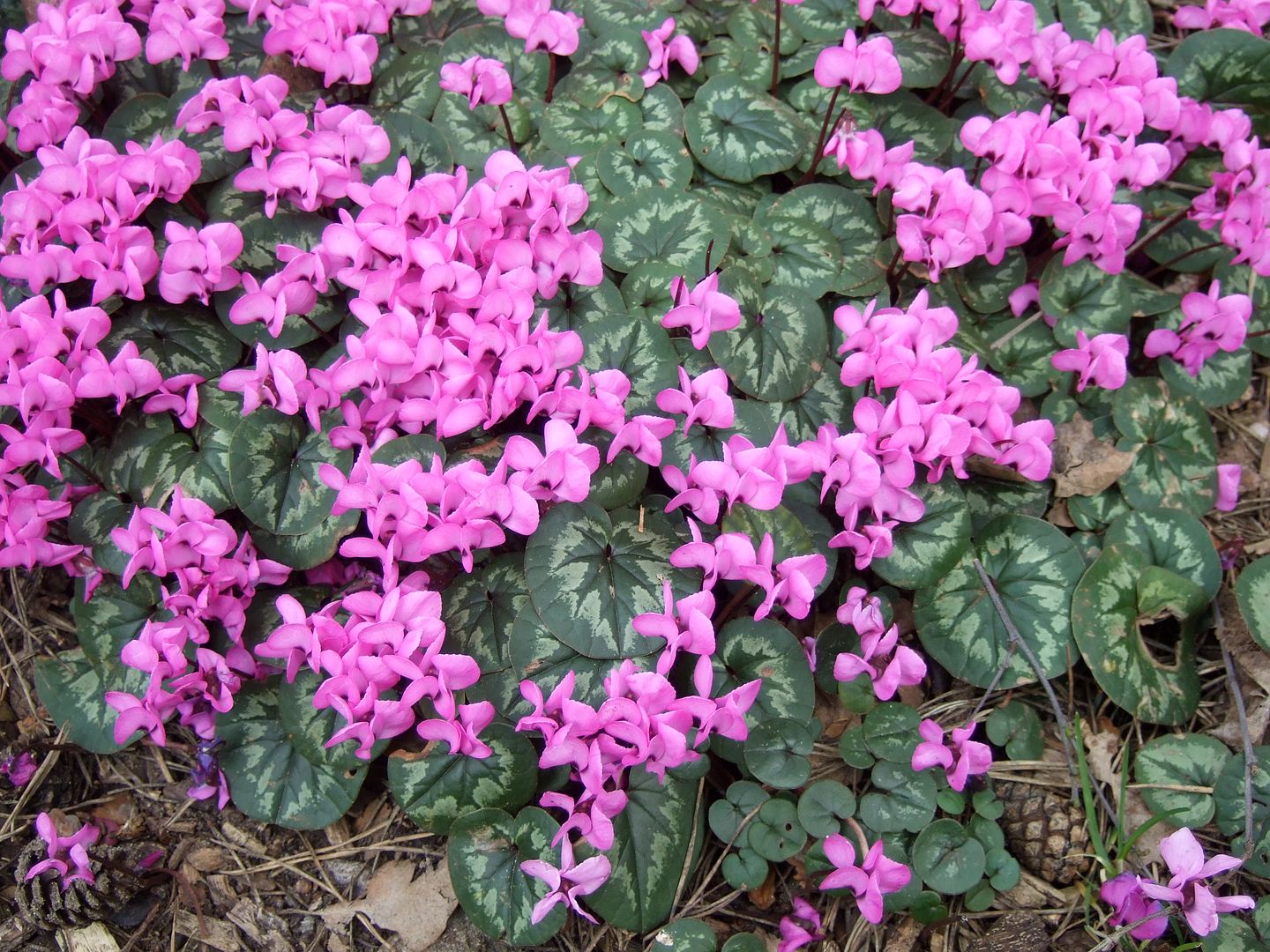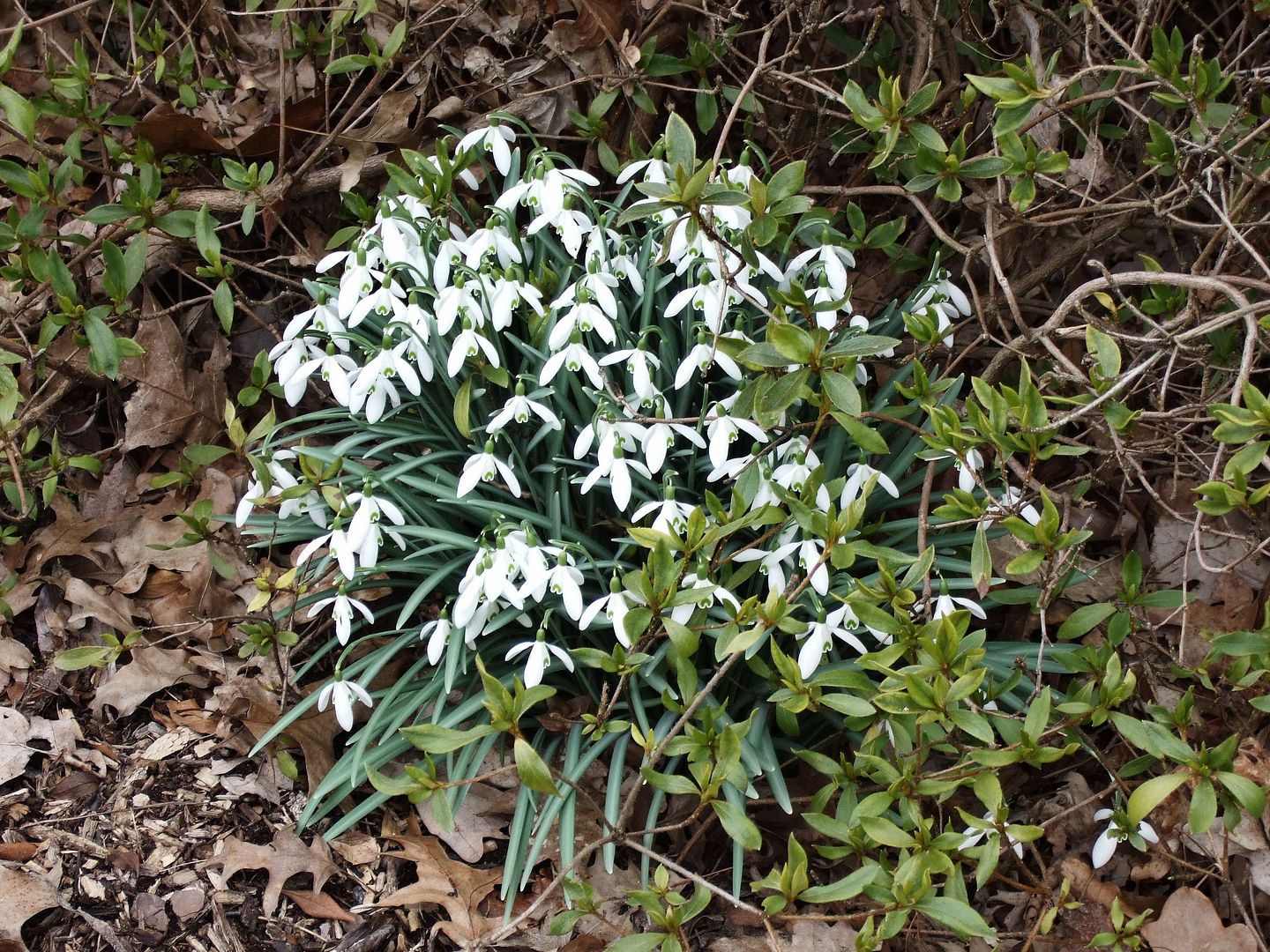 Snowdrops are out in force everywhere at Wisley too...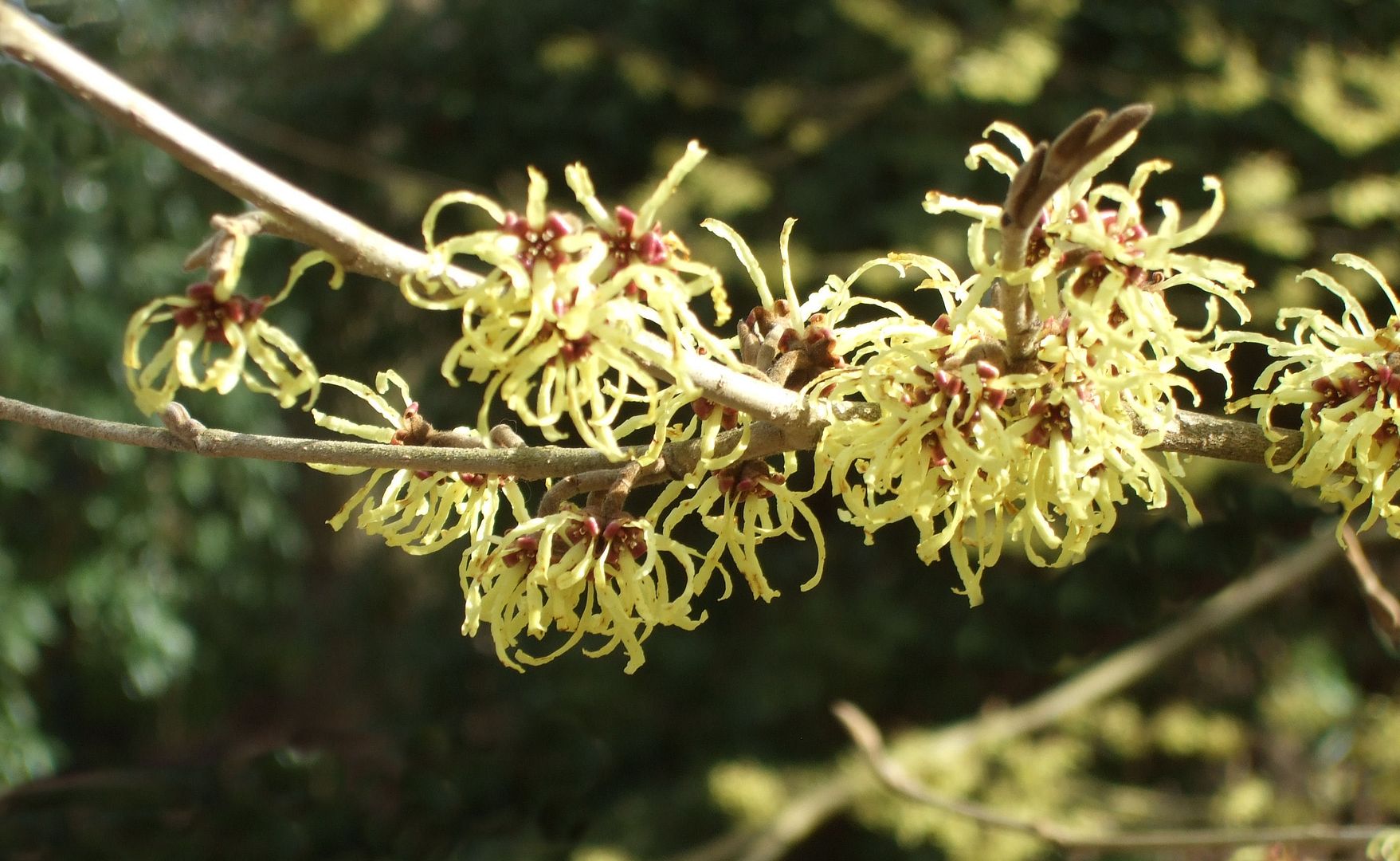 Bright yellow Witch-hazel -
Hamamelis 'Wisley Supreme'
with its curly yellow petals and fiery red centres...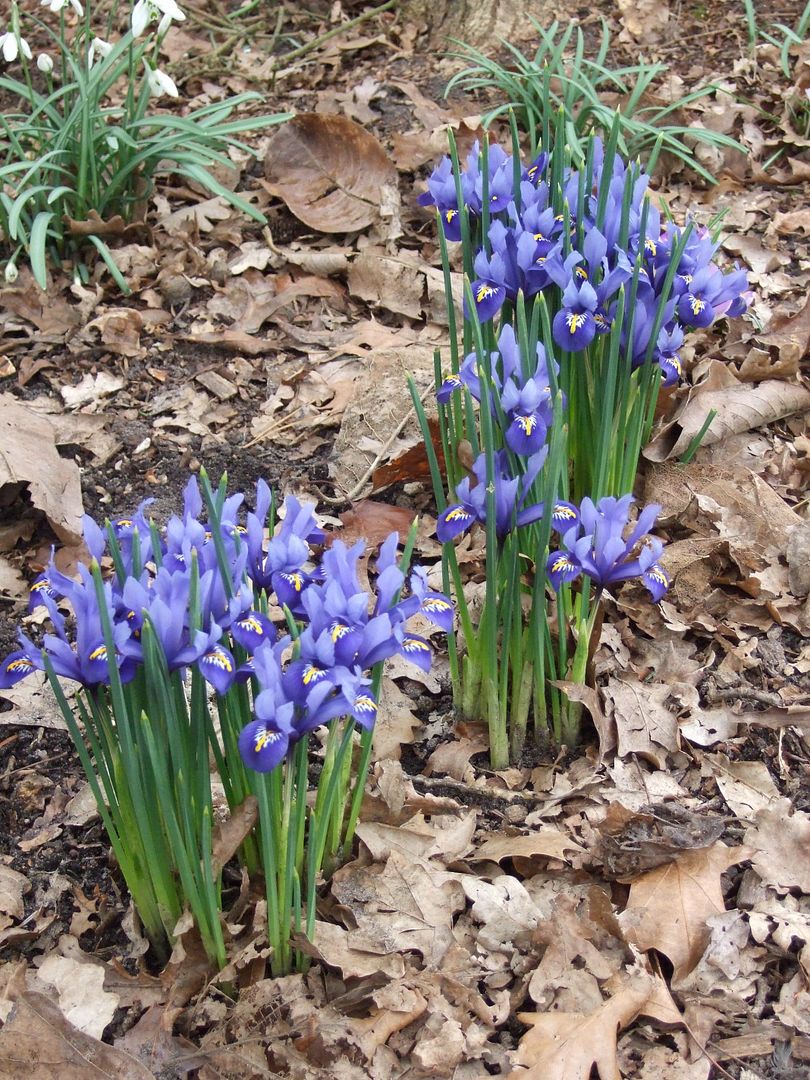 This tree trunk caught my eye because of its lovely spiralling ribs...like the folds of a long dress !!
Also, there were loads of dinky little clumps of
'Iris Reticulata'
springing up through all the leaf litter on the woodland floor...this is one of my own favourite Spring bulbs...
Coming out from Battleston Hill at the top, I came level with the huge Henry Moore sculpture at the top of the longest, longest bordered lawn walk...
During the Summer, these beds are fully stocked with a gorgeous herbaceous border, with small plants at the front and toweringly tall, spiky plants at the back - this is an absolutely amazing sight and so this will be a marvellous place to photograph over the coming months...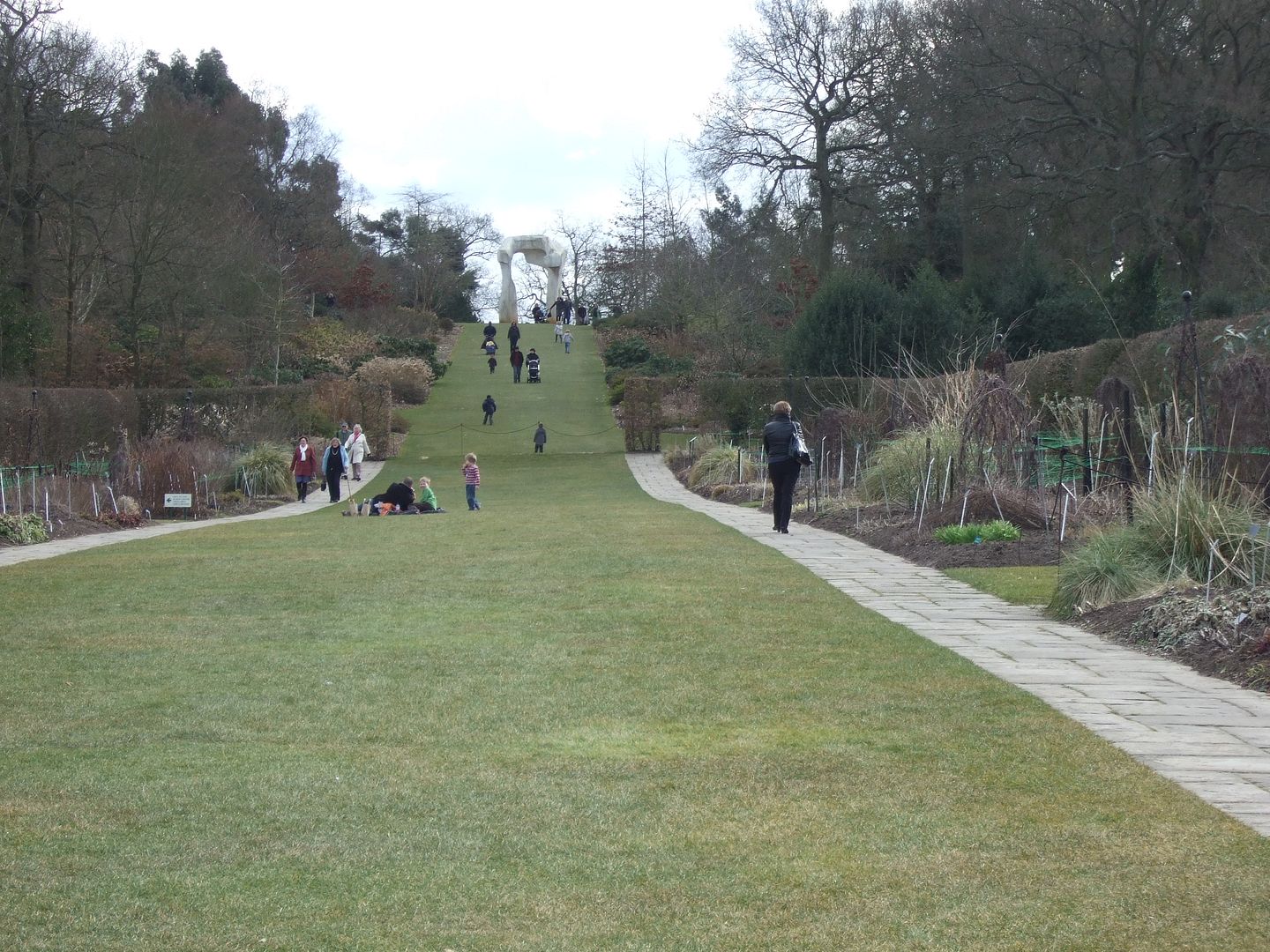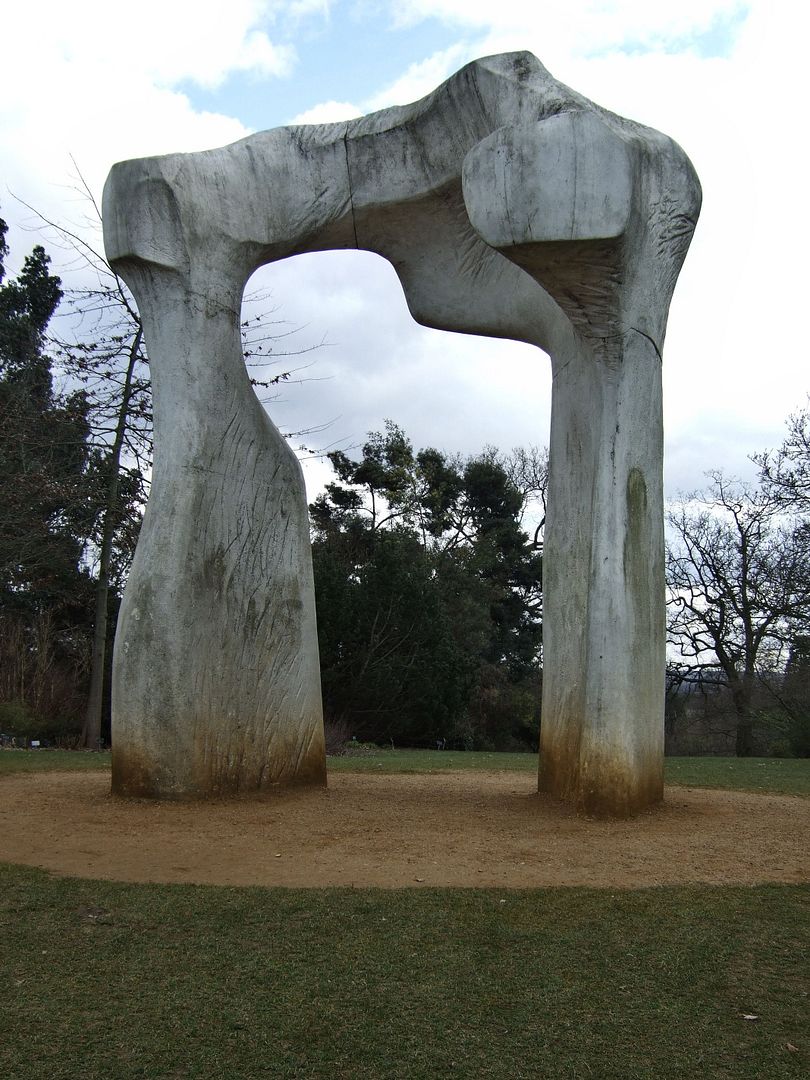 SHOW AND TRIAL GARDENS
This enormously long herbaceous border-walk takes you from the Research Labs down below, all the way up to the Show and Trial Gardens at the top, where all the field trials and tests are carried out - all the practical growing work is done up here, and you can learn a lot about how to do the home-grown fruit and veg thing here too, as there are how-to tips written everywhere...
There are also a selection of gardens laid out here which have been featured at the Chelsea Flower Show in recent years, which were very interesting indeed...seeing as I am an avid viewer of this show on TV when it happens, and this year, for the first time, I have got tickets for me and my sister to attend, I was very interested to see these gardens laid out here - you always wonder what happens to the actual gardens themselves after the show is done, and Wisley repositions them up here for everyone to see !!
Here are my two favourites...
HERB GARDEN
I really liked this formal Herb garden, all laid out in a circular arrangement of beds, with the bigger shrubs around the edge and the lower growing plants towards the centre, around a large chrome Astrolabe, or at least that's what it looks like...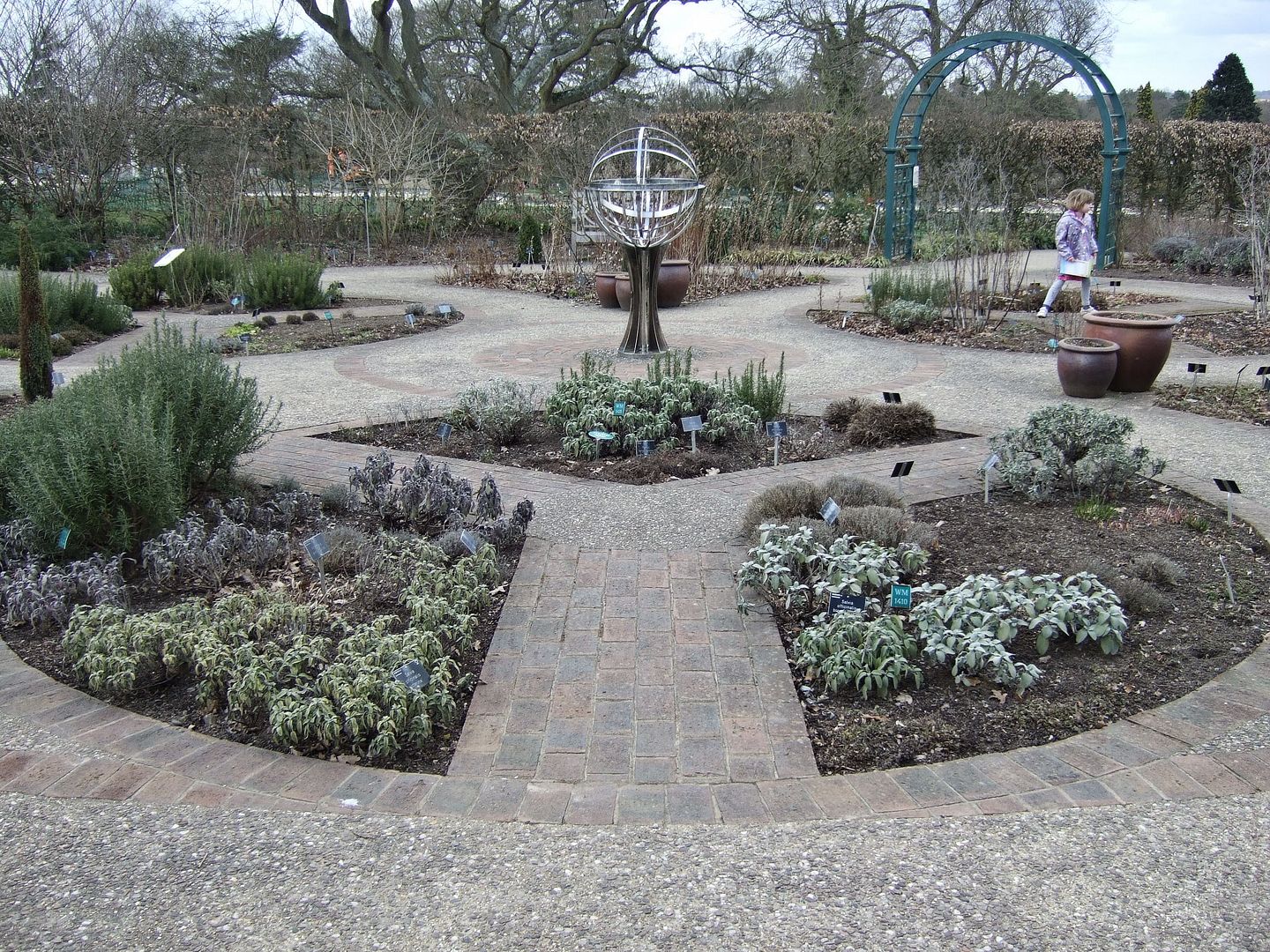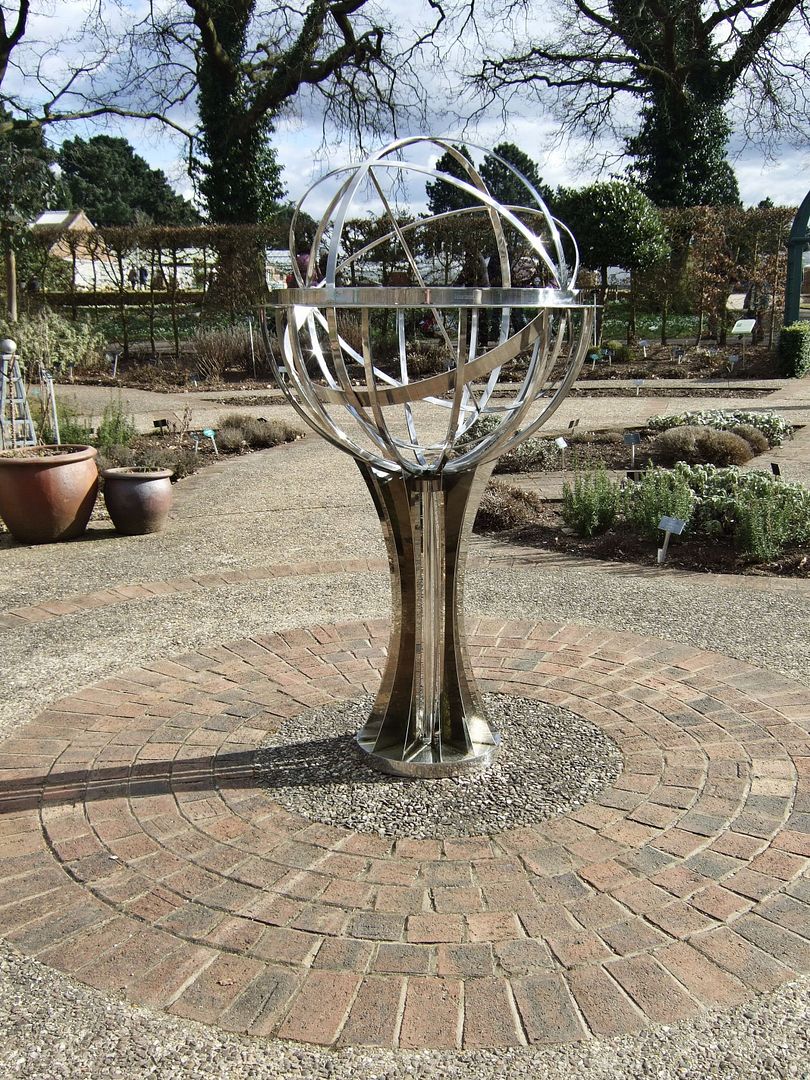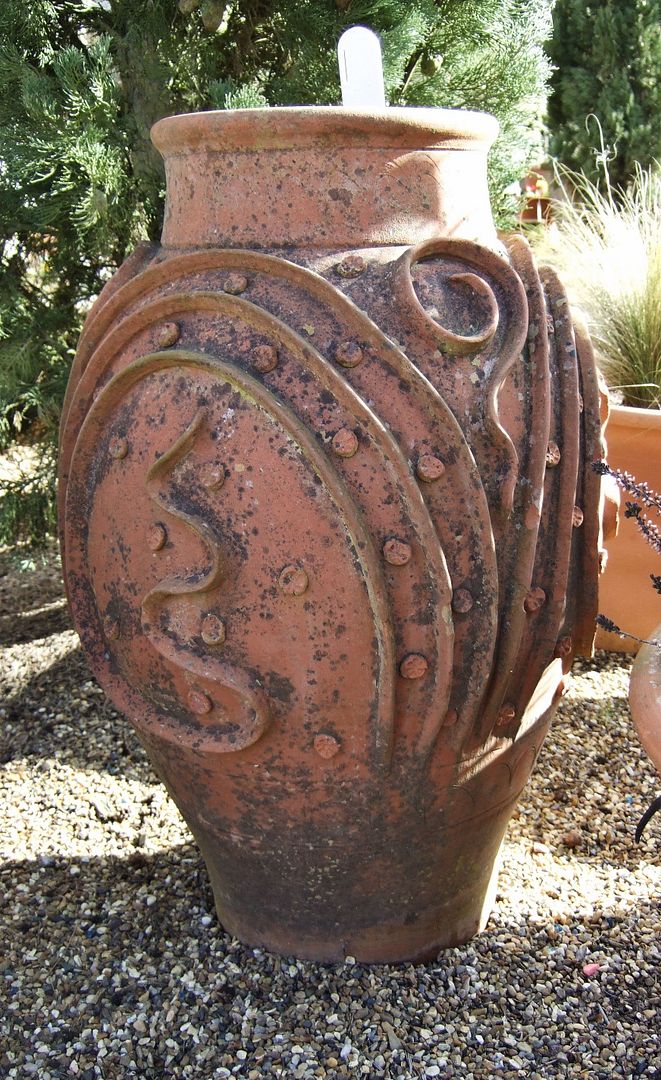 Near this garden was a little plot given over to a garden pot company, and this pot caught my eye with its wiggly snake pattern...this is definitely on my Wish List !! Isn't it wonderful...
JAPANESE BONSAI GARDEN

There was also a beautiful Japanese traditional garden with a raked gravel centre set about with ornamental stones, and a large quantity of beautiful Bonsai trees growing happily in their pots all around, some of which were up to two hundred years old...amazing !!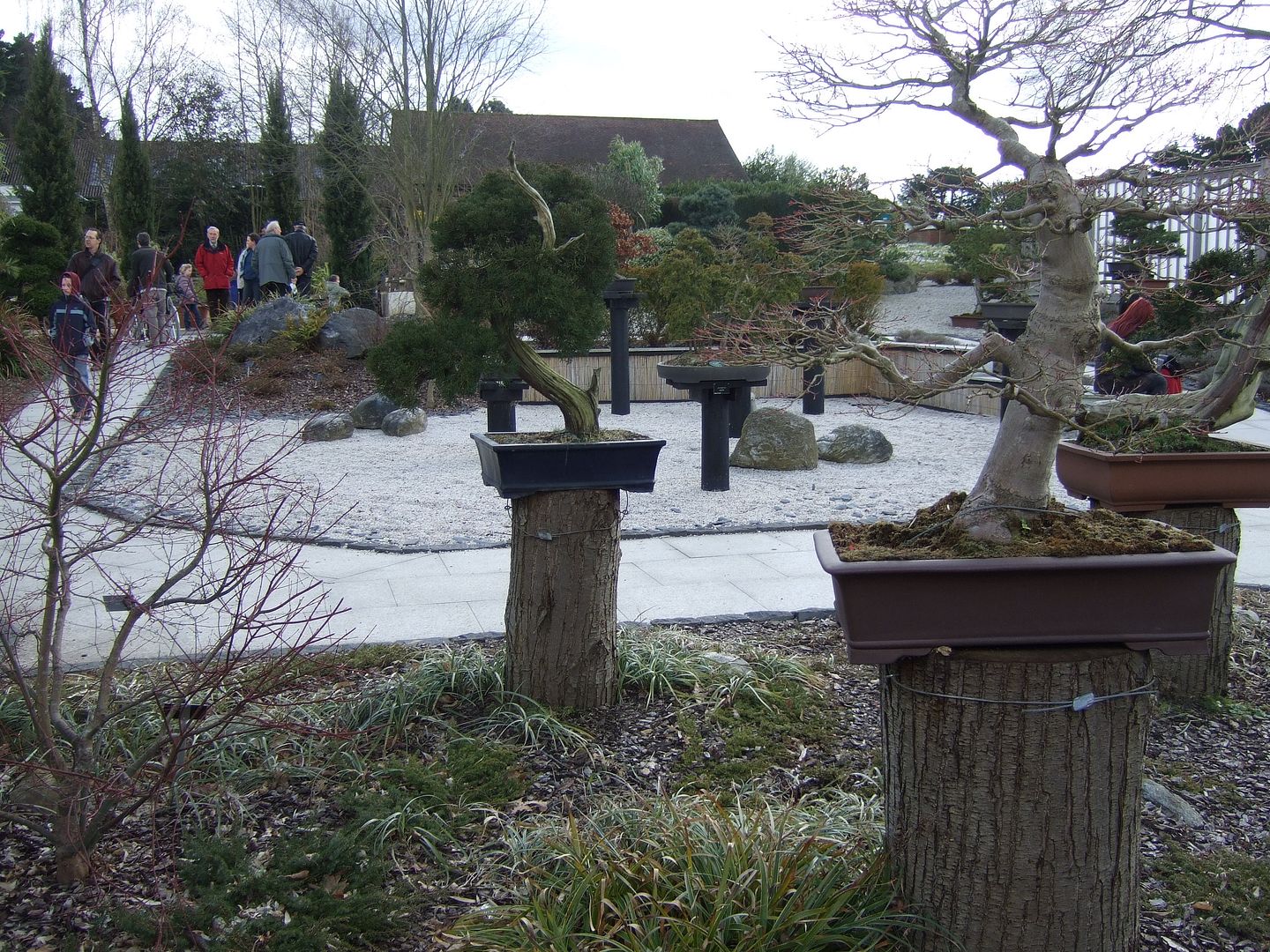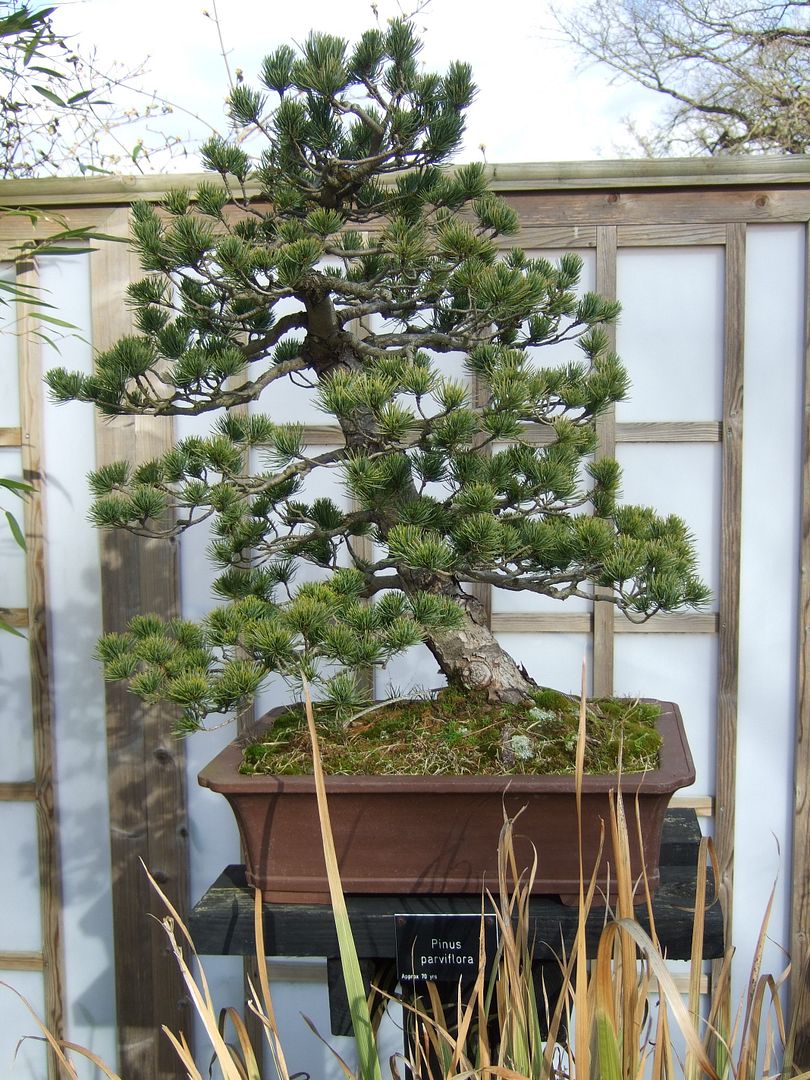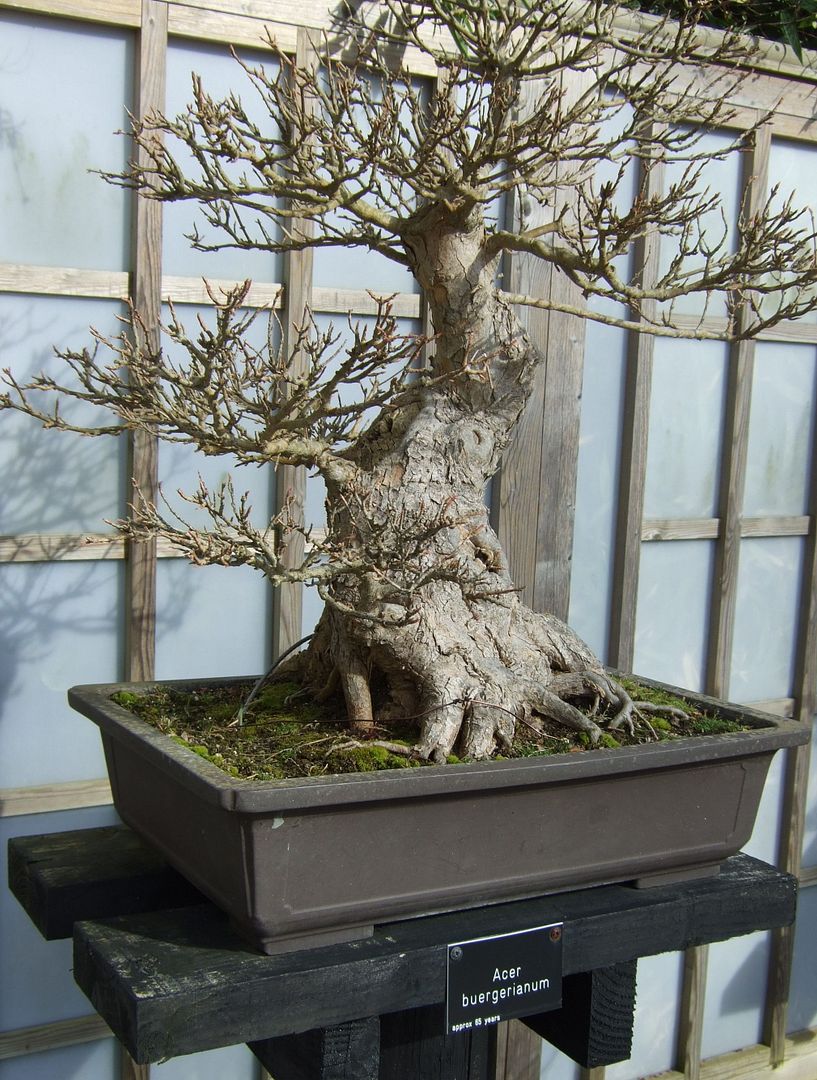 '
Pinus Parviflora
' which is aproximately 70 years old, and '
Acer Buergerianujm',
a maple tree
which is slightly younger at about 65 years old...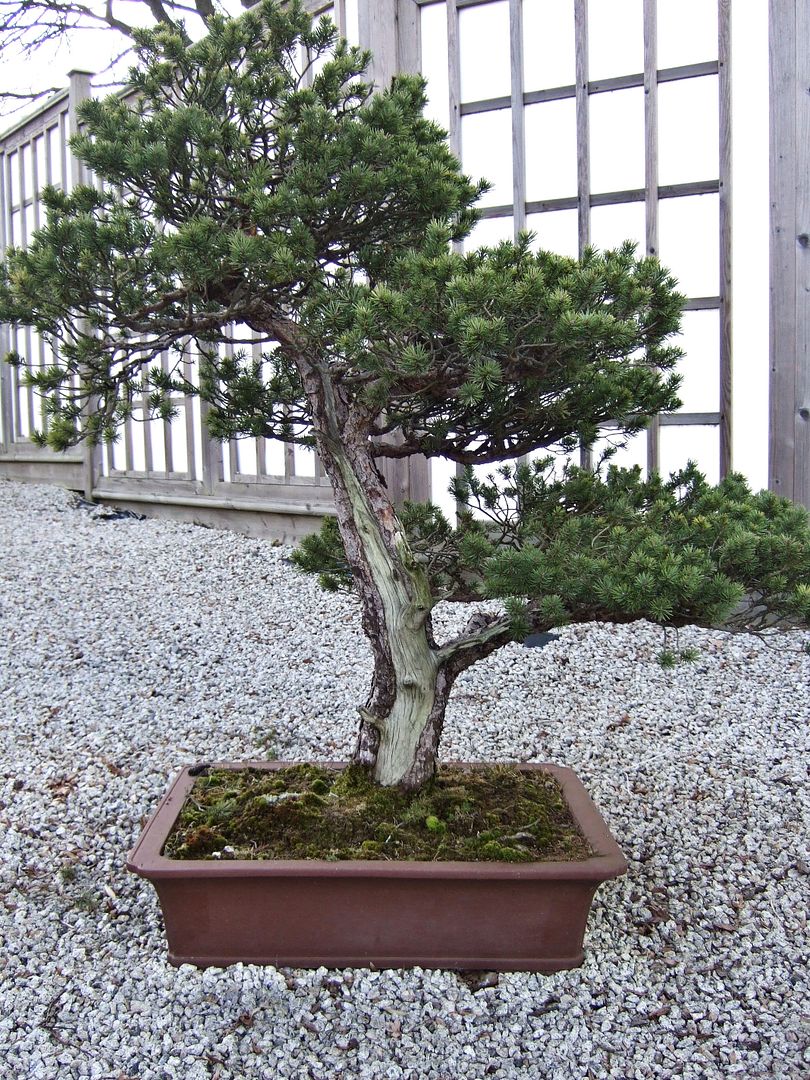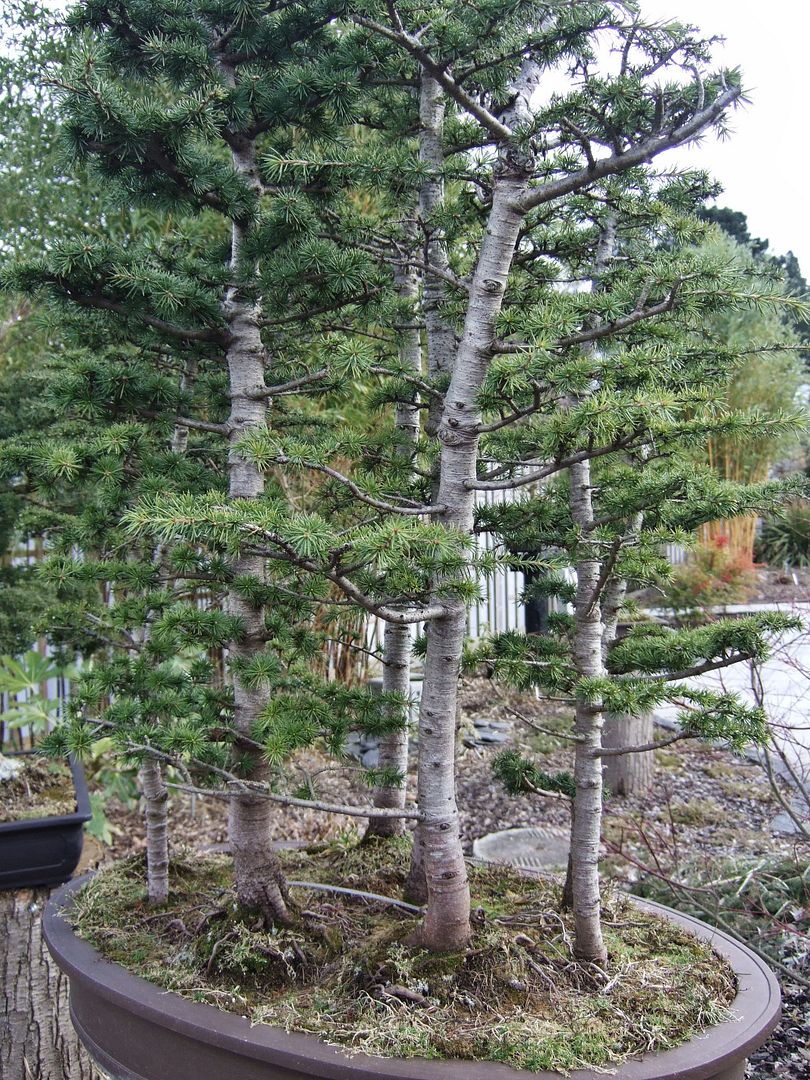 I didn't get the information about these other two, but the first looks like a Pine tree also, and the trees in the second picture look suspiciously like Silver Birch trees, in a great clump, just like they grow in their full size versions...although their leaves look like pine needles rather than leaves !!
FRUIT TRIALS AND TEACHING GARDENS
Next along from the ex-Chelsea Display gardens were the trial plantings and the teaching gardens, where you can learn all about fruit tree growing and vegetable plots - a very important subject in this world of 'Grow Your Own Food' and environmentally friendly ways of gardening in general...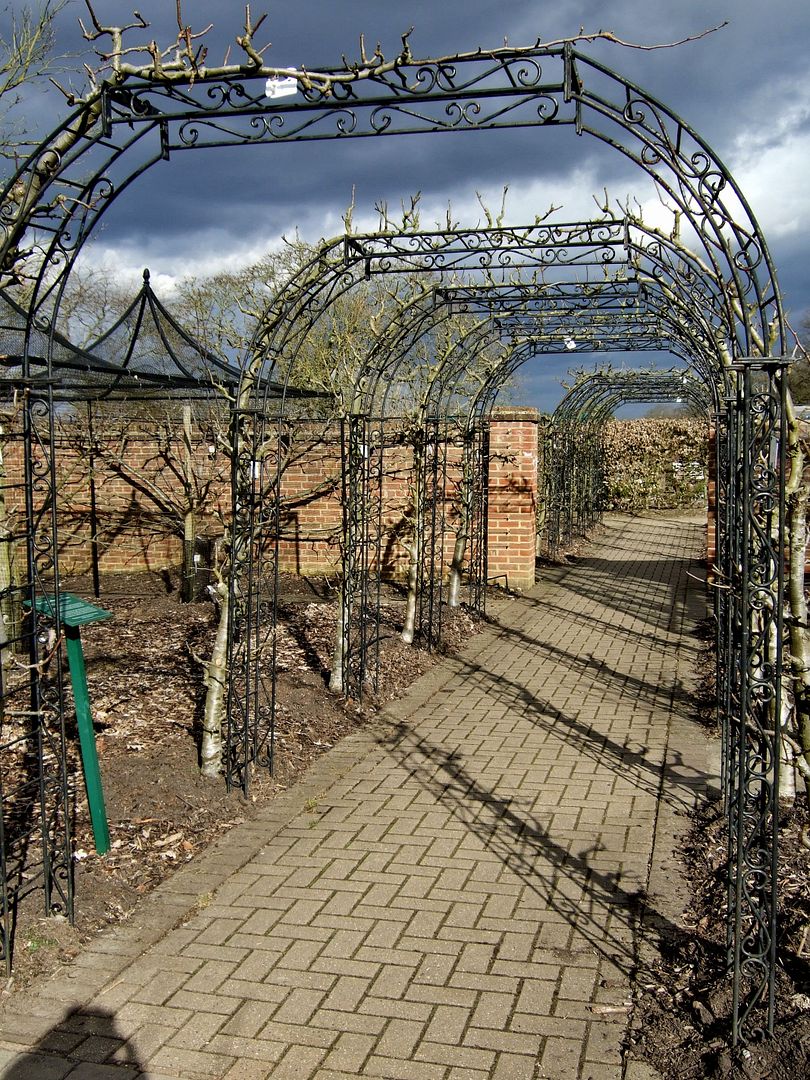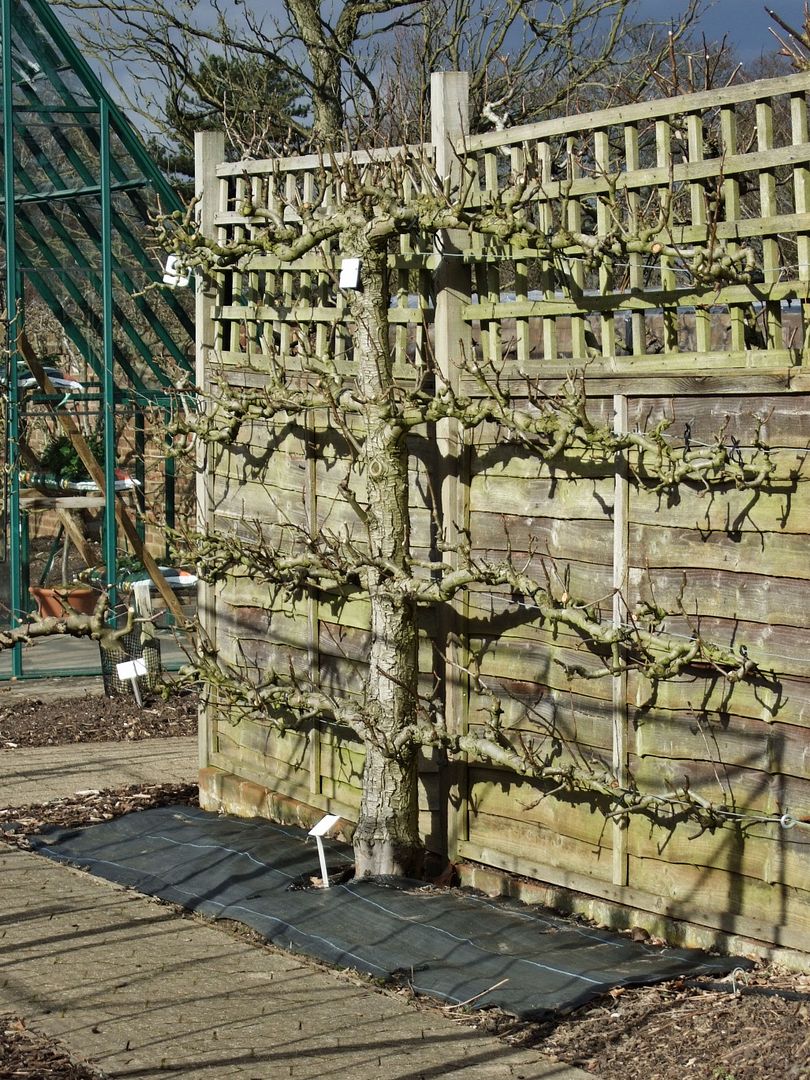 Apple cordons trained over an arched walkway, leading into the area...this will be amazing next month when all the blossom is out...and next to that walkway were various pear trees, all beautifully espaliered against the fence...this one was a Conference Pear, trained into a perfectly flat-against-the-fence shape to maximise the amount of sun reaching the fruit, and to make it a hell of a lot easier to harvest the fruit come the Autumn...
Further over were the huge orchards, in the middle of which was a tiny hill, with a spiral path leading up to the top, lined all the way up with a visible history of the Apple tree in Britain, starting with a recently developed cultivar right at the bottom, and gradually going back in time with every successive tree, until you reached the top and the last apple tree, '
Court Pendu Plat'
a dessert variety which was known to be eaten in Britain as long ago as pre-1200 AD...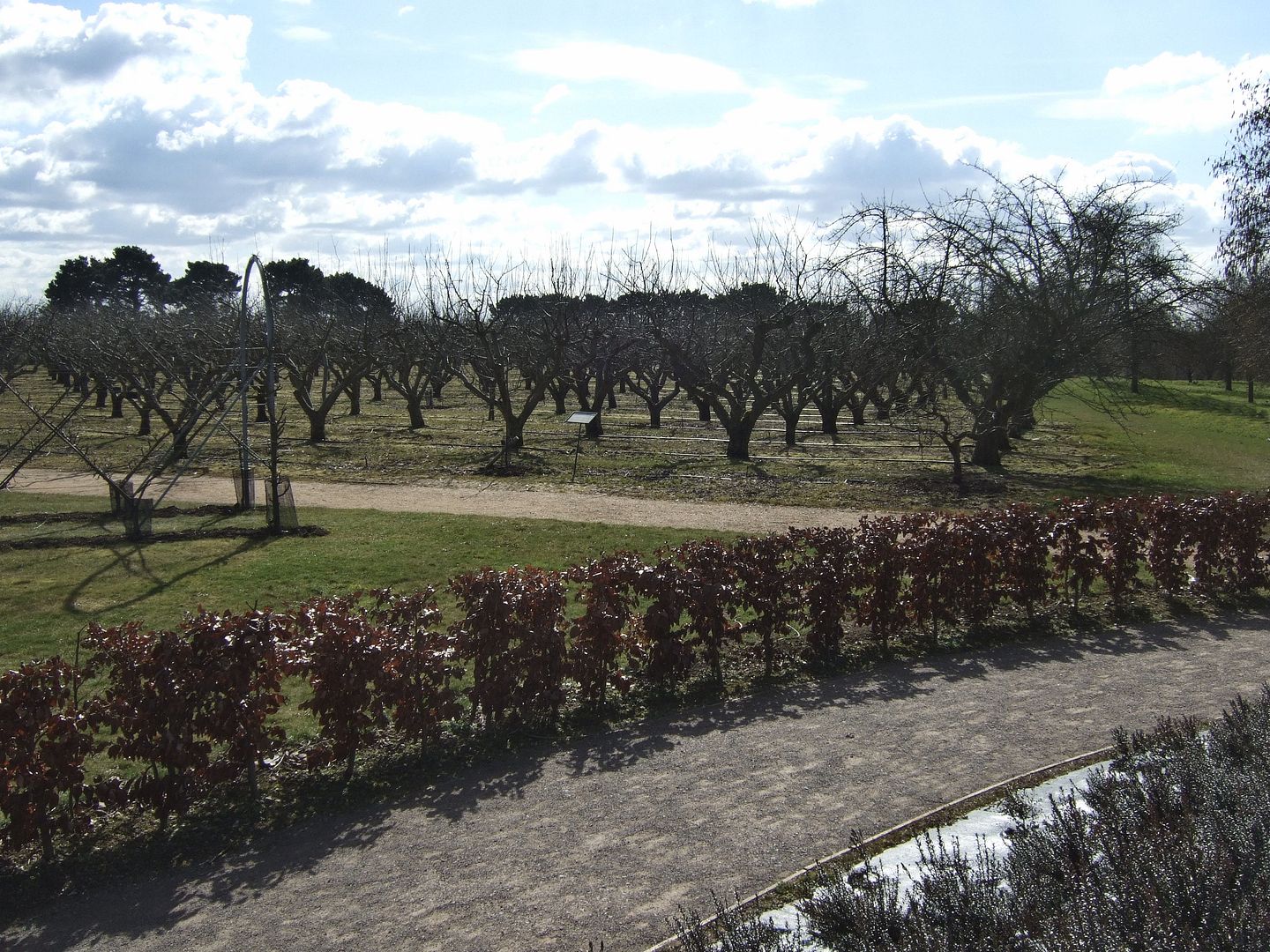 Here is the bottom of the spiral path, and the corner of the enormous apple orchards at Wisley...this is where they grow the fruit to make all the chutneys and jams that are marketed under the RHS brand name, in all the shops at these show gardens !!
Coming back from the orchards, and heading back towards the Trial gardens, I came across these amazing things - what ARE they ?!!
They look for all the world like a group of alien creatures that have just landed here, and are chatting together - look the furthest one has spotted me with the camera...
In truth, I think they're a particularly quirky set of basket-ware sculptures...but I like the alien theory better !!
ALPINE GLASSHOUSES
Between the Trial Gardens and the apple orchards were two little greenhouses that housed a huge collection of the tiniest plants in the world - this was the Wisley Alpine Collection, and the best thing about these are the fact that the beds down each side of the second house are raised up to waist level, to allow you to really examine the flowers in detail...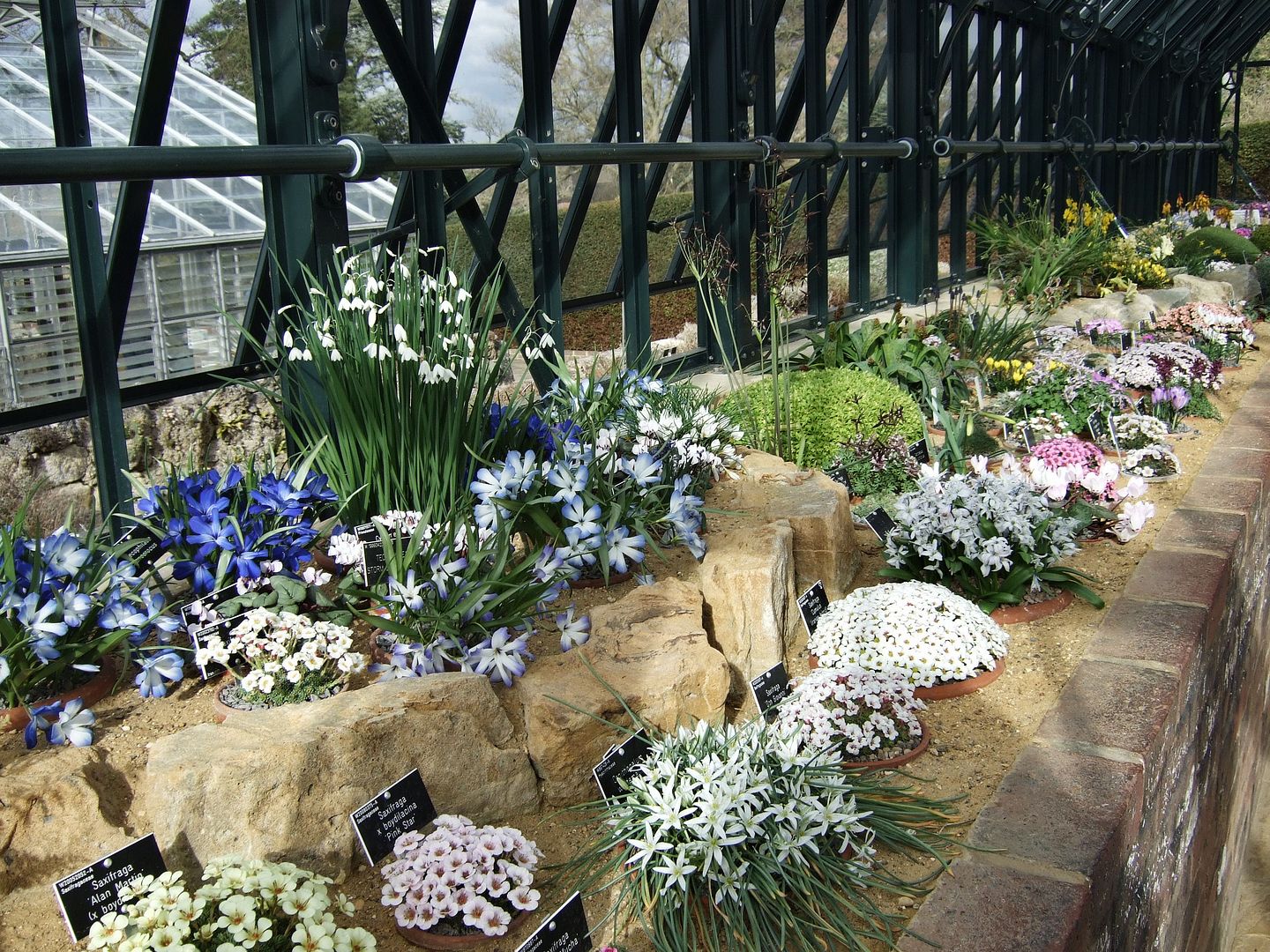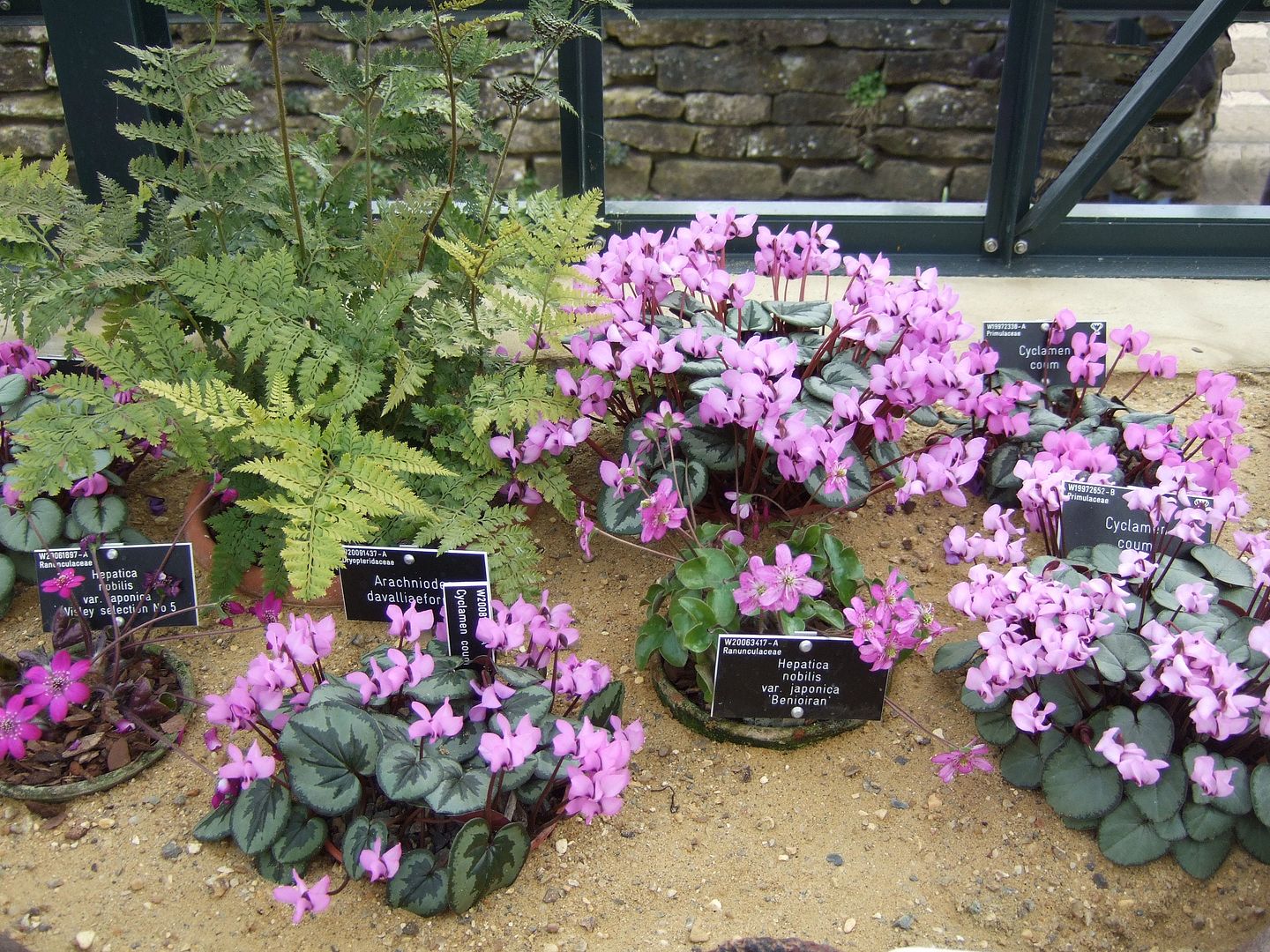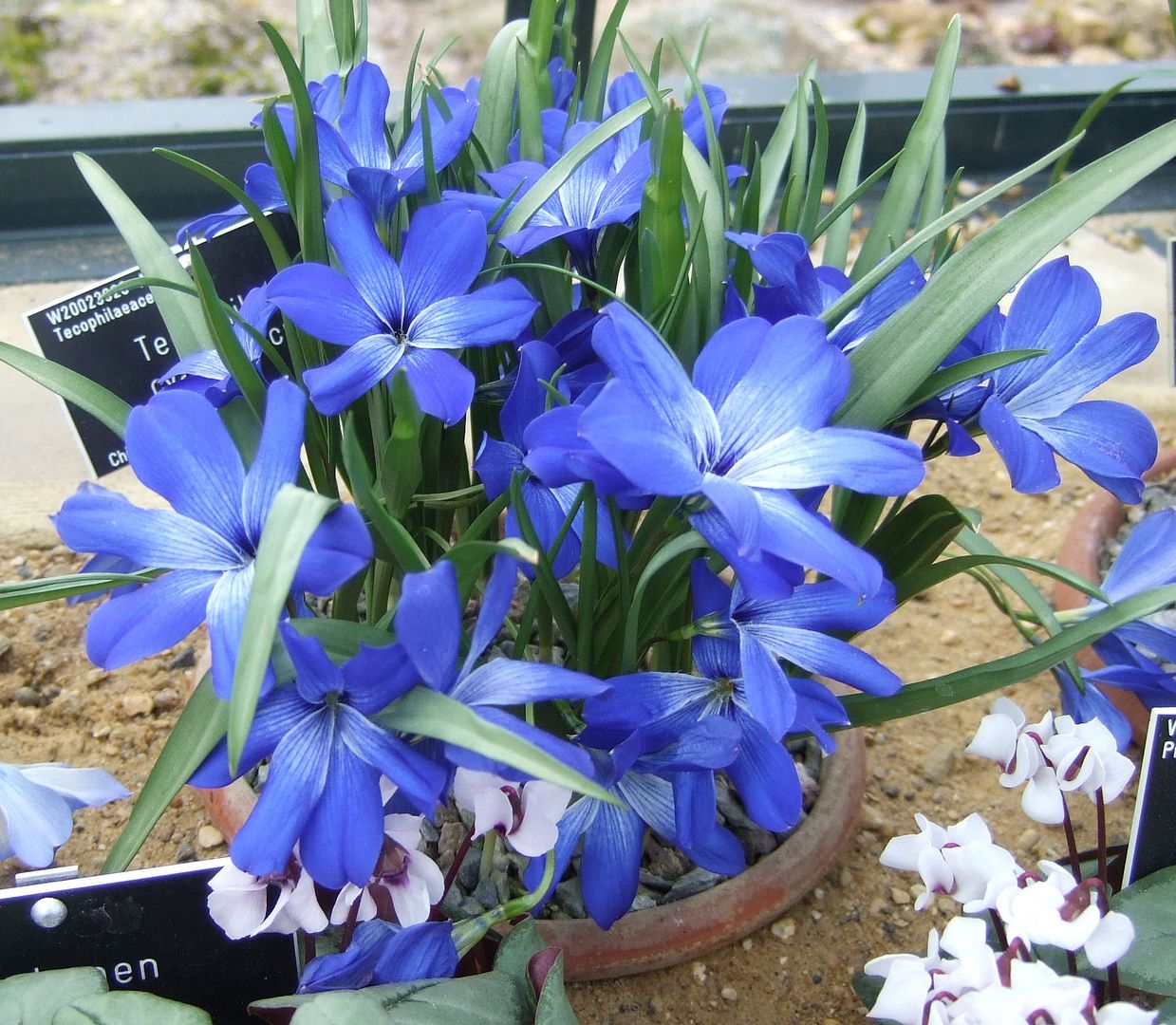 Heavenly blue
Tecophilaea Cyanocrocus
- a tiny periwinkle-blue crocus-shaped flower from the Cordillera of Santiago, in Chile, at around 3000 meters above sea level - absolutely gorgeous !!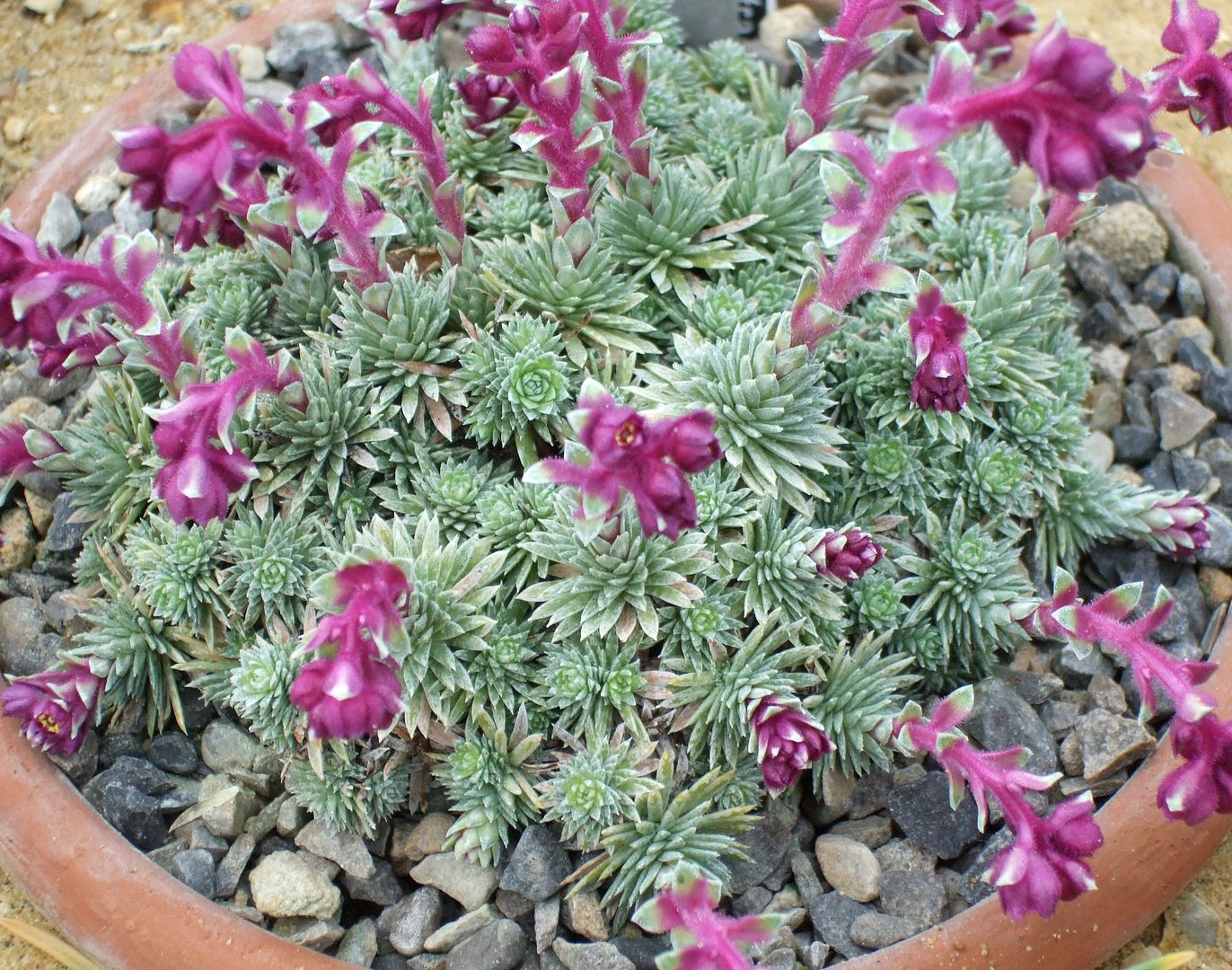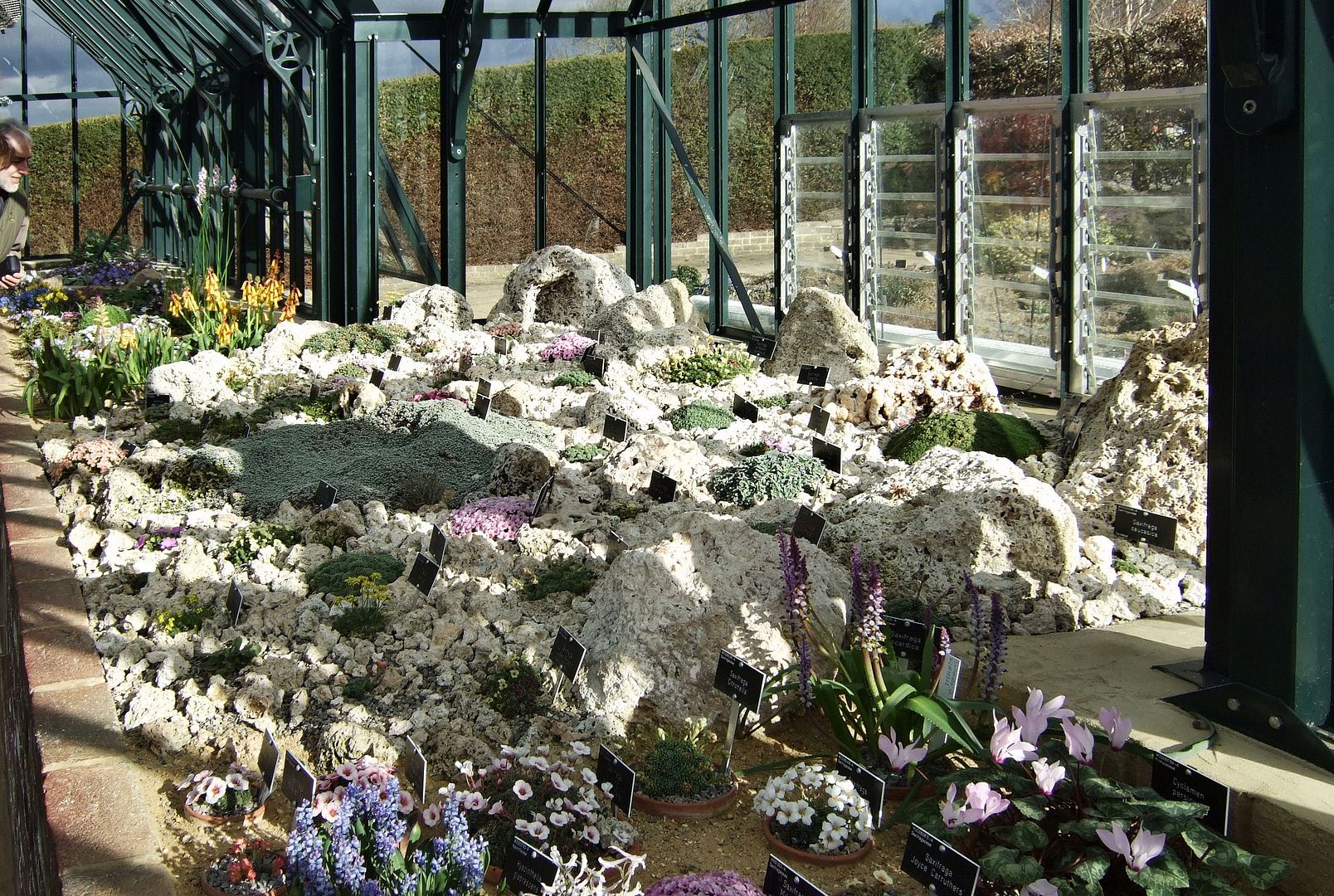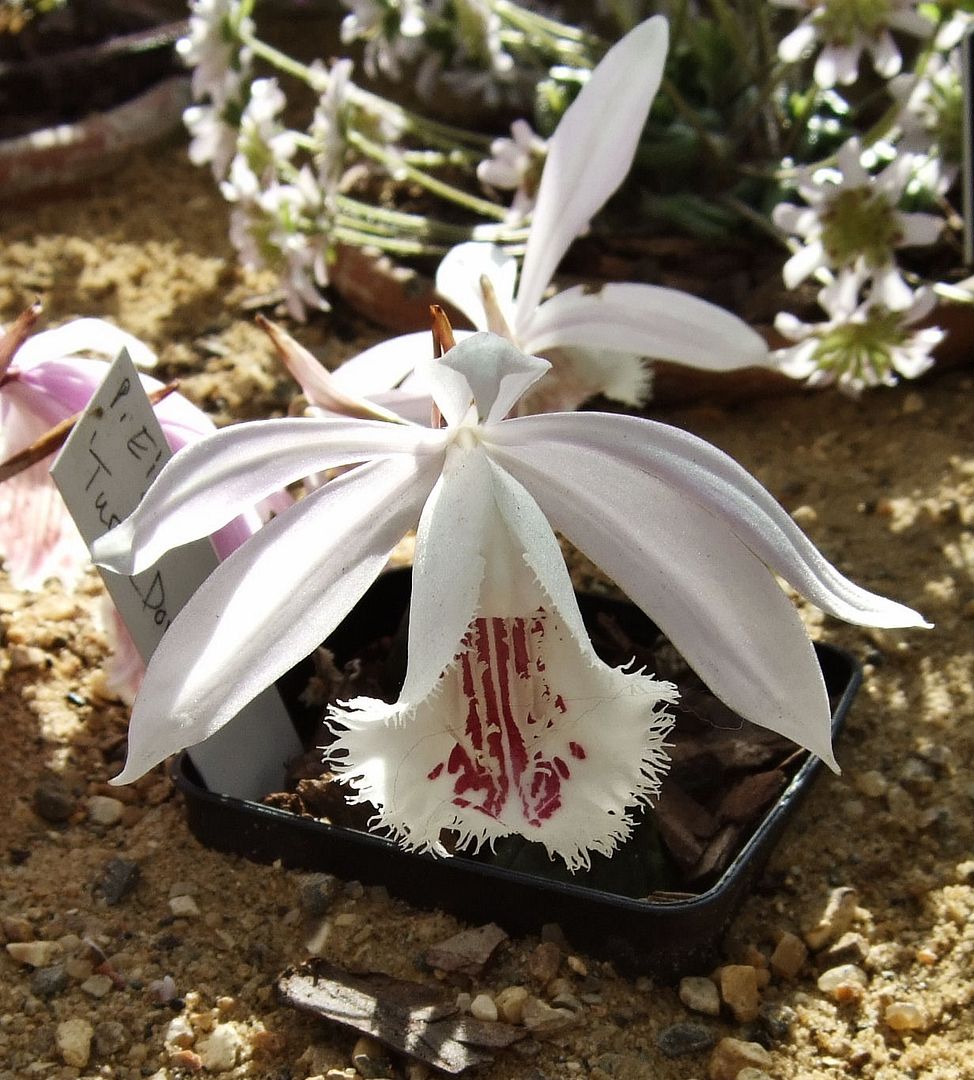 A lovely little
Pleione
orchid which comes from China, Northern India and Tibet and grows very close to the snowline in these countries - therefore it is very tiny and low-growing - perfect for a rockery...
In the second house, the layout was more like an actual terrain, with huge rocks, all laid out with infills of sandy gravel, and planted up with all manner of low-growing foliage plants, including small houseleeks, and sedums etc...and a particularly large cat, named 'Sunny' I believe, who was living up to his name and reclining in a very sunny spot, amongst all the tiny plants...it wasn't until I came out of the other glasshouse later that I saw the polite notice requesting people to close the doors behind them to discourage 'Sunny', one of the Wisley cats from sitting amongst the plants !! Clearly he makes a habit of this...
Outside again, and the surrounding area is paved with raised beds around the edge, and amongst all the stones, gravel and shrubs, I discovered this old dead log, hollowed out and planted up with perfectly dinky little rosettes of red and green leaves - beautiful !!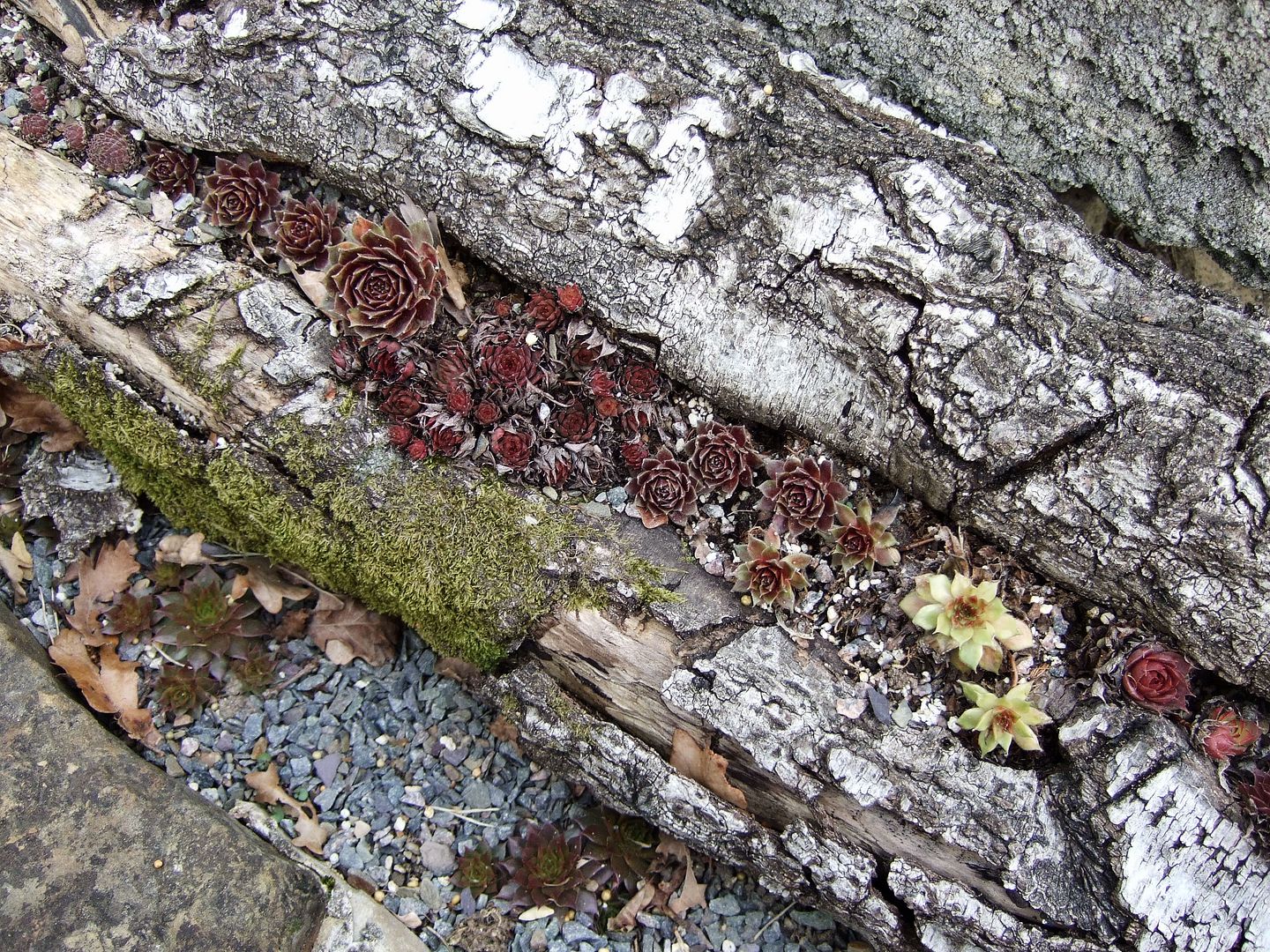 SPRING BULBS
Of course, this is the time of year for Spring bulbs, and Wisley is no slouch when it comes to planting them all over the place in great swathes - across the rolling lawns, and down the slopes of various little hills they were planted in their thousands - all purple, white, and purple and white striped crocuses, and startlingly beautiful !!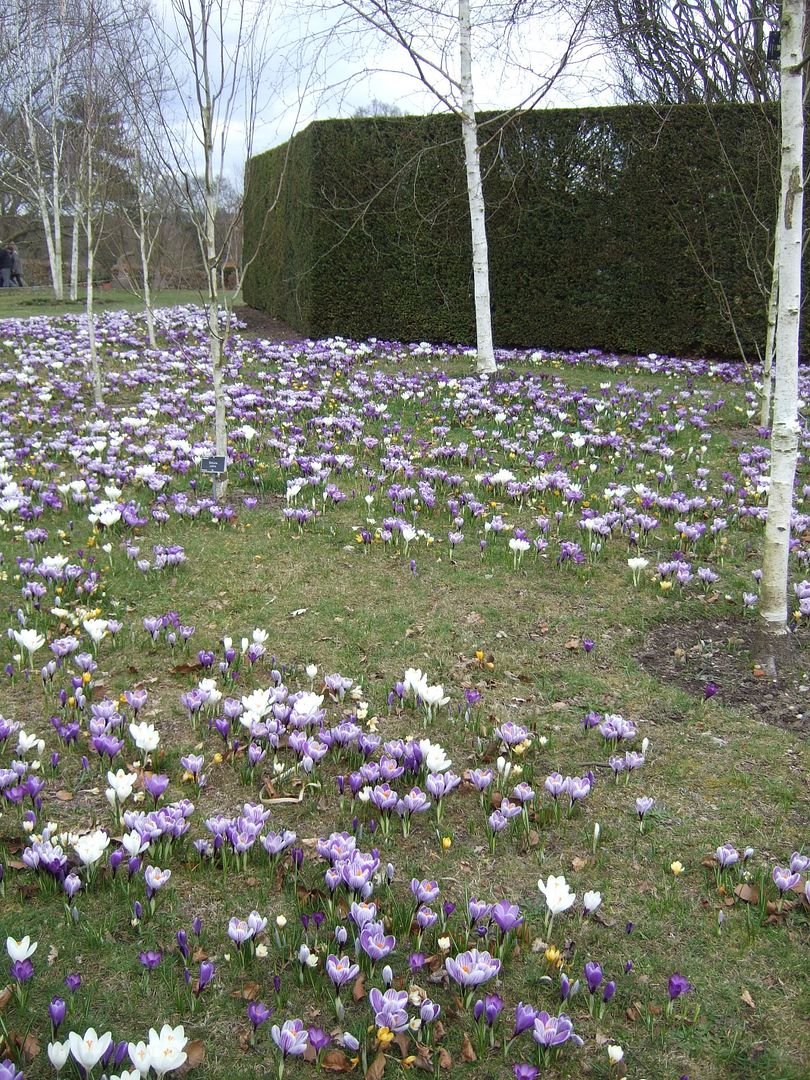 I cheated and took this Crocus close-up from Wisley's own
'Looking Good
' slide-show, because it's a great photo that I carelessly neglected to take myself...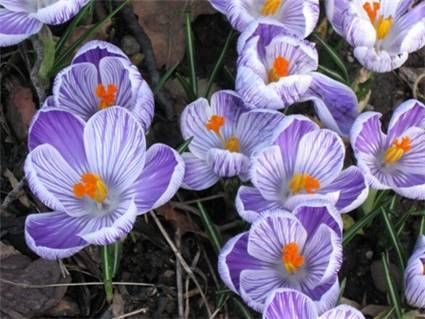 Also, at this time of year, the Grape Hyacinths are now out in force too...another photo from their own slide-show as we were a little bit too early to see these in action, more's the pity !!:-
We were a tad too early for the daffodils as well, but I understand that they are now starting to bloom across the huge Chestnut Lawn...
THE LARGEST ROCKERY IN THE WORLD !!
Coming down across the Chestnut Lawn, where all the beautiful Spring bulbs are out in force, and turn left away from the Research Labs, you arrive at the top of a massive cascade of stone pools, all connected with running streams and waterfalls, and all planted up with Alpines and various Spring bulbs - swathes of purple, white and yellow crocuses, clumps of white snowdrops, snowflakes, and deep purpley-blue Iris Reticulata, and also, of course, larger shrubs and trees which will come into leaf and blossom a little later in the year.
This is the most amazing terraced rockery I have ever seen, and I think it must be absolutely spectacular in the Summer when everything is out in flower - it surely has to be the biggest rockery in the world :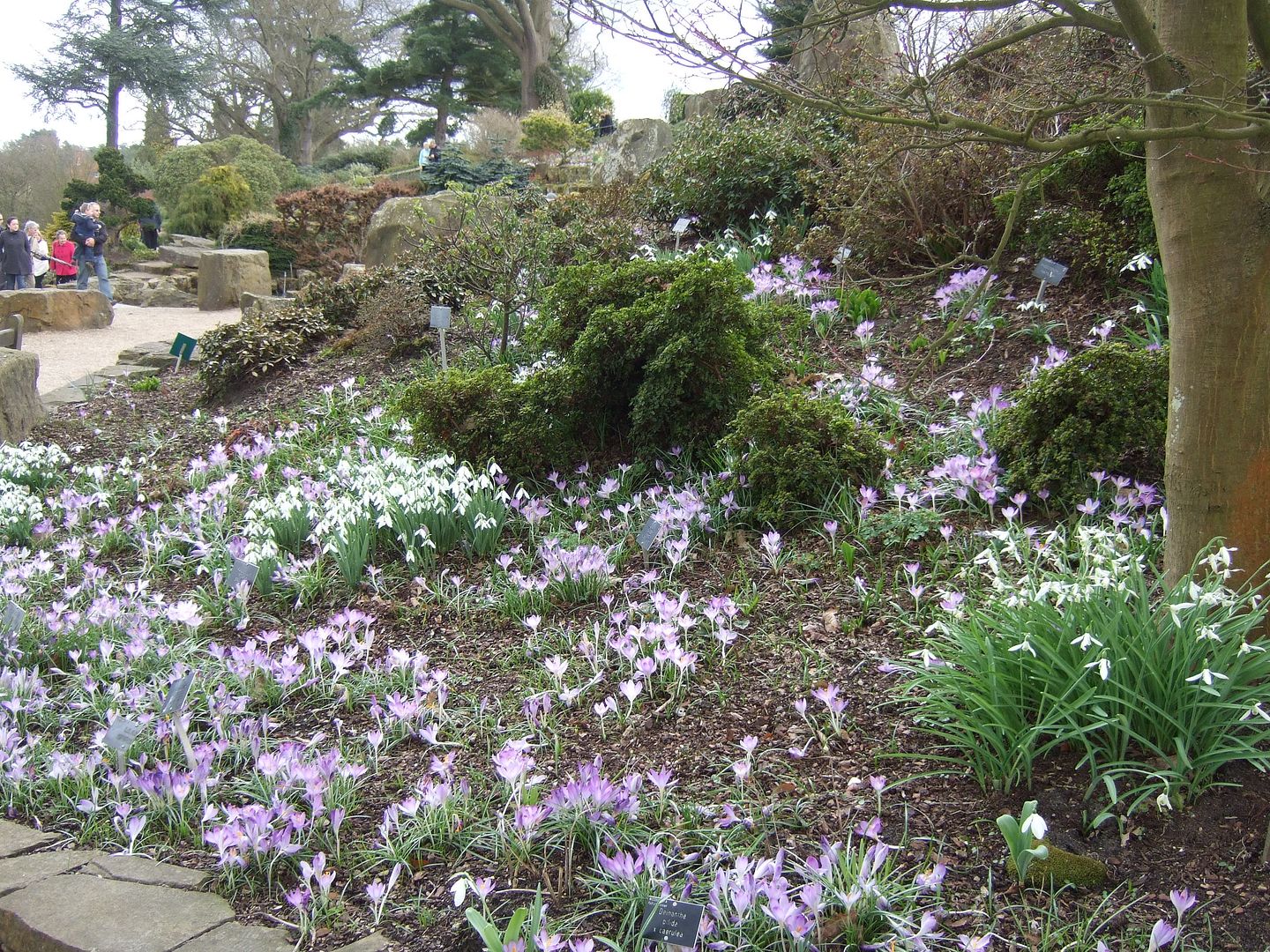 You can start at the very top and work your way gradually down the slope, walking down rock-hewn steps and paths until finally you reach the bottom, where the water falls into a long canal, all fully stocked with Koi carp.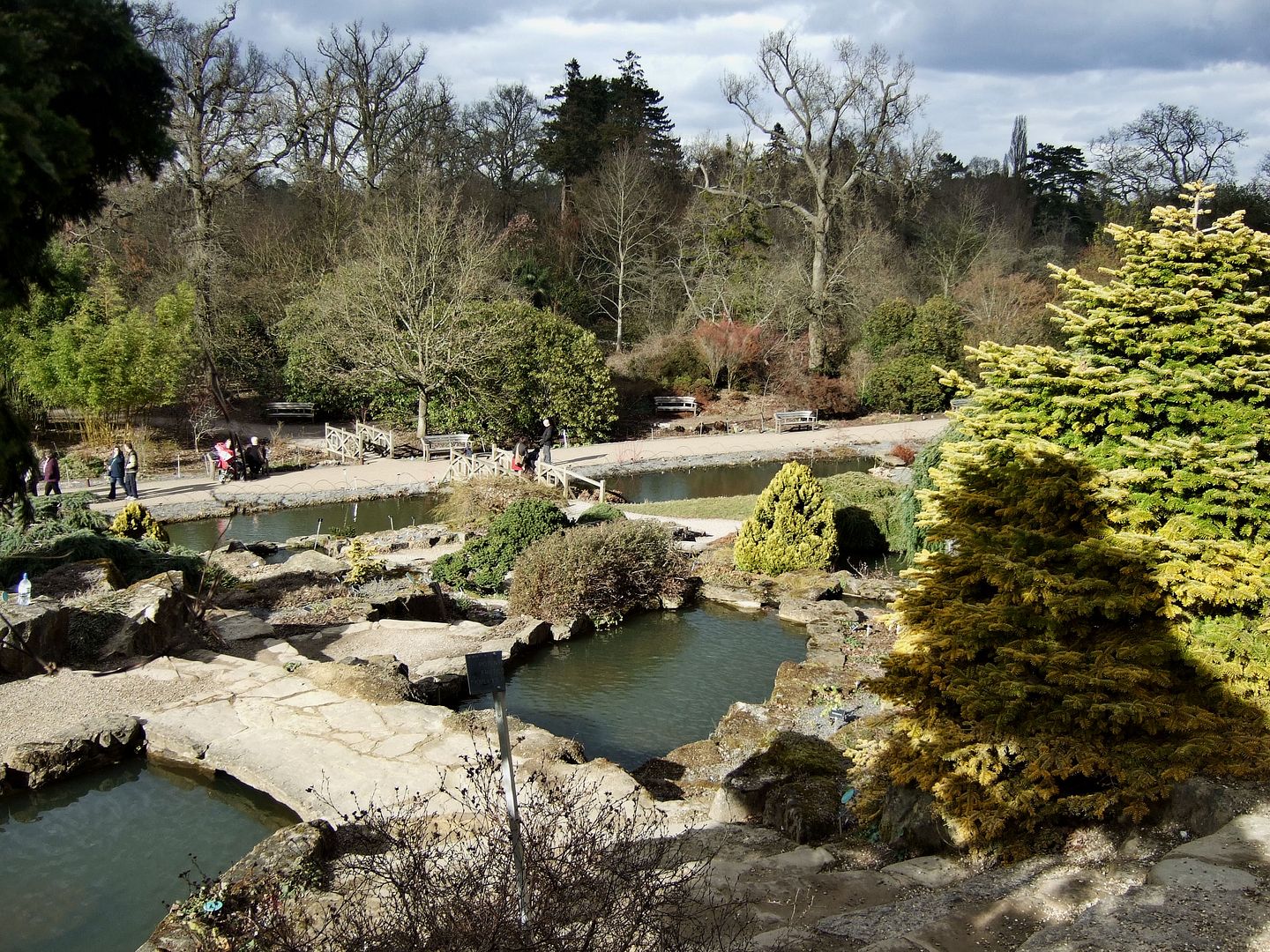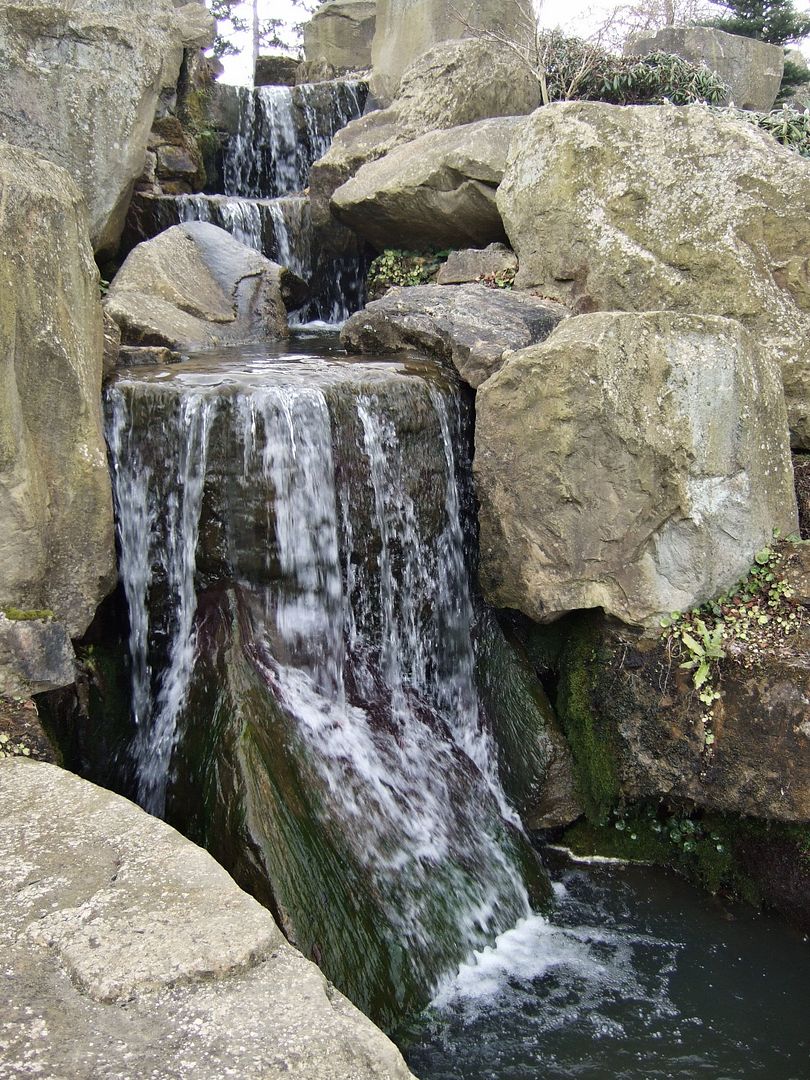 First and second waterfalls...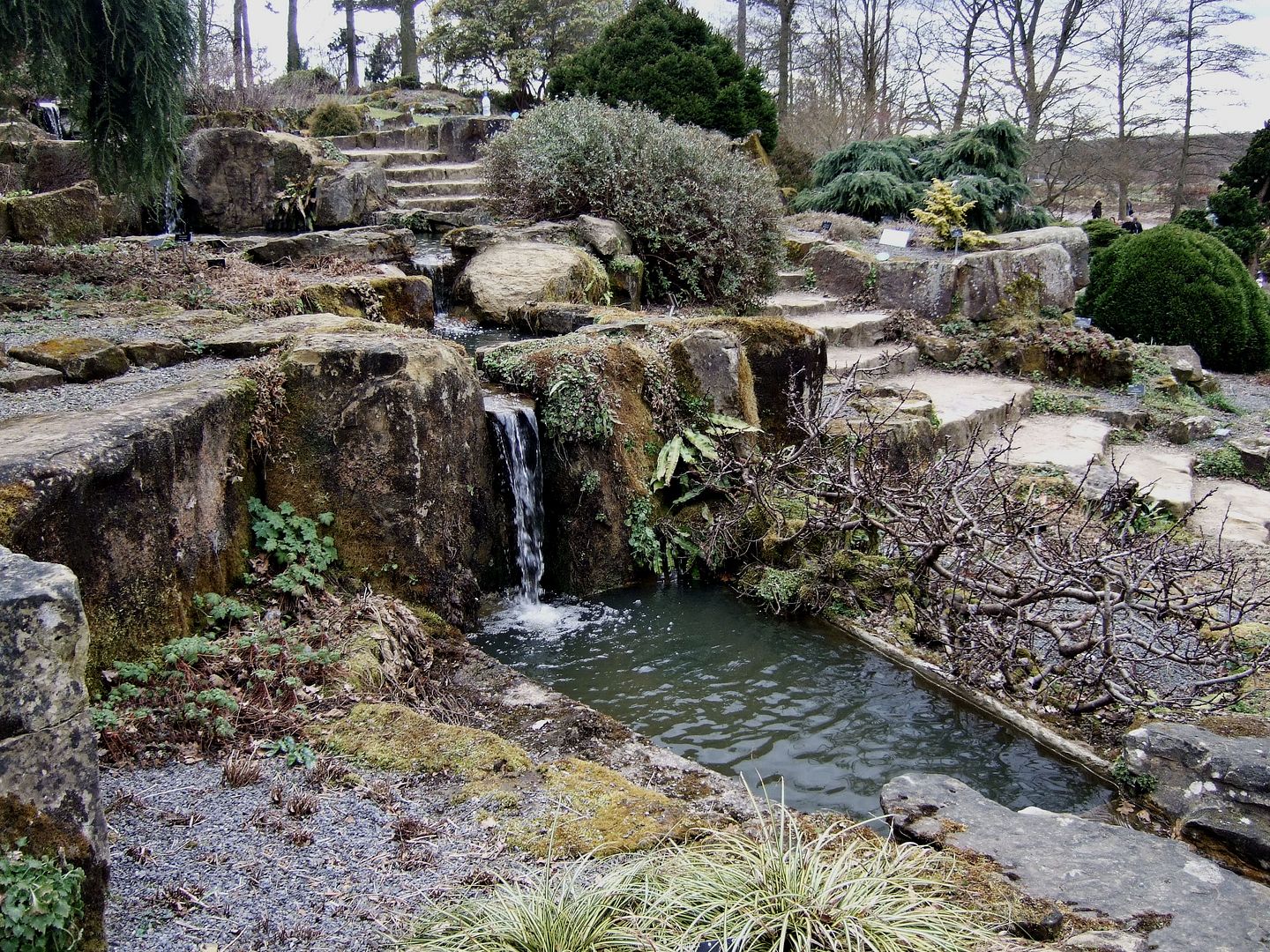 Third and fourth waterfalls...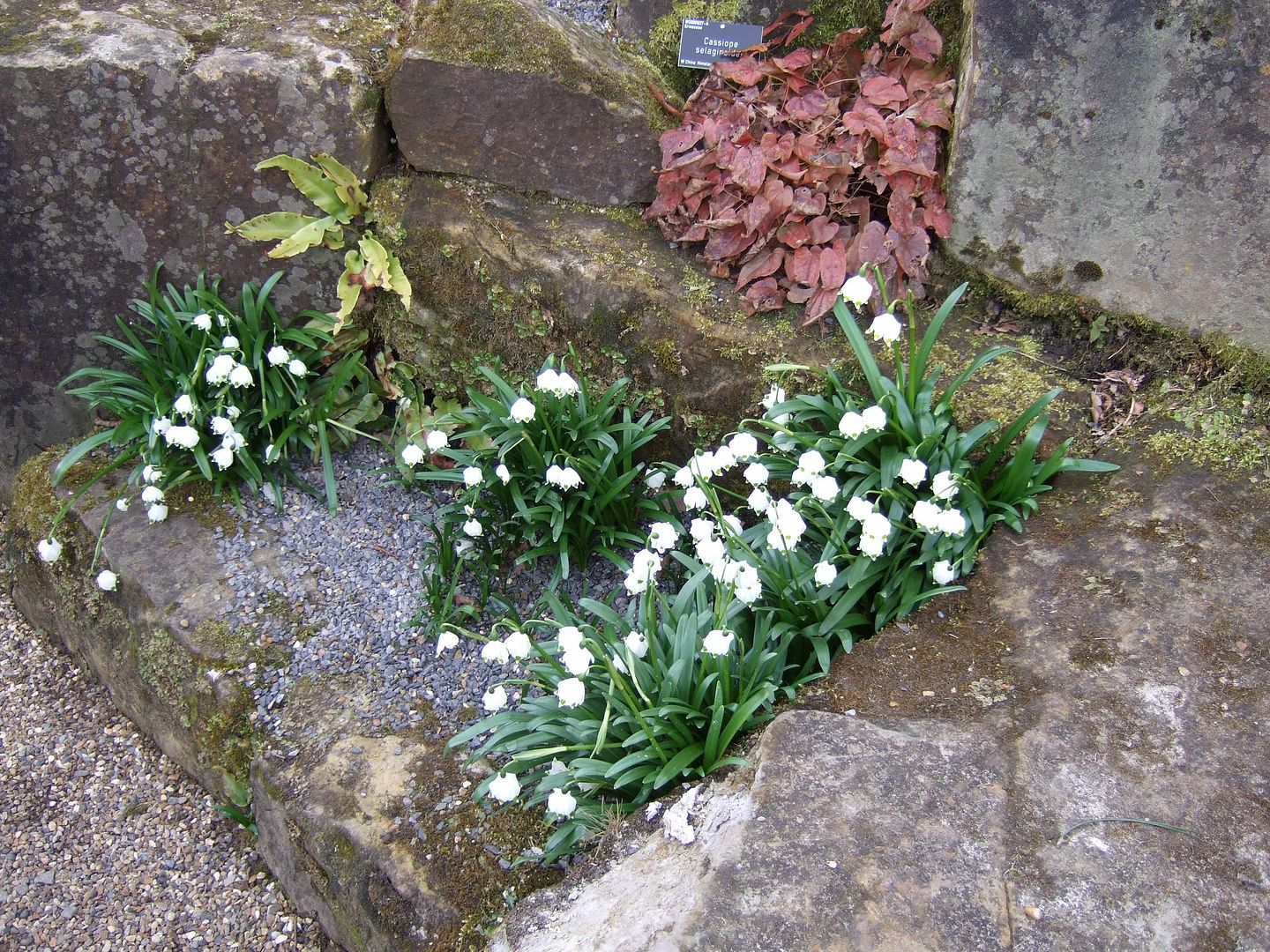 A large clump of Snowflakes -these are related to Snowdrops but have slightly larger and much more bell-shaped flowers altogether. This is another close-up photo from their own '
Looking Good
' slideshow - a very good feature if you are planning an imminent visit, as you can see what to look out for.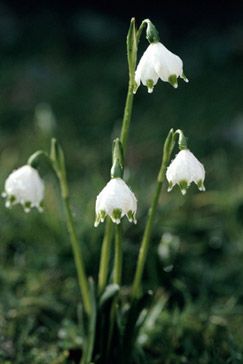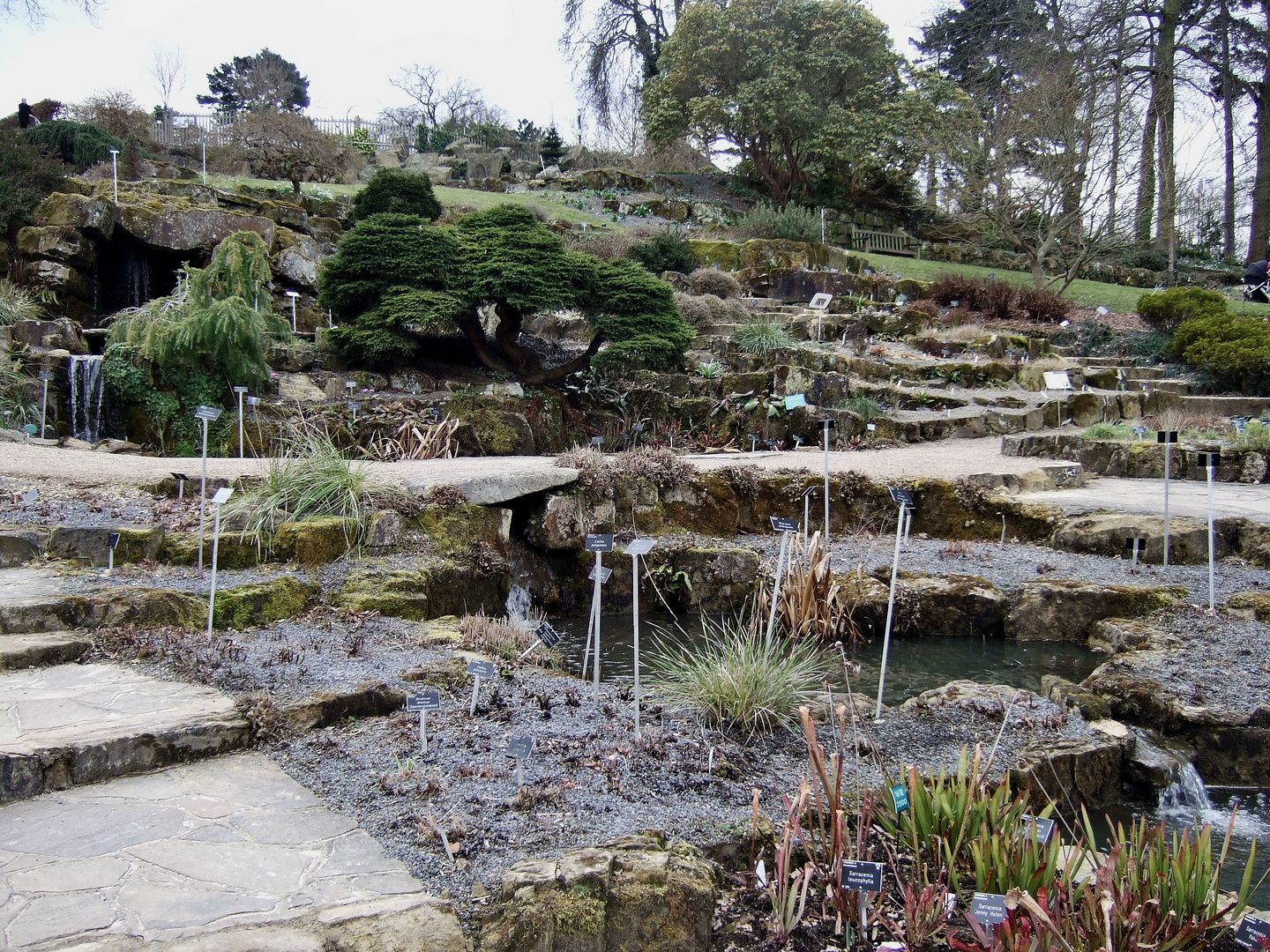 Fifth, sixth, and seventh waterfalls...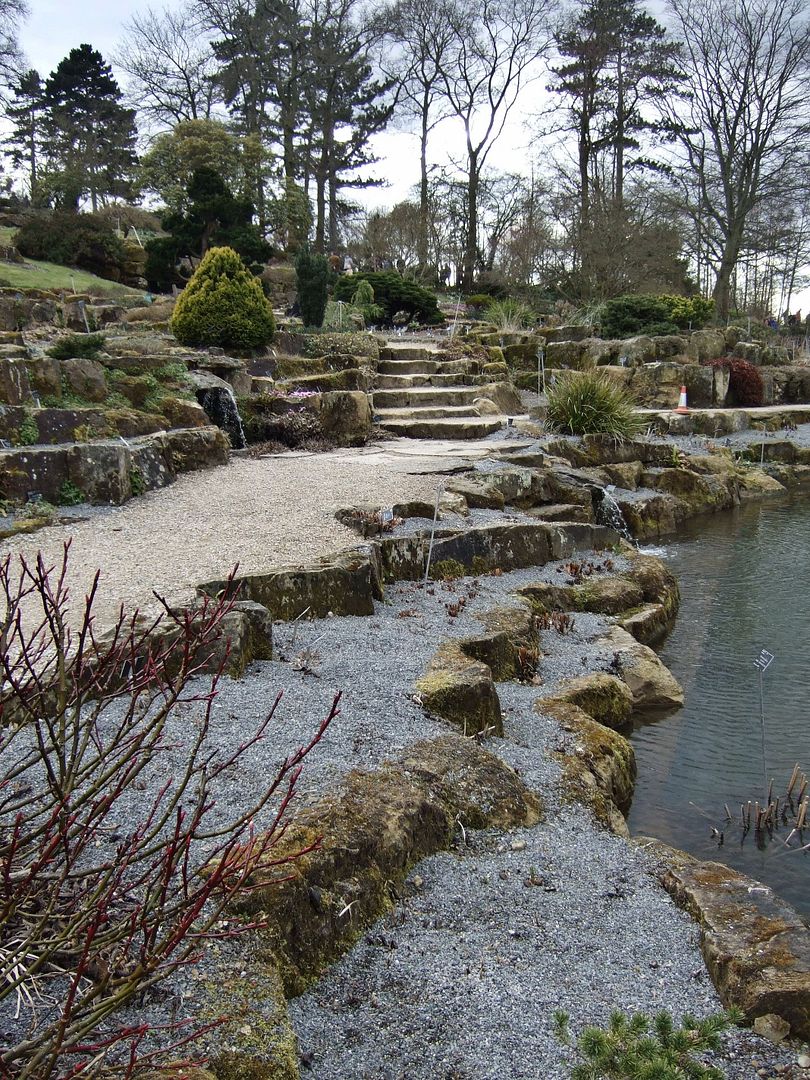 Eighth and ninth waterfalls into the canal at the bottom...
Further on past the end of the rockery, is another path leading off at an angle, and at the end is a huge lake behind which looms the new Tropical Glasshouse... I had only a very brief fleeting visit to this, but it will be getting further attention from me in future visits, I can tell you !!
THE TROPICAL GLASSHOUSE
Here is the glasshouse from the outside - nestling at the edge of a large lake, it looks like such a stunning piece of glass architecture :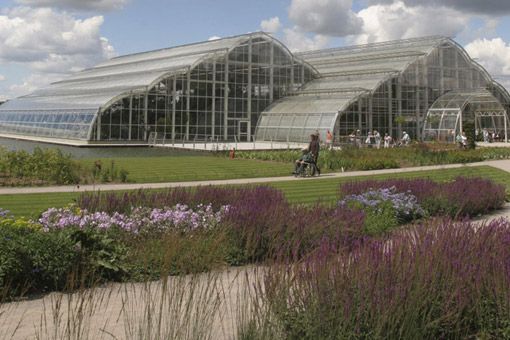 This amazing glasshouse is fairly new, I think, and is absolutely spectacular...I probably couldn't do better than the Wisley website in the basic description, so here is what they say :-
"The huge cathedral-like glass structure covers an area equal in size to 10 tennis courts and rises to 12m (40ft) in height. It has three climatic zones, recreating tropical, moist temperate and dry temperate habitats.

The Glasshouse showcases our world class plant collection providing an enhanced horticultural experience for everyone who visits. The RHS's extensive tender plant collection, comprising more than 5,000 taxa, is housed here, including difficult to grow, rare and endangered species, hundreds of orchid species and old cultivars of Solenostemon (Coleus) among others.

Educational activities are central to the Glasshouse. Both the Learning Space and the Growing Lab enable visitors to learn more, get hands-on experience and see how professional glasshouse gardeners work.

Entering the Glasshouse is like walking into a jungle - tree ferns, tall palms, lush-leaved creepers and dazzling flower displays give an air of expectation and drama. There are three interlinked zones: dry temperate and moist temperate (adjacent spaces within the main area of the glasshouse), and a tropical zone overlooking the lake at the front."

Walking in at the front entrance, it was immediately obvious that there was an orchid event going on - orchids of every possible kind were everywhere !! I love orchids, so this was a rare treat for me, and I really wanted to spend more time here, but time was running short unfortunately !! Therefore I had a quick tour of the main glass-house, and a quick walk around the elevated walkways and down to the front door again...
The first really big plant I came across was this amazing banana palm tree - a full sized specimen, with huge bunches of fruit fully on show, and waiting to get ripe enough to eat - what amazed me though was not the sheer amount of fruit on each bunch, but the weird elongated flower stalk coming down from the centre of the bananas...and the huge flower at the end !!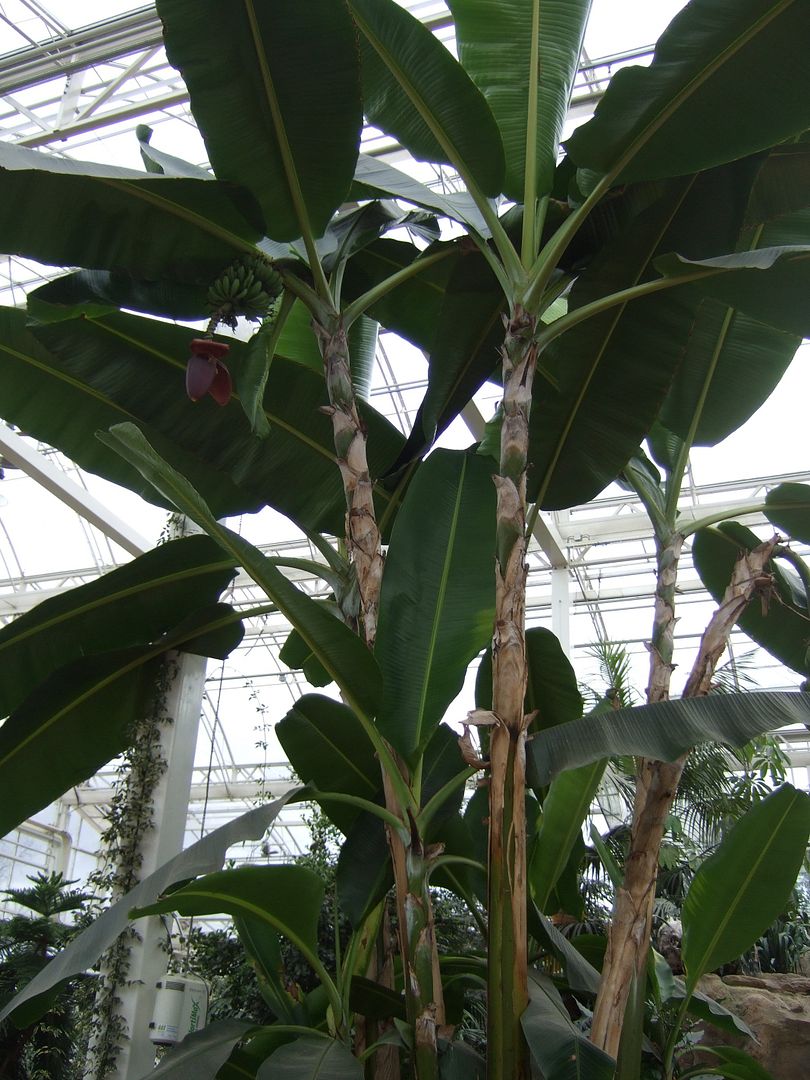 You can see the sheer scale of this tree here, and also another flower half open...
Just a little way along from the banana tree was a huge waterfall, splashing into a pool surrounded with ferns, ivies and all kinds of exotic plants and flowers, including a huge number of colourful orchids...
Following the path as it elevates up around the back of the waterfall, you can see through the falling water to the people below...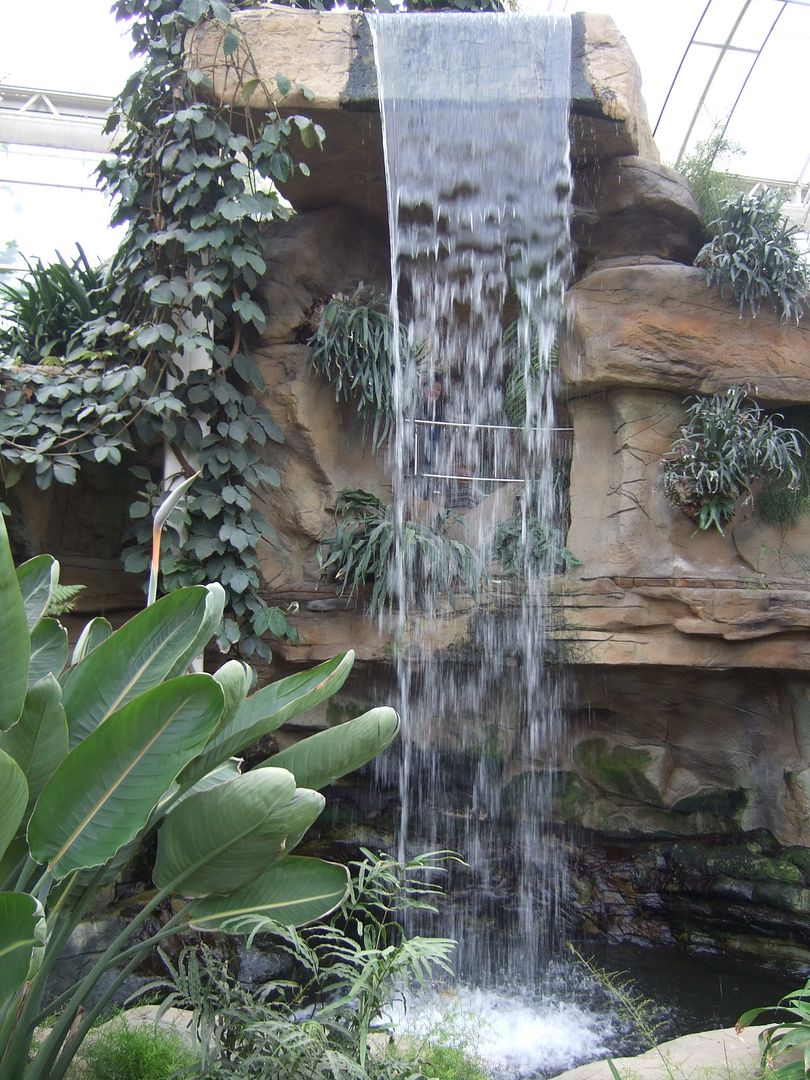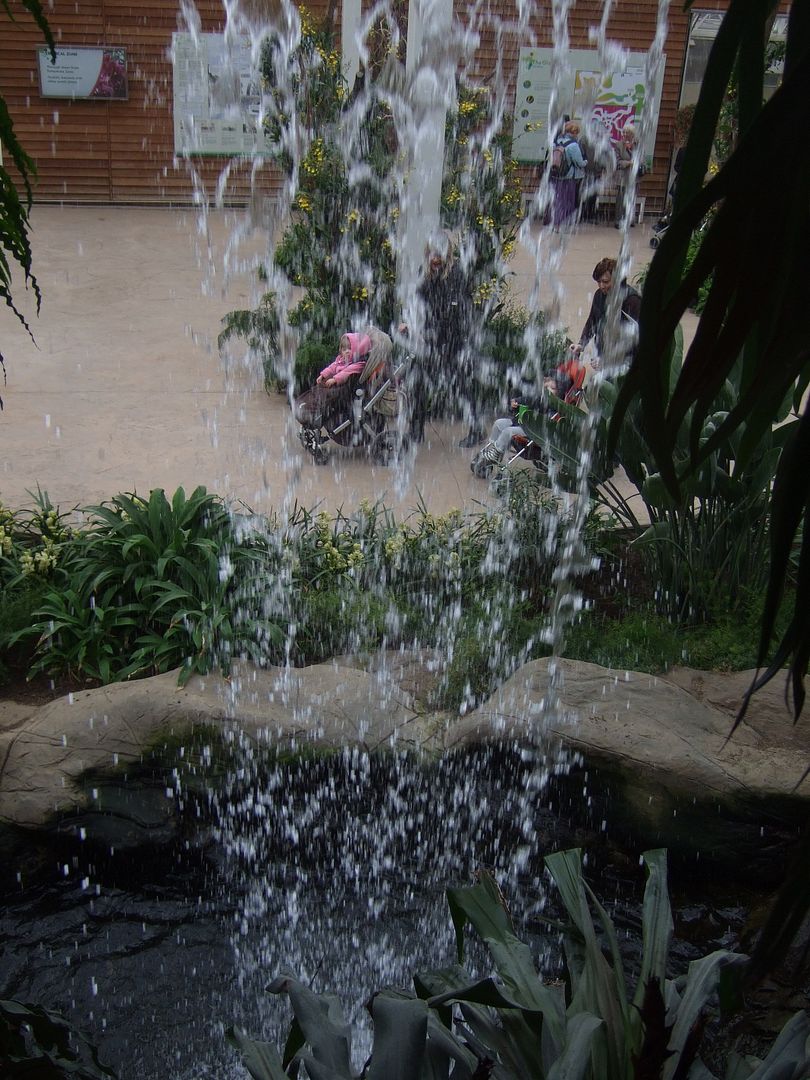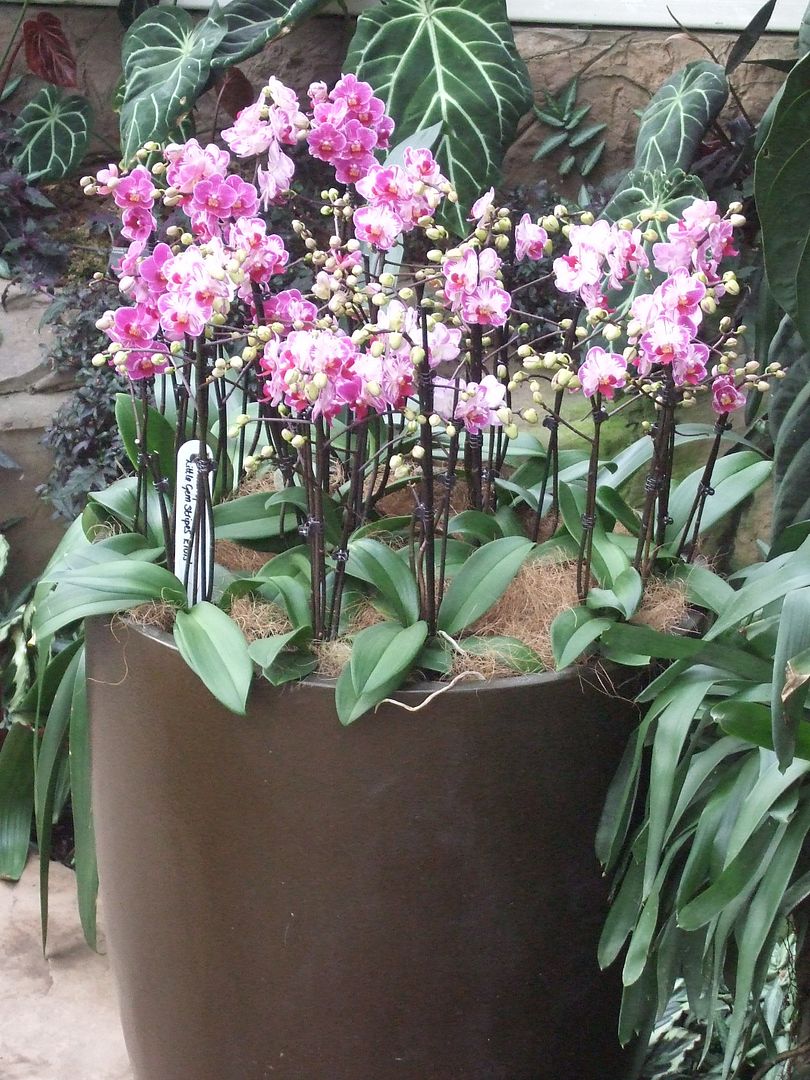 Pink and white orchids '
Phalaenopsis 'Little Gem Stripes'
in the biggest copper-coloured tub...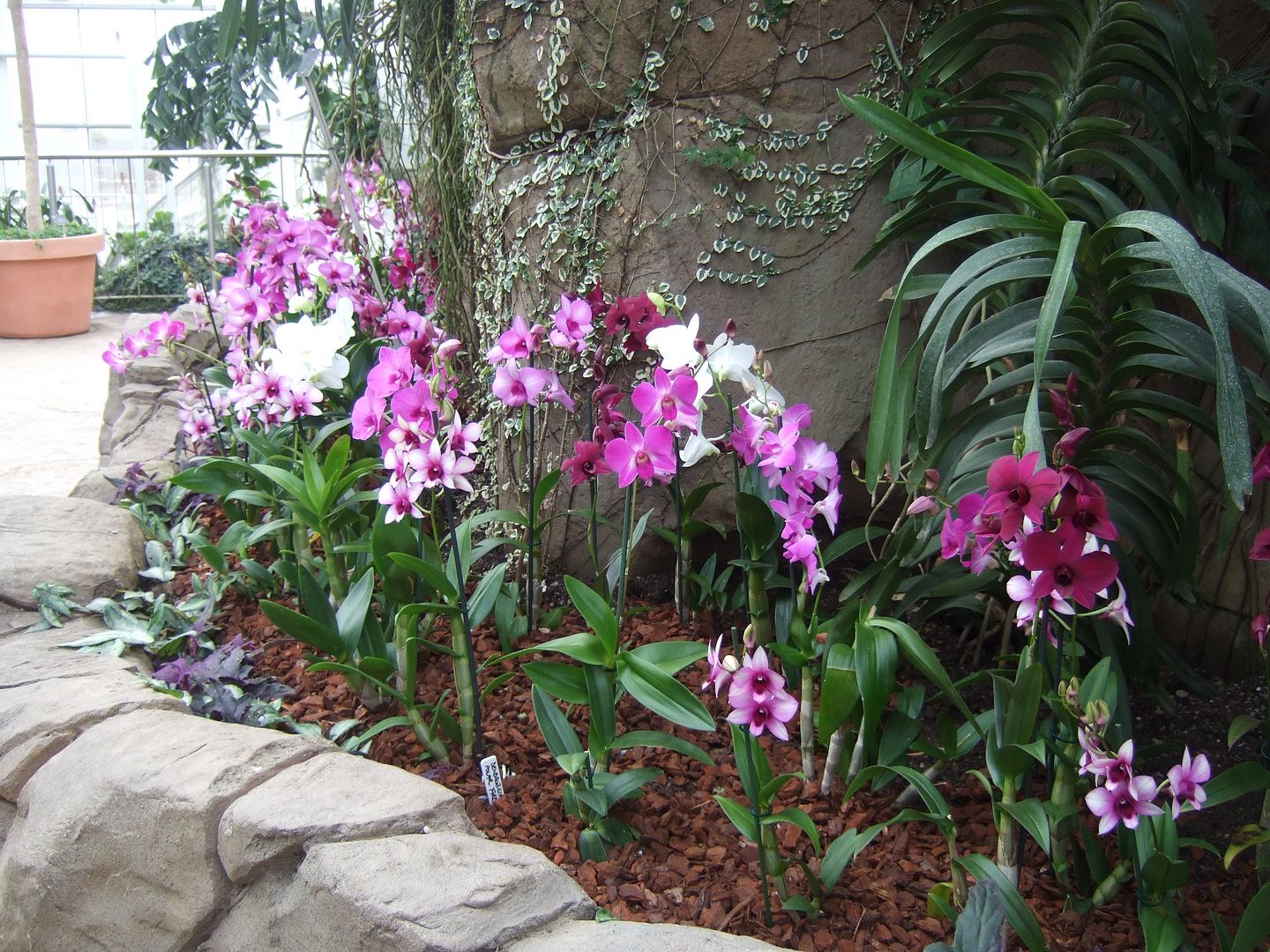 Perfect show orchids of various shades of white to pink and burgundy...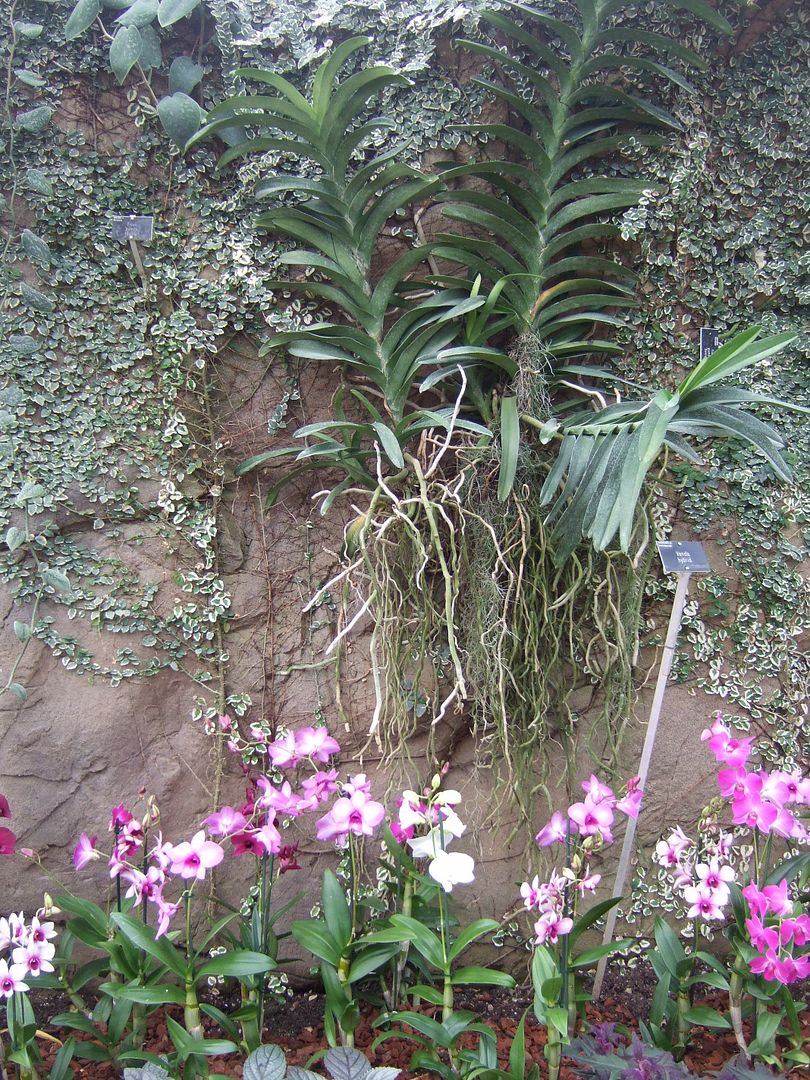 After the glass-house, we went off to meet a colleague of Adam's, the manager of the plant shop and garden centre - a congenial gentlemen called Nigel, who was pleasingly enthusiastic about my other post regarding our trip out to Hyde Hall in Essex, so he will be interested to see this post too no doubt !!
Here are a few extra good pictures that I have picked out as the best of the bunch, showing particular specimens of orchids and a few other flowers too...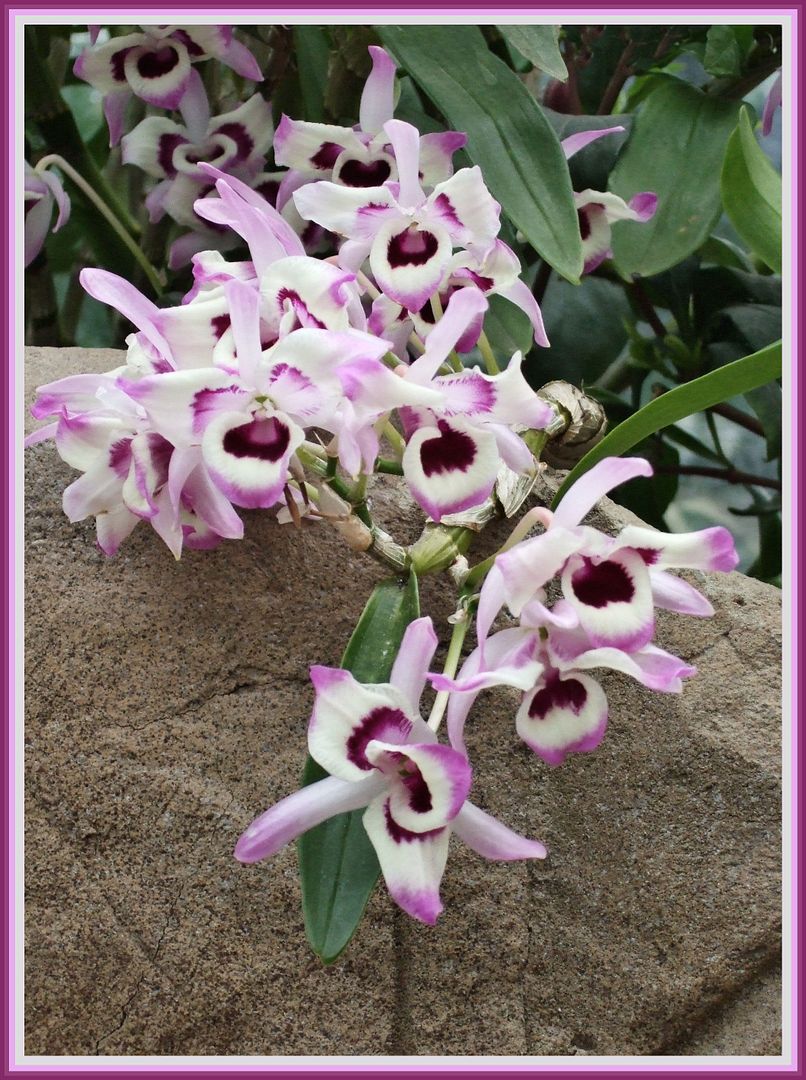 A proper fruiting pineapple...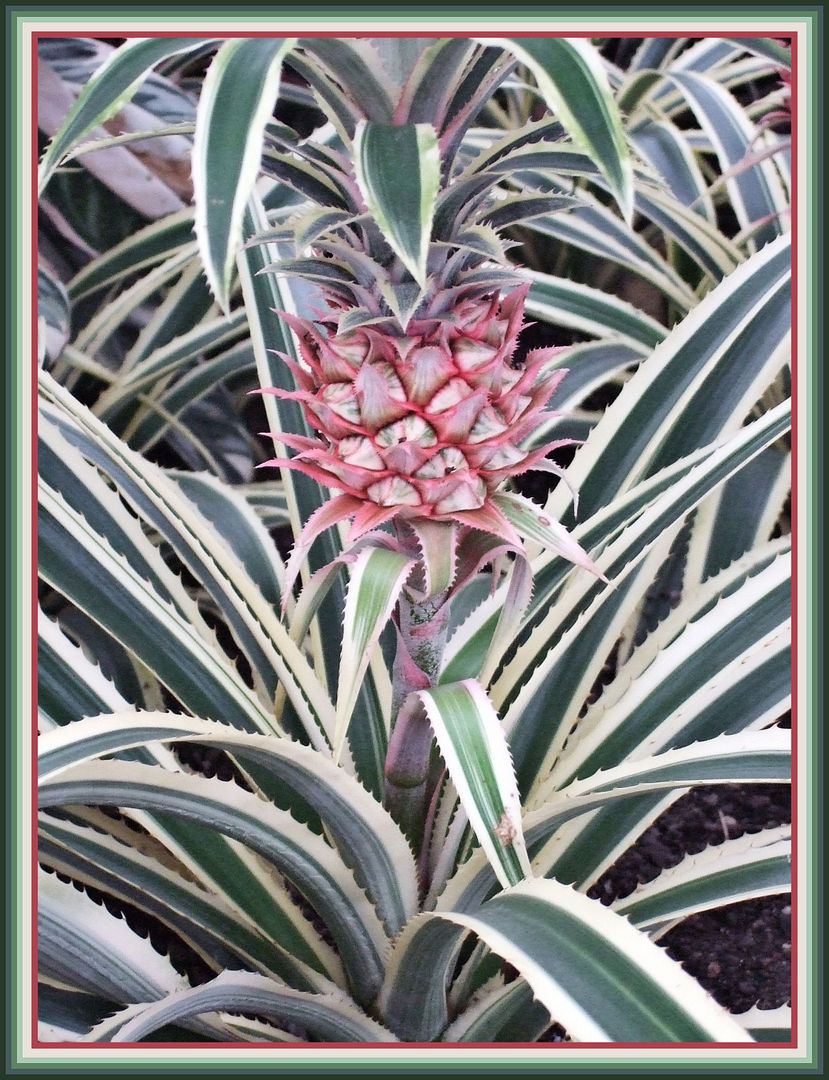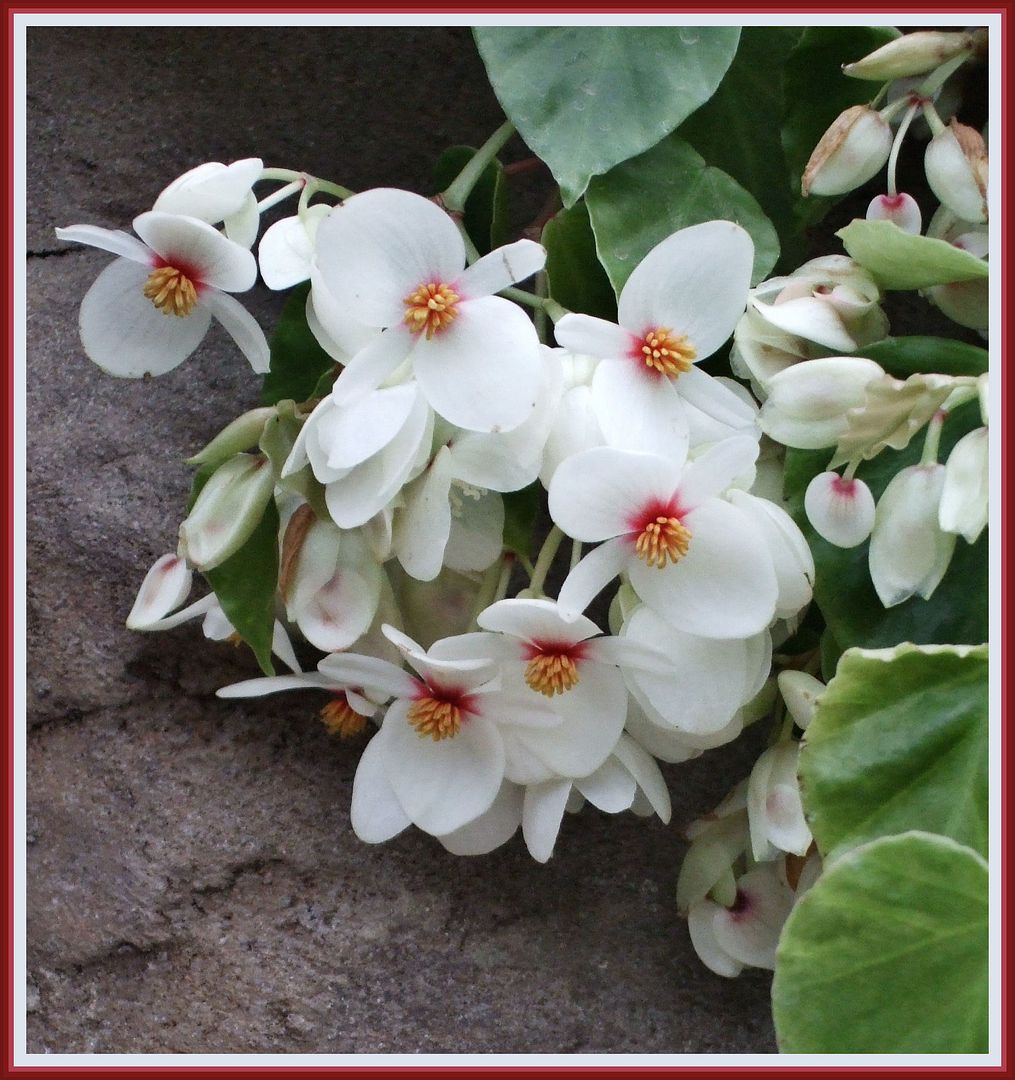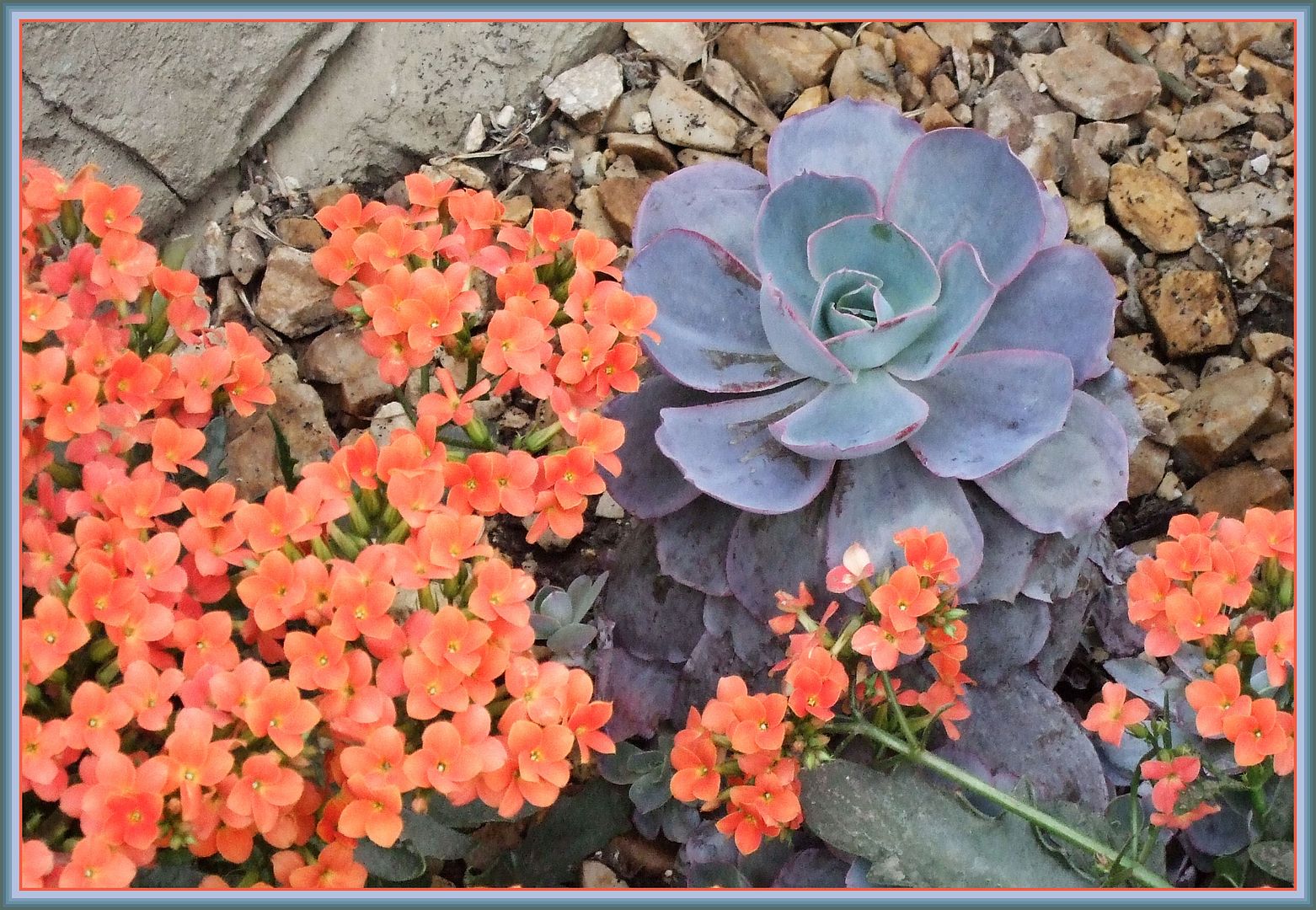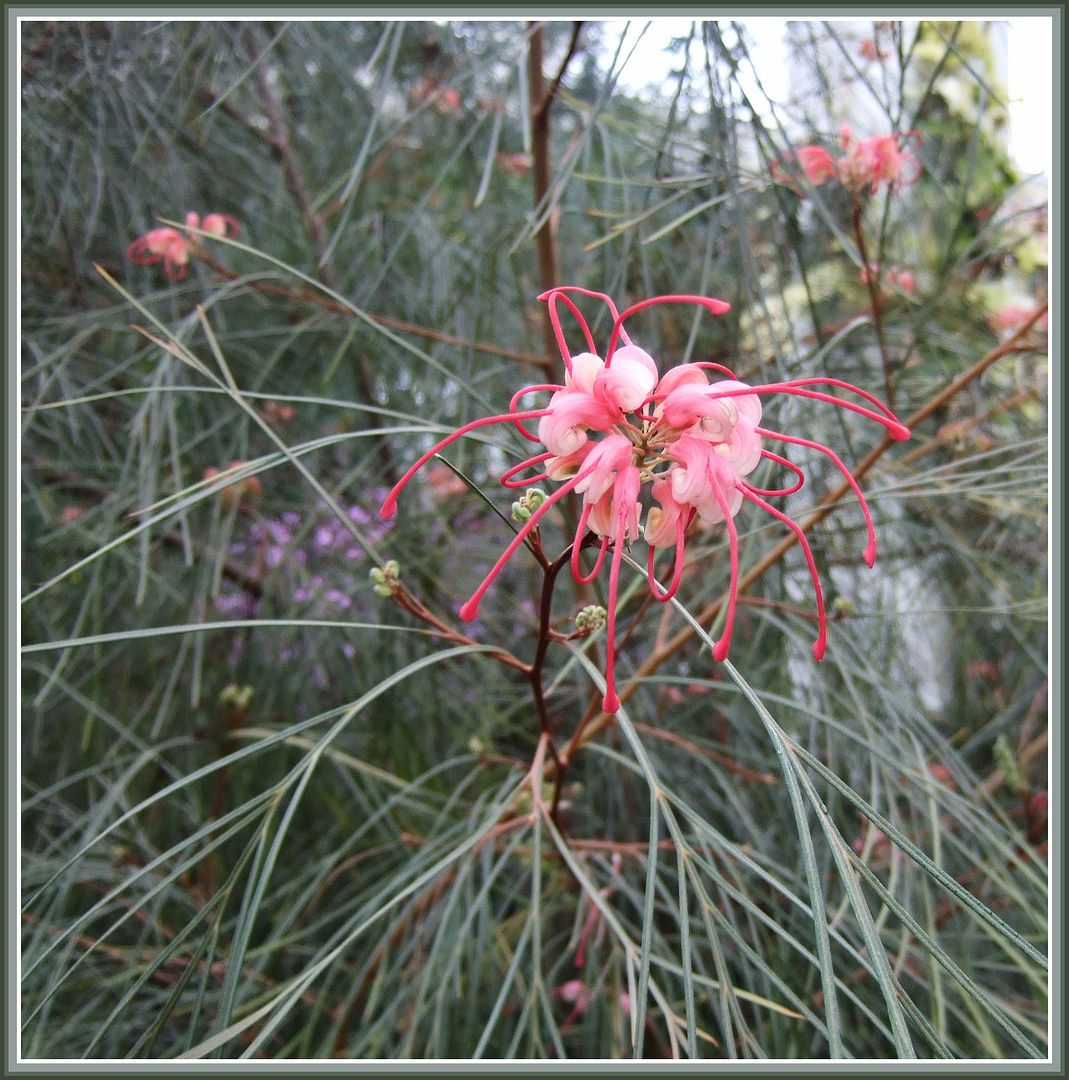 A spiky native of Australia and New Zealand this one...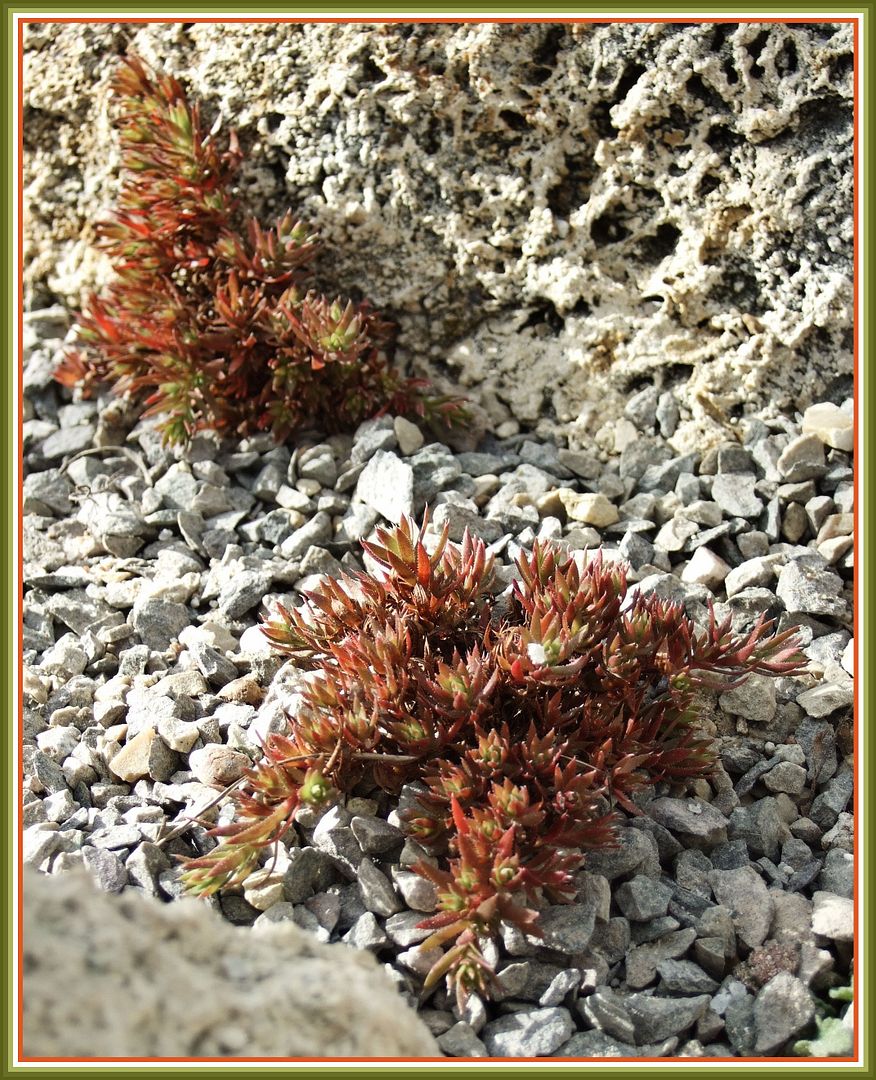 I enjoyed my visit to RHS Wisley enormously, and so I will be returning over the course of the next year, at various intervals, to take photos and watch the garden change with the seasons...