WORLD BEACH PROJECT AT THE V & A

PART I
Something fantastically arty and creative for you all to contribute to...
About a week ago, I was pootling about on the Internet, searching for interesting things to do during my week off this week, and by pure chance, discovered the most fascinating ongoing Art Project being hosted at the Victoria & Albert Museum in South Kensington, London!!


Sandsend, North Yorkshire
THE V & A

This museum, for those of you who aren't familiar with it, is our foremost Arts & Crafts and Applied Arts museum in the UK – meaning anything that has been designed with a function in mind, but with an artist's flair and sensibility !! They have the best Historical Costume and Textile Collection in the whole world, probably, and the Jewellery and associated collections are possibly second to none...ceramics, furniture, glassware, metalwork, photography, designs and drawings, and theatre design are all well covered !!
They also have enormous collections of ethnic arts & crafts, including massive collections from China, Japan, India, Africa, Indonesia, and South America - all these collections include many rare and wonderful things...
I could wander around this wonderful place all day and never get bored, as there is so much to look at here !!
THE WORLD BEACH PROJECT...
This Project was started by the artist Sue Lawty, in association with the V & A, and her blog entry describing the idea, written right at the start, is here :-

"The idea for the World Beach Project arrived in my head fully formed and in an instant. It popped up by way of responding to the response to my work using small stones, which in its turn, is a response to the land – specifically, rock.
Whether a line of quartz splitting a rock face or a huge folded mountain range, the structure of rock talks of the structure of our planet. It is like a map of time - the earth drawing itself on a massive scale.
And whether stones are satisfyingly smooth… or like long thin fingers… or beautifully, almost purely round; whether they are knobbly, shiny, dull, crinkly, holey, patterned or plain, black or white – they reflect the language of their making i.e. how they look in this de-constructed state is as a direct result of their construction, probably millions of years ago. I find this exciting.
World Beach was conceived as a global drawing project; a stone drawing project that would speak about time, place, geology and the base instinct of touch. Drawings made on shorelines all over the world, which although erased by the next tide or rains, would be collected within the V&A to become a permanent record of the individual human desire to make pattern.
To pick up a rock, is to touch base. Touching stones gives us a primal, spiritual connection with the earth. When we handle a stone, we hold in our hands a small drawing, a tiny piece of the map; we are holding time.
That's why."
http://www.vam.ac.uk/vastatic/microsites/1395_lawty/wordpress/?p=92
Ever since October 25th, when the World Beach Project was first launched, people from all over the world have contributed the most beautiful and fascinating designs to it, and now the whole thing runs to over 240 designs, from all corners of the earth...
I was so taken with the whole idea of this project, that I have collected together the best of the designs created by all kinds of people...single people, couples, family groups, groups of friends, school outings, and many other permutations...
I loved the whole notion of creating a permanent record of the extremely Human tendency to create patterns out of random stones on a beach, and the desire to impose order on chaos...
I also loved the idea of all kinds of people taking part in this all over the world !!
As I looked through the whole collection of photographs, I noticed straightaway, the fact that the same kinds of patterns and designs popped up again and again, and so I was moved to examine whether men created the same designs as women, and whether this project could teach us anything about how the creative mind works in each sex !!
I have grouped the most popular types of designs together under sub-headings, and then looked at how many men created that sort of pattern and how many women...
First, and foremost, I went through the entire collection of design works, only counting the works created by single people working alone, and small groups of friends of the same sex.
I left out any mixed gender groups, and groups of schoolchildren and class outings, because it wasn't ever clear with these groups whether the idea for the design originated from a male or female point of view... seeing as I was particularly interested in whether it made any kind of difference at all what gender you are, as to what type of design you were likel;y to come up with - ie, how women's minds worked with this kind of thing, as opposed to the men !!
THE FINDINGS
The first conclusion was inescapable – the fact is that out of all the single people and small groups of same sex people working together, the women outnumbered the men to the tune of 3:1...76 % were female...clearly, it would seem that women were responding to this whole concept in a more fundamental way than the men!!
Now, whether this is because it is more likely that women take time out on the beach, or whether it is something more basic than that is open to question!! Is it because women are more creative than men – I don't really believe that, but it may be that men are more open to the idea of creating art when it is more likely to be permanent, and not washed away by the next tide...perhaps it is because they are more likely to invest the time and effort if it was a little less ephemeral...
Anyway, there were some other interesting conclusions reached when I started to look at the types of design as well...
So, taking into account the fact that the women outnumbered the men by so much overall, all things being equal, I would have expected the gender divide to be about the same percentage of women to men in all categories...
CIRCLES, SPIRALS, AND STARS
Well, not in this group...out of 42 designs, all but 7 of them were designed by women – that is a clear 85 % majority...
There were so many designs in the whole project based upon circular motifs - including many circles together, wheels, suns with rays, comets, filled in circles, spirals, star shapes, snow-flake shapes, and also circle- based symbols, including the Yin-Yang symbol and the Peace symbol, that they far outnumbered any other pattern...

First, we had the basic circular design:-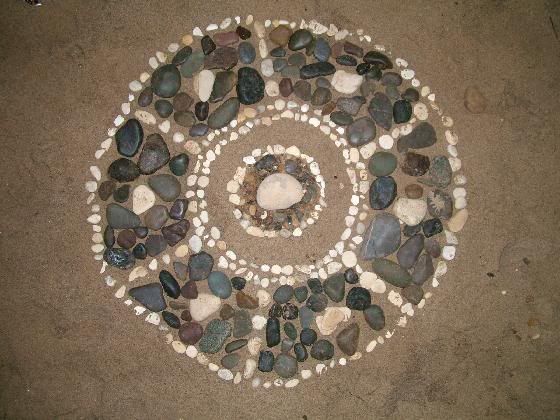 Ulromo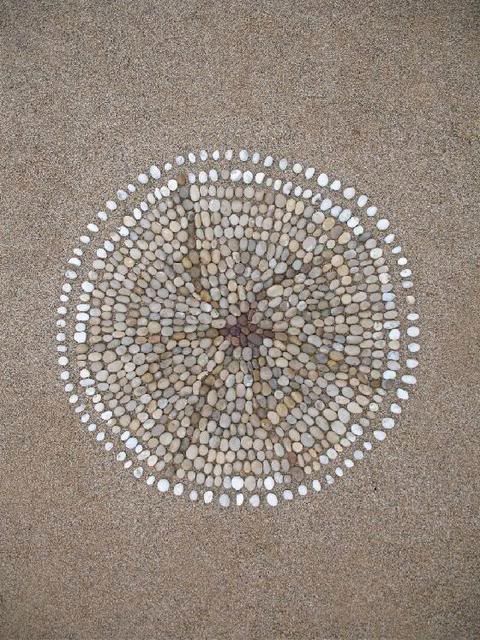 Porthlevan, Cornwall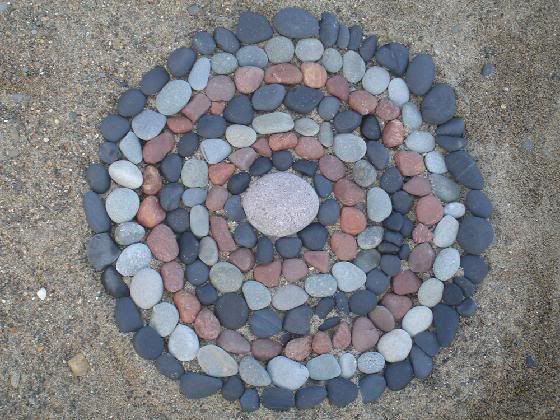 Porthysgo, North Wales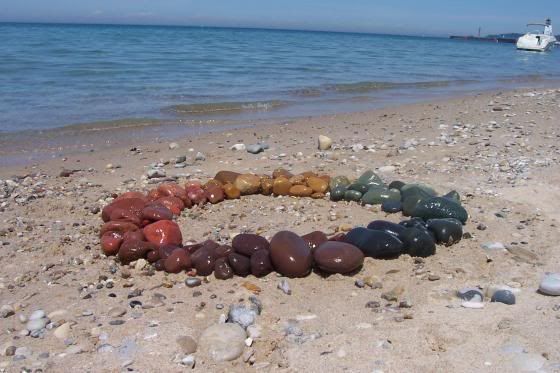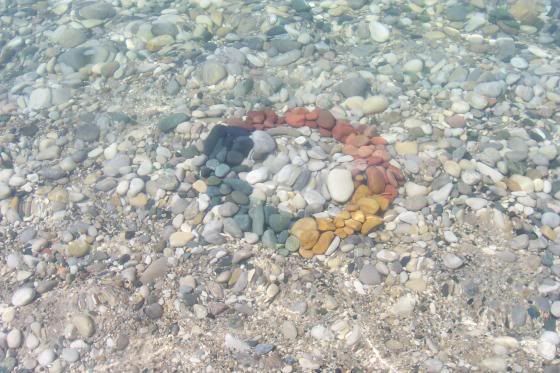 Michigan beach, Charlesvoix, Michigan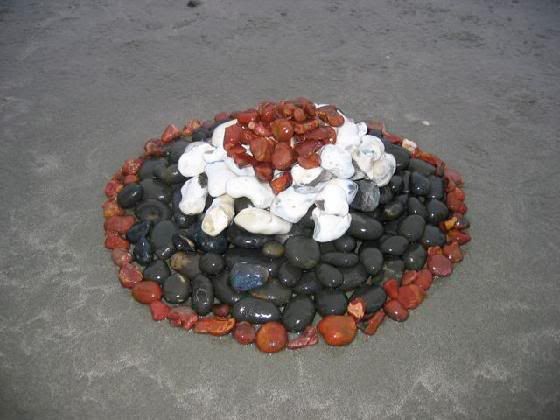 West Wittering, Sussex, UK
Hmmm, something very fundamental about a circle !! Some were in groups...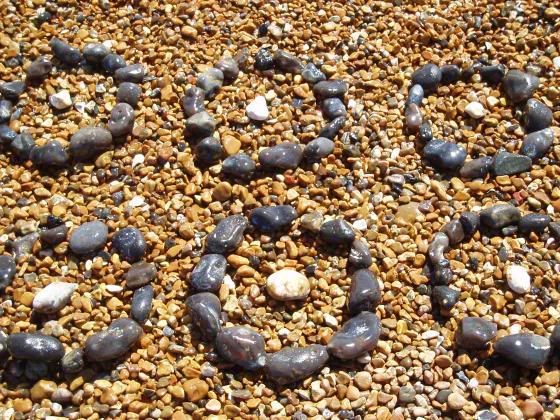 Brighton, UK
Then there were the suns, with added rays of course...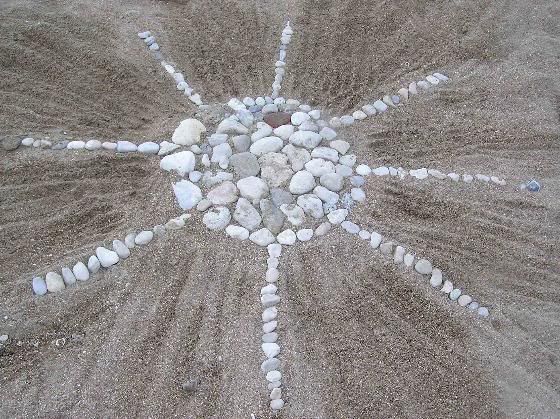 Las Marinas Denia, Valencia, Spain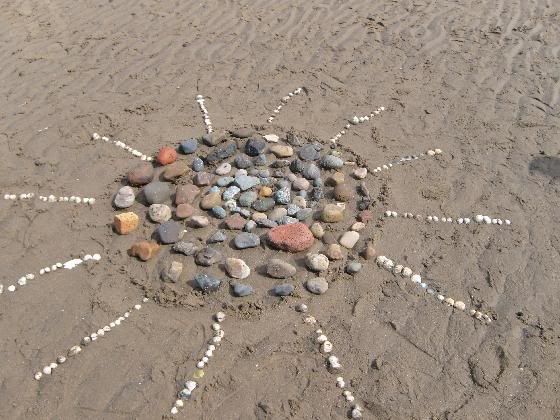 Crammond, Edinburgh, Scotland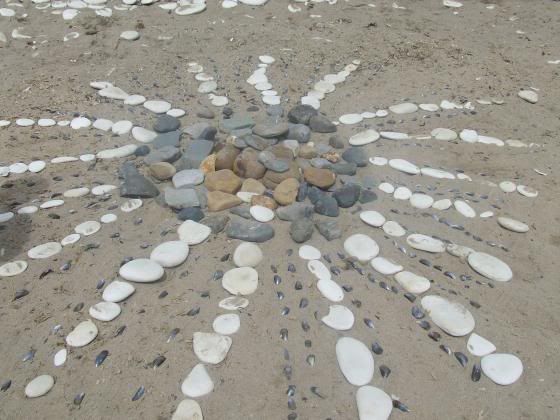 Bridlington North Beach, Yorkshire, UK
And the spiral arm galaxies and stars...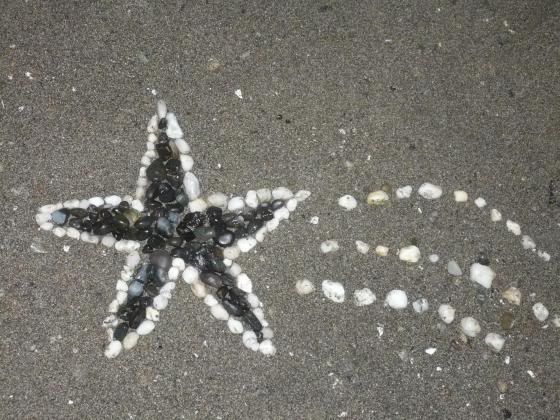 Titlow Beach, Tacoma, Washington, USA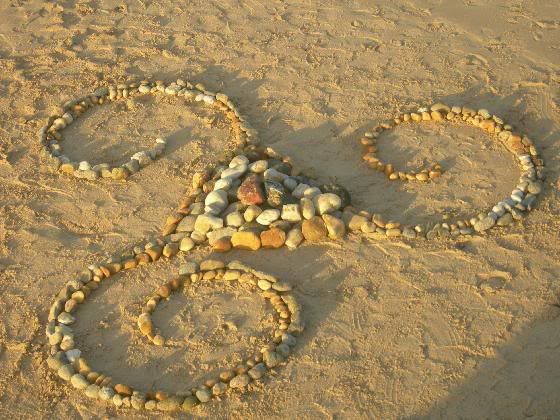 Kerouriec Erdeven, Morbihan, France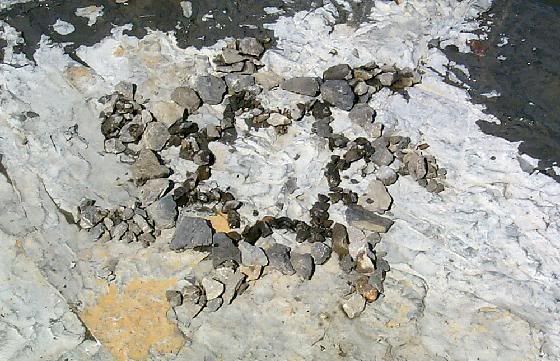 Bate Island, Ottawa, Ontario, Canada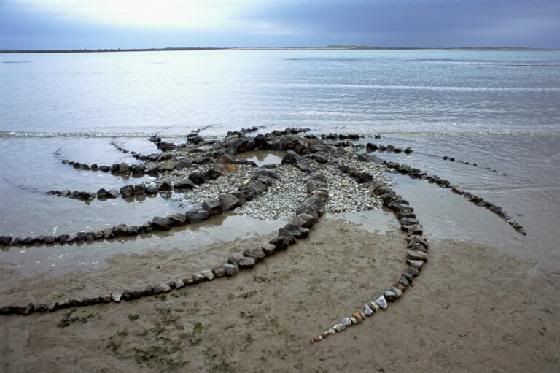 Appledore, Devon, UK
One of Sue Lawty's own designs comes under this heading too...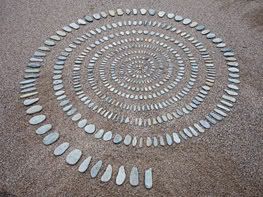 Gara Rock, South Devon, UK
HEARTS
Again, this shape was overwhelmingly a female choice – 92 % of the heart-shapes were executed by women...that is 11 out of 12 hearts were women's designs, and the lone man didn't really create a heart shape as such - rather he collected together heart-shaped stones, which happened to be rather prevalent on the beach where he was, which seems to be a response to what was available rather than an actual design !
Some of these heart designs were very simple...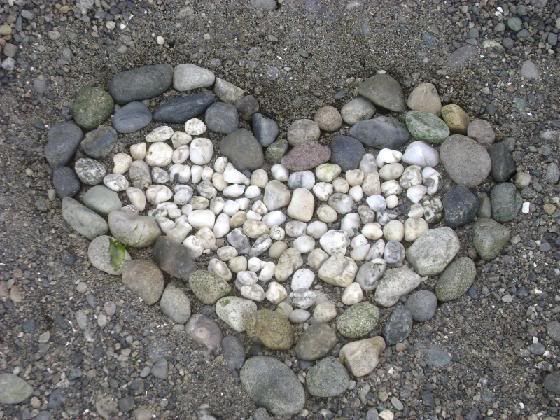 Point Defiance Park, Tacoma, Washington, USA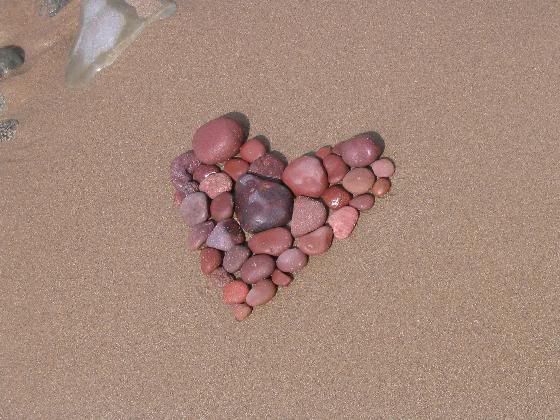 Newgale, Pembrokeshire, UK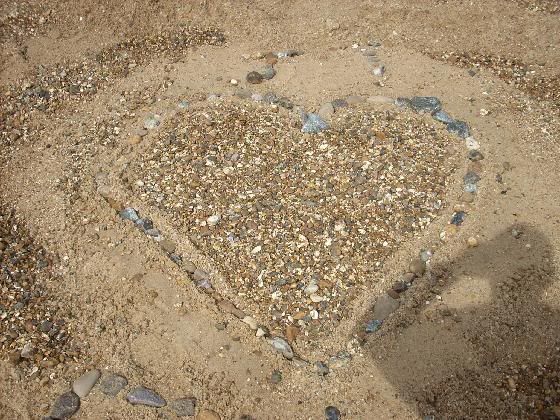 Clacton-on-Sea, Essex, UK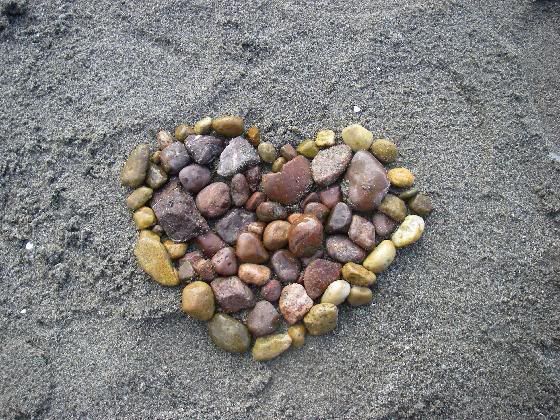 Burian, WA, USA
Some were quite complex, involving borders and stripes, and many different colours, within the heart...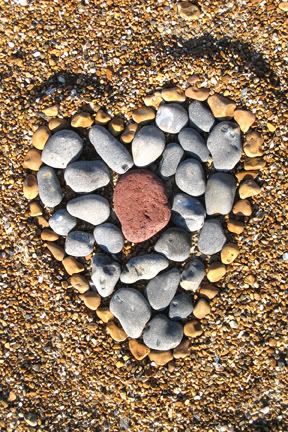 Brighton, UK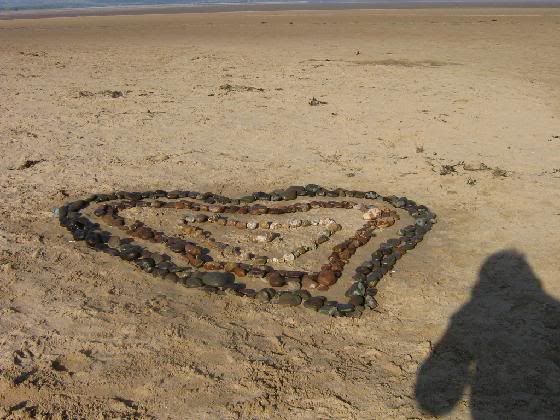 Roanhead, Barrow-in-Furness, Scotland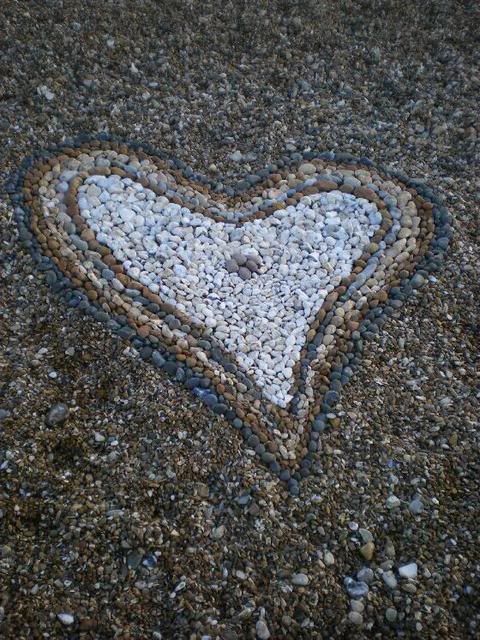 Tankerton, Whitstable, Kent, UK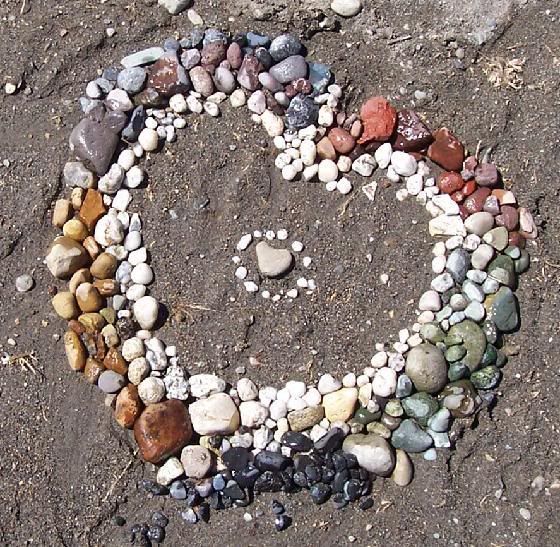 American Lake, Washington, USA



I particularly love the last one, with its beautiful colouring and variety of stones used to great effect !!

STACKS, BRIDGES AND HENGES

However, when it came to the more structural designs, that involved more of the three-dimensional building knowledge, rather than flat pattern-making, the whole proportion of men to women took a noticeable swing in the other direction...

Out of 22 designs that involved building piles of stones into the air, 18 were men – a clear 67 % majority, which really turns the numbers on their heads - how interesting is that ?!!

When it came to creating tiny stonehenges, towers and piles, standing stone circles, and even the occasional functioning bridge, men were the overwhelming champions...

Firstly, we have the single stacks...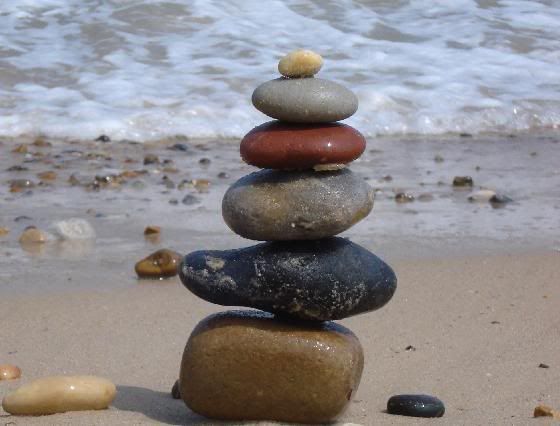 North Beach, Lowestoft, Suffolk, UK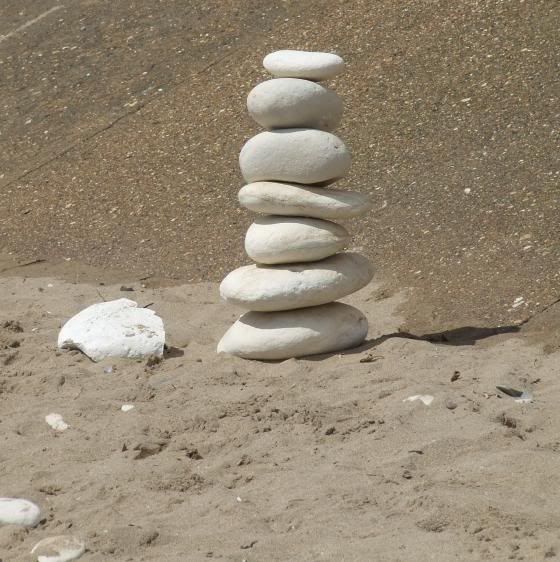 Bridlington North Beach, Yorkshire, UK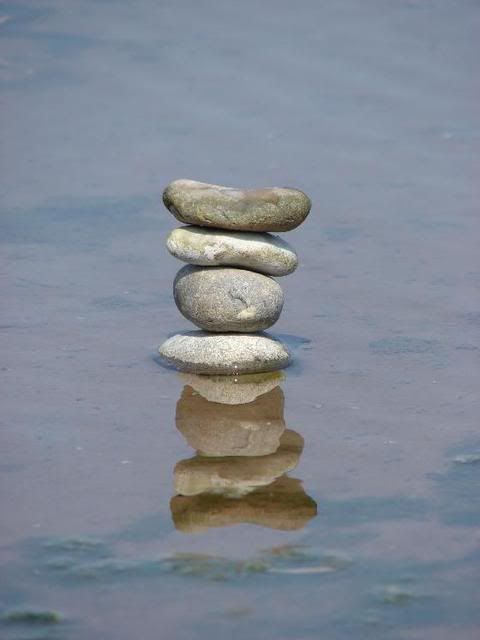 Blakeney Point, Norfolk, UK
Some of which were absolute masterpieces of gravity-defying balance and counterpoint...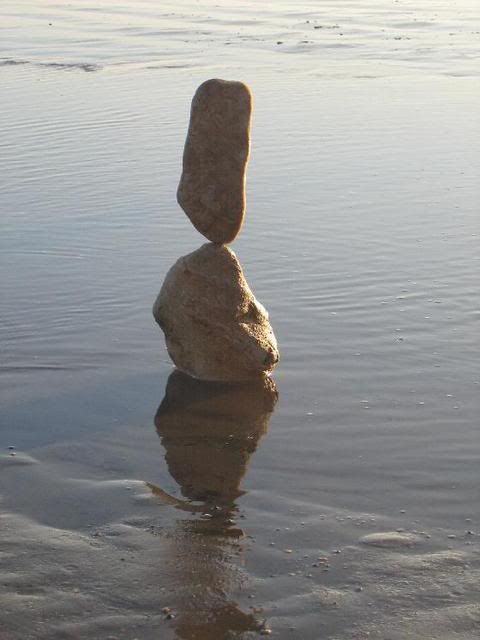 Charmouth, Dorset, UK
Then we moved on to the principle of tower building, as opposed to the simple stack...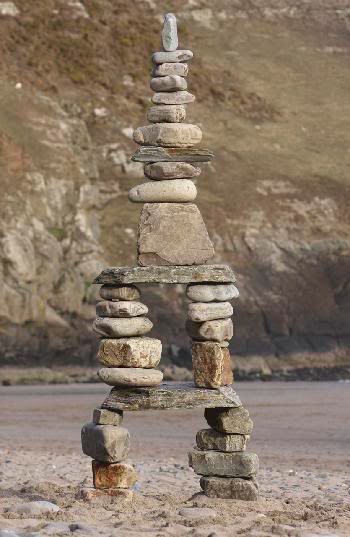 Nant-Y-Big, Pwllheli, Gwynedd, North Wales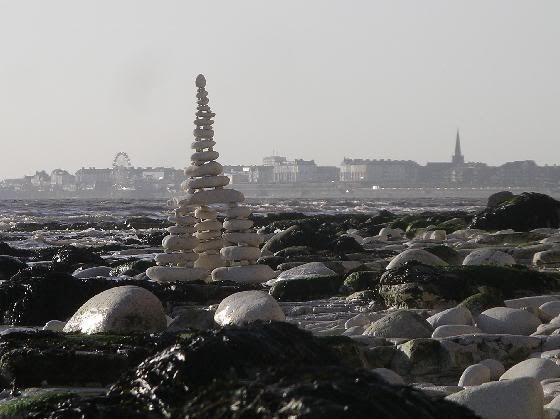 Danes Dyke, Bridlington, Yorkshire, UK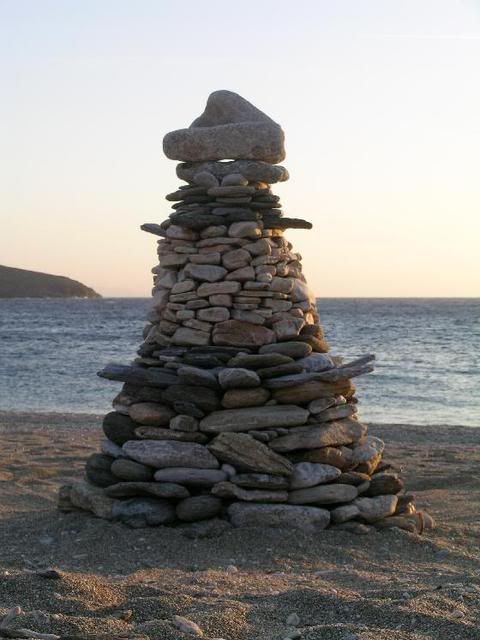 Andros West Coast, North of Gavrio, Greece
After the towers, there were two excellent bridges, both using the arch-span technique...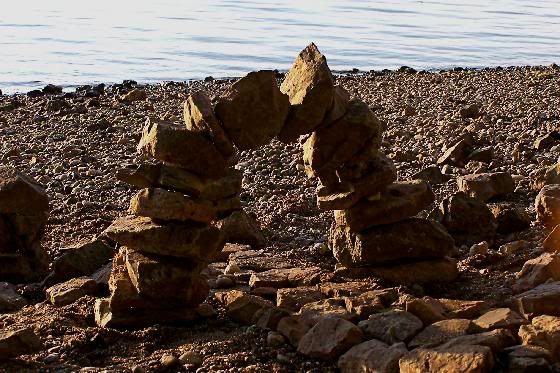 Kopachuck State Park, Gig Harbor, Washington, USA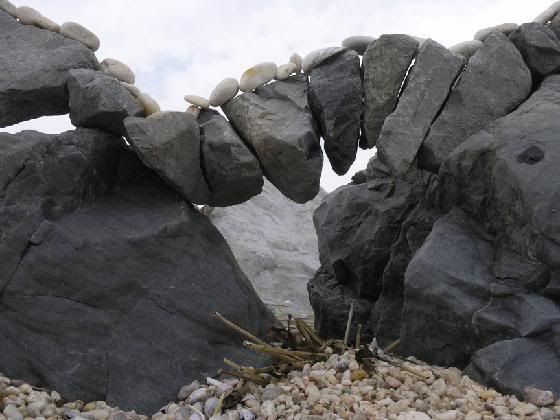 Eaton's Neck, Long Island, New York, USA

Out of the rest of the design groups, the percentage of women to men more or les reflected the overall proportion – 74 % women to 26% men.
SNAKES, PATHWAYS, AND TRAILS
The numbers for this type of design reflected almost exactly the proportion of women to men...Out of 18 trails, snakes and lines of stones, 14 were created by women, that is about 77%...pretty much right according to the original numbers !!

Some of these were simple lines of stones that were similar sizes, shapes, and colours, that stood out against the sand...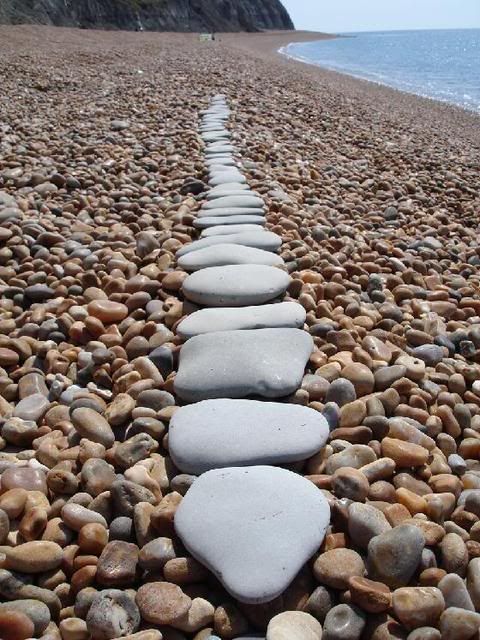 Seatown, Dorset, UK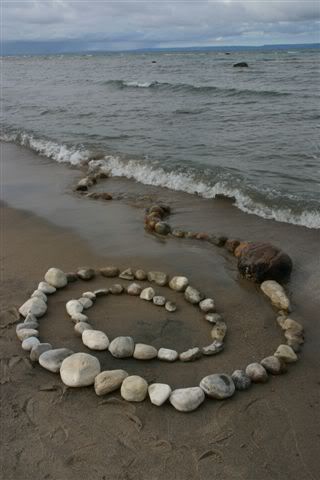 La Fontaine Beach, Lake Huron, Ontario, Canada

Calgary, Isle of Mull, Scotland
Elsewhere, the snake reigned supreme...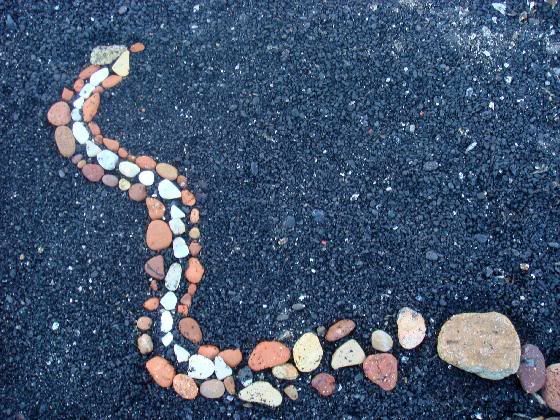 Seapoint, Monkstown, County Dublin, Eire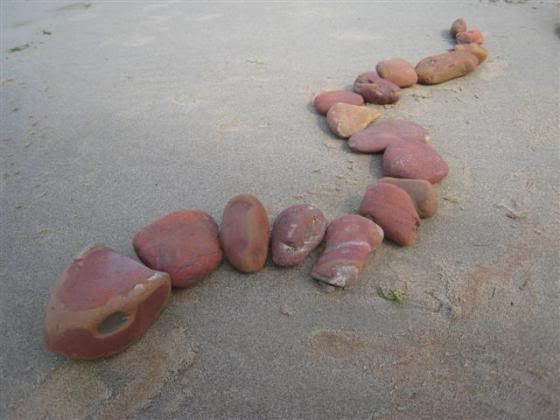 Saltburn, NorthYorkshire, UK
And then there were the lines of stones which interacted with the rocks themselves...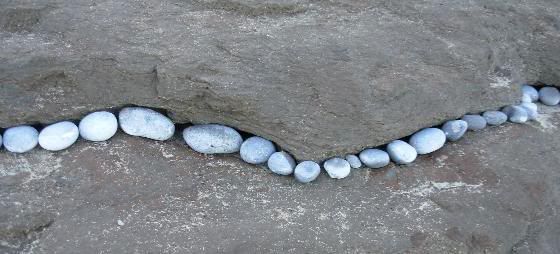 Trimingham, Norfolk, UK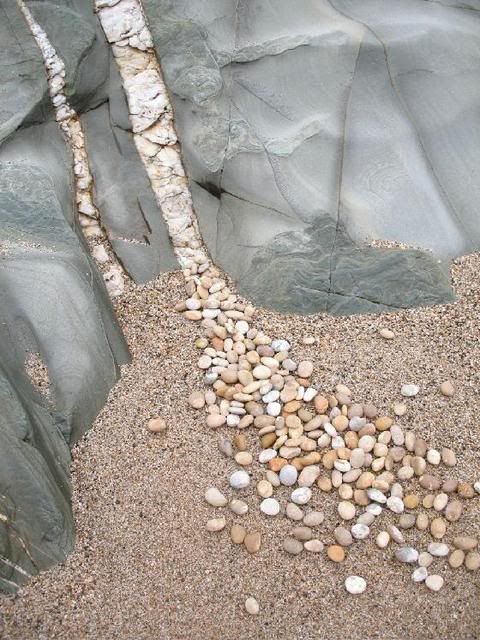 Porthleven, Cornwall, UK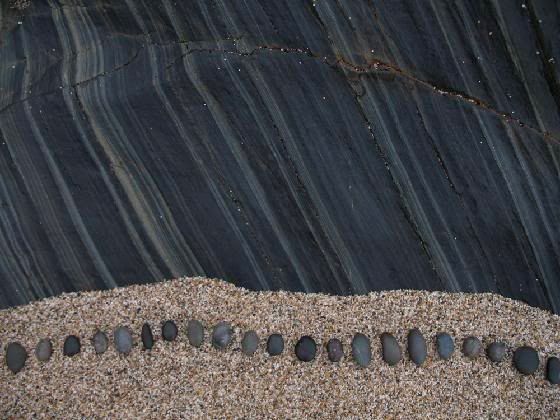 Porthleven, Cornwall, UK
These last two are done by the same person, and are simply stunning in their simplicity - the waterfall effect of the first one and the starkness of the charcoal stripes brought out by the line of perfect pebbles underneath, in the second...
It's no exagerration to say that I have been absolutely bowled over by the whole concept, and the sheer scope of this unusual project, and I've been inspired by the truly beautiful ideas which have emerged, as a result of random people wandering across the beaches of the world ... how wonderful it is to inspire people to get creative!!
If you are going to be on a beach in the near future and would like to take part in this project, the World Beach Project microsite, at the V & A website is here :-
http://www.vam.ac.uk/collections/textiles/lawty/world_beach/map_gallery/index.php?section=1
Do go and take a look...
In Part II I will take a look at some of the other groups of designs, including some of the absolutely stunning mosaic-type pictures that have been created here, in this project !!